A kid free weekend hot tub glamping and zip wire fun at Chepstow Quarry
Posted on
It's been two months since our last kid free weekend and night away camping in The Vale of Glamorgan. Although time is going so quickly, our last kid free weekend and camping trip seems a lifetime ago! We were definitely ready for another kid free night to ourselves and a more luxurious camping trip as it was Ben's birthday.
Ben has often watched people doing zip lines on the internet, so I looked into somewhere not too far where we could do one ourselves. The NDAC at Chepstow Quarry popped up on Groupon with a half price deal so I booked it. Amazingly they also have camping pods which they call 'wooden wigwams' ranging from a standard selection with a shared toilet block to a deluxe and VIP package which includes an ensuite, bedding and a private hot tub on the cliff edge overlooking the quarry. It sounded perfect and as it was a birthday treat I booked the wooden wigwam VIP package.
Read on for my review of glamping at the NDAC at Chepstow Quarry and see what else we got up to nearby whilst we were kid free.
Glamping at the NDAC and things to do nearby:
The Cross Inn, Aylburton
On the way through the Forest of Dean we decided to stop for lunch at The Cross Inn, Aylburton. This wasn't planned, but it had gone midday and we usually eat with the children by 12pm, so our tummies were rumbling! We used trusty Trip Advisor to find the nearest pub and this came up. I'm glad it did as I had one of the tastiest roast dinners I've ever enjoyed! I had a nut roast which was homemade with roast potatoes, mash, veg and onion gravy. It had the tastiest parsnip I've ever tried! I picked this as it hopefully had no refined sugar. Ben went for the lamb and he was equally as impressed. I've even left them a Trip Advisor review, only my second review there ever, as we thought the food was so good.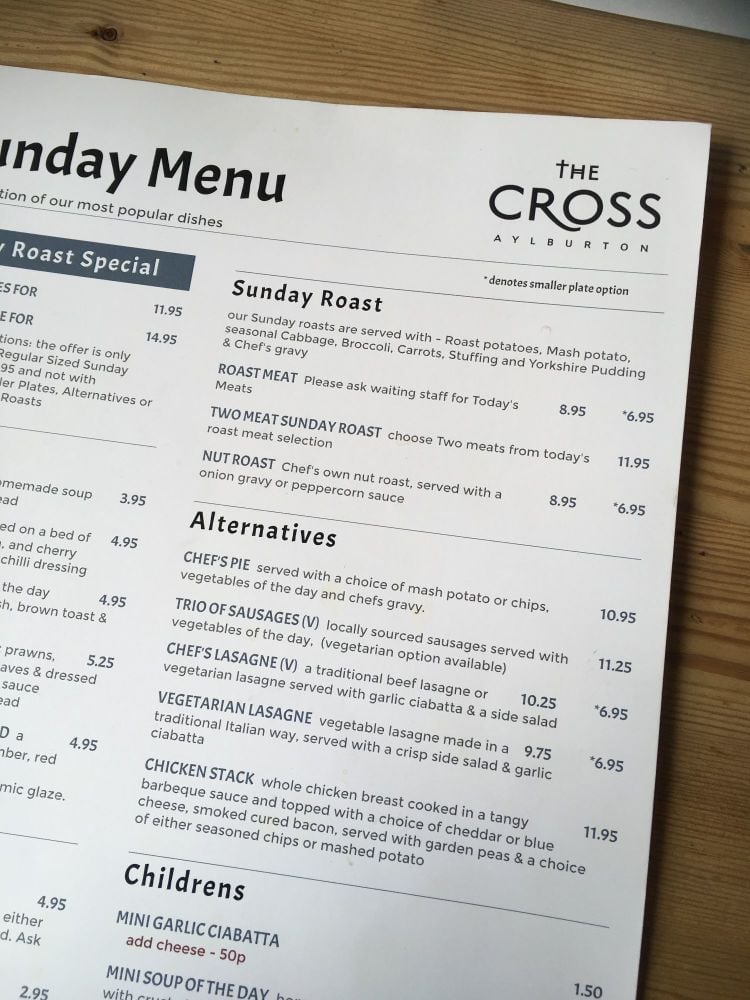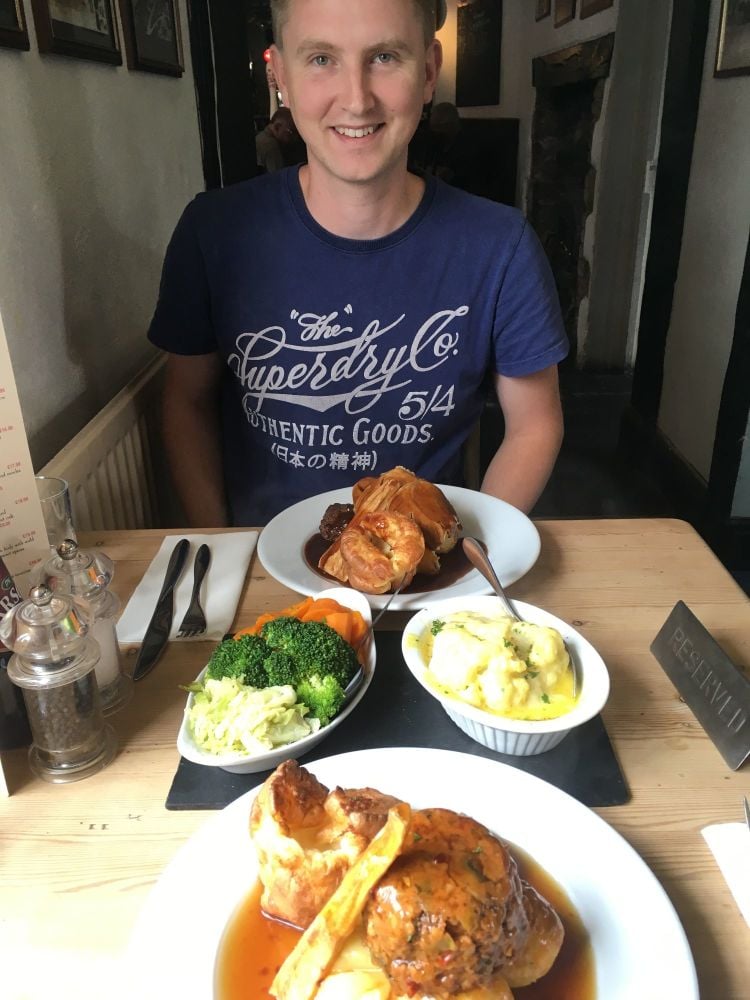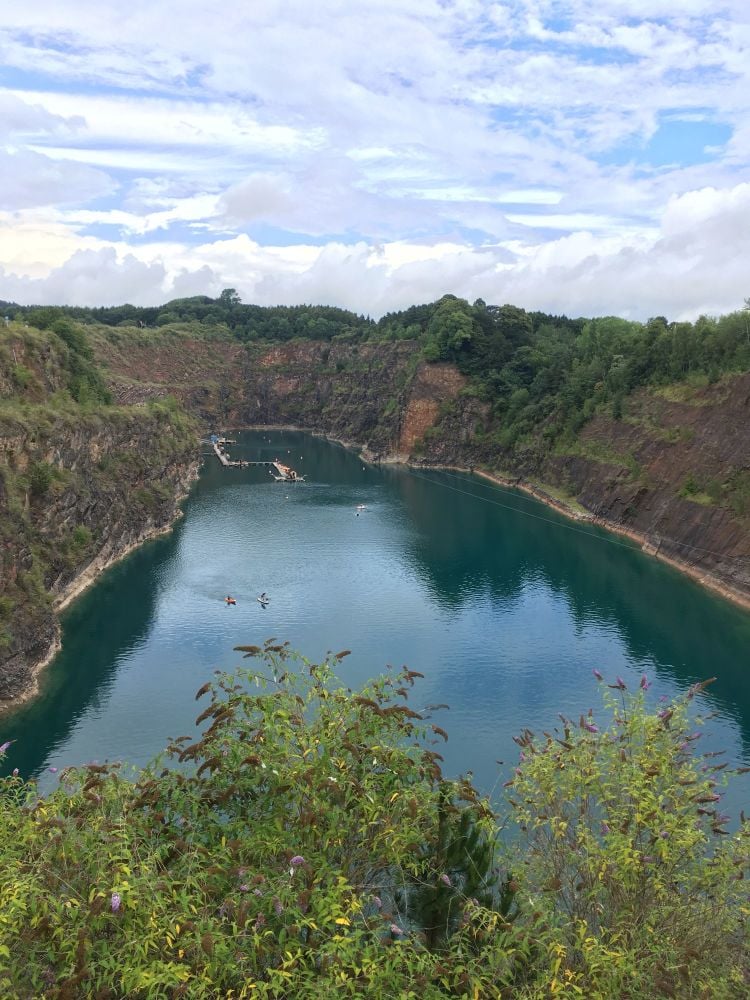 Beautiful Chepstow Quarry
It's strange how something manmade that has really destroyed the natural land that was there, can actually be so beautiful. We were amazed as soon as we saw the quarry. We parked and climbed up some steps to see the view and were instantly exclaiming lots of 'wows'! The thing that struck us most was the colour of the water. A luscious teal colour which almost didn't look real for water in the UK! Normally we are used to seeing murky brown water in rivers! I'm not sure if it's the limestone causing the beautiful colour, but it's really amazing to see. The view of the water deep within the rugged rocks is something else. With wild flowers all around the tops of the carved out rocks, it really is very picturesque.
The Zip Line at the NDAC
Our zip line was in the afternoon and after a temperamental day of cloud, dry weather and the odd light rain, it decided to absolutely hammer it down as we queued for our turn! Typical! We realised we have always been unlucky with our kid free weekends and remembered it has rained on almost every single one, as well as our family holiday to Cornwall last year! The Wire, as it's called, starts at 70m high and runs 700m across the length of the quarry reaching up to 40mph. It was pretty exhilarating jumping off above the quarry and I loved whizzing down. I tried to not go so fast as I wanted to take in the views, but the rain kind of pelted me in the face forcing me to look down! Ben tried his best to whizz down as fast as possible! He wanted to feel the speed! I'd love to go back and redo The Wire on a dry day to experience the difference.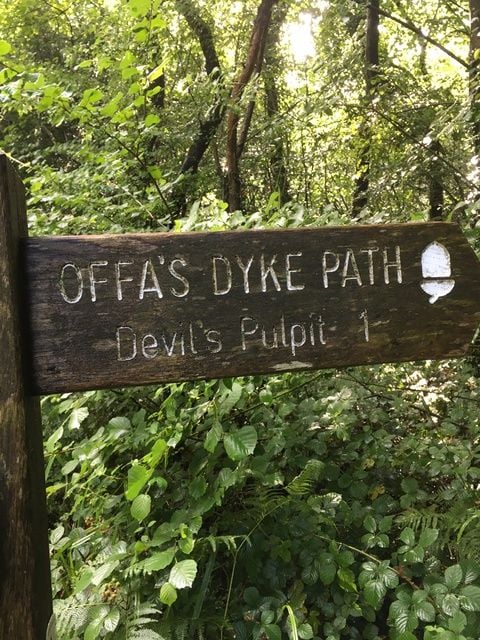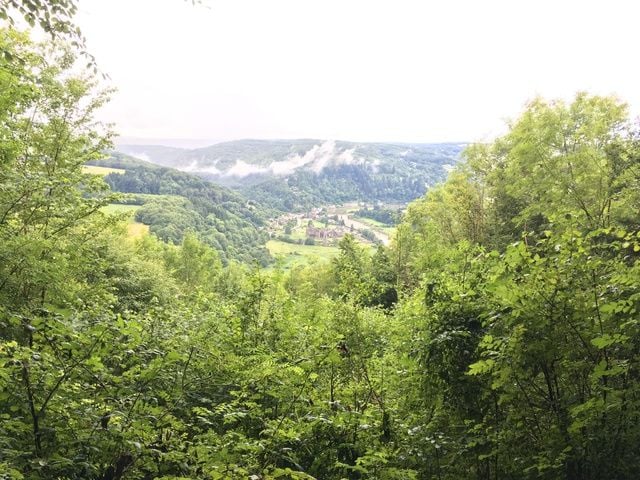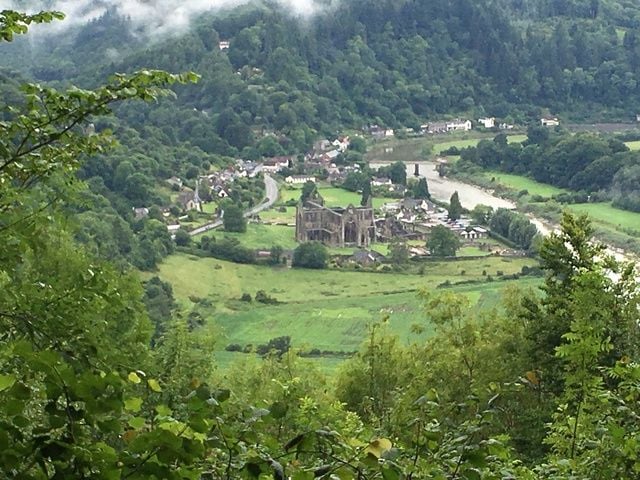 Offa's Dyke and Devil's Pulpit
We had over one hour until we could check in to our wigwam, so looked up walks nearby and discovered the Offa's Dyke path which led to the Devil's Pulpit – an area where the limestone juts out and there's an incredible view of Tintern Abbey below. It rained the whole walk, until we got back to the car!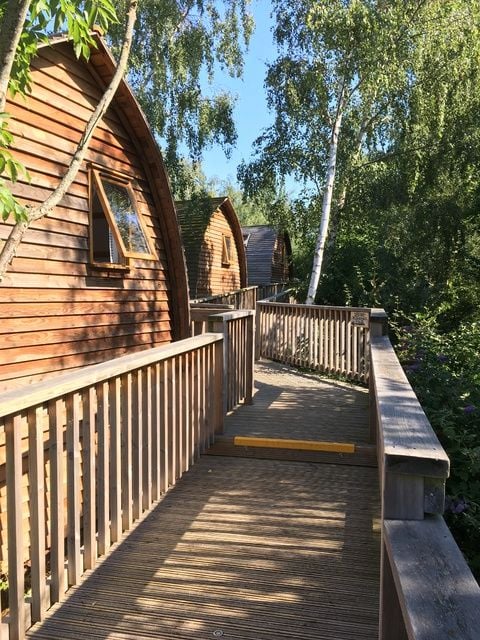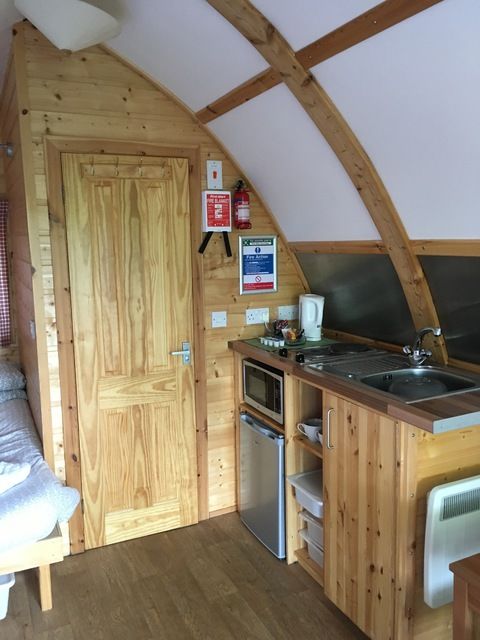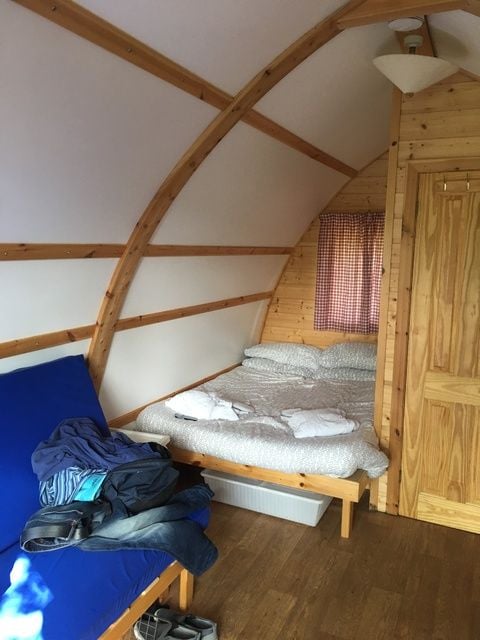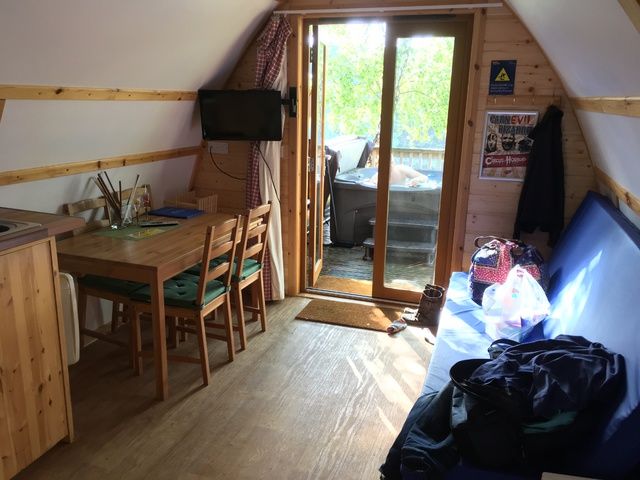 Glamping in a Wooden Wigwam
Once back we picked up our key for the wigwam. It's more a pod, but they call them wigwams for some reason. We parked the car near the wigwams as you get one parking space nearby. We walked up the wooden steps and along a wooden path amongst the trees to number 10. There are 12 deluxe and VIP wigwams in a row along the cliff on one side of the quarry.
For glamping, we were very impressed! The only other glamping trip we've experienced was this yurt in Wales, which was also amazing, but a very different experience. I much preferred having our own ensuite and the luxury of a hot tub on our own private balcony!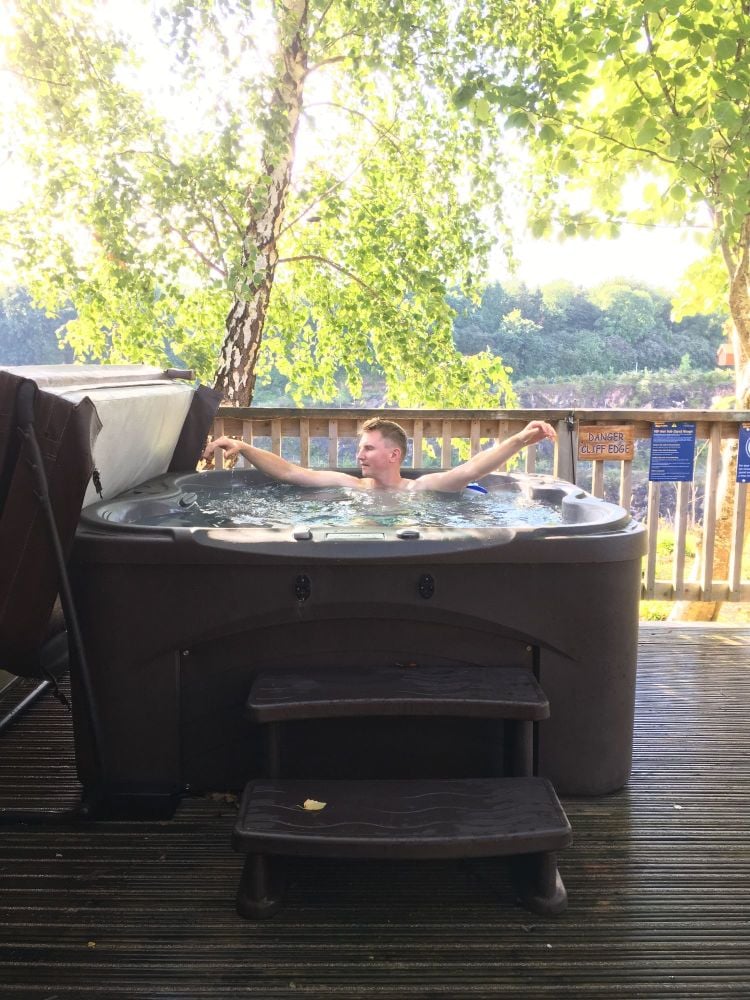 I also had an amazing night's sleep. The bed was surprisingly comfortable. Perhaps it was the few hours spent in the hot tub totally relaxing beforehand, but I slept like a baby. That's actually a really weird saying as most babies I know wake up constantly through the night! But I slept really, really well.
The wigwam was clean and had everything we needed for one night's stay. We even had a robe and slippers for our hot tub spa experience! There were a couple of minor things wrong that I noticed. The shower gel had not been topped up so this was empty and the TV did not work. We thought it might be fun to find a film to watch whilst in the hot tub as the TV twisted round so you could see it, but the internet connection did not work. These are only small complaints and as we were only staying one night they did not matter. If we were staying longer we would have said something so they could rectify them.
The hot tub was amazing, providing the perfect setting for a romantic evening under the stars. With a focus on hot tub water care, the sparkling clean water embraced us as we soaked away the day's stresses. Knowing that the maintenance of the water was a top priority allowed us to fully relax and indulge in the therapeutic benefits of the bubbling jets. They have set up the wigwams so one balcony wall is fenced off so you can't see the other balconies and get a lot more privacy. I've never enjoyed my own private hot tub before, so it was great to have some quality time with Ben and not be surrounded by several people like we usually are in a spa!
Cooked Breakfast at The View
In the morning we had a cooked breakfast at The View café overlooking the quarry. Check out was by 10.30am and we also grabbed our complimentary bottle of prosecco! Not to drink with breakfast, but because it was included in the VIP package and we hadn't picked it up the night before. I don't drink so this was a great gift to give to my Mum. If you do drink then you can grab it the night you stay and enjoy it in the wigwam or whilst hot-tubbing!
Krazy Golf in Lydney
As it was Ben's birthday he wanted to go and play crazy golf! He had found Krazy Golf in Lydney so we headed there next. There are 15 themed holes and it was only £4.50 each. You can play as many times as you like and even leave and return throughout the day if you wish. We just had the one game as we were meeting Ben's brother for lunch. It's always fun to do an activity and release a bit of the kid in us, as well as our competitive streaks! Ben thrashed me by about 20 points. I tried to reclaim victory by playing giant checkers which was at the end of the course, but to no avail! I also tried to beat him at giant connect four, but he won again. I'll beat him one day!
A Café Lunch in Coleford
Ben's brother lives in the Forest of Dean so we met him for lunch at Kaplan's Café, somewhere we've been a few times before. It's always busy which is a good sign and they do huge well-cooked breakfasts which Ben loves! They're also very accommodating as we always want to customize our menu choices.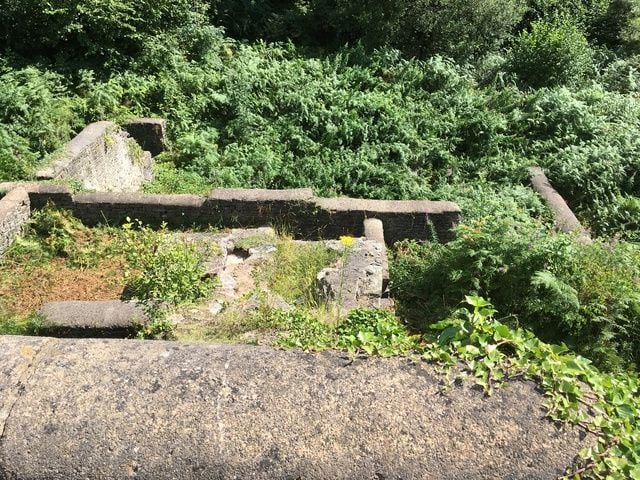 The Aztec Village (aka Titanic Steelworks)
Ben's brother recommended a walk in the forest afterwards to find the 'Aztec Village'. He stumbled across it when out cycling one day and thought he'd discovered some ancient ruins! Turns out it's actually remains of Titanic Steelworks.
Until Next Time
That just about rounds up our kid free weekend. We did also pop to some recycled furniture shops and picked up three mirrors to upcycle for our home, but that's about it! I think we did manage to do quite a bit in two days. I expect our next kid free adventure will be after the summer holidays and once everyone is settled back into school routines. So until then.
Save
Save
Save
Save