9 iPhone apps to make you money
Posted on
Wouldn't it be amazing if you could earn extra cash just by using apps on your mobile?
Well, you can! I've been using a couple of the below apps with success for a few months and have recently researched to find more. These are apparently the best iPhone apps for making money based on my own experience and recommendations.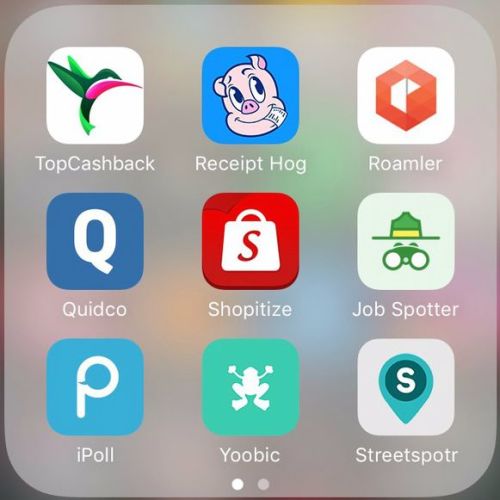 Make real money with these apps!
TopCashback
This has been my favourite discovery last year and I wrote all about how to earn cashback on things you buy in this blog post. In less than 9 months Ben and I have earned over £260 between us. We've got an account each. We've earned cashback on our regular grocery shopping, holiday flights, photo books, insurance renewals, sending flowers and even just by searching on a comparison site for a quote! Before you buy anything online you should definitely check if you can get cashback by ordering it through the TopCashback link first. It feels like you're getting free money - you kind of are! Sign up using my referral link here: http://www.topcashback.co.uk/ref/victoriasully
Receipt Hog (Closed)
I've been snapping my receipts for 7 weeks now with Receipt Hog and my coins are building up. Once you reach 1500 coins you can start exchanging coins for money into your PayPal account. There's also a slot machine game called 'hog slots' as some receipts give you spins instead of coins. You can win extra coins or cash on the slot machine. To get some spins for free enter my referral code on the app: Yon60187
Roamler
I started using this last November and I love it! It's a mystery shopping app and I've made £53 so far. I could make a lot more if I wanted. I'd have made loads more before kids when I went to pubs/clubs often; there are often £15 rewards for ordering a drink in a bar and rating the drink/service! I accept lots of £2-£5 tasks in my local supermarket whilst I'm doing the shopping. Use code LyliaRose to sign up to this app.
Quidco
I've been a big Topcashback fan, but have now just signed up to Quidco which is a very similar platform. It's worth having both as there are sometimes exclusive offers just on one of the cashback sites. For example, I made £4.40 on my Waitrose online shop last week which was only an existing customer offer on Quidco, it wasn't on TopCashback. But this week it's on Topcashback. So it's best to spend a second checking both. To make an extra £5 when you earn your first £5 just click my referral link to sign up: http://www.quidco.com/user/6947644/2350822/
Shopitize
Check this app before you visit your local supermarket to see if you can save money on any items you are buying. You can get a little cashback by scanning the item and photographing your receipt. The highest reward I've seen so far is £1.50. It's kind of like coupon shopping mixed with cashback!
Job Spotter
This app is from Indeed, the recruitment agency and job website you may have heard of. Simply take photos of 'help wanted' type signs in store windows, snap the store front and upload to the app. They pay you for this! Apparently you get more money for larger more well-known stores.
iPoll
I've only had this for less than a week so I'm only up to £2.25 for completing six surveys. I've only been offered 25-50p per survey and each takes 5-15 minutes to complete, so it's not a huge amount of compensation. I figure it's worth doing on long car journeys or if you do have 10 minutes to spare and want to make a few extra pennies! I'm hoping there might be some bigger opportunities soon.
Yoobic
This was recommended to me, but I've not had any tasks in my area yet. It's another mystery shopping type app. Have you used this with success? Let me know in the comments.
Streetspotr
This is another mystery shopping type app. So far the only cash rewards have been £8 as a mystery shopper in Lidl whilst doing a normal weekly grocery shop. There are lots of other tasks which don't earn money, but points instead. I'm pretty new to this one and again hope there will be more ops soon. I'd love to hear your experience of this app in the comments if you've been successful with it.
Read my 3 month update of these apps here: Are these money making apps worth it or a big fat waste of time?
Save
Save
Save