5 Things You MUST Do Before a Family Holiday *
Posted on
Going on a family holiday can be an exciting and memorable experience for all involved. Whether you're looking forward to soaking up the sun on a beach, exploring new cultures and cuisines, or simply spending quality time with loved ones, a well-planned holiday can be the highlight of the year.
However, without proper preparation, a family holiday can quickly turn into a stressful and frustrating experience. From forgotten passports to missed flights, there are countless potential pitfalls that can derail your trip.
You may even find yourself waiting in long airport lines or scouring the streets for a SIM card because you cannot connect online. Thanks to Simify travel sim, you can start using your data as soon as you land. A fully-supported sim from Sims Direct will give you free, high-data-speed and a hassle-free experience.
But fear not, with a bit of planning and forethought, you can ensure a smooth and hassle-free family holiday.
In this article, we'll share five essential things to do before your next family holiday, from checking your travel documents to securing your home.
So sit back, relax, and let's get started!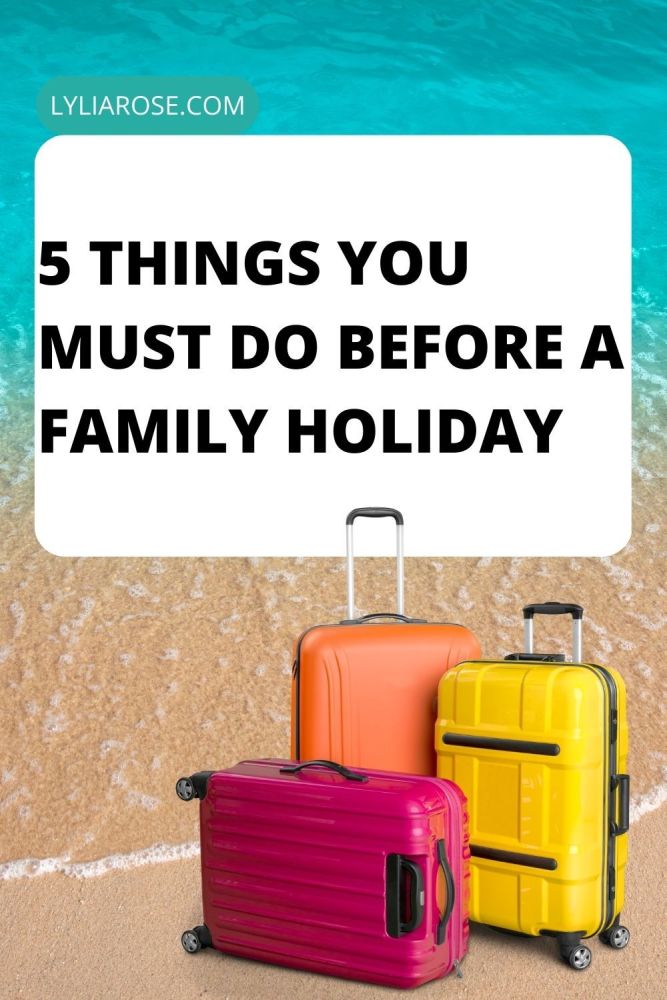 5 Things You MUST Do Before a Family Holiday
Is there anything better than going on a holiday?
What with all the sun, sea and sand it's the perfect way to relax. That's the good news.
The bad news is that a holiday won't go to plan if you don't do the preparation, especially a family holiday. They are notorious for going off the rails, which is why you want to do everything possible to make sure it goes smoothly.
There are so many things to organise for a family holiday, but here are perhaps the five most important things you need to do before you board the plane.
1. Dig Out The Passport
Going away and preparing a family holiday with kids is an exciting adventure, but it's important to be prepared to avoid any hiccups along the way. One of the most crucial things to do before you leave is to make sure you have all the necessary documents, including passports. Checking the expiration date of your passport is a must, but it's also important to ensure that all the information is up to date and accurate. Double-check your name, date of birth, and other personal details to ensure that they match your travel itinerary. If you need to renew your passport or apply for a new one, make sure you do it well in advance to avoid any delays or additional fees. Don't forget to also check the passport requirements of your destination country, as some countries may have specific entry and exit requirements that you need to comply with.
2. Make Sure You Have All Of Your Documents
Besides your passport, there are several other documents you need to prepare before embarking on your family holiday. These may include visas, travel insurance, train tickets, boarding passes, and emergency contact information. It's important to read up on the visa requirements of your destination country well in advance to ensure that you have enough time to apply and receive approval. If you're flying with kids, be sure to check the specific requirements for minors, as some countries may require additional documentation such as birth certificates or consent letters from parents. Additionally, having a copy of your travel itinerary and emergency contact information can be incredibly helpful in case of any unexpected events. Print out all of these documents and keep them in a safe and easily accessible place throughout your trip.
3. Arrange Transport
Getting to the airport can be one of the most stressful parts of any trip, but with a bit of planning, you can make it a breeze. Consider all your transport options, such as taxis, private cars, or public transportation, and choose the one that best suits your needs and budget. If you're driving to the airport, be sure to plan your route in advance and check for any traffic or construction delays. Pre-book your parking spot in the airport car park to avoid any last-minute stress or searching for a spot. If you're taking a taxi, consider using a reputable and reliable company that you have used before or that comes recommended by friends or family. Arranging transport in advance can save you time, money, and hassle on the day of your departure. You'll also want to make sure you've arranged transport from the airport to your accommodation if it's not already included in a package deal.
4. Go Shopping
Shopping for a family holiday can be both exciting and overwhelming, but with a few smart tips, it can also be budget-friendly. Start by making a list of all the essential items you need, such as sunscreen, hats, swimsuits, and comfortable shoes. Research prices and deals online to find the best value for your money. Consider buying items in bulk or looking for sales and discounts to save even more. Don't forget to also check the weather forecast of your destination to ensure that you pack appropriately. Finally, remember that shopping for a holiday doesn't have to be limited to clothes and accessories. Consider buying guidebooks or travel apps that can help you make the most of your trip and create unforgettable memories. Don't forget to pick up your travel money when you're in town!
5. Secure The Home
While you're away on holiday, it's essential to take steps to protect your home from burglars or other potential risks. Start by ensuring that all doors and windows are locked and secure before you leave. Consider installing an alarm system or CCTV cameras to deter any would-be thieves and to give you peace of mind while you're away. Additionally, consider asking a trusted neighbor or friend to keep an eye on your property while you're gone. They can pick up your mail, water your plants, and even park your car to make it look like someone is at home. You can also set up automatic timers for lights and electronics to create the illusion of occupancy. Don't forget to unplug any appliances or devices that don't need to be left on while you're away to save energy and reduce the risk of fire hazards. By taking these simple but effective measures, you can enjoy your holiday with the knowledge that your home is safe and secure.
Final word
Planning a family holiday can be an exciting and rewarding experience, but it requires careful preparation to ensure a smooth and stress-free trip. By following these five essential tips, you can make sure that your next family holiday is a success:
Dig out the passport and ensure that all information is accurate and up to date.
Make sure you have all the necessary travel documents, including visas and emergency contact information.
Arrange transport to the airport in advance to avoid any last-minute stress or delays.
Shop smart by making a list of essentials and looking for deals and discounts online.
Secure your home before you leave by locking doors and windows, installing alarms or CCTV cameras, and asking a trusted neighbor or friend to keep an eye on your property.
With these reminders in mind, you can relax and enjoy your family holiday, knowing that you've taken care of all the important details. So pack your bags, make some unforgettable memories, and have a wonderful trip!