Natural beauty review: Sukin - Australian Natural Skincare
Posted on
I've been using Sukin skincare for a few months on and off and want to share it with you today as I'm very impressed with the cleansers and toners I've tried. In this blog post I will review Sukin natural skincare. I first purchased some of their Oil Balancing Clarifying Facial Tonic when Holland and Barrett were out of stock of my usual stuff. I searched for something that was natural under £10 and Sukin popped up.
I'm glad it did as I felt it cleaned my skin so much better than the Safa toner I had been using (because it was the cheapest). I did go back to my old stuff once it was back in stock, but I missed the Sukin toner. It has an earthy smell which I'd become slightly addicted to and I loved how it cleaned my face, leaving it feeling actually clean and almost squeaky. It's the best my face has felt after using a toner.
Sukin review: natural skincare 'that doesn't cost the earth'
I like to use a cleanser I can apply and wipe off with a cotton pad, instead of having to actually wash my face. Yes, because I'm lazy. Or because I'm a mum who also works full time, so the more convenient the beauty regime, the better! Lots of cleansers require actually washing the face each morning and night, but I'm usually in too much of a rush or too much of a hurry to hit the sack, that I'd rather just sit in bed with a bottle of cleanser and tube of cotton pads and take it off the moment before I snooze. The Cream Cleanser and Sensitive Cleansing Lotion are both perfect for the job. I don't have sensitive skin, but my local Whole Foods Market were out of the Cream Cleanser and I'd ran out so had to get something!
Both the cleansers also have an addictive scent, especially the Cream Cleanser. I don't know what it is, but there's something about these scents that encourages me to take my makeup off every evening, instead of being lazy and going to bed in it. Yep I'm guilty and I'm guilty of these makeup bloopers too! The toner is my ultimate favourite product, but the cleansers are good too, more for their enticing scents and convenience of wiping away with cotton wool instead of water.
I've recently downloaded the Think Dirty iPhone app which is genius! It enables you to scan your beauty products and gives a score for how dirty they are, with 10 being the worst. It's such an amazing idea and means you can see in an instant whether you want to smear a product all over yourself. As everything you put ON your skin ends up INSIDE your body, around 26 seconds until it's in your blood stream I believe, it's really very important to not cover yourself in harmful chemicals. They also eventually wash off into the environment where they also do great damage.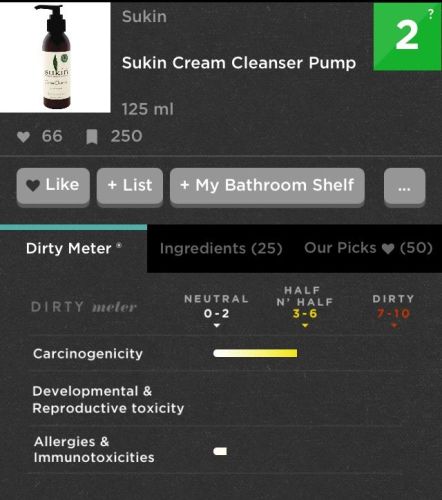 Here you can see the results for the Cream Cleanser and it scores 2/10 which isn't bad at all. There are two questionable ingredients out of 25, so it's not perfect, but believe me, this will be a hell of a lot better than regular commercial brands (non-natural) that most people buy. Just scan some 'top' brands and see what I mean! It does not contain any of the nasties I always look out for such as SLS, SLES and parabens, and they are a good idea to avoid if you're just starting out on your natural beauty products journey.
It does concern me that the two questionable ingredients are possible carcinogens, as my whole healthy lifestyle is to try and avoid disease and illness, whilst living to a ripe old age in good health. Even walking down the street means breathing in car fumes and air pollution that is carcinogenic, so sadly we can't avoid everything, but I try to avoid as much as possible. Most of the ingredients in this product are natural and a gazillion times better than what most are spreading all over their skin and thus into their systems.
For under £10 each I am going to continue using these mostly natural beauty products. They're great value and do the job better than many other natural brands I've tried.
Save
Save