5 easy and nutritious vegan breakfasts to get 3 of your 5-a-day
Posted on
If you've popped over to read my new Healthy Vix blog, then you'll know my thoughts on the 5-a-day recommendation and how I think it's nowhere near enough. That along with the popular 'everything in moderation' diet means people have an excuse to eat whatever they want and to interpret moderation however they see fit to suit their lifestyles.
I believe it's the same with the 5-a-day – people believe so long as they get their 5 fruits and veg per day then they are healthy. Unfortunately I don't think this is the case.
I used to be one of these people and I assumed I was healthy because I got 5 portions of fruit and veg a day, but I still smoked, drank alcohol almost daily, binge drank at the weekends, ate several takeaways and lots of dairy and processed food each week.
Oh the carefree life of my early twenties!
Now I realise that wasn't healthy at all. I'm now a massive advocate for a plant based wholefoods diet and believe very few people are eating healthily at all.
Most people don't even get 5-a-day
Even though I think it's nowhere near enough for a healthy lifestyle, I've still titled this article using '5-a-day' as it's been reported that 70% of us don't even manage to get 5-a-day! (source)
That's ridiculous!
I manage to get my 5-a-day most mornings during breakfast or at least by lunch time. Imagine if everyone aimed for 3 portions per meal and only fresh fruit and veg snacks – we'd all easily be getting way over 10 portions a day and I bet our health as a nation would massively improve.
Plus, if you're eating so much natural healthy plant based food, you'll be leaving little room for crap food, so you'll eat less of it and protect your health now and for the future.
We are what we eat and Hippocrates was right when he said 'let food be thy medicine and medicine be thy food'.
I'm currently reading The China Study which EVERYONE who cares about their health should read. In fact they should make us all read it at school! It confirms so much of what I've learnt about health over the past 7 years and verifies I've been making the right food choices and lifestyle diet changes on my path to a healthier lifestyle.
If you want to know how easy it is to get three or more portions of veg by 9am each day, here are some of my favourite breakfast ideas. Plus, it's easy to add a healthy amount of protein into your breakfast with an added serving of nut butter. Nut butters are versatile in any breakfast recipe. Almond nut butters and cashew are a few of my favorite peanut butter alternatives!
Cooked veggie breakfast
A cooked breakfast is a real treat and it doesn't have to be full of greasy meats!
I love grilled tomatoes, grilled courgette/aubergine/onion, mushrooms and sugar free beans (try Heinz or Whole Earth).
If you love sausage, try Dee's vegan pea protein and vegan sausages from Ocado or Holland and Barrett - they sound strange, but they're the most delicious vegan sausages we can find with no soy or other rubbish.
That's 3-5 portions of veg right there. Add a small glass of fresh juice and you're well on your way!
Fruit salad
Make filling up the fruit bowl a priority each week and it will save you reaching for the naughty snacks.
Chop up as many colourful fruits as you can and fill a bowl for a refreshing wake up morning salad. This is the perfect morning breakfast for a hot summer's day.
You'll be surprised at how filling a generous serving of fruit can be. My faves are pear, kiwi, apple, strawberry and watermelon, but you can use whatever you have available.
You can easily polish off 3-5 portions of fruit in one sitting.

Fresh smoothie
These are great for those who are not keen on eating so much fruit, salad and veg. Turn it all into a smoothie instead!
My three year old drinks a lot of my green smoothies which contain foods he'd never eat off his plate! They're also great if you're short on time and want to take it with you.
Drink some now, on the journey to work and throughout the morning.
You can also use whatever you have available. Mine usually consist of a banana, handful of spinach, chunk of cucumber, pear or apple, kiwi, celery, scoop of green powder and fresh distilled water. 10 seconds in my Nutri Ninja and it's ready to drink.
For extra coldness I sometimes freeze the bananas. It's totally possible to cram up to five portions of fruit, veg and salad into one morning smoothie!
More yummy smoothie recipes:
Healthy Creamy Chocolate & Cashew Smoothie
Lean Green Superfood Smoothie Recipe
Delicious Berry, Banana & Baobab Smoothie
Fruit and nut muesli
I rarely buy pre-packaged muesli as they often contain added sugars. It's so easy to make your own and to customise it every day.
I make mine with oats, nuts, raisins, dried mulberries, fresh blueberries and raspberries. I top with Oatly or homemade oat milk. Dried mulberries have a chewy texture and toffee like taste, just get the white variety.
Dried fruit can count towards one of your fruit'n'veg portions, so this yummy cereal can easily have 3+ portions each morning. Some people even pour fresh juice onto muesli instead of milk or water, so this will add an extra portion.
Avocado, spinach and tomato on pitta
Yum, yum , yum. A toasted wholemeal pitta bread with slices of ripe avocado, a generous handful of spinach, one chopped tomato (or even grilled), a sprinkle of pine nuts and drizzle of olive oil. Delicious and 3 portions sorted!
Hopefully this will start inspiring you to see how nutritious and wholesome even breakfast can be! Do away with those sugar laden cereals with no fruit and veg benefits and be a little more inventive and healthier in the process.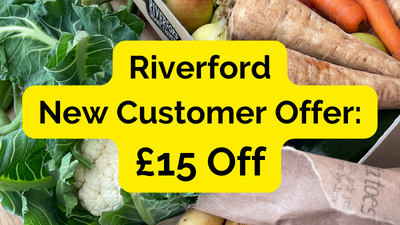 More health related blog posts you may enjoy:
Why you need to reduce your refined sugar intake