Autumn style staples for kids – how to have a capsule children's wardrobe
Posted on
In this blog post we'll share how to create an autumn capsule wardrobe for your kids.
Before even being aware of the minimalist trend and capsule wardrobe trend, I was following it – even for the kids.
I believe my obsession with living with less started when I moved home around ten times in my twenties and also lived for three years in a bedsit. I lived in one room and simply couldn't have a lot of stuff.
Moving house so often was also such a pain that it was easier to simply live with less stuff to make for an easier move!
I also have this secret desire to pack everything up and travel the world, so that's only possible without getting attached to belongings and having only few things!
In recent years the capsule wardrobe and living minimally has become very mainstream and even a trend. Many aspire to live like it, but find it difficult. I think this is because of the emotional attachment people have to objects and also the fault of consumerism where we've been made to believe that having lots of stuff is valuable.
Having children is often an excuse for owning more and more things and having an excuse to go along with it! Kids come with a lot of stuff. Yes they do, but you can still manage to live quite minimally.
Could you have a capsule wardrobe for your child?
A friend recently visited and saw the size of my daughter's wardrobe and exclaimed "are all your daughter's clothes in there?!"
Confused, I replied "yes?" and she explained that she'd never be able to fit her three year olds clothes in such a small wardrobe.
I opened it up and she was even more astounded as it's not even full.
I then proceeded to show her my son's wardrobe and my own wardrobe and she was shocked asking "where's all your clothes?!"
My children each have a child sized wardrobe. Reuben has a draw of shorts and jogging bottoms, a drawer of PJs and underwear, then no more than 10 tops hanging on the rail.
Bella has a drawer with leggings, shorts and skirts, a drawer of nightwear and underwear and then half the hanging rail is school uniform and half the rail is for play clothes – more like a third and a third though as there is lots of space leftover!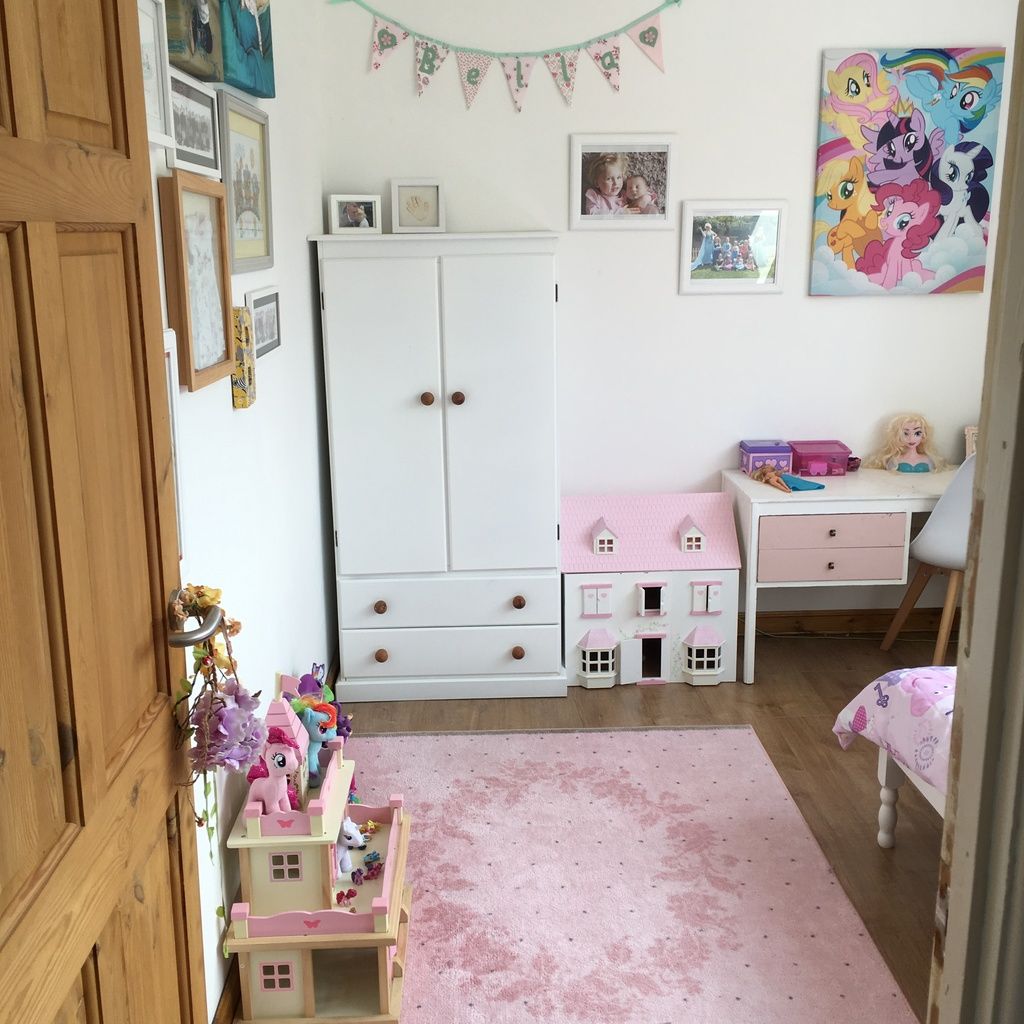 Bella's wardrobe! Reuben has exactly the same, but wood coloured.
I honestly don't see the need for any more at this point in their lives. It would just be a waste of money. We have enough so as we don't run out of clothes when I get a couple of wash loads behind and that is all.
Plus the kids probably have slightly more than they need to cover sickness and messy play.
At any one time they probably have around 10 tops, 10 bottoms each, a couple of packs of underwear (a bit more for Reuben as he potty trained this year and there's still the odd accident), 1-2 hoodies or cardigans, a rain coat each and a warm coat each.
That's all they need!
Bella has a couple of kids fashion dresses too and often her jersey dresses last for ages as when they are too short to be a dress, she'll use it as a tunic/long top over her leggings. She tends to grow upwards quickly, but not outwards!
They have a pair of wellies each, boots and two play shoes.
Their feet have both grown two sizes this year, so I don't want to spend a fortune here only for them to outgrow them in a couple of months. Plus they tend to just stick to one pair of their favourite trainers each and wear them almost every day for play.
More is just a waste
Clothes are always getting covered in muck, food, mud, paint, etc, from school, home, the park and nursery, so they often only get worn once or twice and then thrown in the wash basket.
I've the washing machine on almost every day, sometimes more than once, so clothes are constantly being washed and re-worn over and over.
Once they are too stained, grown out or worn through then they go in a charity bag. We always have a charity bag on the go, hung up in a cupboard. Our local charity shop can even sell worn out clothes or ruined clothes to the rag trade, so there's never any waste. Then we buy clothes as we need to, in replacement, often checking the charity shops first to support them and reduce landfill waste.
I'm sure many people have far too many clothes. More than they actually need, especially for their kids.
I'm amazed that my friend has too many clothes to fit in one wardrobe for her three year old. I can only imagine the clothes don't get as much wear as my kids' clothes.
Kids grow out of things so quickly too; we are having to buy new clothes every season!
It also seems like a massive waste of money. Money I'd rather spend on something else!
Kids outgrow clothes constantly
Right now I'm thinking about buying some autumn clothes for the kids. As the weather is cooling we need to get some trousers, long sleeved tops, jumpers and a new warm coat for both Bella and Reuben.
Whilst us adults can wear our same clothes from last year, the kids really can't!
They have shot up so much – Bella is probably a couple of inches taller already, maybe more!
We will find kids designer wear online by checking selling marketplaces such as eBay, have a browse in our local charity shops and also try to source new sustainable pieces from companies like H&M who sell recycled clothes and organic clothes in their conscious ranges.
Sometimes the cheapest brands do not last as long, but there are some surprises like H&M that make really high quality clothes – I've had some items of clothing from them for over ten years and they're still fine!
Kids capsule wardrobe checklist for autumn
I'll be checking what still fits them firstly, to ensure we aren't buying things we don't need.
For example, I do still have Bella's winter coat from last year and it's in great condition, so we'll see if it does fit her still before getting a new one. Occasionally coats are so large that they do last two years which is a bonus!
Here are all the items you really need to create a kids capsule autumn wardrobe:
· Warm coat
· Rain coat
· Wellies
· 2 x play pumps or trainers
· Boots or hi-top trainers
· 10 long bottoms
· 10 long sleeve tops
· 2x hoodies, cardigans or thicker jumpers
· Hat, scarf, gloves
That's it! I even think we are over buying with the tops and bottoms, but like I said, that's to cover all messy eventualities and backlogs of washing like if we go away for a week and need extra clothes. Two pairs of trainers are to cover when one pair might get soaked or super muddy. Bella will have some winter boots, but Reuben will have some hi-top trainers for those cold wet days.
Obviously this list doesn't include pyjamas, underwear and socks and so on. The kids usually have 3-4 packs of socks at any one time, 2-3 packs of underwear and around 4 pairs of pyjamas, though Reuben has been surviving on two pairs of PJs for a while!
Save money on kids clothes with a capsule wardrobe
It's totally possible to have a capsule wardrobe for your kids this autumn. We make use of t-shirts that still fit from the summer to wear under hoodies and cardigans, until it's really too cold to do so. Providing they don't have a sudden growth spurt then this wardrobe can even see them through the whole winter, saving money and making sure all the clothes get plenty of wear.
At the moment my kids are six years and three years old, so they are still quite messy, especially the three year old! I expect as they get older we can even cut down the amount of clothes they need to save money on kids clothes. Although they'll probably need more school clothes, sports clothes and clubs clothes.
Having a capsule wardrobe is also more eco-friendly and a great way to save money on clothes too!
Click here for loads of money saving tips and family finance tips