3 easy ways to save money in the home + garden
Posted on
If you're looking to get the year off to a better financial start, then you may want to consider these easy tips for saving money in the home and garden. if you're always trying to save for something, but never quite manage it, then you probably need to find out where you can save money in the house.
The first thing to consider when looking to save money, however, is that you don't need to save money everywhere. Sometimes its about being frugal and making cuts in one area of our lives that we don't mind so much, so as we can afford something that we need or that gives us more pleasure in another area of our lives.
For instance, let's say you save £100 on your heating bill in the next few months because of following the advice below, that could mean you can splash out on those garden fencing ideas in the spring that you've been longing to do. Or it's so we can create some savings as an emergency fund, deposit or special occasion.
Many people live frugally by saving money on food, but I have a different view. I like to invest in organic companies and farming methods which does currently provide a food that is more expensive to buy. I'm passionate about healthy living and the environment and this is a cause important to me that I am prepared to invest in for both my health, the environment and the animals.
I make other cutbacks, such as having a zero-spend year on clothing for instance or less days out and holidays to make this possible. Whereas other people might rather buy the cheapest foods possible as they'd rather spend their money on clothes or days out. Saving money is about making cut-backs, but they can be cut-backs where you want to make them (and therefore you'll stick to them) or where you might be spending more than you need to, such as on energy.
Also, rather than penny-pinching on all aspects of home and garden life, it's important to consider the time investment required.
For instance, some people go a little coupon crazy to the point they will spend hours and hours cutting out coupons to save a few pennies here and a few pennies there, when it would make much more financial sense to have just invested that extra hour into paid work. It's the same with making money on low-paying survey sites - could you invest that hour better elsewhere for a better profit?
Luckily there are some ways that will definitely save you money in the home and garden. The below tips are going to be practically suited to most people's lives.
3 easy ways to save money around the home
1. Use less energy
When it comes to reducing your energy costs, there are some obvious tips, such as to increase the insulation in your home - everywhere from loft insulation to carpet underlay, triple glazed windows, draft excluders and the like… but, the most significant way you will save on your energy bills is to heat only a few rooms of your home, such as your living room and dining room - the rooms you are actually in, and then use more personal sources of heat to keep warm in places like bed, for instance a hot water bottle or electric blanket.
2. Grow your own fruit and veg
Growing your own vegetables, in your garden, is not only a healthy way to provide wholesome food to your family but it's environmentally friendly, pesticide free, and an incredibly cheap way to cater for hungry mouths. In fact, in the summer, if you have a decent sized vegetable patch you can provide most of the vegetables and salads from your own garden. Plus, you can grow them organically.
Fruit trees are also brilliant as they require little maintenance. Many can just be planted and left to grow. Once they are ready to produce fruit (or you might buy them already at this stage) then you should get a good crop of fruit every year for years to come.
3. Compare and switch providers
You'll be amazed by how much money you can save by simply switching providers, particularly when it comes to things such as broadband and TV packages, yet it only takes five minutes. You might want to head to a comparison site like moneysupermarket.com in order to check out the best deals for you. We switched to Bulb last year and saved £264 compared to our last energy provider as well as getting £50 cash back on top of that!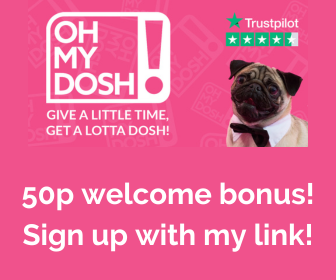 In summary, you want to try to focus on the larger expenses - for instance, if you can reduce your food shopping bill by growing your own vegetables, that can save a small fortune, and similarly, you can save a heap of money by insulating your home and being more mindful in terms of energy efficiency. Don't forget to look into switching providers. There are some ways that you can save money each year that take very little time and effort at all such as planting a fruit tree or switching energy providers.
More ways to save money
Bulb energy £50 off discount code 2020
Mustard promises to beat your cheapest car insurance quote
50% off Pizza Hut Delivery 7 days a week!
Get money back for things you already buy
3 tips for cheaper car insurance
Save £25 on your first Airbnb accommodation booking
Save money with these UK Voucher Codes
How we saved £6500 in 6 months
20 ways to make & save more money in 2019
Click here for a free trial of contact lenses
£50 off your first Bulb bill and save up to £357 per year on your energy bills
I saved £800 cashback in 2 years with Top Cashback
Save money on family days out and meals with Kids Pass
Win the whole cost of your online shop with cashback site Boom25
5 ways to save money on every store shopping trip
How to save money at the supermarket with Shopmium
Let Look After My Bills automatically save you money on your energy bills
Save money and let yboo find your best mobile phone deal
Save money on your mobile phone bill with Airtime Rewards
Top Cashback UK review: £1266 free cash back in 3.5 years
Families save an average of £316 on energy bills with Migrate
Combine cashback and discount with My Money Pocket
ZIPZERO app review: snap receipts to save money on household bills
Cut the wrap, save money and stop using single use wrapping paper #cutthewrap
Save money at the supermarket with coupon app GreenJinn
How to donate to food banks for free
5 money saving tips to cut household cleaning costs
How to buy Christmas presents on a budget
Save money online with this list of UK cashback sites
List of 8 apps that turn UK receipts to cash
Neveo discount code - get your first album free
Save money + be eco-friendly with these sustainable packaging options
Does the NHS cost you too much money? Read this!
How to overpay a personal loan + save money
These companies want to slash your energy bills
Save money at the supermarket with CheckoutSmart
How to find lost bank accounts in the UK
Save money on family entertainment
Flooring to cut down your energy bills
Abel and Cole promo code 2020 - get a free organic fruit + veg box!
How to always get cheap cinema tickets
How to get cheap West End tickets + best prices for London theatres