Save Money on Contact Lenses With a Waldo Subscription
Posted on
Are you tired of the high cost of contact lenses and glasses? Do you want a more affordable solution to your vision problems? In this blog post, we explore how Waldo, a contact lenses subscription company, is disrupting the industry with their affordable and hassle-free service. Discover the benefits of using contact lenses and how Waldo can help you save money. Plus, try Waldo lenses for free with their free trial offer. Say goodbye to costly eyewear and hello to clear vision with Waldo contact lenses.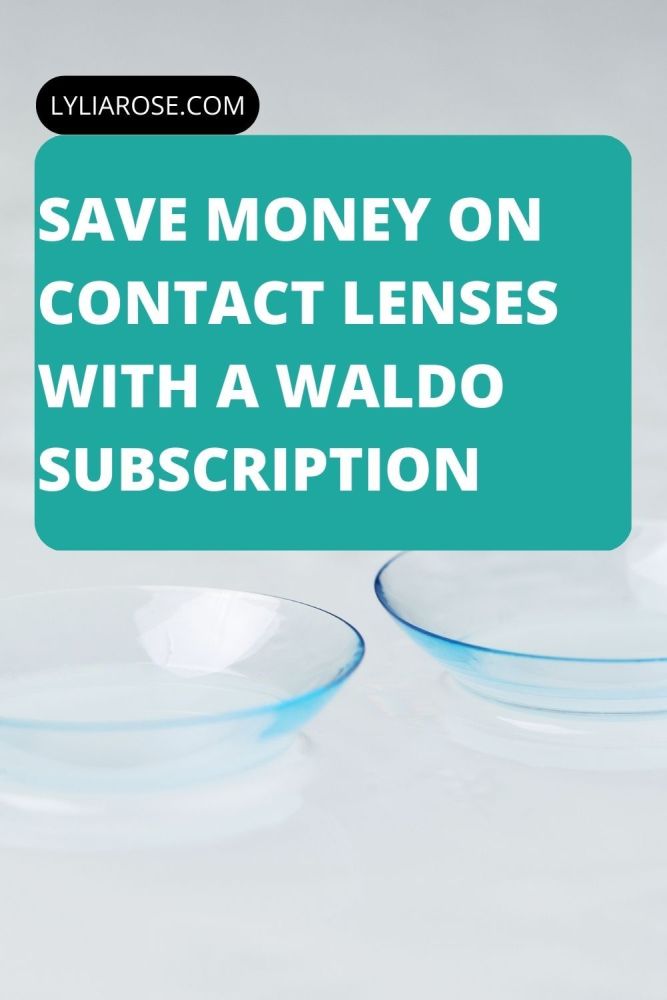 Poor eyesight can be a costly nuisance. Not only do you have to deal with not being able to see things as you should, but there's the cost of eye appointments, prescription glasses and contact lenses to consider. I've suffered with short-sightedness since I was around 12 years old and it really has been frustrating at times, especially when I forget my glasses, as well as very expensive. In this blog post I'm going to take a look at how it's possible to save money on contact lenses with a subscription from Waldo.
You can even try Waldo lenses for free, so read on to find out more.
Did wearing glasses give me poor eyesight?
When I was in junior school I always wanted glasses. In fact glasses and a brace were top of my list! My mum was of course horrified by these strange things I longed for, but back then I thought people turning up to school in glasses was so cool. I guess it must have been around this age that people started to notice things wrong with their sight and so more and more of my friends were turning up to school with specs. I wanted to be part of the glasses gang!
Unfortunately I got my wish. I always wonder whether I made my sight bad myself, if that's possible, as I wore my best friend Hannah's glasses for whole school day's at a time when we started senior school. I soon noticed I couldn't see the school chalkboards unless I was sat close to the front of the classroom and so my mum took me to get my eyes tested. Sure enough I was short sighted and needed glasses. My wish had come true!
Be careful what you wish for...
If only I had realised what a bother needing glasses would be for the rest of my life. My eyes aren't so bad that I need to wear the glasses all the time, but sometimes I think that's worse as it makes me more likely to forget them when I need them. I am not allowed to drive without glasses and everything is pretty blurry all day long. If you're across the road from me then I wouldn't be able to tell who you are! Often my husband has thought I'm ignoring him from the other side of a room as if he smiles at me I can't tell. I can't read signs such as menus behind café counters until I'm really close and even then it can be a struggle. I forgot my glasses for a theatre show once and it was all a big blur!
If only I could go back and talk some sense into my younger self who wanted glasses so desperately!
The benefits of contact lenses
Luckily there is a solution to wearing glasses all the time and this is to wear contact lenses. I've been pretty terrible at wearing my glasses as an adult and usually just squint to try and see things far away. It's not helping with preventing wrinkles! My glasses are normally in my car and that's where they stay as I have to wear them for driving.
As a young adult I decided to give contact lenses a go and they really have been a lifesaver in so many situations.
Here are the benefits of contact lenses:
No bulky frames – I often found I was put off by my glasses frames. It's actually why I first tried contact lenses as I was having driving lessons and found my glasses really off-putting as I wasn't used to wearing them so much. I needed to concentrate on driving, but felt distracted by the frames I wasn't used to seeing. Once I got contact lenses I was less distracted by the glasses frames and able to tackle the task at hand.
No change in appearance – I'm always very self-conscious in my glasses. As a kid I loved them and thought glasses were the coolest thing ever. I wanted to wear them all the time. As an adult, and even when I was an older teenager, I became more self-conscious of my appearance and really disliked having to wear glasses. I've never felt they've suited my face. Contact lenses take this worry away as no one can even tell I'm wearing them.
They won't fog up – Most mornings when I get into my car and put my glasses on, they steam up! It also happens when I open the oven door – a whoosh of hot air and I can't see a thing! Luckily contact lenses don't have this problem and my sight is never obstructed.
They're great for sports – I love to workout at the gym and had worn my glasses a few times, but they start slipping off and moving around if my workout is intense. Contact lenses stay put and don't distract me from my workout.
My vision is clearer – I mentioned they don't fog up, but my vision overall is clearer. With glasses I can get reflections and lines of light almost bouncing off them from car headlights at night. With contact lenses it's like seeing through my own eyes with perfect vision.
They're comfortable – once you get used to them then they are really comfortable. I even forget they're in my eyes and often leave out my empty packets on the side to remind me to take them out before bedtime! My glasses leave indents on my nose when wearing them and get in the way, especially with my young children jumping all over me!
Save money on contact lenses with Waldo
You might now be thinking, well that's all well and good, but aren't contact lenses really expensive?
They definitely used to be and I remember paying around £30 per month for daily disposable contact lenses, but times have changed. Contact lenses subscription company Waldo is disrupting this industry by offering affordable contact lenses for just £12 per month, per pack of 30 lenses that are premium quality. By cutting out retailers and selling online only, they are able to offer high-quality contact lenses at the most affordable price. There are no hidden costs either as delivery is free.
Waldo believes contact lenses should be more affordable and the process simplified. They're cutting out the middlemen to keep costs down as well as making life easier for us by sending affordable contact lenses every month, hassle-free.
Here are some of the benefits of Waldo lenses:
They have a super fine edge design so they're comfortable to wear and reduce any sensation of something in the eye when blinking.
They are made with 58% water to keep the eyes moist all day long.
You'll have UV protection with 70% of UVA and 95% of UVB rays blocked.
The lens design mimics the cornea to provide HD vision.
It's a subscription service so they'll be delivered to your door every month.
Delivery on subscriptions is free.
The original lenses are only £12 per 30 lenses.
They offer a free trial to see if they're for you. Just pay delivery.
You can modify, pause or cancel at any time.
Try Waldo contact lenses for free
Sign up for a free trial of Waldo contact lenses here to try them yourself.
You'll get 10 pairs of contact lenses for free. You just have to cover a one-off shipping fee of £2.95.
Other contact lens brands
Not sure the Waldo contact lenses are right for you? Check out our Crystal Hydro contact lenses review for another option.
Post originally written in 2019 and updated in 2023.