HuYu review – earn gift cards with your supermarket receipts
Posted on
Regular readers will know I love making extra money from home, including earning cash from my receipts. It only takes a moment of time and makes a nice bit of pocket money. I'm always so excited when I reach the threshold for cashing out. I'd much rather use these sorts of phone apps than get hooked on addictive app games! Today I will share with you my HuYu app review and how to use this app to make money from supermarket receipts both online and in store.
Earn gift cards snapping supermarket receipts with HuYu!
The receipt snapping app I am going to share with you today is called HuYu. I use receipt snapping apps like Huyu to make money from my supermarket receipts which I can then turn into cash or vouchers. With the HuYu app I can turn the points I collect from my receipts into gift vouchers from a choice of lots of UK stores and supermarkets.
Every receipt snapped is worth 5 points. 500 points is equal to £5 in vouchers.
My best advice is to always cash out as soon as you reach the threshold. It's usually more beneficial to wait until you have more points, as you get more value for your points, but I always worry these businesses could fold and disappear so I prefer to cash out as soon as I can!
I've been using this app since the start of 2019 and have now cashed out lots of times!
Check out my list of receipt snapping apps in the UK to discover more ways to make money from your store receipts! Read on to learn more about HuYu.
Which receipts does HuYu accept?
HuYu only accepts receipts from the following supermarkets:
In-store:
Tesco
Morrisons
Sainsbury's
Asda
Waitrose
Aldi
Lidl
Co-op
Online:
Asda
Morrisons
Sainsbury's
Tesco
Waitrose
Ocado
You are allowed to upload 10 receipts per week.
How many points do I need to cash out on HuYu?
You'll earn 5 points per uploaded in-store receipt.
For emailed online receipts you'll get 10 points per receipt.
There are also some surveys on occasion to earn more points.
You need 500 points to cash out a £5 gift voucher.
The difference with this app compared to some other receipt snapping apps is you earn gift cards rather than cash. A list of gift voucher options will be available at the time of redeeming your reward.
What is HuYu Snapshot?
Every now and then you can earn more points with the HuYu app by uploading your recent browsing history, if you want to, using HuYu Snapshot. They'll send you instrcutions on how to do this when it's available. It pops up every few months on the app and you can choose whether to take part. You'll earn extra points if you do.
Top tips when using HuYu
You must upload your receipts within seven days.
You can't upload more than one receipt from the same shop in the same day.
Make sure the receipts aren't blurry or the ink running out as they'll probably not accept them.
Use the receipt auto scan feature to capture and upload your receipts speedily.
Click on 'earn' and go to 'surveys' to boost your points balance
Refer 3 friends to make a quick £1.50
HuYu referral codes – give 50, get 50
HuYu allows you to refer three friends and you'll each receive 50 points when they scan a receipt.
My three HuYu referral codes have been used, but the refer a friend section on the app says 'watch this space - refer a friend is finished for now, but will be back soon' so hopefully they'll start to give more than just three referral codes in the future.
Easily see how much you spend each month at supermarkets with HuYu insights
One clever feature is the 'Insights' tab which shows you exactly how much you are spending at each supermarket retailer per month. It breaks this down into a visual graph and also lists the amount per retailer.
However, you are only allowed to upload 10 receipts per week on this app, so it's only an accurate representation of your spending if you only have 10 receipts or less per week.
My reviews and thoughts of the HuYu receipt snapping app
The app is really straightforward to use and I like the auto-scan functionality making it one of the fastest apps when it comes to uploading my receipts.
I really like the insights tab and I'll be checking this each month to keep an eye on our supermarket spending, but hopefully they'll allow all receipts soon as it's not helpful if I can't scan more than ten per week and I shop more than this.
I'll continue to use it alongside my other receipt apps. It's habit now to save and photo every receipt, so I'll be making the most money possible per receipt by using all the different receipt apps in a row! My tip is to create a folder on your phone to store all your receipt snapping apps and supermarket coupon apps, so you can check them each one by one/upload your receipts with ease.
How do I get HuYu?
Download the HuYu app at www.huyuapp.co.uk
Then simply scan receipts, email receipts, take surveys and earn gift cards as a reward!
"Scan receipts and answer surveys for real rewards, like shopping vouchers. It's the fair way to share your data." - HuYu
How does HuYu make money?
HuYu will sell the data you share to brands and companies to help them improve their products and services. If you use the app then you are effectively selling your shopping data to HuYu so they can sell it on. If you are not happy with this, then receipt snapping apps aren't for you! Otherwise, it's a great way to make money from your shopping receipts and get some extra cash back in your pocket!
HuYu say "HuYu uses your data to generate insight for retailers and brands, to help them understand customers and improve their products and services."
Want to make more money from home, online or need a side hustle? Find loads of ways to make money at home on my blog, as well as my favourite side hustle in my matched betting blog!
Looking for ways to save money? Check out my massive money-saving tips section and find some great deals on my voucher codes and free money pages!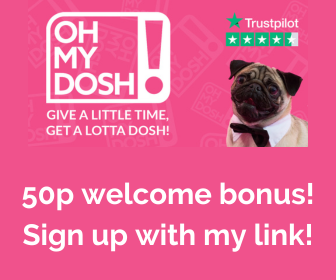 Posted Feb 2019 and updated Dec 2021