Easy child care options for working parents
Posted on
Finding the right childcare as a busy working parent can be a challenge. There are lots of options and everyone's childcare requirements are unique.
Researching different childcare options can be time consuming and sometimes, you're not really sure what you're looking for, especially as a new parent.
What are your options? What childcare is available in your vicinity? How much does a childminder cost, or a nanny or a babysitter? Which is the better option for your circumstances? Do they necessarily need to be DBS checked and what are the risks?
Luckily there is an easy solution where you can find all the answers to your childcare questions and discover your local childcare options, all in one place. Read on to discover how to make finding childcare a breeze.
Struggling to find local childcare?
When I needed childcare for my children, I struggled to find exactly what I wanted.
We lived in the suburbs of a city and the childcare options were not as plentiful as when I'd previously lived closer to the city centre.
I really wanted a local childminder for my children, rather than a nursery, but being new to the suburbs and not knowing anyone, or having school aged children, I found it so tricky to find a childminder.
I did a simple Google search to see what I could find. Two childminders I discovered were fully booked and two more never got back to me, then I couldn't find any more locally so my childminder search ground to a halt.
Luckily we do have a couple of nurseries nearby and I was able to secure a place, but if I'd had the choice then I'd have loved to have found a childminder.
I don't remember searching anything but Google business listings back then and the council's own website. Then I was at a loss. Without knowing anyone, I didn't know how to find local childcare options.
That's where childcare.co.uk comes in. They take the stress out of finding suitable local childcare with an easy to use website that shows your local childcare options in a matter of seconds.
Find local childcare with ease at childcare.co.uk
Trusted by 2 million users, childcare.co.uk makes finding childcare a breeze!
If I'd have known about childcare.co.uk when I first needed childcare then it would have made searching a lot easier.
It is the 'UK's largest online community of parents, childcare providers, household helpers, schools and private tutors.' They say you won't find a larger choice anywhere else!
By searching for childcare options within three miles of my postcode I am able to see 80 results for available childminders, babysitters and nurseries. Within one mile of my house I can see 11 options.
The results can be filtered by useful requirements such as the exact type of childcare you need, i.e. childminder, whether you prefer a non-smoker and their availability.
It's a UK website so it doesn't matter where you are searching for, you can find childcare in your local area. So whether you need a nursery in Nottingham or a childminder in Leicester, you can input your exact needs to find someone suitable locally. You can also select how far from your postcode to search, to open up even more childcare opportunities if you, or they, are willing to travel.
By using the filters you can find the right childcare for your needs, in an instant.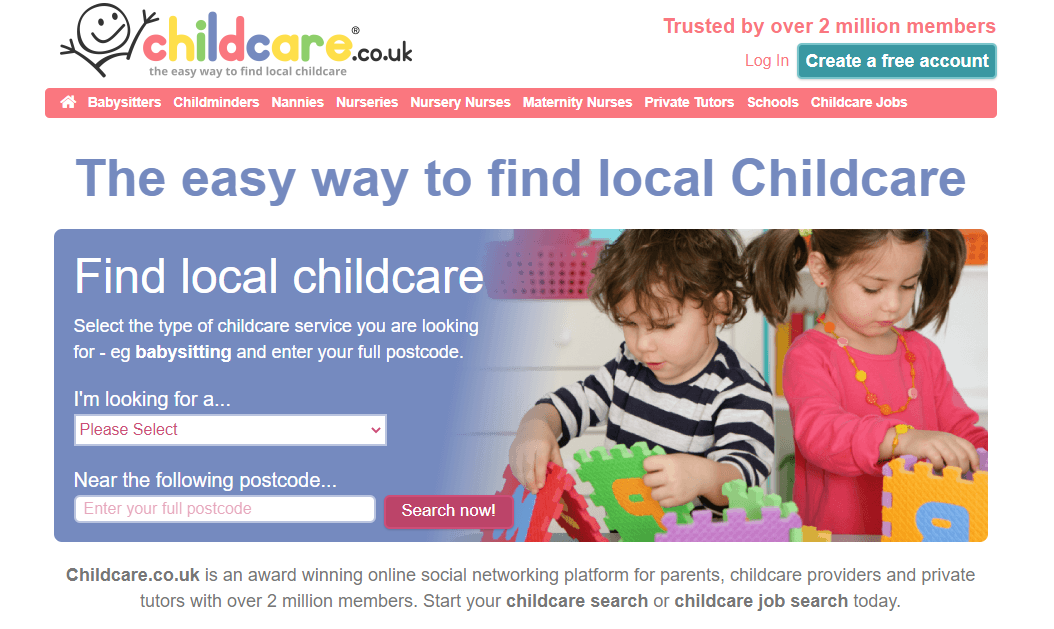 Find trusted local childcare quickly
On childcare.co.uk you can browse your childcare options in the same place, on one very handy website.
This makes it easy to compare all the available options and assess their qualifications, experience and fees. Providers are able to list descriptions of their services and what to expect, as well as important information such as whether they are DBS checked, OFSTED registered or have up-to-dat first aid training.
Another great benefit is being able to see the hours and days they are available. Being able to see the providers availability means you don't waste time contacting those who are already booked up or don't provide care on the days you need.
It's really quick to use the platform and you can start a search before signing up. To contact a provider simply register for free, it takes a minute, and contact them with the built in safe and secure messaging system.
The childcare providers are rated by families who have already used them so you can read reviews. Again, this will help to know the childcare providers are trusted and of high quality.
It's so important to leave your children with someone you trust, so reading real reviews from other local parents can provide the reassurance you need.
Make life easier with childcare.co.uk
Whether you need an evening babysitter or daytime nanny, childcare.co.uk will help you find the right childcare provider to suit your family's requirements, easily and quickly. Having local childcare options at your fingertips is so handy for busy working parents. That's one less thing to stress about!
This blog post is in collaboration with childcare.co.uk
More work-life balance blog posts
Work-life balance tips for work at home mums & dads
Tips to relieve the stress of balancing children + work life
How to survive the half term when you work from home
Managing life as a full time working parent
How to deal with overwhelm as a work at home parent
Easy ways to relax + destress as a busy mumpreneur
Six ways to recharge on your day off work alone
The things no one tells you about working from home