Eufy Robovac 30c review + £40 off discount code
Posted on
Find a Eufy discount code for £40 off here! We purchased the Eufy Robovac 30c to try and make our lives easier with a robot hoover to do a general clean of our family home each day. Read our honest review of the Eufy Robovac 30c, the pros and cons, and see a video of it in action.
Was the Eufy Robovac 30c the answer to our problems?
During the covid lockdowns our G-tech Airram broke for the third time in as many years. Having already sourced replacement parts for it twice before and not being able to contact their customer service team quickly in the midst of the pandemic, we decided to buy a new vacuum as we could not wait.
As a busy household of four, with a child in infants and a child in juniors, and my husband coming in and out all day long through the garden from his workshop - our floors got messy, quickly!
We vacuum every day and it was becoming a rather laborious task and chore I did not look forward to each day.
Long ago I lived in a bedsit for a few years and I started longing for the simplicity of it all, back when I lived by myself and barely needed to vacuum the room once a month, let alone every single day!
Now, in our family home, I found myself hoovering sometimes twice a day and still, the dust and dirt would keep reappearing.
Before the dirt became too out of control in our home we decided to invest in a Eufy Robovac 30c - a magical robot vacuum we hoped would clean our house on autopilot!
Hopefully a Eufy Robovac would be the answer to our vacuuming woes and keep our house in tiptop shape without us needing to lift a finger.
Did it work? Was it worth the money?
Read on to find out.
Eufy £40 off discount code
Before you read on, if you're only here for the discount code then click here to use my referral link to get £40 off Eufy when you spend £200 or more!
Otherwise read on to see if the Eufy Robovac 30c is worth your money!
Eufy Robovac 30c review
Ultimately the reason we decided to buy a robot vacuum was to save us some time each day. If we can vacuum our downstairs, at least, every day without lifting a finger then we can get on with other things like making money from home or having more family time, making it worth the expense.
And, luckily, this is exactly what the Eufy Robovac 30c has allowed us to do, mostly.
Let's take a look at the pros and cons of the Eufy Robovac 30c.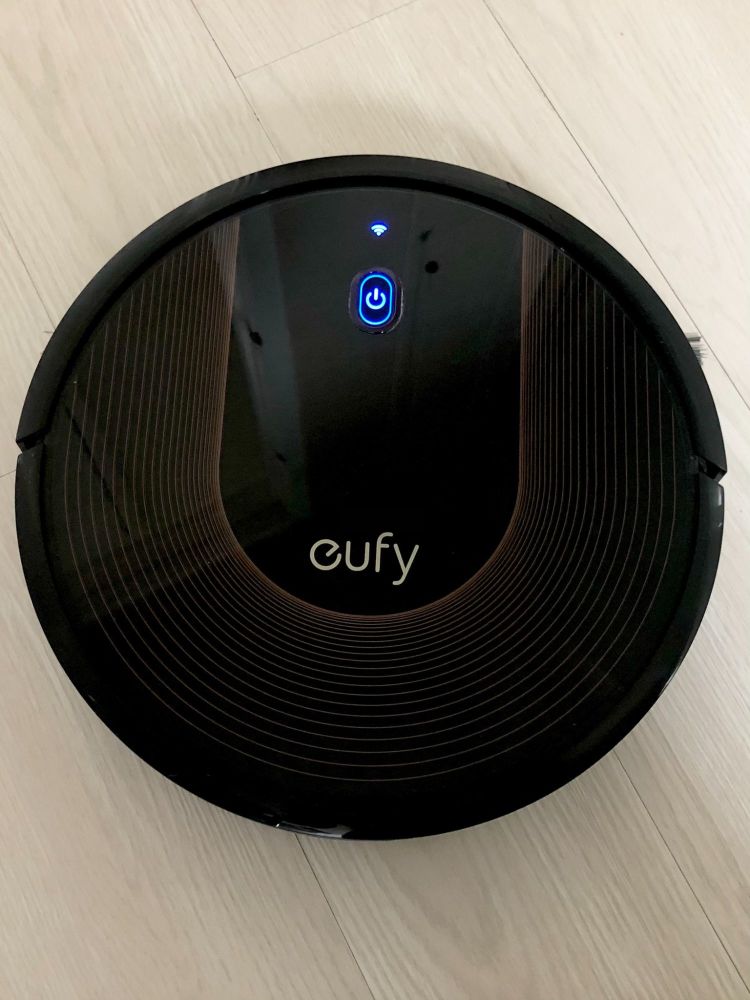 Eufy Robovac 30c pros
Saves time… so much time! For us it saves at least one vacuum downstairs a day that we'd have to do manually if we didn't have the robot vacuum. We usually set it to go around for 30 minutes and this takes it around our living room, dining room, kitchen, WC, downstairs bedroom and hallway.
There are other settings too. You can leave it to run for longer, until the battery needs charging and it will just keep going round until it needs to self-charge.
You can control it manually too with a smartphone app or the remote it comes with.
You can set and forget! You can hit 'go' from your phone or using the remote and then let it do its thing. OR you can actually set a schedule so it could clean first thing in the morning, or last thing at night, for example, so you wake up to a nice clean floor.
It stops us doing a chore every day that we detest. Yep we hate vacuuming (or hoovering as we so incorrectly call it!). If you can cut out some of the chores that you absolutely hate each day then why not? If there's a solution like a robot vacuum then go for it!
It's a novelty for the kids - the kids love it! They are happy to help with the vacuuming if they get to control the robot hoover!
It has extra settings like spot clean if you need it to concentrate on a particular area, or you can set it to do the edges of the house, usually where the most dirt collects, and it will go all the way around the edge of the house.
Self-charging - it will send itself back to its charging point and automatically charge up when its battery is getting low or when its finished its programmed cycle. Of course, it needs to be on the same floor as its charging station to do this as it can't climb down stairs! So you will need to move it between floors if you use it on different levels.
It won't fall down stairs - we were so worried about this when we first tried it upstairs! What if the sensors didn't work and our new vacuum smashed to smithereens?! Luckily it worked and it senses it's at the top of a big drop and turns itself around!
They have a great referral scheme! Not exactly about the vacuum itself, but you can use my referral link for £40 off your Eufy purchase.
Eufy £40 off discount code: click here to use my referral link to get £40 off Eufy when you spend £200 or more!
Here's a video of our Eufy Robovac 30c doing a spot clean: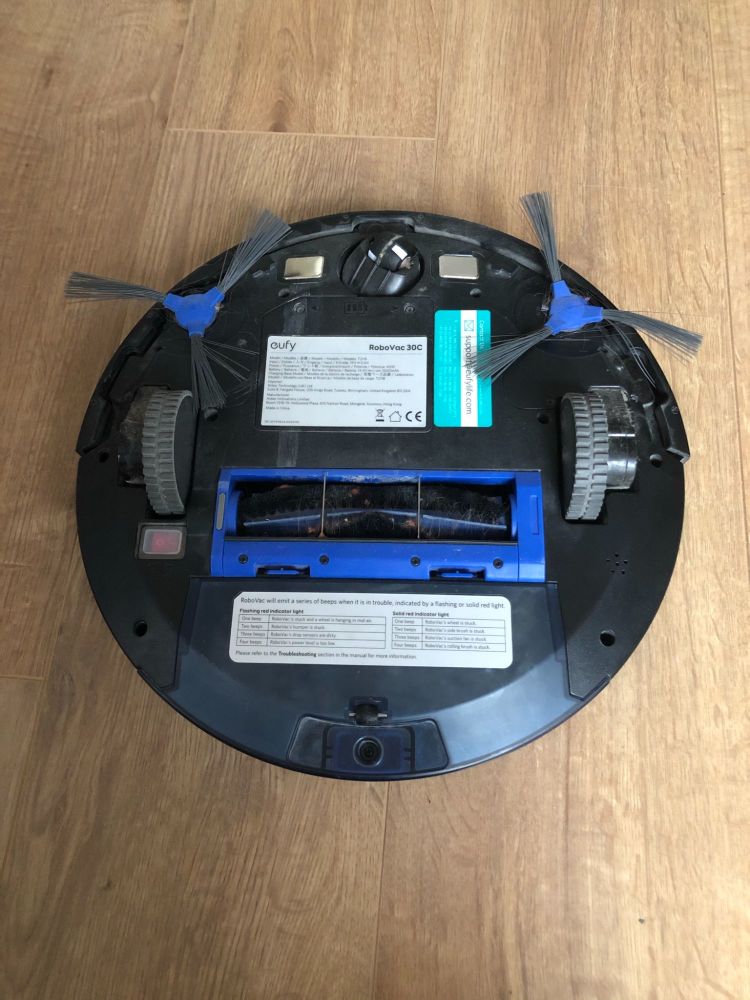 Eufy Robovac 30c cons
Doesn't map out the room so it takes a random path which means sometimes it can do the same spot several times when it doesn't need to.
Must ensure all wires and thin rugs are put away. Whilst it can sense stairs and climb onto some rugs without getting stuck, you must make sure wires are not left on the floor and thin rugs are put away too. Ours can handle thicker rugs and climbs onto them without a problem, but thinner rugs get stuck. I imagine this will be the same with any vacuum, but if your home is covered in thin rugs and cables then you will have to spend time moving them out the way every time you vacuum. Aside from hiding one cable our downstairs floor is hard without rugs and so it's not a big issue downstairs. Upstairs we don't tend to use it as we have thinner mats and rugs in the bathrooms and bedrooms.
It's slightly noisy. It has three suction settings so the lowest is the quietist, but it's still reasonably loud if you're trying to work or watch something. However you can schedule it to vacuum when you're in bed or doing something else if it disturbs you too much in the day. I guess all vacuums are noisy really, but it would be amazing if they can create quieter ones somehow!
It won't do a deep clean. You may still need a regular vacuum too. It won't reach under every crevice, for example it doesn't get under the small gap of our radiator covers or into every nook and cranny, but it does a good job for a quick vacuum each day. We still have a Gtech Airram upright and handheld for a more through clean once a week.
You'll have to carry it upstairs and downstairs. Unless you have enough money to buy one for each floor which would be a dream!
Eufy £40 off discount code: click here to use my referral link to get £40 off Eufy when you spend £200 or more!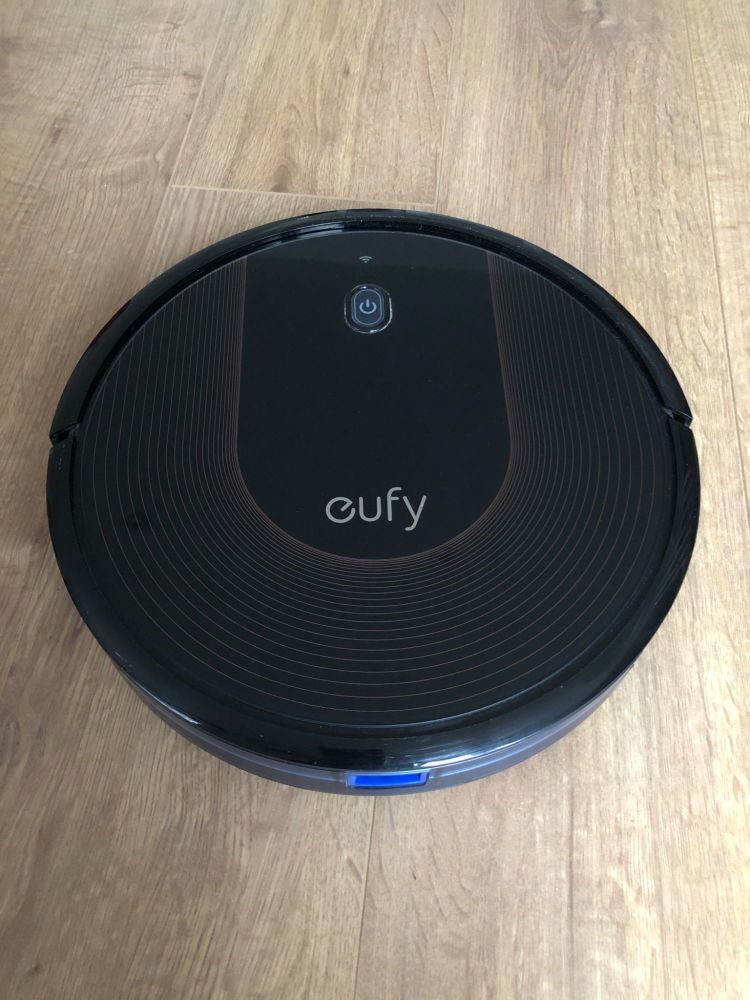 Do I recommend the Eufy Robovac 30c?
Yes, I do recommend it as a starting vacuum when entering the world of robotic vacuums, but if you can afford to spend a bit more then I would recommend upgrading to the version that maps out the room.
We really wish we had bought a version that maps out the room as it would just be so much more efficient when cleaning and I assume it would take less time to clean, not miss any spots and cost less to run.
But for time saving and if you're on a budget then yes, the Eufy 30c does the job and we are happy with ours. It saves us time every day and we rarely manually hoover the house on weekdays now. We just send our Eufy round!
Now we've experienced a robot vacuum, we won't look back. So that says something. We will always have one as part of our household cleaning as it does save a lot of time and effort each day.
Eufy discount code £40 off and a great referral programme you can join too!
Eufy also have a great refer a friend scheme where you can share a £40 discount code with a friend and if they use it, you'll get £40 in Amazon vouchers (at the time of writing).
It's a great deal and if you are interested in buying a Eufy for yourself then click here for your £40 off Eufy discount code!
Looking for more ways to save money?
Check out my massive money saving tips section and find some great deals on my UK voucher codes and free money pages!
Please pin me!
Last updated in 2022