Are all paving stones created equal?
Posted on
When it comes to designing any outside area, many homeowners focus on the plants they want to choose and where to put them as the main outdoor feature.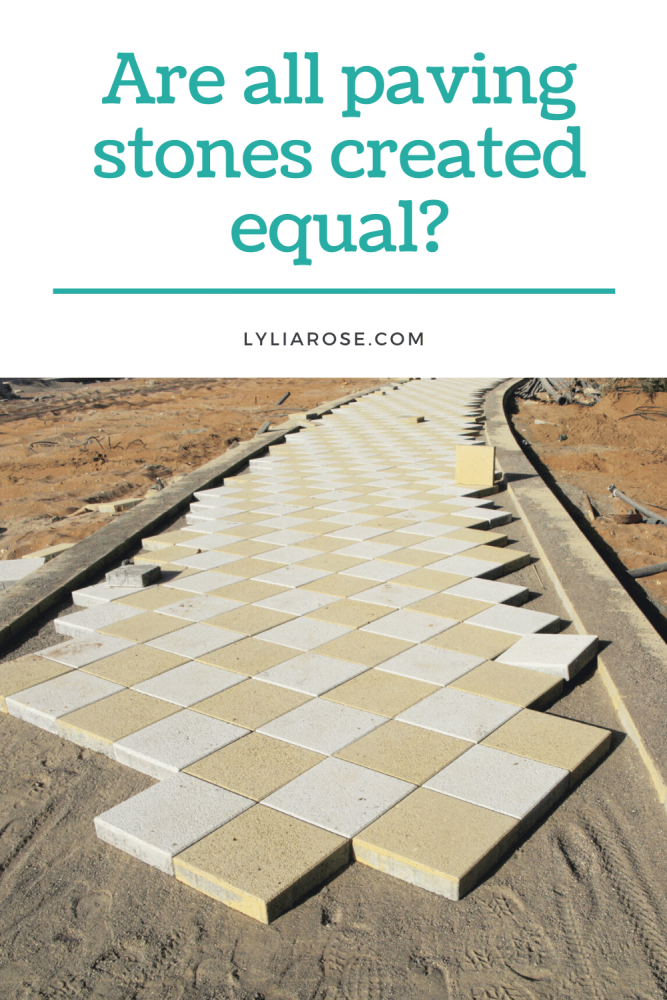 But the outdoor feature that usually makes the greatest impression is the paving material you choose, like man-made permeable paving stones or natural sandstone, and many more.
With a wide range of paving available, choosing the best match for you and your outdoor area is not easy.
Each paving material has its own unique style, colours and textures which can transform the look you're seeking. Man-made stone is usually made from concrete or porcelain, while natural stone paving has numerous variations.
When choosing your paving, the first decision you should make is whether you want man-made stone or natural stone?
Aviara Pavers explains that man-made pavers are processed and moulded when soft, then fired or allowed to dry. Natural stone, is dug and then shaped by splitting, cutting, or crushing.
By understanding and exploring your options, you'll be better placed to make the right choice for your setting and budget.
Man-made Concrete Paving Slabs
These manufactured tiles now come in a wide range of surface textures, colours, and sizes often similar in looks to natural stone. Their size and colour are consistent which gives them a modern and contemporary design. The cheaper ranges, however, tend to lack character.
The surface texture and edges are altered to give it a more natural, weathered look. With coloured concrete, there is a pigment or dye added at the time of manufacturing and can fade over time. Installation is less expensive compared to the natural stone because of the uniformity of the sizes and less preparation required to lay them.
Man-made Porcelain Paving Slabs
Manufactured from kiln-fired clay, these man-made precision cut tiles are extremely resistant to fading, stains, frost, are scratch resistant, and some have an enhanced anti-slip surface, ideal for any area likely to be wet.
The have a very trendy, modern, and contemporary look, and a huge range of colours and styles, making them suitable for most gardens.
Stone
This material has a lot of variety. It's durable and versatile, and offers an enormous range of colours, shapes, and sizes. It can come in irregularly shaped flagstones for country-garden paths or precision-cut geometric blocks for a formal patio. However, stone can be expensive to purchase and install and costs vary depending on how close you are to the source of the type of stone.
Here are some points to be aware of with stone paving:
Ensure a thickness of at least 2 inches to support frequent foot traffic and to endure the vagaries of settling or weather.
Avoid rounded cobblestones, and flagstones with a polished or honed finish, which can be slick when wet.
Choose stones that are flat and have a natural-cleft surface and offer some grip or texture.
Check the colour when wet, sometimes the look can be quite different.
Sandstone
This material is tough enough for any paving application but easier to cut and work than granite, leading to a lower cost. It is available in many shapes and colours and is easy to come by in large quantities. Expect some color variation in every lot of sandstone, along with occasional bands or blotches of contrasting color in each piece.
Gravel
Easy to install with an attractive texture ideal for informal landscapes, short-term paving solutions, and gardens built on limited budgets. On the downside, it can become weedy and unstable underfoot. Weeds can become a problem if gravel is left untended, so it's best to stay on top of them. To avoid issues with footing, choose gravel that is "1/4-inch minus" to avoid shifting. Sharp, angular, unsorted gravel will interlock as it settles to form a firm surface that will not spill, furrow, or shift. It also helps to tamp or compact the gravel.
Slate
With a unique soft texture and subtle color palette, its pastel blue-greys to muted reds and lavenders are beautiful, both to look at and to walk on. While easy to shape into relatively flat pieces, it can also be less durable in areas that experience heavy rainfall or freeze/thaw cycles, causing it to flake and chip. Slate is best placed in sheltered locations or regions with limited rainfall and mild climates.
Granite
Strong and durable, it is often sold as cubes or brick-shaped pieces called sets (or setts) or as uniform-size (dimensional) flagstone and comes in many colours. Being relatively difficult to quarry and work, it's usually among the pricier paving stones.
Limestone
The fine texture makes it distinctive with a velvety finish when cut for paving. Its color range is more limited than granite or sandstone but tends to be more evenly coloured. Its very fine grain makes it relatively easy to cut into all sorts of decorative shapes.
Thanks for reading.
Want to manage your finances better?
Here are loads of family finance tips and helpful debt articles.
Check out my massive money-saving tips section and find some great deals on my voucher codes and free money pages!