Earn interest and get free crypto with AQRU
Posted on
N.B - since writing this article, the AQRU terms have changed and you must have a minimum balance of 250k to invest with AQRU.
If you find the process of investing in cryptocurrencies quite daunting and complicated, then you could be looking for a solution that makes cryptocurrencies accessible to everyone, quickly and easily.
Whilst also wanting to invest in crypto, you might also want your money to work as hard as possible and even to earn interest on your crypto investments!
But, you might be a complete beginner and not fully understand cryptocurrencies or how to start! This is where the simple-to-use crypto app AQRU comes in.
Recently launched, in December 2021, AQRU aims to make buying and selling of crypto easy for everyone, as well as paying interest of up to 7% on the crypto you buy or hold so you can start earning money right away. Let's take a deeper look into AQRU and how it works.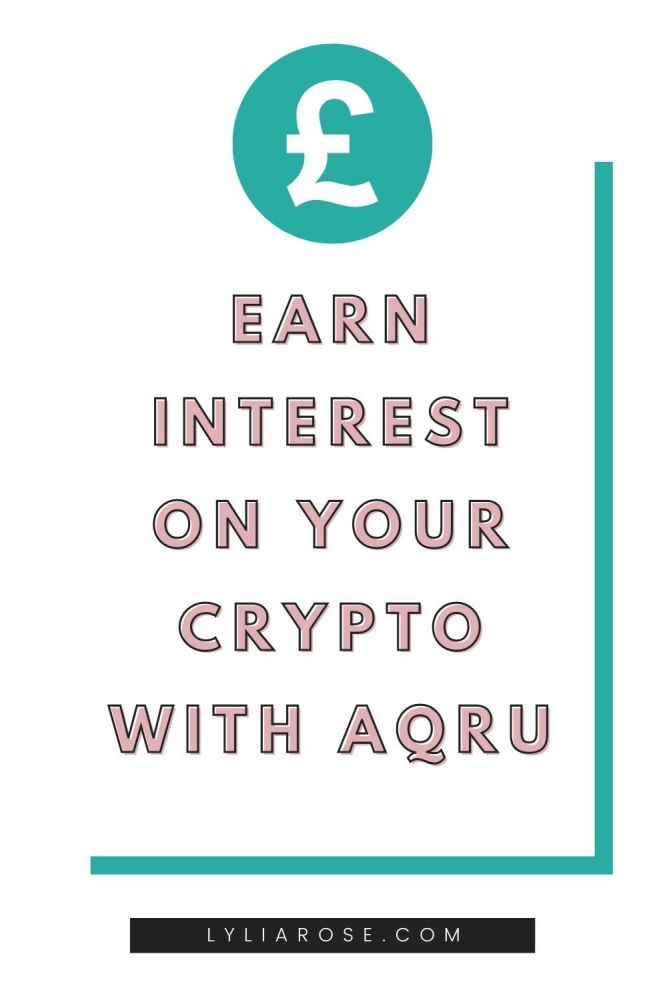 How does AQRU work?
AQRU offer you a quick, safe and secure way to store and invest in cryptocurrencies. It is an app that is easy to use so anyone can get started in the world of cryptocurrency investing, even complete beginners.
You can download the app or use the desktop version, or both. Signing up to the app is straightforward and takes less than one minute! However, before depositing and withdrawing you will need to verify your identity by uploading an accepted form of ID. This is standard practice for financial apps such as this.
You don't already need to own any crypto as you can deposit normal currency (a minimum of $100) in the app using a bank card or via bank transfer, then choose which cryptocurrencies to invest your money in. You can also choose to transfer the existing cryptocurrency you own to AQRU to start earning interest in real-time on any existing assets you hold.
One of the main attractions of AQRU is the opportunity to earn high rates of interest on stablecoins, up to 7% at the time of writing. Stablecoins are cryptocurrencies that are pegged to a stable asset, such as gold or the US dollar. They are designed to maintain a stable value and avoid the volatility of other cryptocurrencies.
To earn 7% interest you would have to commit to a 90 day lock-in period and invest in USDC Maple at the time of writing, but they have other interest options from 1% to 3% in other products without any lock-in clauses.
Withdrawals in fiat currency are free, or if you want to withdraw in the cryptocurrency itself there is a $20 fee per crypto withdrawal (charged in whatever crypto you are withdrawing).
Three ways to get free crypto with AQRU
With AQRU you can start earning free crypto on your investments from 1% to 7% interest, depending on which crypto you choose to invest in or transfer to the app.

Before committing to their app by depositing your own money or transferring your existing crypto assets, you can currently receive an instant 10USDC joining bonus for free when you sign up to AQRU. This is invested automatically for you in one of their cryptocurrencies and gives you a chance to see the app in action to decide if it's right for you.

There's even a refer a friend scheme where both you and your friend will receive 100USDC each as a referral bonus, providing your friend deposits and invests at least $2000 for six months. Use AQRU referral code 5GOA1C when signing up.
Which cryptocurrencies can I invest in on AQRU?
Currently, you can invest in the following products on AQRU:
USDC Maple - 90 day lock-in period +7%

USDC - No lock-in period +3%

Bitcoin - No lock-in period +1%

Ethereum - No lock-in period +1%
You can choose to invest in one product, or spread your investment across more than one.
AQRU do reveal on their FAQs page that they plan to add more cryptocurrencies in response to demand, but only if the coins have a "consistent track record and proven utility".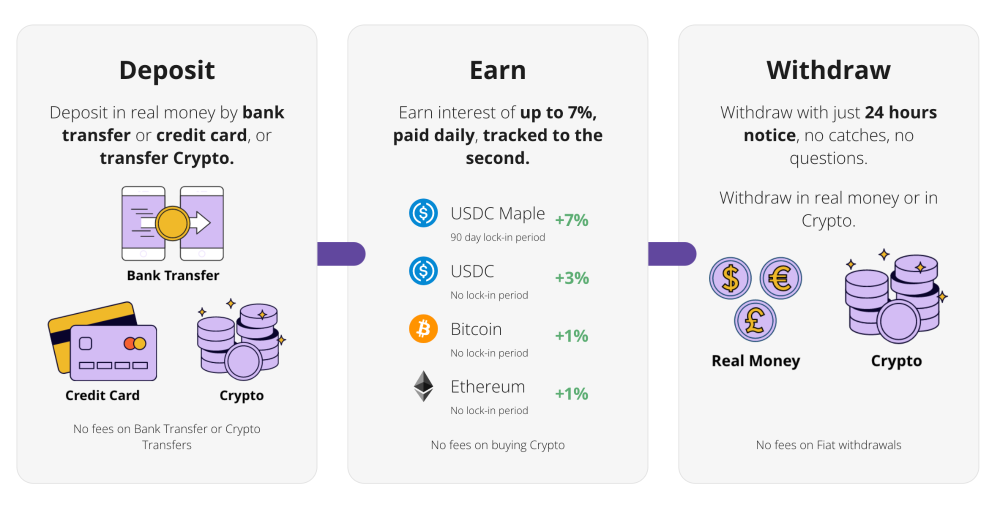 Where are AQRU based?
With everything being mentioned in USDC on the AQRU website, you might wonder if you can signup from the UK. The AQRU LinkedIn page has its headquarters listed as London and I have signed up for an account being based in the UK. Their company is registered in Bulgaria.
Final word
AQRU is a new crypto-based savings and investment product that will enable you to earn interest on your crypto assets. The platform offers an interest rate of up to 7% per year and is available in a fully automated and decentralized manner. It offers a beginner-friendly approach to buying and selling cryptocurrency, as well as many ways to get free crypto on their platform from daily interest, a free signup credit and referral bonuses.
---

Want to make more money from home, online or need a side hustle?
Find loads of ways to make extra money at home on my blog, as well as my favourite side hustle in my matched betting blog!
To get started, you can make money online uk with these 60 ways I've tried and tested.
Follow these steps to make £1000 in one month at home.
Or, if you're short on time, try these methods to make money in one hour.
Love sharing great offers with friends? Make extra cash with these refer a friend schemes.
Want to save more money or get free money?
Check out my massive money-saving tips section and find some great deals on my voucher codes and how to get free money pages!
Check out my list of UK apps that turn receipts into cash and also this list of UK cashback sites to maximise your free cashback and savings.
Want to manage your finances better?
Here are loads of family finance tips and helpful debt articles.
Check out my massive money-saving tips section and find some great deals on my voucher codes and free money pages!