Best Housewarming Gifts for Bathrooms
Posted on
Getting a new house is always a big step and achievement in someone's life. Creating a comfortable and cosy space is one of the most exciting sides of moving in. And there's no better way to show how you feel as a friend, family, or lover than a thoughtful housewarming gift to celebrate their new house with them.
When it comes to welcoming someone into their new home, housewarming gifts can truly make a house feel like a home. Instead of the usual kitchen gifts or a bunch of flowers, why not consider a bathroom gift for a housewarming? Bathrooms are often forgotten when it comes to gifts, but they need a lot of useful items. It's a practical and thoughtful choice.
If you're the parents of the new house owners, you may want to splash out and help with something more expensive like bathroom furniture sets. But for other friends, family and colleagues seeking affordable yet thoughtful gifts for bathrooms, we've got you covered.
Whether you're looking for bathroom-themed housewarming presents or simply the best bathroom gifts for new homeowners, these ideas are sure to delight and leave a lasting impression.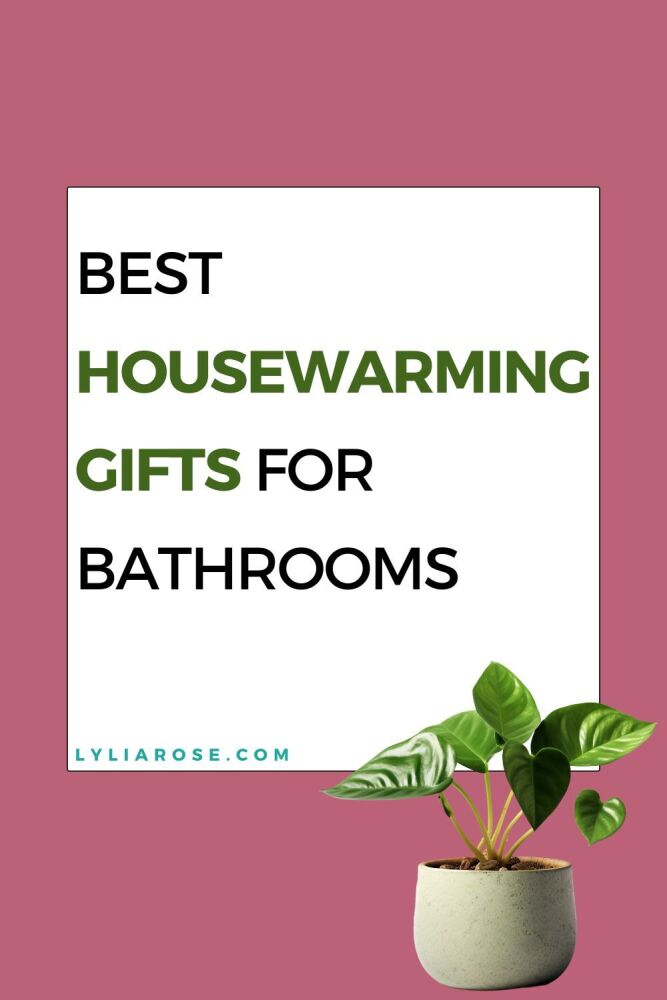 Housewarming Gifts for Bathrooms with a Thoughtful Touch
The bathroom is often a sanctuary within our homes, a place of tranquillity where we rejuvenate ourselves. Hence, housewarming gifts for bathrooms should reflect this oasis of calm. Consider items that combine functionality with a touch of luxury to enhance the new homeowners' bathroom experience.
Here are some thoughtful bathroom gift ideas:
Luxurious Bath Towel Sets: High-quality bath towel sets can elevate the bathroom experience. Opt for soft and absorbent towels with a classic British design for that added touch of elegance.

Scented Candle Sets: Nothing transforms a bathroom into a spa-like retreat quite like scented candles. Choose soothing fragrances like lavender or ocean breeze to help the new homeowners unwind after a long day. For eco warriors, choose these luxurious refillable scented candles.

Aromatherapy Diffuser: Enhance the bathroom's ambience with an aromatherapy diffuser. Lavender or eucalyptus essential oils can create a serene atmosphere during bath time.

Bath Bomb Collection: A selection of fragrant bath bombs can turn an ordinary bath into a spa-like experience. Look for a variety of scents and colours to suit their preferences.
Bathroom-Themed Housewarming Presents with a Dash of Creativity
For those looking to add a dash of creativity to their housewarming gift, bathroom-themed presents offer a unique opportunity. These gifts can transform a bathroom into a space that reflects the homeowner's personality. Think outside the box and surprise them with something truly distinctive.
Here are some creative bathroom gift ideas:
Personalised Bathroom Sign: Gift a custom-made bathroom sign with the homeowners' names or a witty bathroom-related quote.

Monogrammed Hand Towels: For a personal touch, opt for monogrammed hand towels. These not only serve a practical purpose but also add a touch of elegance to the bathroom. These monogrammed hand towels on Etsy are ideal.

Plant Décor: Bring a touch of nature into the bathroom with a potted plant. Succulents or air plants are low-maintenance choices that can thrive in a bathroom's humid environment.

Bathroom Wall Art: Find or commission bathroom-themed art pieces that resonate with the homeowners' style. Whether it's quirky prints or serene landscapes, artwork can make a bathroom feel like an art gallery.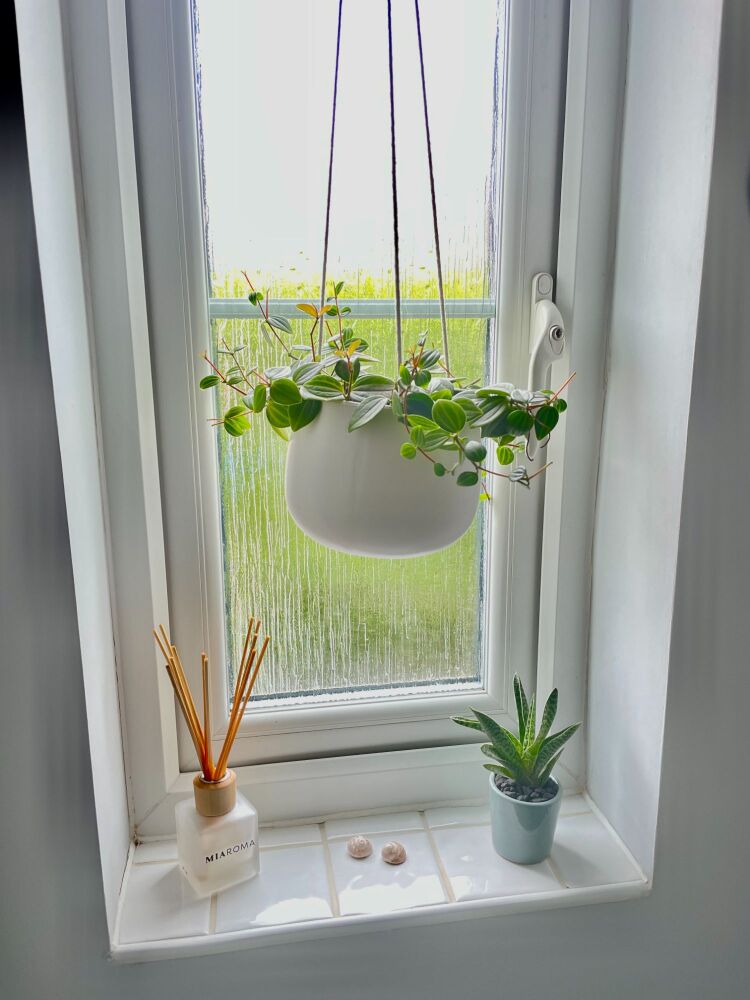 Unique Bathroom Housewarming Gifts (Stand Out from the Crowd)
When it comes to making a memorable impression, unique bathroom housewarming gifts are the way to go. These gifts not only serve a practical purpose but also showcase your thoughtfulness and creativity.
Explore these unconventional options to ensure your gift stands out from the rest:
Shower Speaker: Make their shower time more enjoyable with a waterproof shower speaker. They can now sing along to their favourite tunes without worrying about water damage.

Artful Shower Curtains: A unique shower curtain can be a statement piece in the bathroom. Look for designs that match the new homeowners' style or opt for something whimsical and fun. Try to avoid anything tacky, unless you absolutely know it's their style!

Vintage Bathroom Decor: If the new homeowners have a penchant for all things vintage, consider gifting them antique bathroom décor items like a vintage mirror or faucet handles.

Bamboo Bath Caddy: Help them indulge in relaxation with a bamboo bath caddy. It's a versatile accessory that holds books, tablets, wine glasses, and more during a long soak in the tub.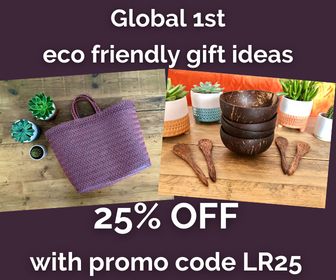 Practical and Pleasing Bathroom-Related Housewarming Ideas
Practicality meets aesthetics in these housewarming ideas. These gifts aim to enhance the functionality of the bathroom while maintaining a pleasing visual appeal. Look for items that help keep the bathroom organised, tidy, or even a joy to use such as:
Robe and Slipper Set: Help the new homeowners indulge in some self-care and a spa-like bathroom experience with a plush robe and slipper set. After a relaxing bath, they can wrap themselves in comfort.

Towel Warmer: Elevate their bathing experience with a towel warmer. Stepping out of the shower into a warm, cosy towel is a small luxury that anyone can appreciate.

Digital Bathroom Scale: A digital bathroom scale not only helps them keep track of their health but also adds a modern touch to the bathroom. Look for one with a sleek design.

Decorative Shower Curtain Hooks: Elevate their bathroom décor with decorative shower curtain hooks. Choose from a variety of designs, from nautical themes to elegant metallic finishes.
In conclusion
When selecting housewarming gifts for bathrooms, think beyond the usual housewarming clichés and consider items that will truly enhance the bathroom experience.
Whether it's a luxurious bath towel set, a personalised bathroom sign, or a fragrant aromatherapy diffuser, these thoughtful gifts will show your appreciation for the new homeowners' space.
So, the next time you're invited to a housewarming, remember that the bathroom can also be a place for unique and memorable gifts.
Roundup of bathroom housewarming gifts
Luxurious Bath Towel Sets
Scented Candle Sets
Aromatherapy Diffuser
Bath Bomb Collection
Personalised Bathroom Sign
Monogrammed Hand Towels
Plant Décor
Bathroom Wall Art
Shower Speaker
Artful Shower Curtains
Vintage Bathroom Decor
Bamboo Bath Caddy
Robe and Slipper Set
Towel Warmer
Digital Bathroom Scale
Decorative Shower Curtain Hooks
Before you go...
Before you go, don't miss out on exploring more of our popular gift guides:
We hope these gift guides help you find the ideal presents for your loved ones on various occasions.