Unique Gift Ideas For Men
Posted on
Struggling to find gifts for the man who has everything and wants nothing? There is no one-size-fits-all gift idea for men. A lot of people struggle to find the perfect gift for their loved ones, especially when it comes to the male in their life. So we've gathered some unique gift ideas for men, no matter what their interests, preferences, and lifestyle...
Whether you're buying for your boyfriend, husband, father, or brother, one or more of these gift ideas for the impossible man are sure to make them happy!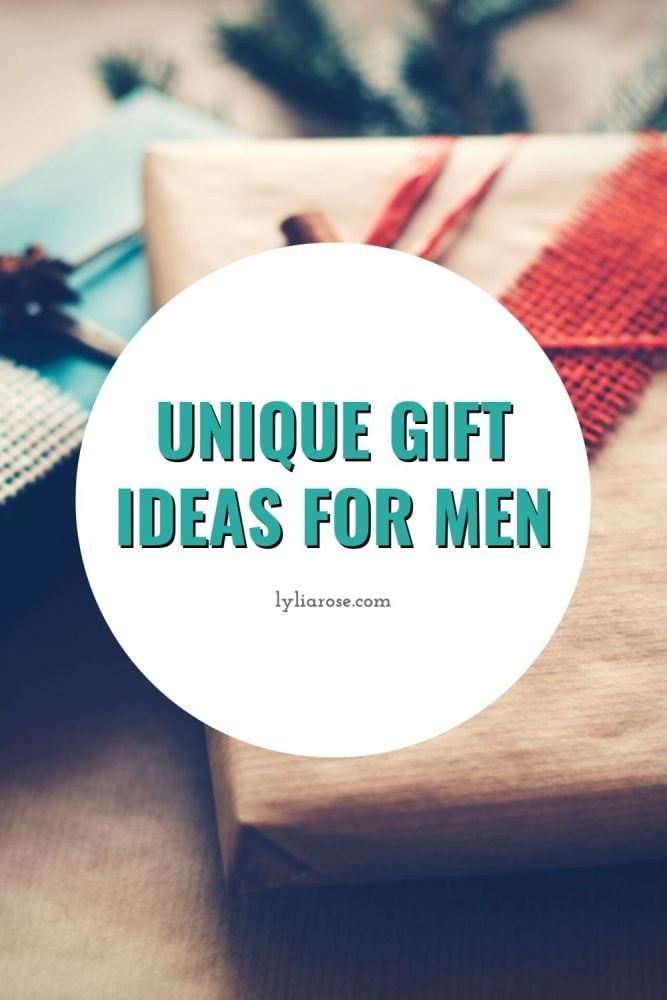 Huge list of unique gift ideas for men
When it comes to buying gifts for men, it is rarely an easy task. More often than not, when you ask the question 'What do you want for your birthday?' you will be answered with 'I don't mind', 'nothing' or a similar response. So selecting a nice gift can be a big challenge when faced with buying gifts for an impossible man or deciding what to get a man who wants nothing!
If you have a special anniversary or a landmark birthday on the horizon, for him, then you will no doubt want to push the boat out with a special gift. Men can feel much harder to buy for, but with a bit of imagination I think they can actually be quite easy. I'm sure all men would be happy with a takeaway and a beer or two, but if you're looking for an extra special present or a unique gift for the man in your life, here are my suggestions. We'll even share some more specific suggestions for the man who says he wants nothing, so don't miss those at the end!
In this article we will share these unique gift ideas, twists on these ideas, product images and lots of ideas of where to buy these items:
Unique gift ideas for the impossible man

Photobook
Pamper box for him
Spa day
Trendhim accessories
Bamboo motorbike
Custom phone case
Zip wire adventure
Sports memorabilia
Mini drones
Crystal decanter
Personalised car number plate
Personalised glass
Oak whiskey tumbler
Unique wooden watch or watch storage box
Helicopter ride
Pokemon figurines and collectables
Apple watch strap
Scratch the world travel map
Hilarious golf t-shirts
Cufflinks
Weekend away
Track day / Drive a Ferrari
Lessons to learn something new
Food and letterbox treats
Steel pint glass
Shed plans
Brilliant gift ideas for the man who says he wants nothing

DIY food hamper

New sports clothes

A week of lunch and coffee

A thrilling experience

A workshop

No-nonsense vouchers

Nothing

Final word on gifts for the impossible man in your life
Let's go!
Photobook
No matter whether it's your Dad, brother, uncle's birthday, boyfriend or husband you are buying for, there will surely be a lot of great photos and memories you have which you can put into digital picture books for him.
A photo book makes a great unique gift for him, as quite literally noone else will have these photos or memories!
It is a sentimental and thoughtful way to show your love and appreciation for him. You can create a photo book with memories of your time together, or you can choose to make it a whole family album. If you have kids then perhaps you can put all the photos of him and the kids in the photobook. There are lots of options and you can choose to make a digital photobook or you can handmade a photobook using a scrapbook and printing the photos yourself.
If you have one favourite photo of the two of you together, then you could simply print this one image and choose a frame to suit his decor.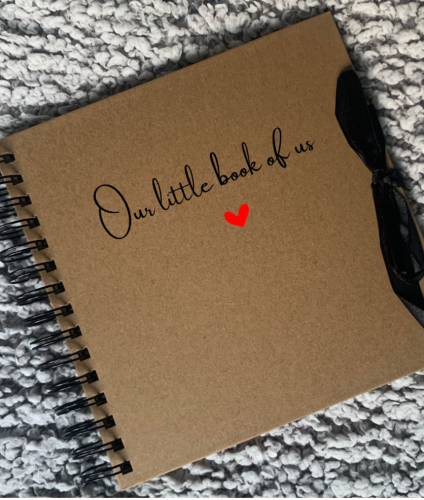 Pamper box for him
Some men love to pamper too! You could create your own spa day or pamper box for him with male face masks, chocolate, eye gels, coffee, candles with musky/spicy scents. Or check out handmade platform Etsy for readymade male pamper packages. They even have letterbox gifts so you can order directly to him.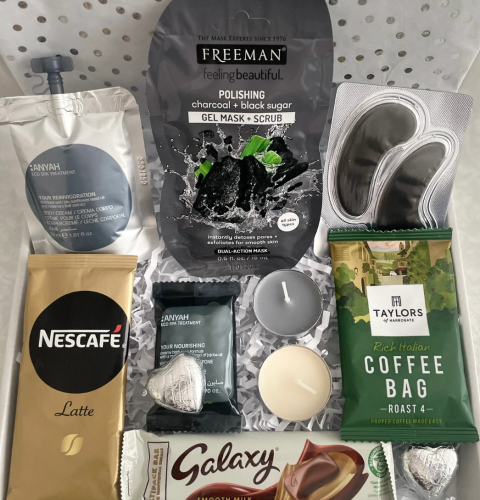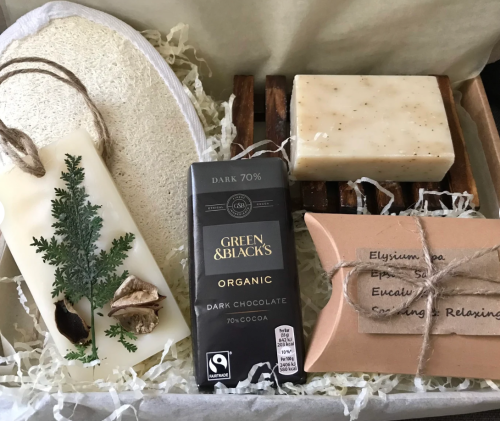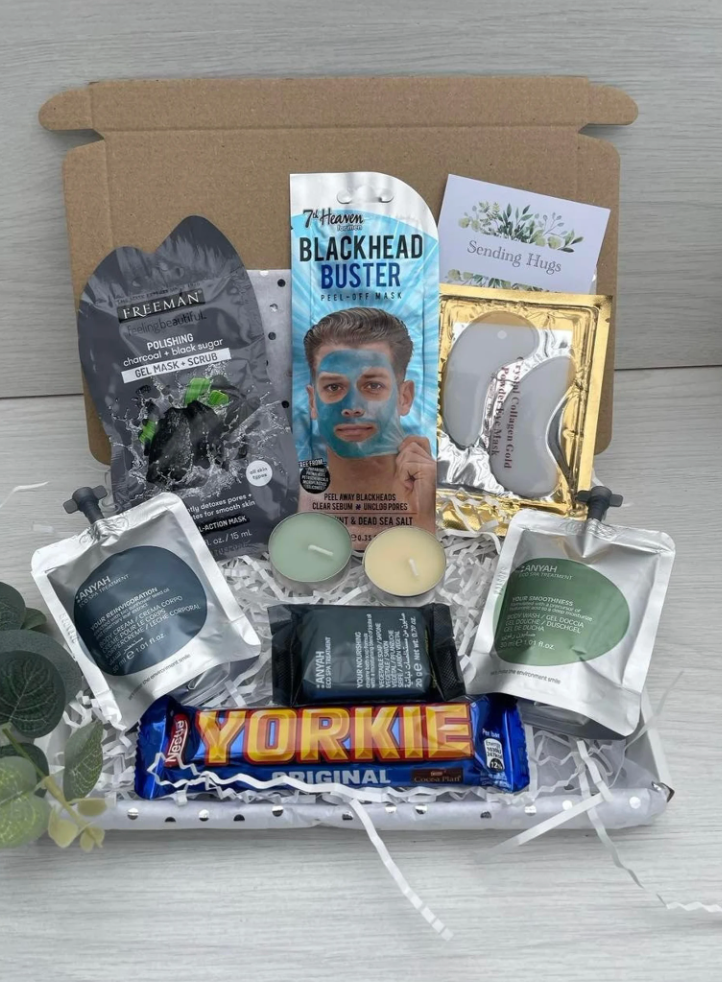 Spa day
Not the first thing you think of for a man, but why not? Me and Ben visited Thermae Bath Spa and felt like we were on holiday! Men also love massages just as much as women do! Lots of spas also have restaurants and bars. Some even let you have drinks in the outdoor pools! Is it a gift for your hubby? Book childcare and whisk him away for a luxurious day of heated pools, jacuzzis, massage, good food and beer – what's not to like about that? If time allows then book an overnight stay at a spa hotel and no one has to worry about driving home the same day.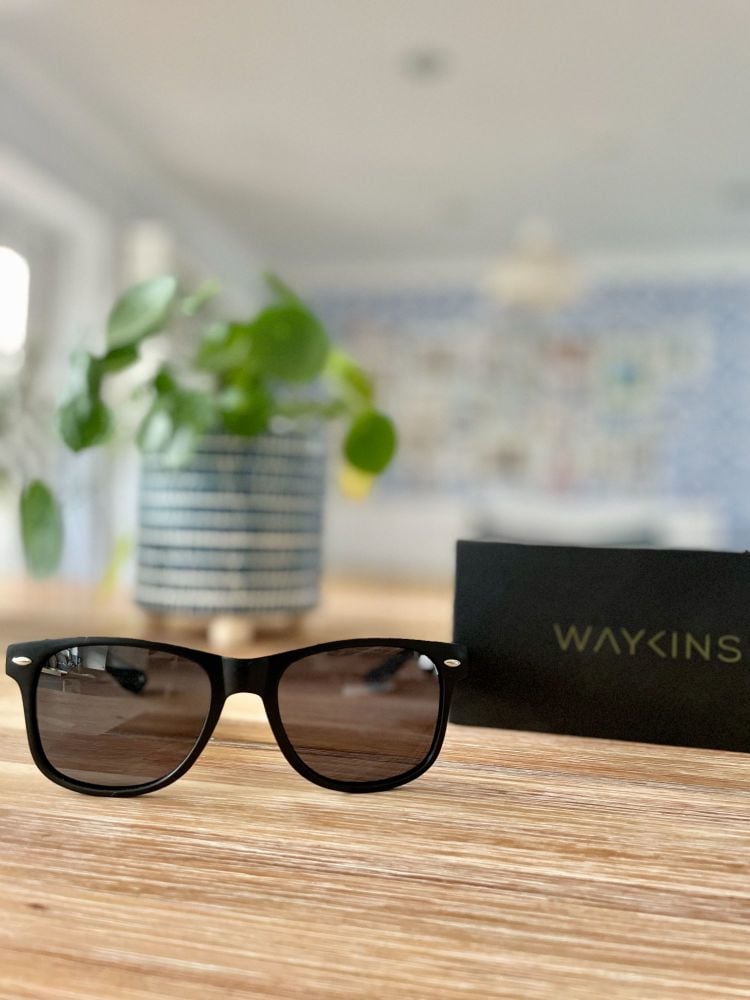 Trendhim accessories
When it comes to unique gifts for men, Trendhim is a great option to consider. They offer a wide range of stylish and practical men's fashion accessories that can make great gifts. From belts and wallets to watches and jewellery, Trendhim has a diverse selection of items that can suit different tastes and styles. These gifts are not only stylish but also made of high quality materials, making them great options for special occasions like birthdays or anniversaries. If you're looking for something a little different from the traditional gifts, Trendhim could be a great place to start your search with their unique selection of accessories from the normal to the quirky including wooden bow-ties, pocket squares and clear lense glasses.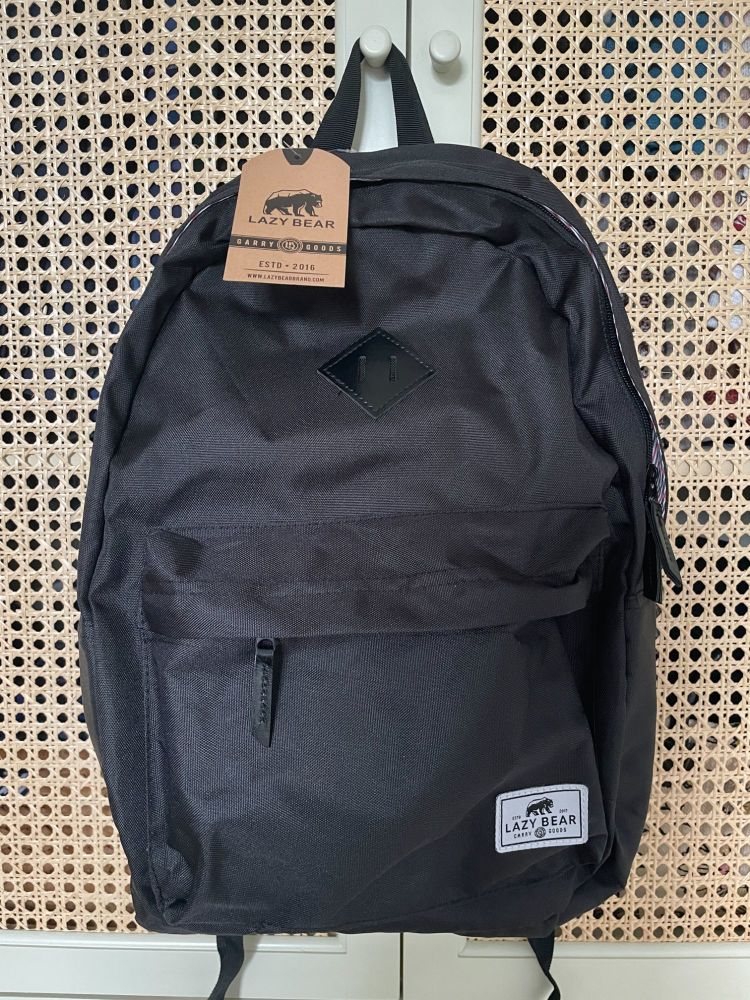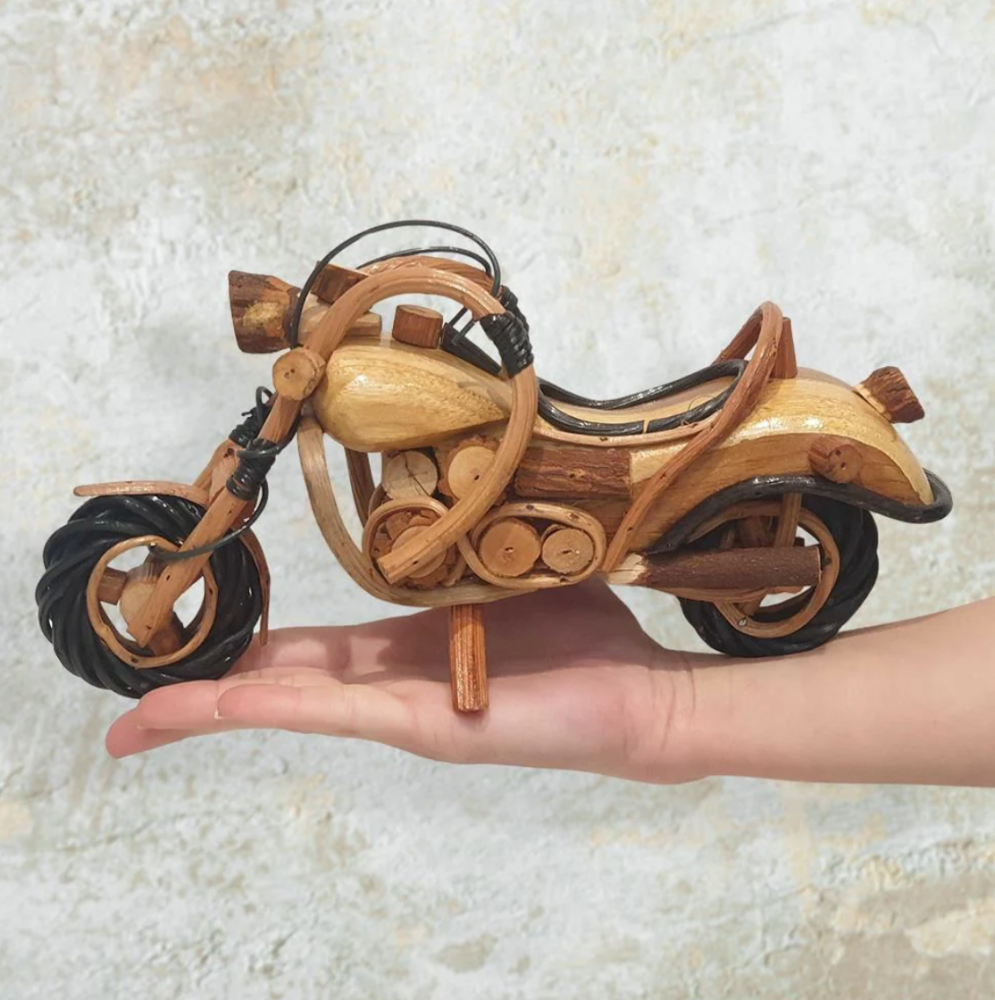 Bamboo motorbike from Global 1st gift section
Bamboo motorbike
This unique bamboo motorbike vehicle model makes a great gift for any motorbike enthusiast. It's from eco-friendly home and gifts website Global1st who stock a large range of fairtrade and sustainable gifts, toiletries, home decor and more.
Global1st discount code: Use code LR25 for 25% off your Global1st order
Custom phone case
Men may be difficult to find gifts for, but there is always something you can give them that they would appreciate. One of those is a sturdy custom phone case.
Not all men are cautious with their smartphones. Because of that, their phones would have scratches on the screens and the back cover from careless handling. You can help them avoid such mishaps by giving them a phone case that you designed specifically for them.
The personalised phone case can have their name on it, their favourite sports team, cartoon character, or photos of their most important moments.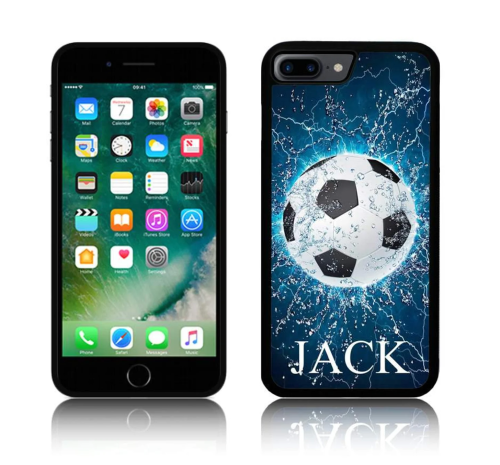 Click here to shop this football custom phonecase!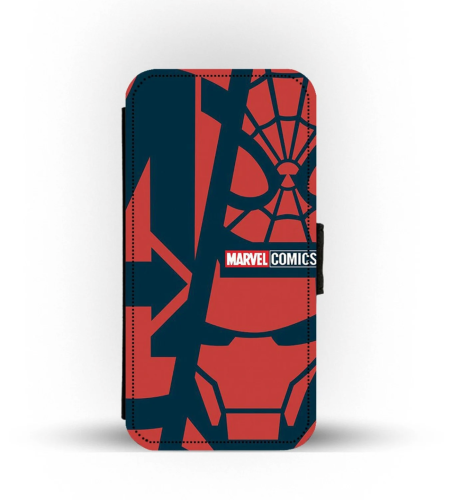 Marvel phonecase faux leather - click to buy!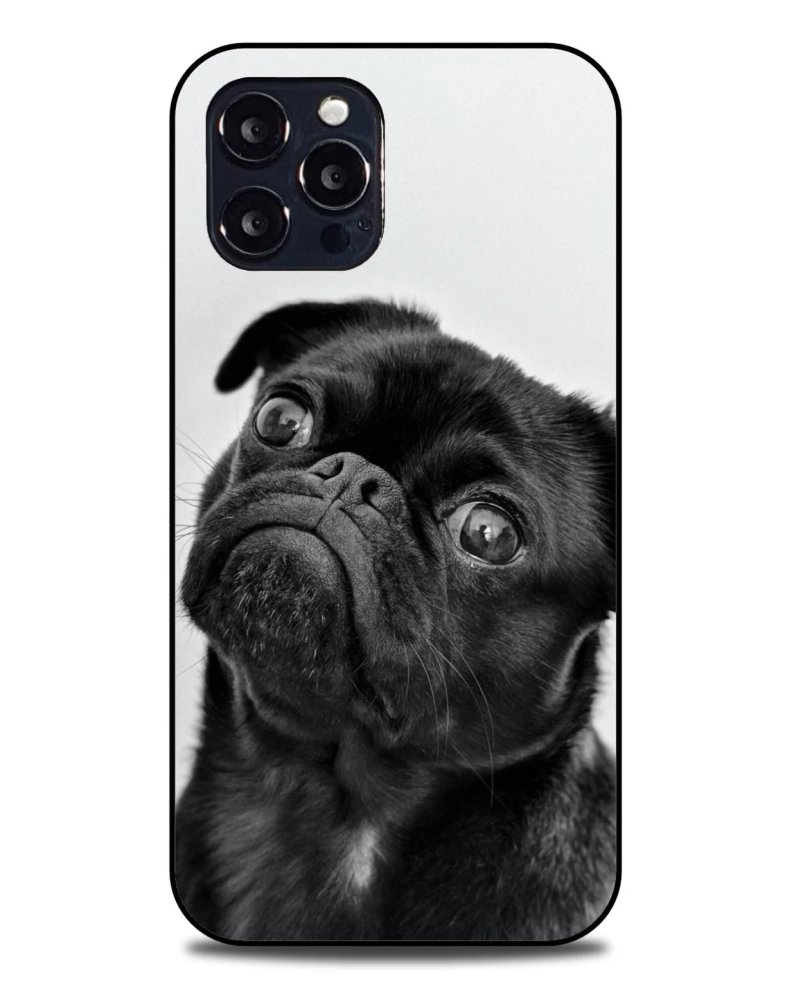 Custom photo phonecase - shop here!
Zip wire adventure
This is exactly what we once did for my husband Ben's birthday. We stayed a night at Chepstow Quarry near the Forest of Dean in one of their luxury glamping wigwams. We had an ensuite and our own hot tub overlooking the quarry; my kind of glamping! We did zip lining across the quarry! It was thrilling! They also have a giant swing over the quarry, drive in movie theatre and Segway experiences based at the quarry along with a restaurant and bar.
Sports memorabilia
For the big sports fan, a special gift related to their beloved sports team could really impress him. You can visit the club's website to see if they sell items that commemorate a trophy that they won, or a legendary player.
You can even try charity auctions that offer signed memorabilia such as club shirts, framed pictures or balls. How much you will have to pay for these sorts of items will largely depend on the popularity of the team.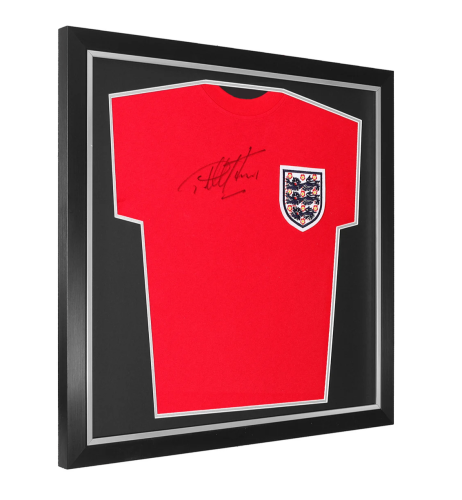 Mini drones
There's something about men and toys with remote controls that turns them into big kids. The latest drone craze is sure to release the kid inside them and give hours of fun! Mini drones are widely available now, and I must admit, they actually look quite cool if you attach a camera and film the views.
Crystal decanter
For a man who enjoys a tipple of whisky every now and again, a high-quality decanter and glasses set is a nice idea.
The cost varies massively depending on which brand you choose, so decide whether you want to go for a Waterford Crystal product or something a bit more budget. You can also get personalised decanter set where you can have a special message engraved on the glass.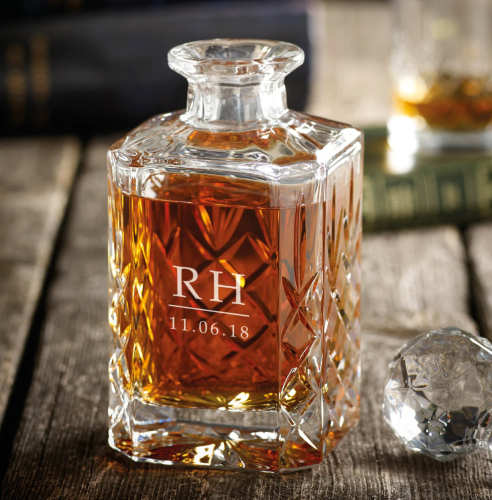 Personalised crystal decanter -shop here!
Personalised car number plate
This has got to be one of the most unique gifts I can think of for any car loving man, a personalised number plate for his car! With prices from as little as £40 at Speedy Reg, it can be a really affordable gift. It's also such a brilliant idea for newlyweds too or a business vehicle! The possibilities are endless. They even have a Game of Thrones number plates section if your man is a hard core fan!
Personalised glass
On the same theme, you can get all sorts of personalised glasses for a unique gift matched to his favourite tipple. You can have it engraved with his name, or you can add his initials to the glass. Some will have extra space available to inscribe an important date or phrase. It's something practical which can regularly be used, but also sentimental. The Engravers Guild website offers every type of engraved glass you can think of including:
Personalised large stern beer glass
Personalised bar barrell tankard
Personalised craft beer glass
Personalised bar brandy glass
Personalised lead whiskey glass
The list goes on and on! They have every glass you can think of for each type of drink. I'm sure you'll find something suitable.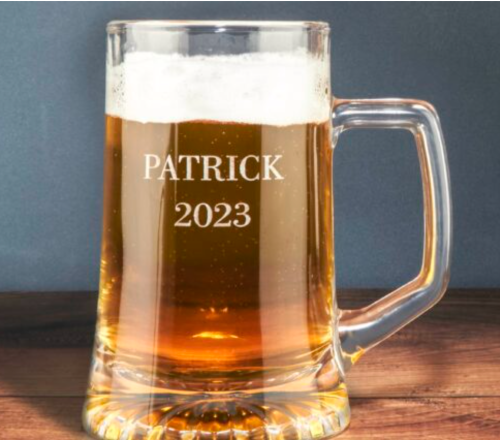 Personalised glasses from Engravers Guild
Oak whiskey tumbler
Another unique gift idea for him is a stunning oak whiskey tumbler. A unique twist on the traditional glass version and perfect for those DIY and woodwork lovers who have a passion for wood!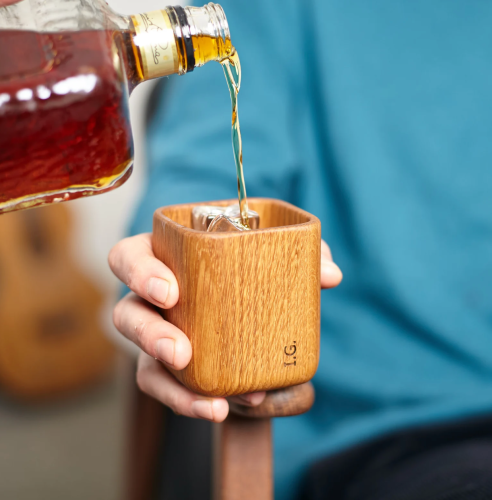 Personalised oak whiskey tumbler
Unique wooden watch or watch storage box
There is a lot of fuss these days about smartwatches and all of the wonderful things that you do with them but you still cannot beat a stunning, traditional wristwatch.
A nice, designer brand watch such as the Hublot Big Bang perhaps engraved on the back of the watch can be a much appreciated and thoughtful gift. You can find a bargain if you look for preloved watches too.
Or, if you're not sure which watch to buy or he has lots already, how about a unique wooden watch or personalised wooden watch box to store all his precious timepieces?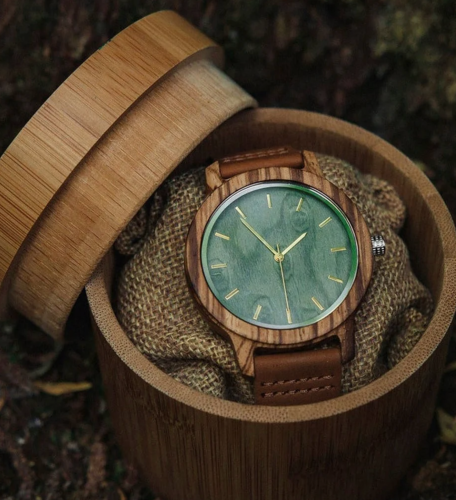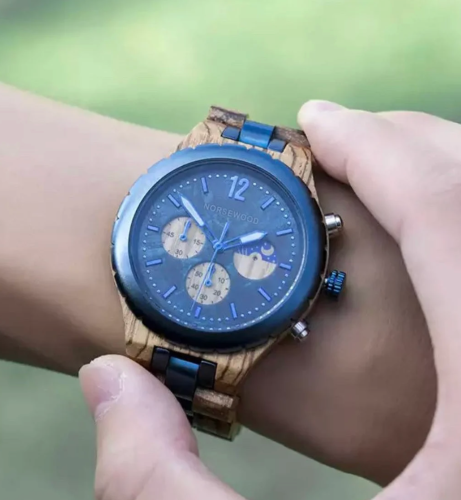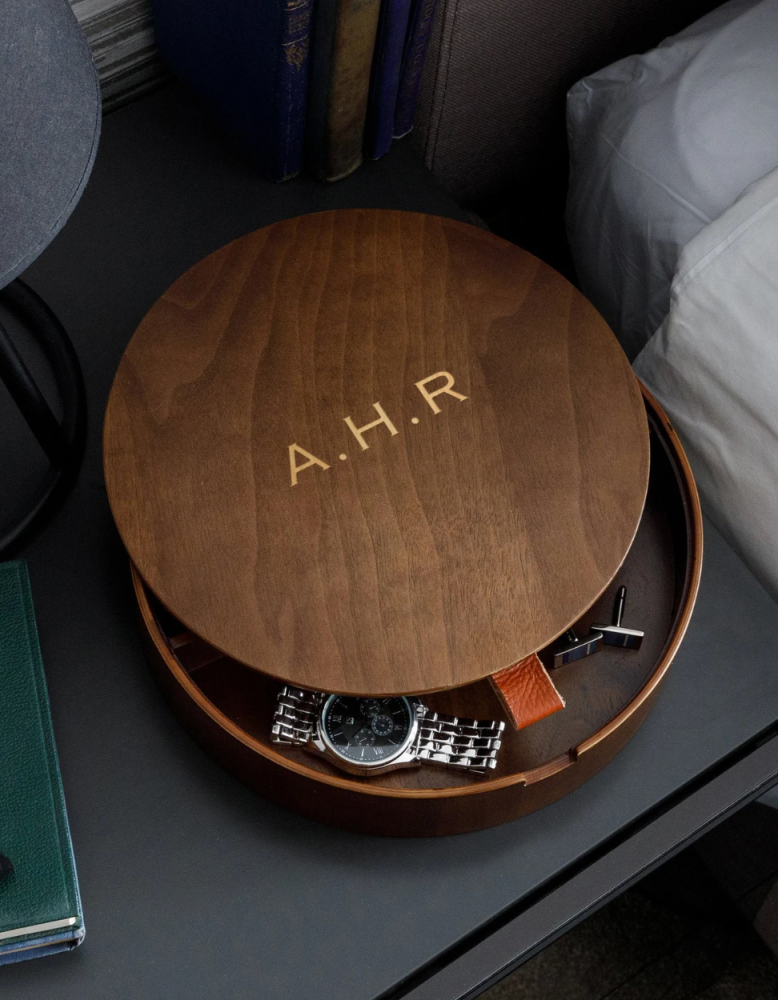 Personalised wooden watch and jewellery box
Helicopter ride
I see these sorts of experiences popping up all the time on Groupon and they sound awesome! Not only can you ride as a passenger in a helicopter and experience a sightseeing flight (often with bubbles), but you can also book a lesson for him to learn to fly the helicopter himself. This would make an exhilarating and very memorable birthday gift for him, some even allow two passengers so you'll get to experience it too!
Pokemon figurines and collectables
Maybe he's a big kid at heart and loves gaming or collctables for their value? Pokemon is big news right now in the fantasy and comic industry for both kids and adults alike. If he loves Pokemon then how about some Pokemon Go Cards to add to his collection? Or Pokemon collectable figurines that may increase in value over time? Or even a Pokemon Collectors Print for his mancave if toys and cards aren't his thing!?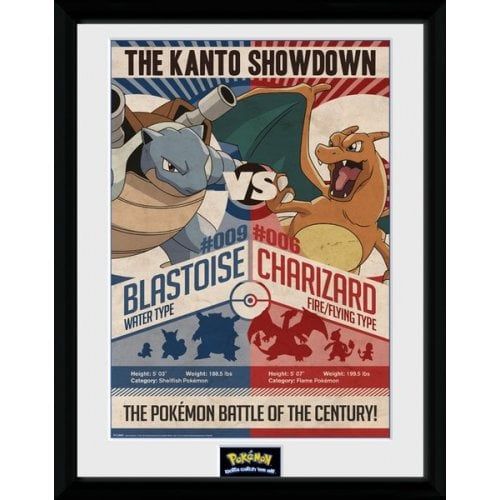 Pokemon Collectors Print [https://magicmadhouse.co.uk/gb-eye-pokemon-red-v-blue-collector-print]
Apple watch strap
Perhaps the recipient already owns a watch which is his pride and joy. In which case you might be able to make his existing watch even better!
If he already owns an Apple watch then why not gift him the perfect Apple watch strap from The Watch Strap Co to make his truly unique?
Whether he prefers stainless steel for a classic look or a silicone sports strap for the gym, there are a range of different colours, styles and materials to suit all tastes.
No matter what the occasion there's a range of straps for all events. It's a really easy way to quickly update his look whilst keeping the watch he loves.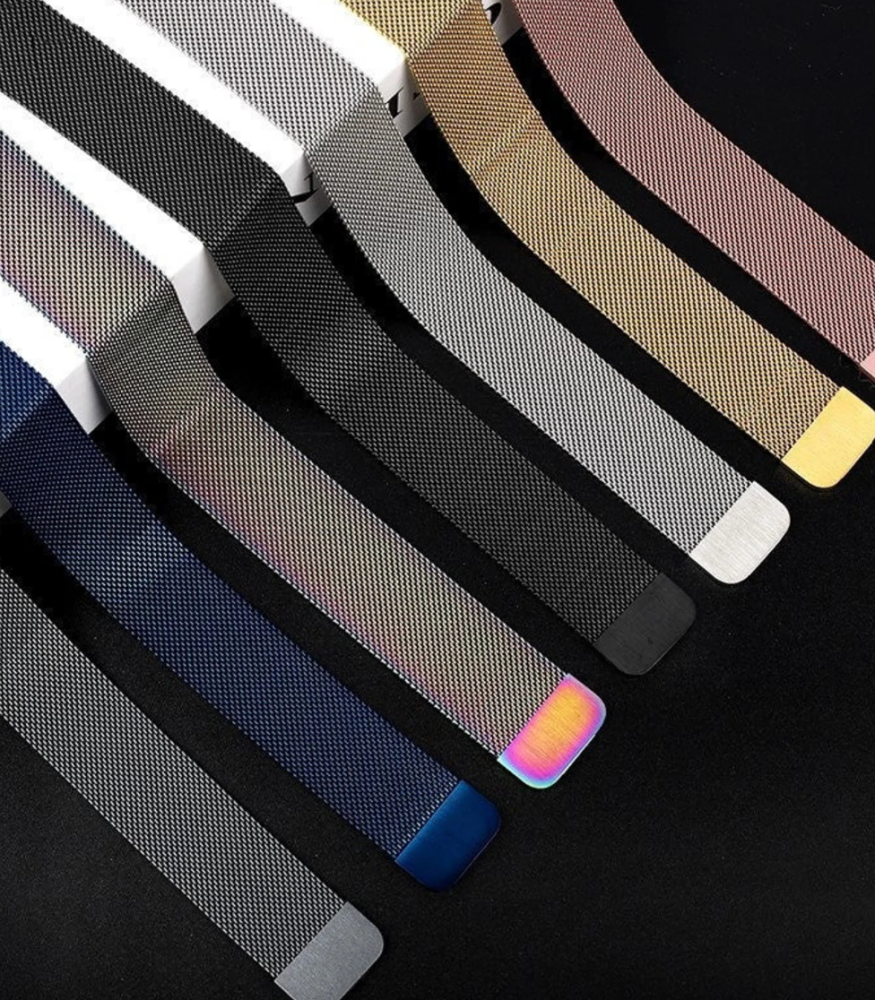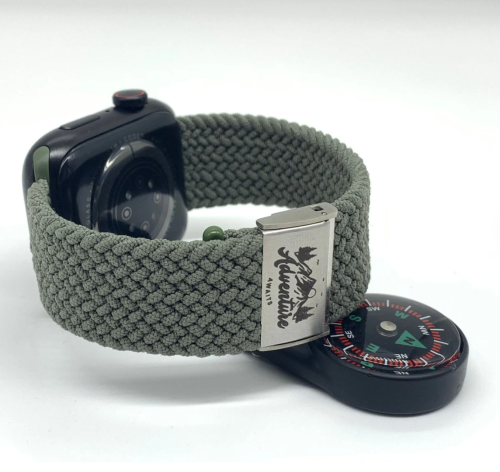 Personalised braided watch strap for Apple watches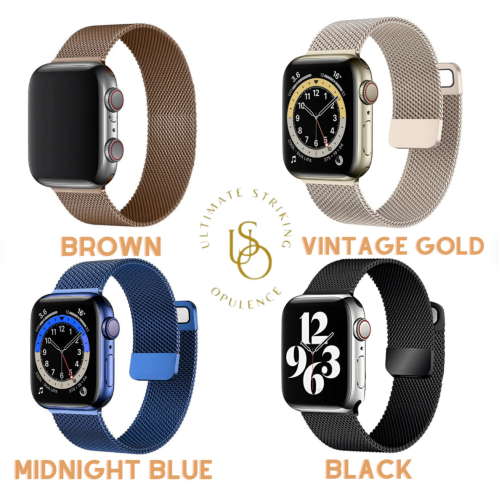 Scratch the world travel map
An amazing gift for any travel lover or budding around-the-world adventurer. A travel map of the world where you can scratch off the countries you have visited! Such a great idea!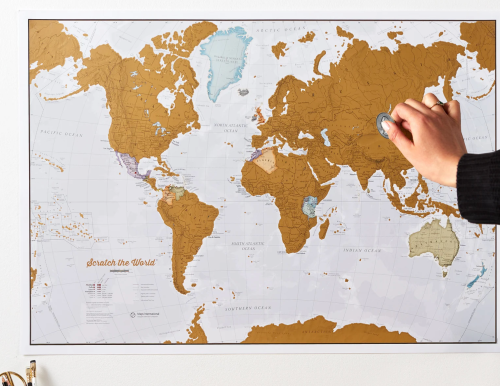 Personalised Scratch the World® travel edition map print
Hilarious golf t-shirts
Is he an avid golf fan with a sense of humour? If so, then a funny golf t-shirts could be the perfect gift!
Let them take golf off the golf course and onto the High Street with a smile. Choose golf t-shirts that are bright, eye-catching and plenty of them are full of innuendos that will guarantee a laugh from passers by!
If their little one is usually in tow on the course then choose a kids t-shirt too, so Daddy and his mini-me can be twinning as they putt.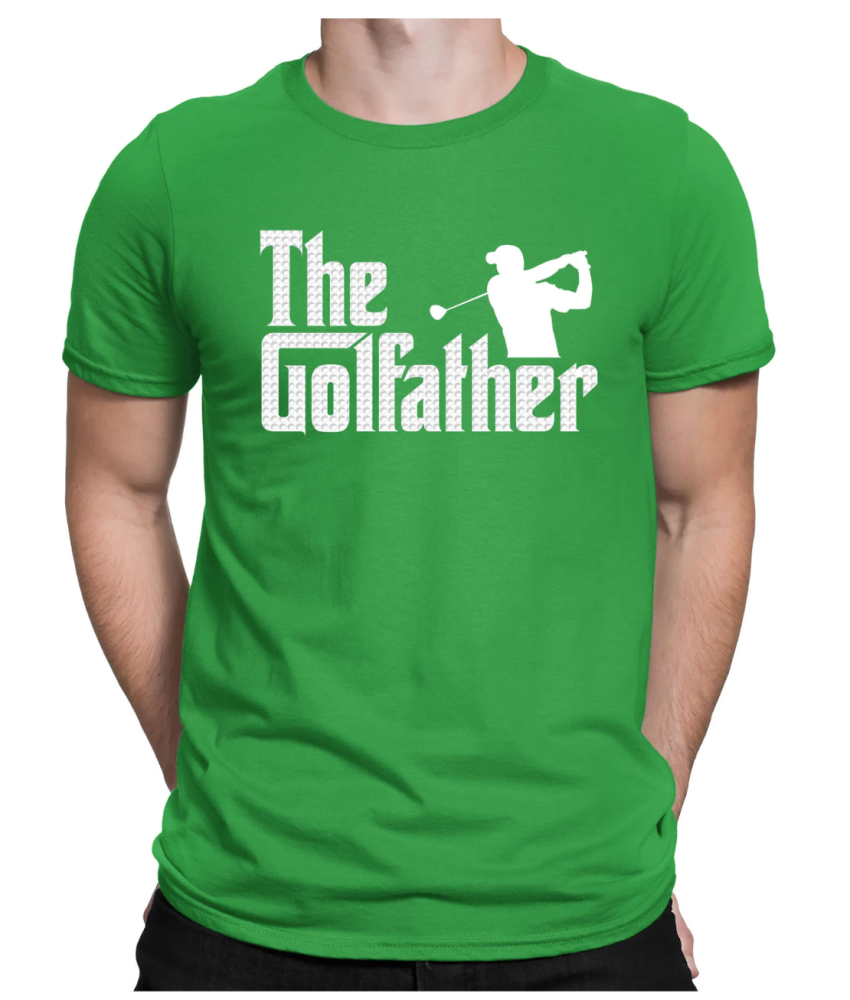 Click here for the funny Golfather t-shirt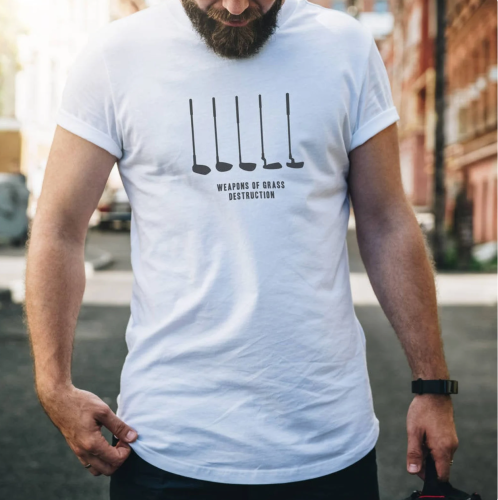 Funny golf t-shirt - weapons of grass destruction
Cufflinks
For men that like to dress in style then a set of unique cufflinks might be a good choice for a gift.
From expensive cufflinks with jewels in, to a theme that reflects the wearer's personality, there are a lot of options when it comes to buying personal cufflinks.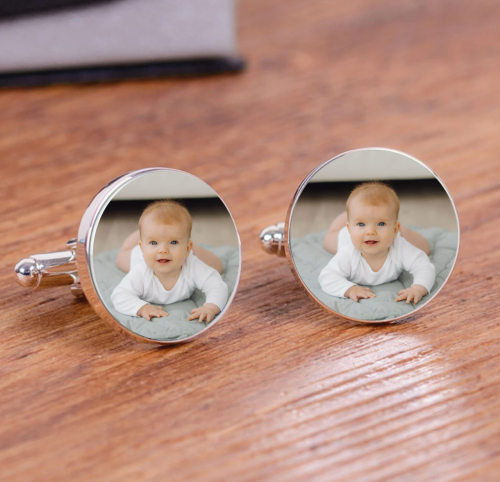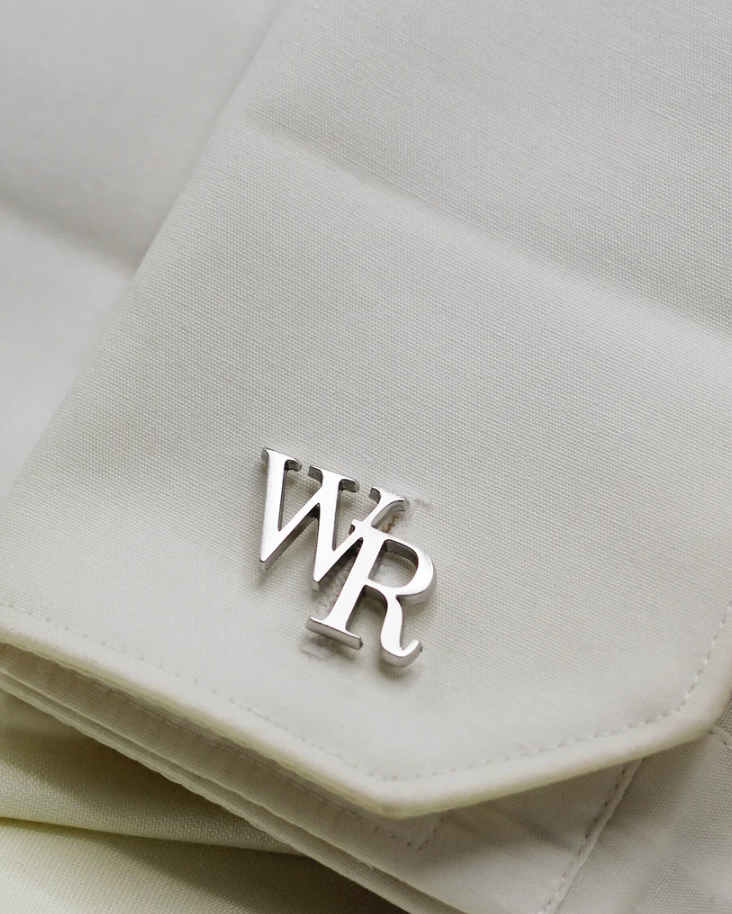 Weekend away
You could also book a surprise weekend away to a place that is special to him. Somewhere he visited in his childhood or the place that you had your first holiday together.
Even a trip away that isn't related to special memories is a nice idea as you can make new memories when you get there.
If you can select the destination based on going to visit something he is passionate about like a Barcelona stadium tour, a golf course he has always wanted to play at or a museum etc. then you will get bonus points!
How about a personalised weekend bag as a gift for all his belongings too?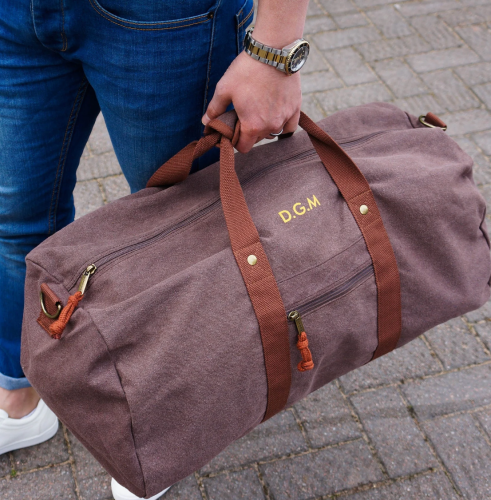 Track day / Drive a Ferrari
For the high-performance car admirers, an experience day where they get to drive the car of their dreams or get to race on a track can be a nice surprise.
They have these types of experiences available all over the UK and companies like Virgin sell them in shops or online.
Grab a Ferrari jacket online so he feels the part!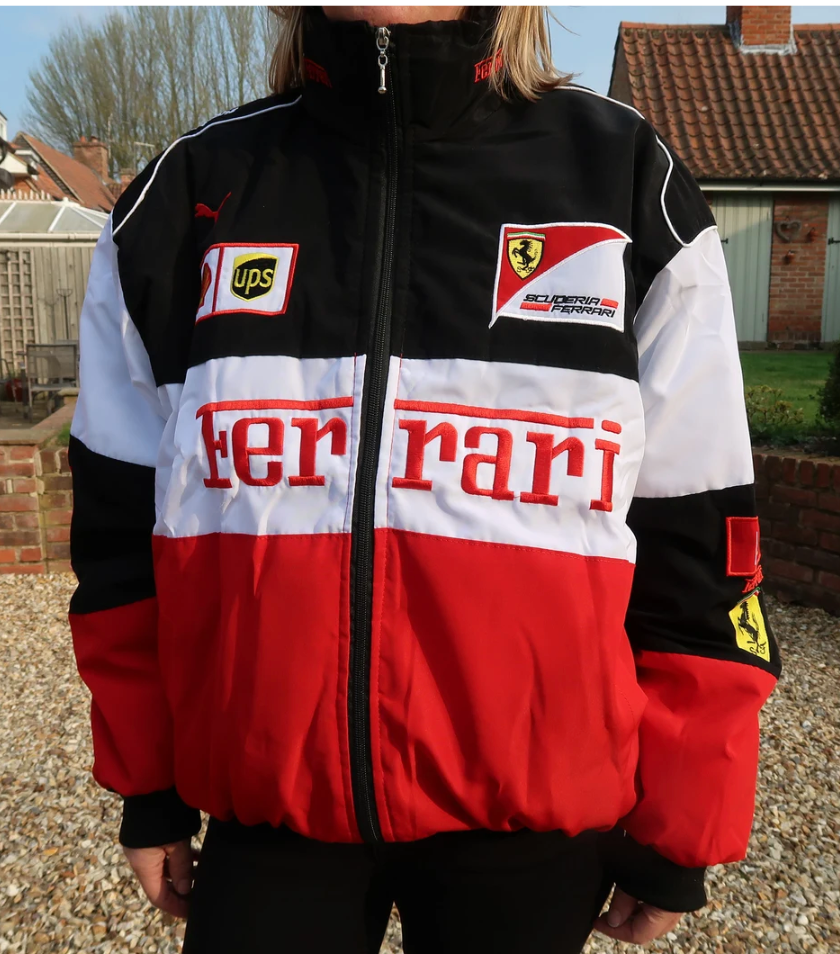 Lessons to learn something new
If he has spent the last ten years rueing that he never learnt to play the guitar or saying that he wishes he could take up something like golf then a set of lessons could get him started and help him to achieve those dreams.
It is always nice to learn something new if he has the time to fit it in. It is better to learn new things as an adult than to have never had the chance at all and then regretting it!
On Etsy, you can find printable gift vouchers like these tennis lessons vouchers or driving lessons vouchers: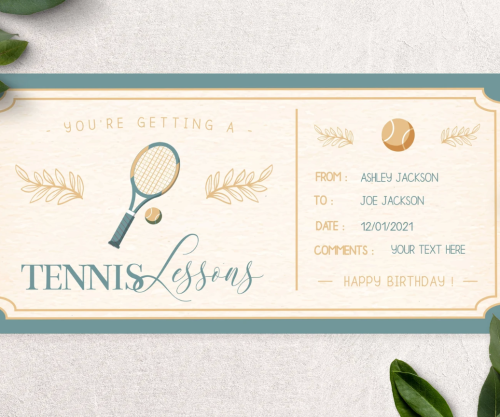 Printable tennis lessons voucher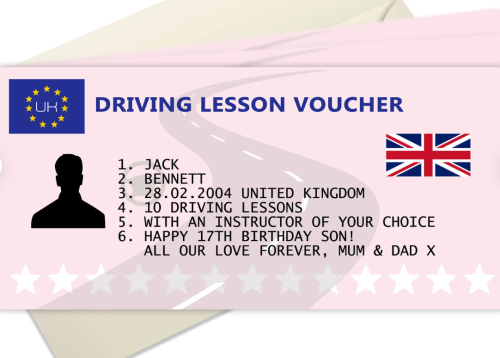 Food (letterbox treats if you live far away)
You can't usually go wrong with food as a gift for him, no matter how impossible a man he is to shop for! You can find so much delicious, tasty food from handmade companies on Etsy. Choco treats and more yummy goodness! We love these letterbox vegan treats which you can send directly to the recipient and include a gift message so they know who it's from.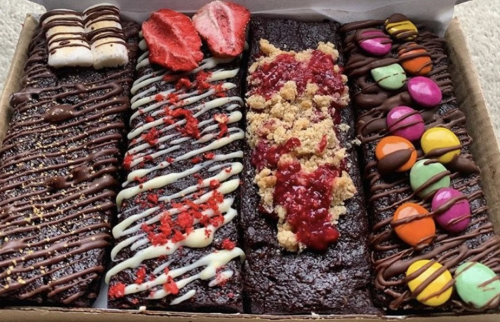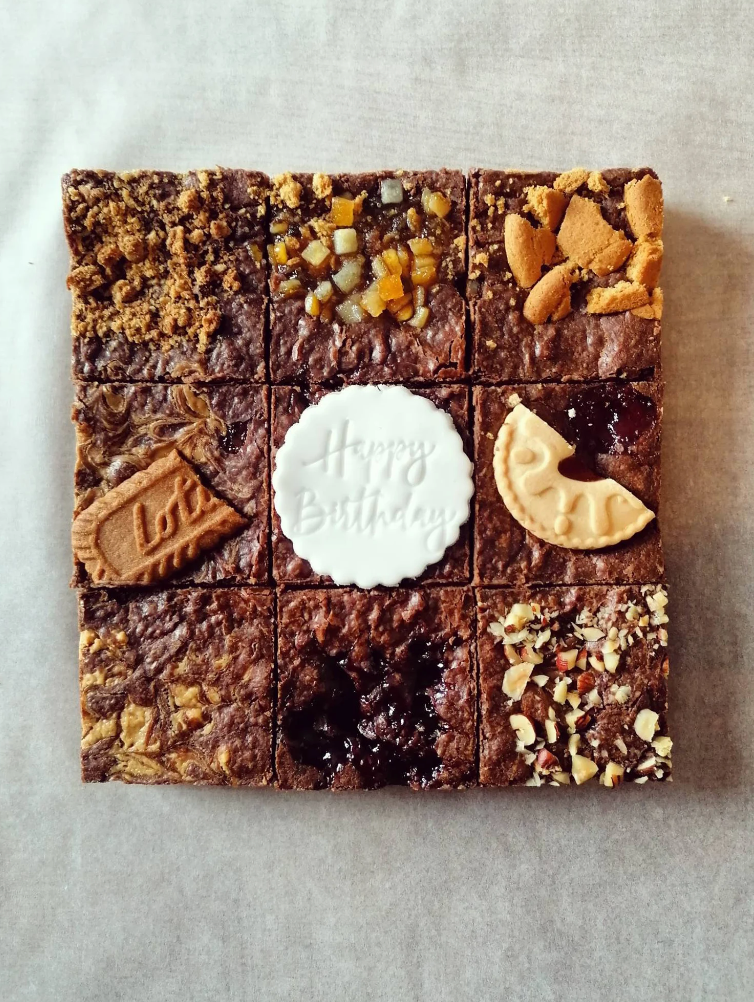 Happy birthday vegan brownie box
You can also purchase the delicious gluten-free and vegan-friendly letterbox brownies (pictured below) directly from small businesses on their own websites, such as these from Chummys Bakery. They look SO good!
Steel pint glass
Keep his pints cool with this steel pint glass (or rather, cup) from manlymanco.com looking sleek in black!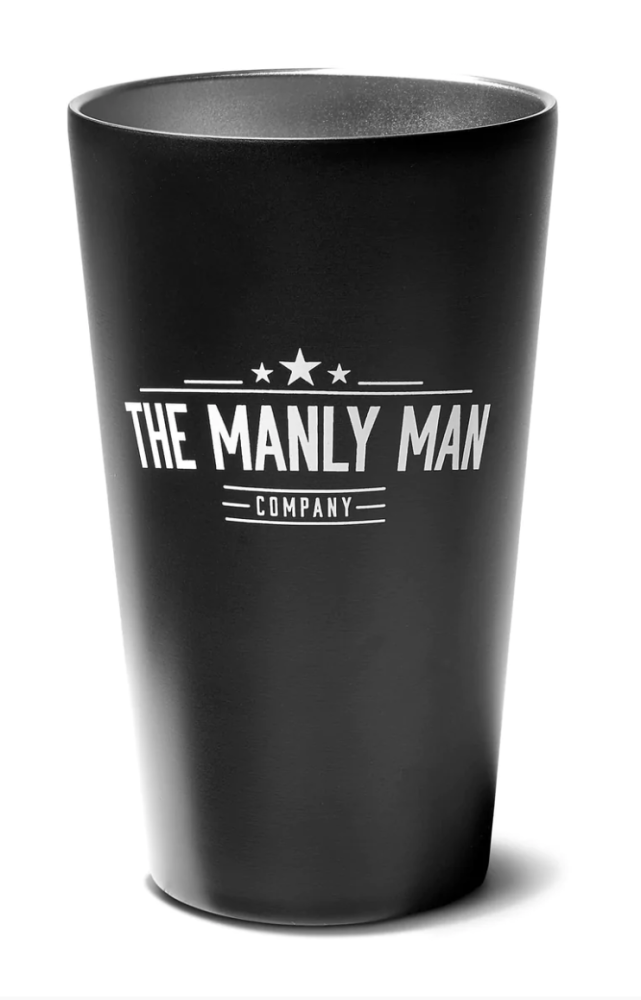 Shed plans
Is he constantly saying he wants to build his own shed? Does he fancy a DIY project and loves woodwork or wants the challenge? Give him a kickstart with these detailed shed plans to build his own shed (or man cave) in the garden. If you're looking for useful gifts for men then you can't get much more useful than this! Maybe you can tie it in with a gift voucher for a DIY shop or local timberyard to buy the wood.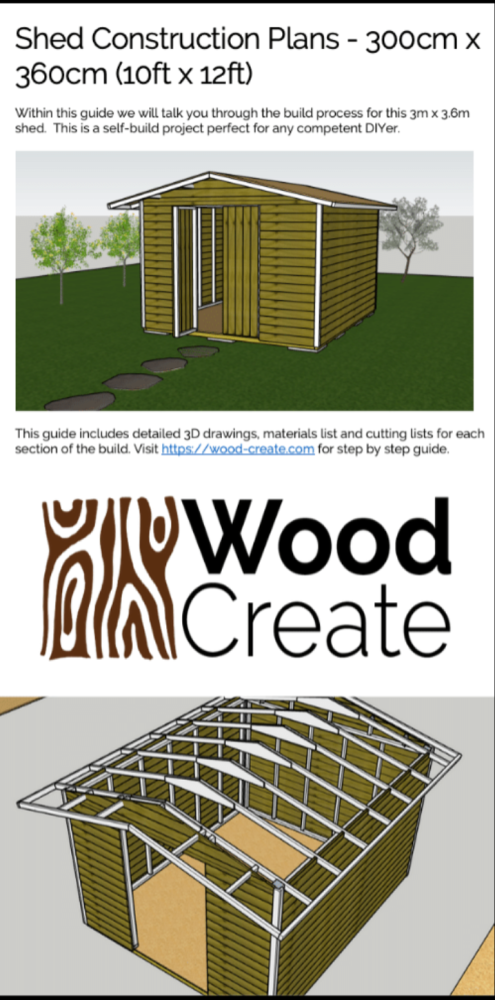 ---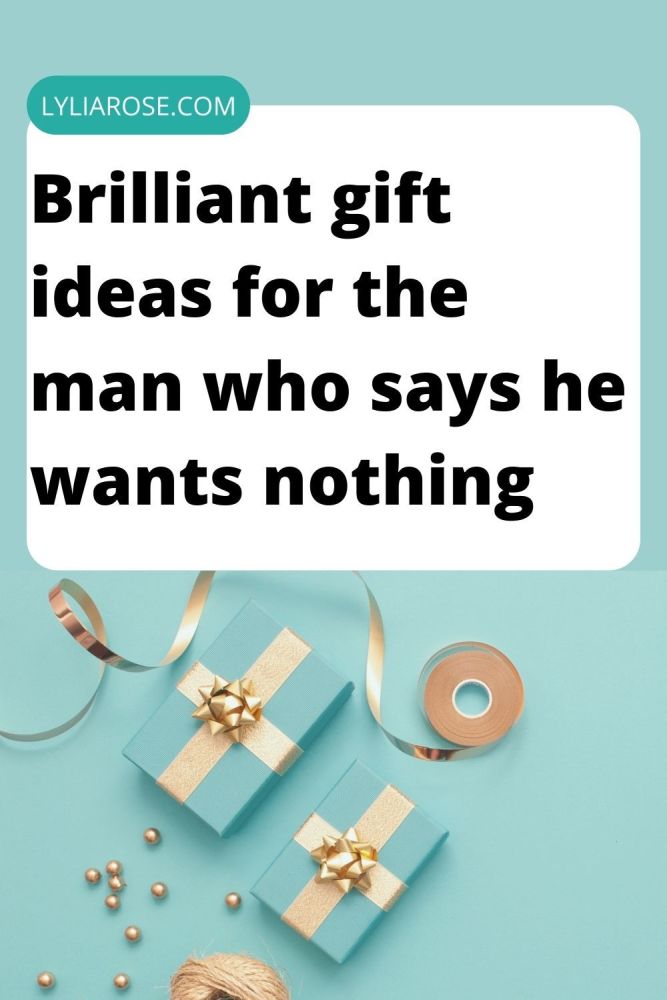 Brilliant gift ideas for the man who says he wants nothing
If you've a man in your life who always says he wants nothing for his birthday, but you still want to get something, then you're in the right place. Instead of wasting money on gifts he won't use, you just need to make sure you choose something he will. With a little creativity and imagination you can be sure to buy the gift he never even knew he wanted.
Picking and choosing gifts on its own is a hard task. That's why trying to satisfy your man with useful gifts can be quite the adventure. In the end, however, it's well-worth the effort to find a meaningful, well-intentioned gift for the man in your life.
If you search online for gifts for men who want nothing, you'll get lists of present ideas which are probably the very reason he says he wants nothing. Silly throwaway gadgets, back massagers and bedside stands. I'm going to present you something a little different.
Hopefully the above list has already given you some inspiration and ideas, but here are some more, specifically gifts for the man who wants nothing!
Here are brilliant gift ideas for the man who says he wants nothing:
DIY food hamper
Don't bother with the ready-made hampers full of chutneys and pickles that'll sit in his food cupboard unopened for years on end, instead make your own. You know what he loves to eat and drink best, so grab a gift bag and fill it to the brim with his fave foods. They say the way to a man's heart is through his stomach so this is a winning idea.
New sports clothes
If he's an avid gym-goer, football player, keen golfer or has a sport he regularly practices, then some active wear, fresh footie boots, a new sports bottle or some Quality Galvin Green Golf Clothing will go down a treat. The trick is to buy something you know he will like and use, not something you think he might like. Up above we shared some hilarious gold t-shirts, but if that's not his style then buy something more serious.
Keen runner? Check out these gift ideas for long distance runners.
A week of lunch and coffee
If he pops out to buy his work lunch or morning coffee at Starbucks, Costa or the like, then why not treat him to lunch and drinks on you? Perhaps he takes a packed lunch to be responsible, but would much rather buy something. Treat him to lunch and drinks on you with gift cards to last a week or even a month for his favourite nearby eateries.
A thrilling experience
These aren't usually the things you buy for yourself, so book him an experience he'll love and wouldn't usually do. Bungee jumps, hot air balloons, even swimming with sharks – they're all available to purchase online in a matter of clicks to gift to your loved ones. Just don't go for the experience that terrifies him!
A workshop
We shared lessons up above, but how about a workshop? Maybe a cooking workshop or a woodwork workshop? Something he maybe already knows how to do, but wants to refine his skills or meet likeminded folk?
No-nonsense vouchers
Create a book of no-nonsense tokens that he can cash in at his discretion. Be inventive and give him whole days off his least favourite tasks. How about a '1 day pass from housework' or a '1 day pass from nagging'? This has got to be the gift all men really want from their other half?!
Gift vouchers
The perfect last minute gift idea or when you've ran out of all other possibilities. Just make sure it's for a store he actually goes to!
Nothing
If he's absolutely adamant he wants nothing and you know it would make him happiest for you to keep your cash, then just respect his wishes and get nothing. Just keep your fingers crossed he wasn't doing the typical woman thing of saying one thing and meaning another! If you want to be comical about it then you could even make your own novelty nothing gift and wrap up an empty box, only if you'll think he'll see the funny side. You can even pull some birthday pranks to him that will surely make him laugh out loud.
Hopefully with a bit of imagination you can come up with the gift that he really wants!
Final word on gifts for the impossible man in your life
We all know that there is no such thing as a perfect gift. For the person who has everything, it can be difficult to find something that they don't already have. Hopefully these ideas will spark your imagination to find the perfect gifts for the impossible man.
Subscribe to our newsletter for the best free money offers, money-making and money-saving tips we discover!