DE STRESS with Scentered eco-friendly refillable vegan candles
Posted on
Feeling stressed and looking for a soothing, eco-friendly way to relax and de-stress whilst at work or home?
Today I am reviewing the Scentered DE STRESS vegan candle which has many eco-friendly features, such as being refillable to reduce our impact on the environment.
Is this candle worth buying? Can a candle really act as a stress reliever? Read on to find out.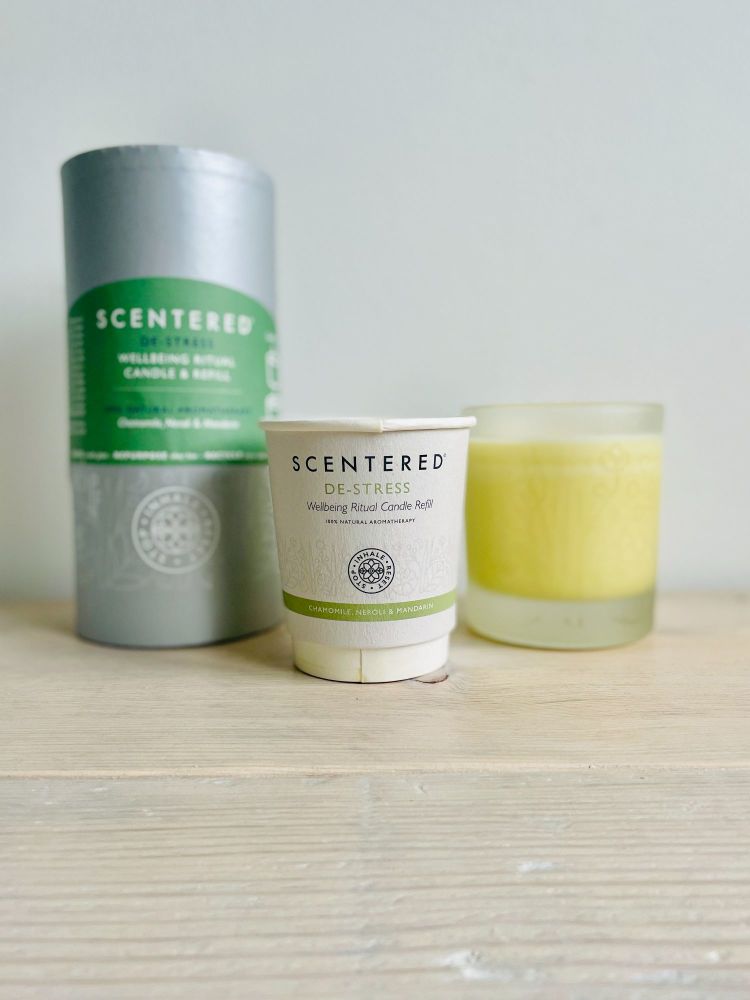 Using the Scentered DE STRESS candle to relieve stress whilst working
I was very kindly sent the Scentered DE-STRESS refillable candle last week and I've had it lit several times throughout each day since to enjoy its soothing, destressing qualities. Not only have I lit the candle at the end of a long day filled with busy family life and long workdays, but also whilst I'm actually working.
As I type this, I have the candle lit not only to inspire my review and remind me of the scent, but also as a soothing aid. I have a very busy day ahead with a never-ending list of both work related tasks and personal tasks to complete. Right now, I'm all for as many relaxing, de-stressing methods I can find that fit in around a hectic work schedule and parenting!
One of the best things about using a candle to destress is the fact it can be used whilst you are doing other things, such as working from home. You don't need to stop working or stop whatever you are doing around the home to enjoy the benefits an aromatherapy candle can bring. You can light the candle in a safe space in your home and carry on with whatever you need to do.
There are very few ways you can otherwise continue to work and destress at the same time. Many other destressing techniques require you to stop and pause for a moment, such as taking deep breaths or a moment from your task. And others even require you to do something completely different such getting into nature, completing yoga or going for a walk. Whilst a mixture of destressing and wellbeing techniques is good overall, sometimes you have a busy day and need to get on with things but you still need a little something to help soothe any stress levels throughout the day. This is where an aromatherapy candle is the perfect solution.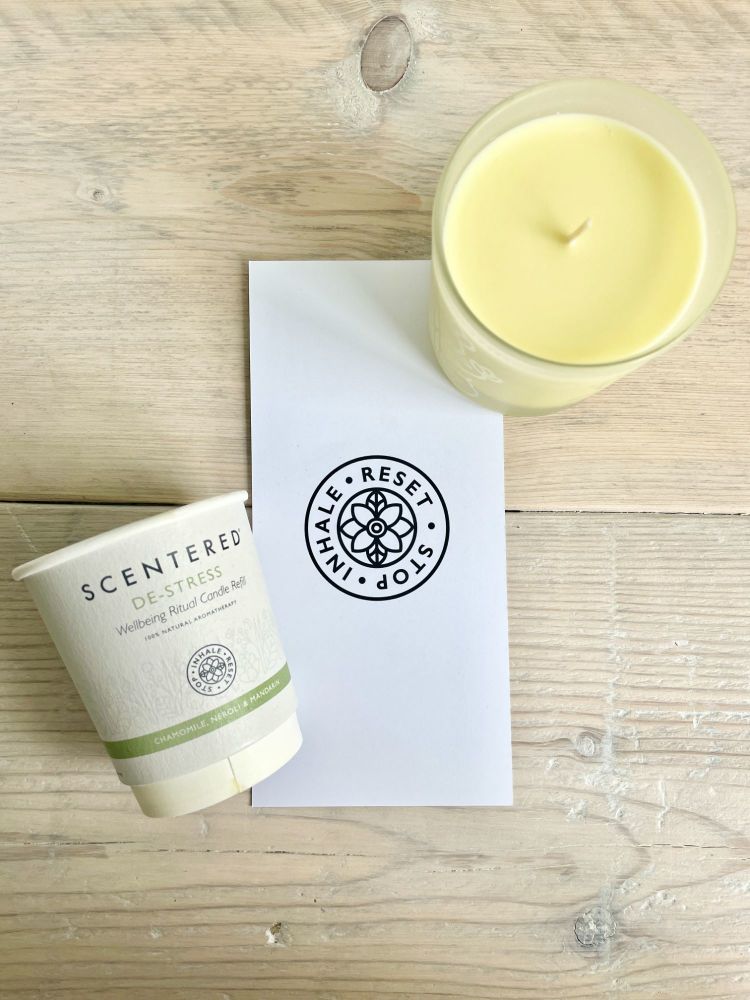 Scentered candle review: DE STRESS Wellbeing Ritual Candle & Refill
When shopping for an aromatherapy candle there are lots of qualities that are important to me and the Scentered refillable candles tick a lot of these boxes. Here are the many benefits of Scentered candles that I have experienced myself.
Scentered refillable candles are vegan-friendly - firstly, the candles from Scentered are vegan friendly. I believe animals are here on this planet with us, not for us. The Scentered range of refillable candles are made from 100% natural wax created using vegetable oils.

Scentered refill candles are eco-friendly - another quality that many of us are looking for in a brand nowadays is how eco-friendly a products is. Refillable candles from Scentered have been created with sustainability in mind from the packaging to the product itself. The refillable candles mean you don't need to purchase a glass holder each time you need a new candle. Simply pop the finished candle holder, once cold, in a freezer overnight to make it easy to scrape off any remaining wax residue the next day. Simply remove the refill candle from the paper cup and resuse the same glass candle holder. This prevents more manufacturing of glass holders as you can use the same one indefinitely.

Scentered candles are 100% natural - Many cheap and mass produced candles use a lot of synthetic ingredients which are toxic when burnt. You may think your home smells lovely, but often the fragrances used are not good to breath in. Scentered candles are 100% natural using natural vegetable wax and natural essential oils for the scent.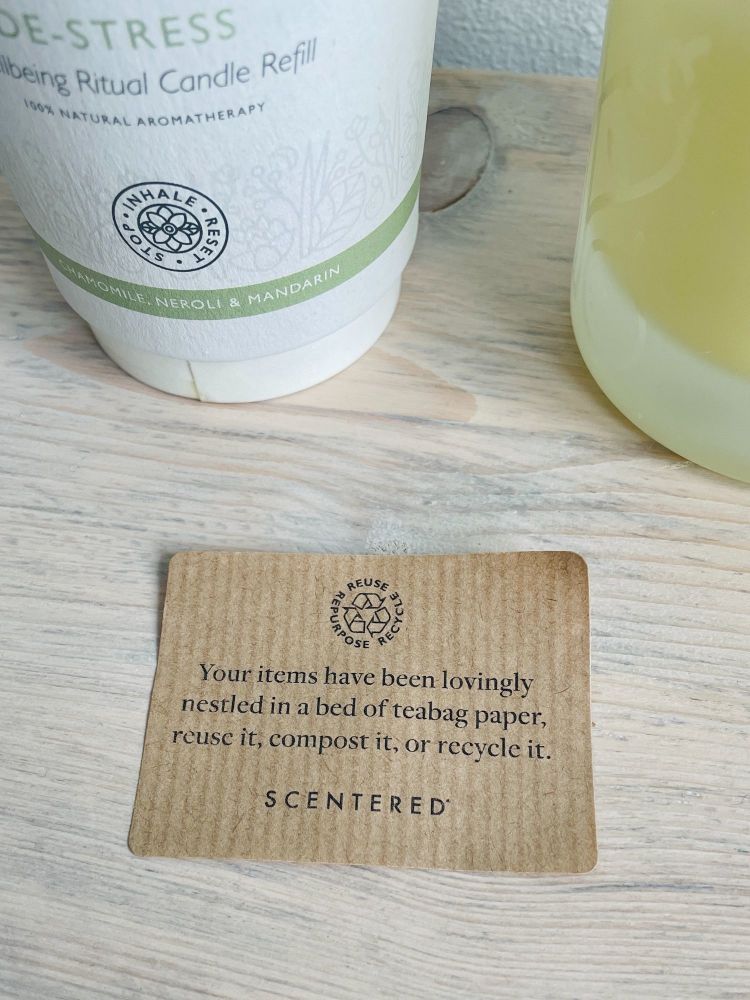 Scentered candles are shipped in eco-friendly packaging - Eco-friendliness does not just come down to the product itself, but also the packaging and the values of the brand. I'm pleased to report that my candle was sent in a reused cardboard box, nestled amongst teabag paper which can be commercially composted or recycled. The refill candle cup can also be composted (in your kerbside compost pickup, not in home composting) or recycled. It's printed with vegetable inks which are non-toxic. If required, the glass candle holder can be recycled, though the entire point of the refillable candle is to keep it and reuse it with the candle refills to reduce your environmental impact.

Scentered candles burn beautifully - if you buy cheap candles made with toxic ingredients then you will be familiar with candles burning black smoke on occasion. This can be due to cheap synthetic ingredients that are often used in the candle manufacturing process. Because Scentered candles have high quality, natural ingredients, they have a clean burn with no soot or smoke.

Scentered candles have aromatherapy benefits - by using the maximum levels of essential oils possible and these being 100% natural essential oils, carefully selected for their wellbeing benefits, you will not only have the ambience of the candlelight itself, but the aromatherapy benefits of the essential oils.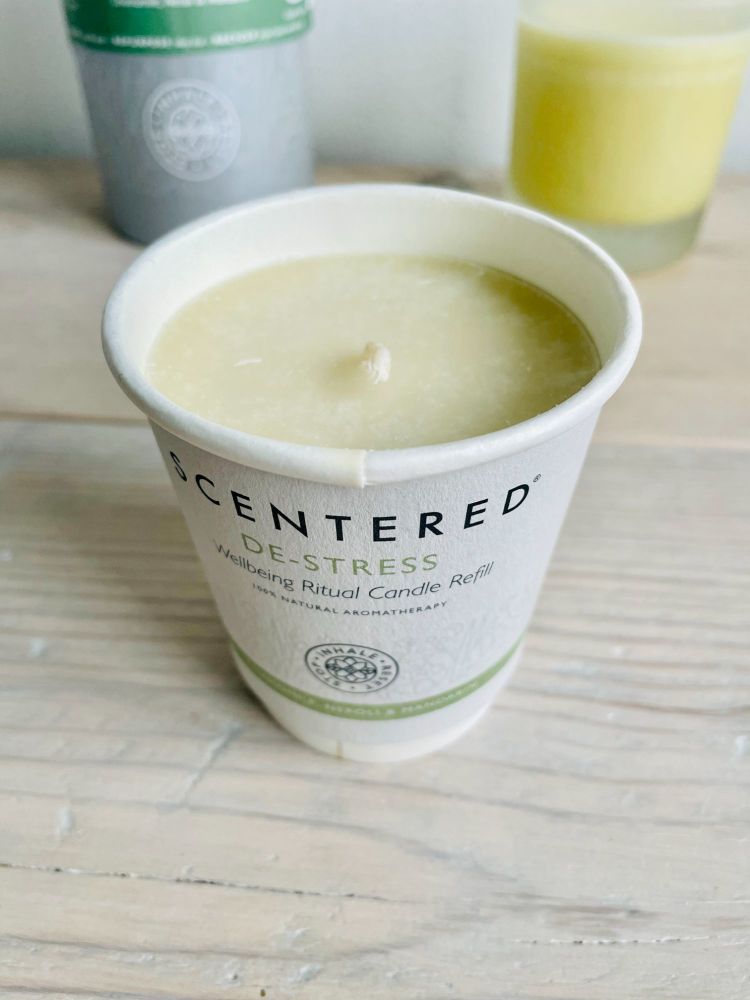 Scentered candles are made in England - wherever possible I like to support small local businesses, or at the very least businesses which are in my own country. Scentered refillable candles are made right here, in England.
Scentered candles last a long time - the refillable candles are 220g / 7.8oz with a burn time of 35 hours, meaning they'll last a long time before needing replacing. With two in the refillable pack, you'll not need to buy more for over two months if you burn the candle for one hour per day.
Beautiful packaging, ready to give as a gift - the candle and refill set will make a perfect Christmas present for quite literally anyone. Who wouldn't like the glow of candle light or the calming benefits this scent can have? These are high quality luxury candles that are perfect for a special occasion. They come in a silver tube making a beautiful self-care gift.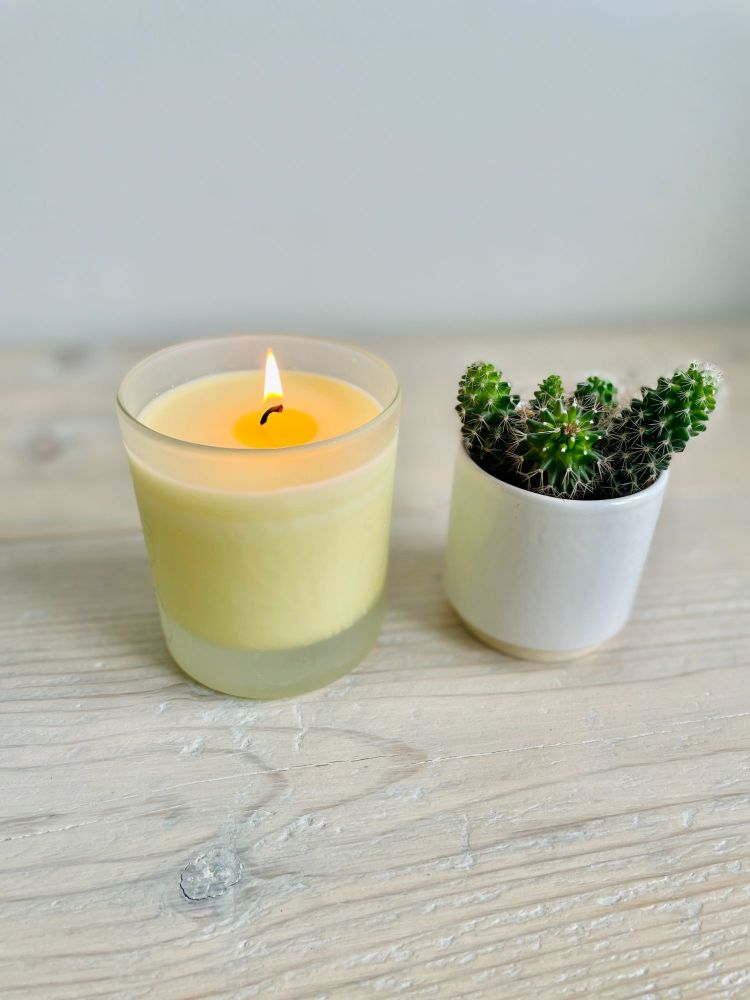 What are the aromatherapy benefits of the Scentered DE STRESS candle?
The DE STRESS candle contains a soothing blend of 100% natural essential oils that are renound for their calming effects. Scentered say this blend is 'the ideal Stress Relief Aid for those who suffer from anxiety, nervousness, worry, jitters or regularly experience uneasiness or restlessness.'
Essential oils have been used for almost 6000 years for wellbeing purposes to improve a person's health and/or mood.
Here are the essential oils used in the DE STRESS candle and their benefits:
Chamomile
The scent of chamomile oil can offer anxiety relief, calm nerves and promote relaxation. The soothing aroma of chamomile has been used for centuries to reduce stress and anxiety while promoting a feeling of wellbeing. The calming effect of chamomile is believed to be due to the plant's ability to reduce levels of cortisol, the body's stress hormone. The scent of chamomile essential oil is also thought to have a soothing effect on the nervous system, promoting feelings of safety and relaxation.
Neroli
The calming floral fragrance of neroli oil is often used as a way to reduce stress as it induces a sense of peace in the mind. It has been found to have a calming effect on those who are frustrated, anxious, and/or angry. The scent is calming and helps destress both physically and mentally, which can be helpful for people who need to focus on their work or other responsibilities. The oil also has the ability to elevate moods and promote relaxation.
Mandarin
Mandarin essential oil is one of the most popular essential oils. It has a light, sweet aromatic smell that reminds us of tangerines and can reduce stress and anxiety. Mandarin contains significant amounts of limonene which makes it an effective stress relief option, as well as being good for your mood.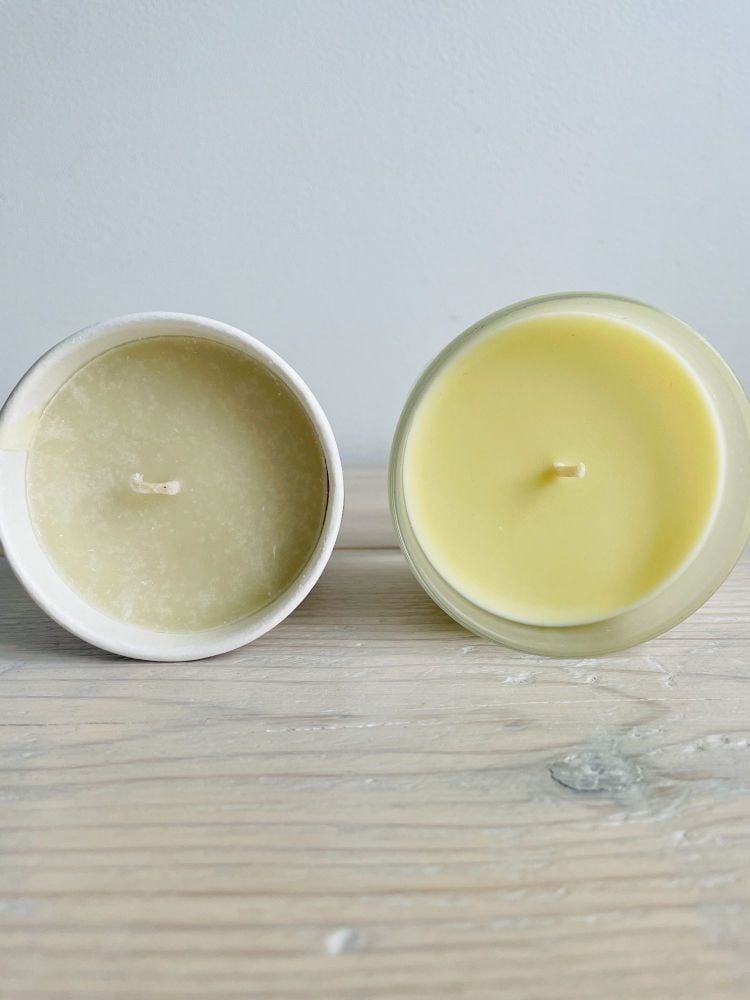 Final thoughts on Scentered refillable candles
I have really enjoyed lighting this candle for the past few days both at bed time and whilst working. I have found the candle light and scent to be very soothing whilst I am busy working all day. It's helped me feel less stressed and more calm. Being 100% natural I don't have to worry about filling the air with toxins or breathing in potentially harmful particles. The natural element also means the candle burns beautifully without smoking.
The best part about these candles is the eco-friendly credentials from recyclable and compostable packaging through to the refillable element, meaning only one glass holder ever need be purchased, thus saving unnecessary waste or recycling and making continued candle purchases cheaper by only needing refills.
PLEASE PIN ME!