Last baby blues! Reasons I'm sad, but also happy I've decided to stop at two.
Posted on
I'm suffering from the last baby blues! Last baby depression is definitely a thing and whilst I'm not totally down about this, I do feel these pangs of sadness that I've had my last baby. If you're wondering how to move on from having babies then definitely focus on the good stuff. There are lots of things to look forward to once you've had your last baby so focus on these instead. I will share lots of my happy reasons in this blog post.
So Reuben is my last baby. Before experiencing two horrific pregnancies with hyperemesis gravidarum, amongst other pregnancy problems, I was determined to have three or four children. I was hoping for lots of grandchildren running around our home one day! But, we have decided to stop at two. Well, Ben really only wanted two anyway, so perfect for him!
My second pregnancy was a million times worse than the first so I definitely don't want to see what a third would be like. Obviously there are then financial issues and space, but I think if we really really wanted another then we would have worked it out. We are very blessed to have a boy and a girl, which possibly makes stopping at two all the easier.
I'm now feeling quite happy we've had both our babies, but also quite sad.
It's a very strange feeling and hard to explain.
It's a mix of emotions and I'm not sure I will make sense to anyone. So to kind of put it into words, here are a few reasons I am happy, but sad we will not have another baby.
Reasons I'm sad, but also happy I've had my last baby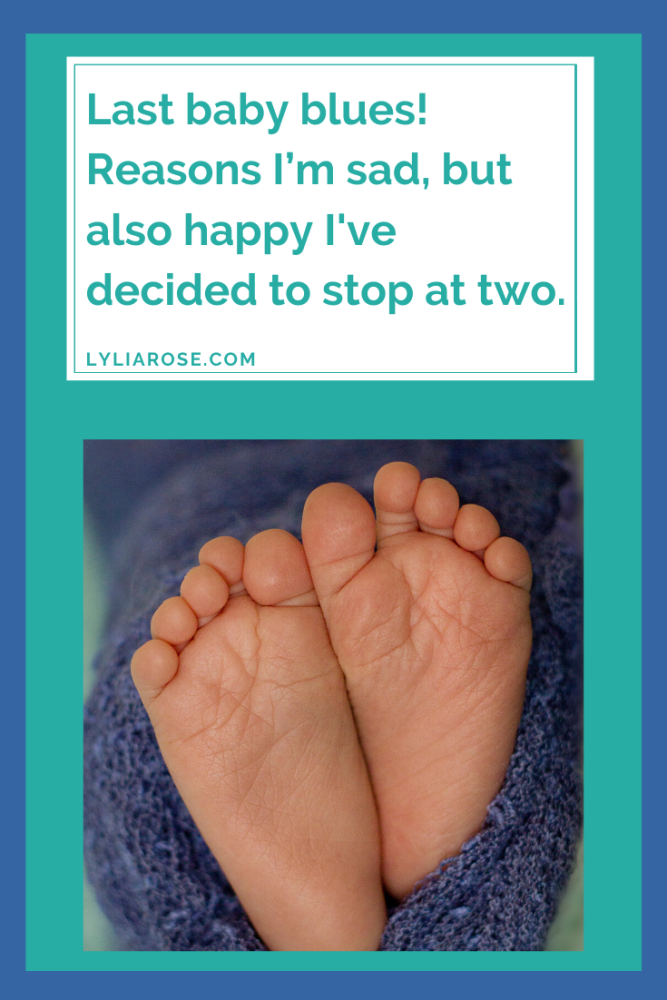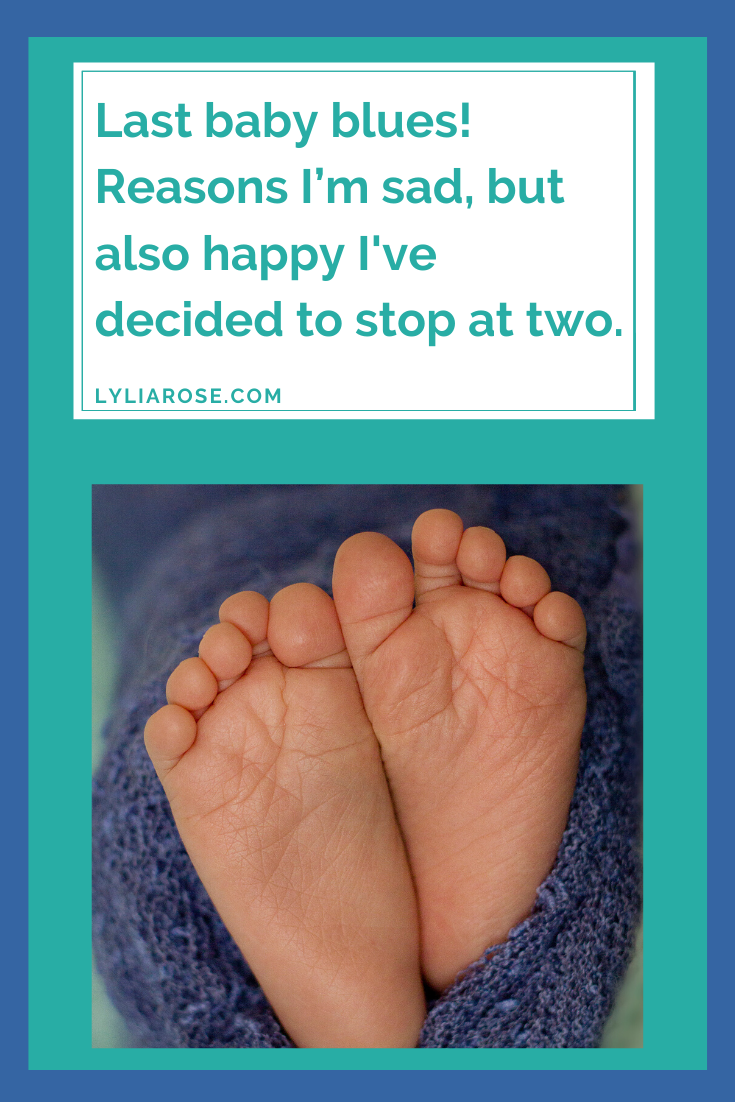 Why I'm happy I've had my last baby
I get my body back. Wahoo! No more changing size and no more horrible maternity clothes/underwear! I am massively looking forward to fitting into my pre baby wardrobe, only 7lbs to go!
I get my freedom back. 4-8 months more breastfeeding, then I can leave the house by myself! No more battling with breast pumps or sore nipples. I was never able to express so I could never leave milk for others to feed the baby, so whilst breastfeeding I have been tied to my babies. But soon I won't need to breastfeed again. Ben can look after the kiddies and I can have some time on my own. A trip to my massage lady is top of my list. I might even book half a day with her!
Me and Ben can spend time together… alone! We can go on a date night or let the kids stay at Nana's for a night and enjoy a cosy TV night together and Walking Dead marathon! There are definitely things I miss now I'm a parent!
I can work again. I miss running my business every day and it's been hard to stay away. It's something which is just mine and I am very passionate about it. I can't wait to get stuck back in.
SLEEP. Oh my. I am desperate for just one night of full sleep. When the time comes, I am thinking of booking myself into a hotel room for two days just to sleep. No distractions, no noise, no lights, nothing. Just to sleep. Pure bliss! But for now I'll happily settle for no more night feeds. Soon please.
This is the last round of potty training and terrible twos. Whoop, no more of these fun times for me!!
And here are some reasons I am sad we will not have another baby. Weirdly, some of them are the same!
Last baby blues - why I'm sad
Chest snuggles. Never again will I experience a little person fall asleep whilst fitting perfectly on my front. It's one of the cutest and most amazing experiences.
Dependency. As much as I want my freedom back, I will also miss having a baby totally dependent on just me. It's a really special feeling and such an incredible role to have.
Breastfeeding. It's a pain sometimes, making choosing outfits tricky and wearing awful nursing bras, but it's also such a special bonding time. I'll never forget the way they both looked up and gazed into my eyes whilst feeding. Amazing.
Evenings with baby and Ben. As much as I love running my business, it does take up all of my spare time. Even if I wasn't self-employed I would have to return to employed evening work. Bye-bye lovely evenings eating chocolate and watching TV series with Ben, whilst we bounce baby or enjoy adorable baby chest snuggles!
Gummy grins. Oh my goodness. Perhaps one of the best things ever about babies? Big, wide-mouthed, gummy smiles. They just make me want to melt. Just tickling Reuben or making a squeaking noise does the trick. I'll definitely be a little sad once his teeth pop through as gummy grins are simply adorable.
No more choosing baby names or making anymore little people!
So there we go. Lots of reasons I feel content that I won't be having another baby, but also why I feel such pangs of sadness too.
More kids blog posts
Tips for saving money when buying kids clothes
Kids and cash: teaching little ones about money
Save money on UK family days out with Kids Pass and sign up for just £1
Getting the kids to eat healthier
A list of 50 free and cheap things to do in the summer holidays with kids