Married life after the big day — what are the costs that lie ahead?
Posted on
There's a lot of hype in the run-up to a wedding day, it takes years and years of planning!
But what's next when the vows are said and the day is done?
Married life — and it can be costly!
Together with Angelic Diamonds, retailers of engagement rings, we take a look at the costs that you'll face after the wedding day, from starting a family to moving to a bigger home.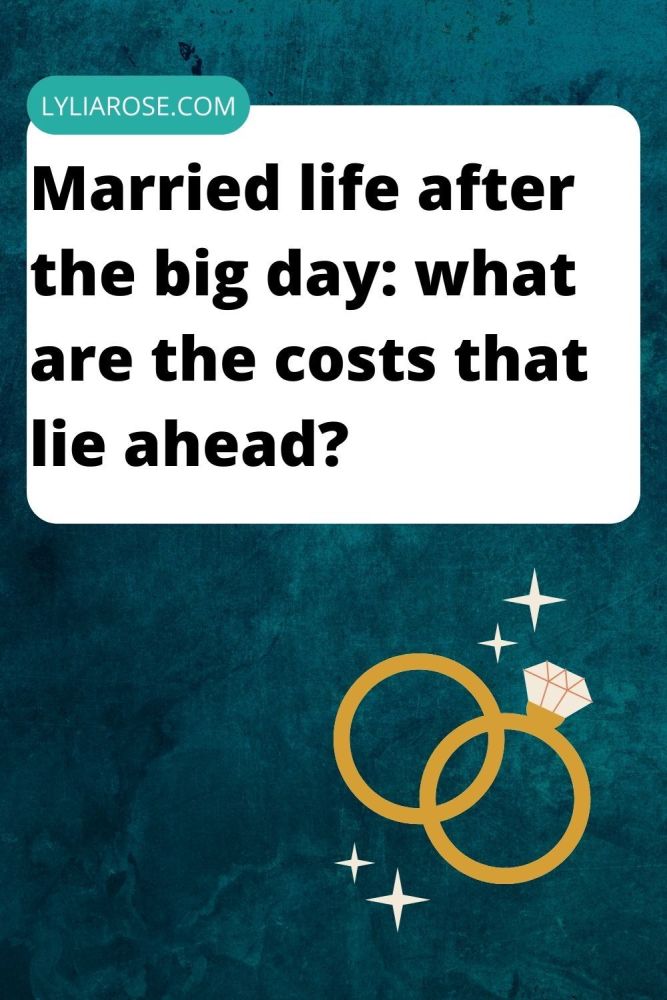 Starting a family
For many couples, having children is the next big step after marriage. In the US, the average time a couple waits between getting married and having a baby is three years. Of course, starting your own family can be costly — let's take a look at some of the costs that you can expect to face after pregnancy.
When you factor in nappies, clothing, nursery furniture, toys, and a pram, the cost of a baby can total £3,120 in the first year of their life alone. If you plan on attending activity classes with your new-born, such as sensory or swimming classes, you could face an additional annual cost of £465.50.
How you feed your baby can result in different outgoings too. Add £165 to this yearly cost if you plan on breast-feeding or a whopping £1,040 should you opt for bottle feeding.
After maternity leave, child care expenses will need to be considered. Statistics have shown that for a relatively well-off couple in the UK, the cost of childcare is the highest in the world. In Britain, the average cost of sending a child under two to part-time day nursery is £122.46 per week. For full-time care, this rises to £232.84. It can depend on where in the country you live as to what costs you will face — part-time day nursery can cost around £42 more per week in London than the British average and full-time care increases by £73 in the capital.
When you first have a baby, their first day at school can seem a long way off. But, if you are considering sending your child to a private school, you must consider the average annual outgoing of £14,102. At the age of ten, it's likely that they'll be asking for their first smartphone. If you'll be the one to pay for this, you can expect to fork out around £27 per month — or £324 per year.
As you can see, it can be costly, and this is before you add the cost of an average holiday (£3,133 for a family of four) and those Christmas and birthday presents.
Upsizing into a bigger home
Once the big day is over with, you might start to think about moving into a bigger home. Whether this is for investment purposes or to accommodate for a bigger family, you'll face some extra costs when you do decide to make the move.
According to Compare My Move, the estimated cost of moving to a new house in 2018 in the UK is £8,885. This cost is based on the average UK property price which is currently at £226,071 and takes into considerations stamp duty at £2,021, estate agent expenses at £3,391. This overall cost also considers general moving costs, which can add up to £1,236.66.
If you're selling a house you also need to consider a few hidden costs. One of these is an Energy Performance Certificate (EPC) which can cost you between £60 and £120. It can often be worthwhile getting a professional survey of your new property before you buy it to check the condition of it to prevent you from losing out on money. These can cost from £400 to over £1,000 depending on the survey that you choose.
Getting a new car
Along with moving to a new house and starting a family, you might want to swap that convertible for a more family-appropriate car.
Of course, it's up to you how much you spend on a new car, but you should expect it to set you back a few pounds! In fact, the running costs of an average family car in the UK costs £1,000 more than in the USA and Australia, £1,825 more than Japan and £2,000 more than in China.
According to What Car? The top ten family used cars sit between £8,000 and £14,000. And, if you were to choose a top new car, you can expect a family-suitable vehicle to cost between £16,995 and £29,495.
If you're unsure on how much to spend on a new car, MoneyUnder30 advise the following:
If you're looking for a cheap car that gets you from A to B, you should budget around 10-15% of your annual income.
For a safer and reliable vehicle, budget between 20 and 25% of your annual income.
If you consider a car as a lifestyle item and not just as a form of transport, consider spending around 50% of your annual income on a car.
Even though strict saving might have temporarily paused when the wedding arrives, it's likely you'll have to dig deep again for the future! With starting a family, moving to a new house and buying a bigger car, married life can be expensive — but it's so worth it!
What to read next?
How to make getting married affordable

A Sneak Peek at our Garden Wedfest

Wedding Guest Etiquette: How to be the perfect wedding guest

Your checklist for a money saving DIY backyard wedding
Sources
https://www.comparemymove.com/planning-moving-day/cost-of-buying-selling-moving-house
https://www.moneyadviceservice.org.uk/en/articles/childcare-costs
http://www.bbc.co.uk/news/uk-42966047
http://personal.natwest.com/personal/savings/tools-for-savings/cost-of-raising-achildcalculator.html
https://www.aviva.com/media/news/item/uk-parents-spend-28-billion-on-nations-under-fives-each-year-17488/
http://www.which.co.uk/reviews/breast-pumps/article/how-to-buy-the-best-breast-pump
http://www.which.co.uk/reviews/child-car-seats/article/which-car-seat/which-car-seat-do-you-need-for-your-baby-or-child
http://www.telegraph.co.uk/investing/funds/five-ways-to-meet-the-156653-cost-of-private-school/
http://www.telegraph.co.uk/technology/2016/09/10/how-much-does-the-iphone-7-cost-around-the-world/
https://techcrunch.com/2016/05/19/the-average-age-for-a-child-getting-their-first-smartphone-is-now-10-3-years/
https://hoa.org.uk/advice/guides-for-homeowners/i-am-buying/the-hidden-costs-of-buying-and-owning-a-property/
http://www.express.co.uk/life-style/life/766888/martin-lewis-money-show-mobile-phone-contract
http://www.dailymail.co.uk/news/article-2514297/3-500-year-makes-Britain-expensive-place-run-car.html
https://www.warrantywise.co.uk/blog/how-much-of-your-salary-should-you-spend-on-a-new-car
http://www.carbuyer.co.uk/reviews/recommended/best-family-cars
https://www.express.co.uk/life-style/cars/782992/car-costs-uk-service-repair-MOT-petrol-fuel-price
https://www.bustle.com/articles/79792-how-long-after-getting-married-do-couples-have-kids-apparently-the-answer-is-different-in-each