Cheapest way to live: alternative housing ideas
Posted on
Housing prices have been increasing rapidly in recent years making buying a house seem out of reach for so many. And, even if it doesn't seem out of reach, some people simply don't want to spend such exorbitant amounts of money on a property if there are alternative housing ideas that provide the cheapest way to live.
After all, the costs of owning a house don't stop at buying the house…. There's often large monthly bills, taxes, insurances, maintenance costs to think about.
This is why in recent years there has been a boom in people seeking out alternative housing ideas such as tiny homes, off-grid living and other alternative ways to live a simpler and cheaper lifestyle when it comes to the place to call home.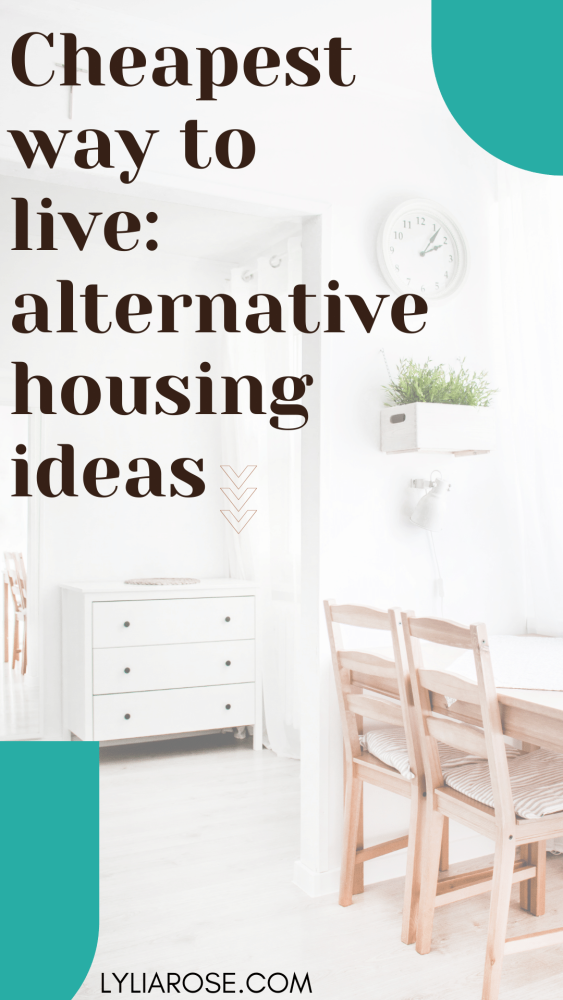 Alternative housing ideas: what are some of the cheapest ways to live?
People are moving towards alternative housing for various reasons. Some people are doing it to save money, others are doing it because they don't want the burden of a mortgage, and some people just like the flexibility.
A house is more than just four walls. It is a place to live, love, and grow. However, houses are expensive these days. They're so expensive that in some parts of the world, people are being priced out of the market entirely. And in many other parts, people have no choice but to pay for it with their entire life savings.
As the housing problem becomes direr all over the world, people are coming up with innovative ways of living that don't involve buying a house at all. From container homes to tiny homes built on trailers, there are many intriguing ideas out there for housing alternatives.
Alternative living has benefits outside of just saving money. It can be a cheaper way to own a house or a cheaper way to live in general because you don't have any major payments to make.
The low cost of living is one of the driving forces behind the trend in alternative housing options. The ability to save money on rent or buy-to-own properties means that many people can afford homes that they wouldn't have been able to before.
People can often spend a third or even half of their income on housing, which is a lot. More people are realising that they would rather have the time and money to enjoy life instead of paying astronomical prices for traditional housing, wasting what would otherwise be free time cleaning their huge houses and having the burden of huge mortgage debt each month.
So what are some of the cheaper alternative housing ideas that people are opting for?
Tiny homes
A decade or so ago tiny homes weren't even a thing, but now they are huge thanks to TV shows like Tiny House Nation they are in the spotlight and demand is high. Tiny homes are self-contained living quarters that are typically less than 500 square feet. They are big enough for at least one person to live in comfortably, but can also be designed for entire families too.
The idea is you can build, or have built, a tiny house that is just as luxurious as a real home when it comes to the fixtures and fittings, but on a much MUCH smaller scale!
These houses are also portable. They are not built into the ground with foundations but are meant to act as non-permanent structures which can be moved around if needed, therefore allowing their presence in some places like privately owned fields without specific building regulations and requirements. You will have to check the laws of your own location to confirm.
If you are planning on building a tiny home then you'll want to look into how to get tiny house insurance to make sure your investment is protected. Even though it's not a standard sized home, you'll still need to insure it against damage such as fire or weather.
Many people find tiny homes appealing as they can buy them outright without having the financial commitment and expense of a mortgage each month. Or if they have the skills, they can build their own home.
Van life
As much as the trend for tiny home living has been on the rise, so has van life. Not just for short holidays or weeks away, some people have instead been opting to live in a van full time which is quite a commitment.
Usually, these vans are pretty small, think converted Sprinters, Mazda Bongos and VW campervans, so they are not fitted out with separate rooms and facilities like a tiny home would be.
Van life is more suited to those who can work remotely and enjoy travelling around. It's not as simple as parking up wherever you like though as many places have bans on people sleeping overnight on the roadside in their vehicles, so you'll need to find some official campsites and caravan parks where you can pay to stay.
There is a trend of 'pub stopovers' where you can park for free but with the expectation that you will buy a meal in the pub in exchange for the free night's sleepover.
You'll need to consider campsite charges, fuel costs, vehicle maintenance and how you'll make your food. Whilst it can be a cheap way of living, it can get pretty expensive in-season when all the camp parks hike up their prices.
Houseboats
From living in a narrowboat on the canals of the UK or Amsterdam to living in a houseboat in New York City, life on the water's edge can be a lot more affordable than living in a standard home.
For most people, renting or buying a house is just not realistic. That's why for many years people have been turning to mobile housing solutions. Buying a boat outright can be a lot more reasonably priced than purchasing a permanent dwelling and docking fees can be competitive too.
Many people are choosing to live in these floating homes because of the benefits they provide. They provide a sense of freedom and an escape from the daily grind. It is possible to live off-the-grid on a houseboat, which is appealing for many people who want to reduce their footprint on the planet.
Mobile homes
Mobile homes come with a low cost of purchase, a low cost of installation, and a low operating cost. Mobile homes allow people to live in a home that they own for less than renting an apartment or house.
Mobile homes are not just for retirees and people on fixed incomes. They are also being used as housing for millennials who don't want the responsibility of owning a house but want to live in their own space.
The average cost of mobile home insurance can sometimes be higher than standard home insurance because the mobile home can be more at risk of damage or theft, however, it will depend on the newness of the mobile home, its location and how much you are prepared to set your excess at.
Co-living spaces
Co-living spaces are the new way of living. It's a more social, efficient, and affordable way of living.
Co-living spaces are the new way of living. They offer an efficient, affordable, and social way to live with other like-minded people. Living in these spaces offers you the opportunity to meet like-minded people who share your values and interests without having to worry about paying sky-high prices for rent or finding roommates that suit your lifestyle. Your community provides you with all of the amenities that you need without needing to worry about finding them yourself (such as laundry machines, kitchens, etc.).
Looking for more ways to save money? Check out my massive money-saving tips section and find some great deals on my voucher codes and free money pages!
Want to manage your finances better? Here are loads of family finance tips and helpful debt articles.