Direct.me Review: Earn money with this free link in bio platform
Posted on
When you're blogging or using social media platforms for money or influence, then there often comes a time when having one link in your social media bios isn't quite enough. Perhaps you've started a second blog, or you have a brand collaboration you want to direct people to, or even a coaching or mentoring side of your business. This is where finding a free 'link in bio' platform or app can be really useful. Why is it useful? Because many social media platforms, such as Instagram, only allow you to put one link in your bio and you might need more! Read on to learn about the Direct.me link in bio platform and whether it was easy for me to set up as I review their service. Aso, discover how you can optionally monetize your influence with Direct.me link in bio!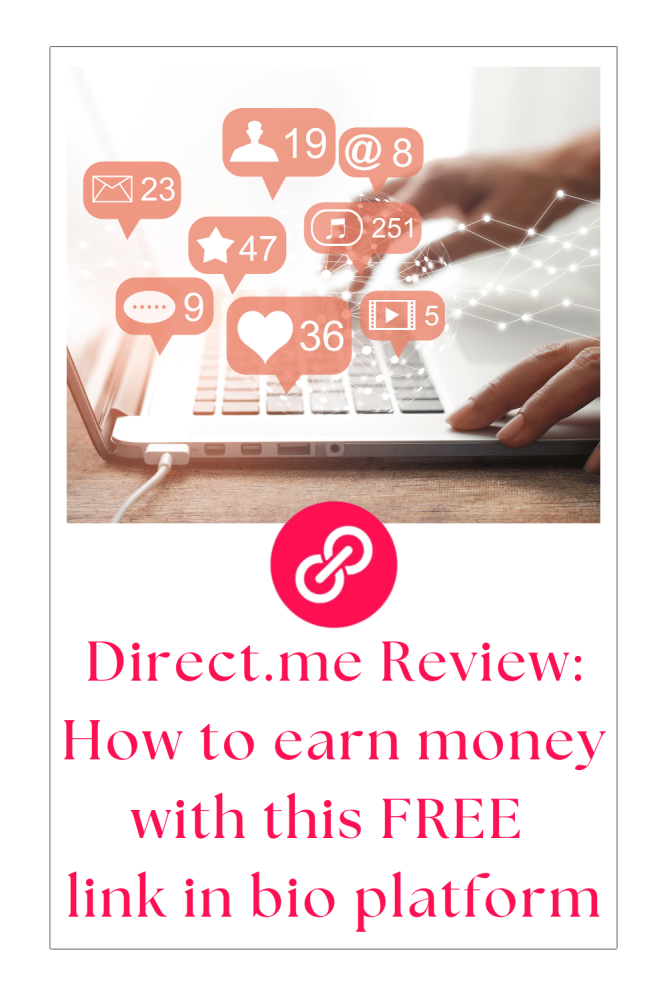 What is direct.me for? What is a link in bio platform?
Direct.me describe themself as 'the really free link in bio'. There are many other link in bio platforms that you might be aware of, but many charge a fee to access some premium features such as design capability. Direct.me are a link in bio platform that do not charge any premium fees or subscriptions to access all their services, instead offering their full service for free to everyone.
Direct.me is a social media platform that lets you create and manage your own profile. You can then share the link to your profile in your social media bio. The link in your bio will take people directly to your profile on Direct.me, making it easy for them to find out more about you and what you're up to! You can include numerous links to your websites, blogs, social medias, about pages, contact pages, collaboration pages and more!
Click here to set up your free direct.me link in bio profile!

Earn money from your Direct.me profile
Direct.me also offer a way for you to earn money from your fans and followers. This is optional and is called 'Direct Access'. From your Direct.me profile you can offer services that your audience pay for, allowing you to create an additional income stream right from your link in bio. I'll let Direct.me explain exactly how this can be achieved:
"Create unique ways to earn from engaging with your followers. List items of your choosing and create massive earning opportunity from all of your highly engaged audiences, across all major social platforms and verticals.
What can you offer with Direct Access?
Video Messages - Followers can purchase a short video (or audio) message from you.

Premium DM's - Allow your followers to pay to send you messages

Social Action - Sell social media shoutouts, follow backs and more

Phone Call - We will connect you privately to your buyer for a short phone call.

Video Call - Sell a short video call on whatever platform you choose.

Digital Product - Instantly delivered; Video, Picture, Audio, PDF, and more.

Physical Product - Sell unique and exclusive products such as autographed photos.

Custom Item - This option allows you to offer something specifically geared to you and or your fans."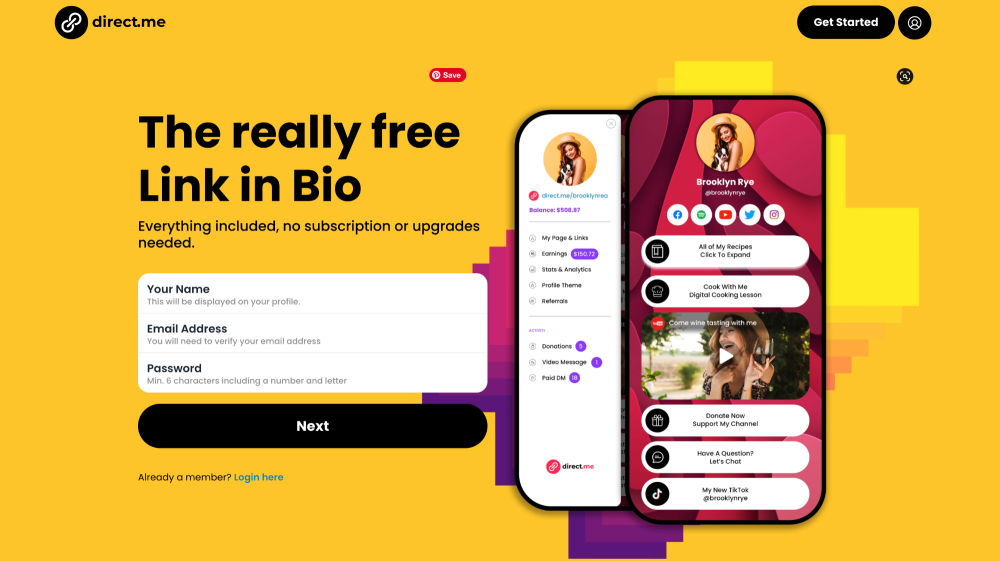 Review: How to set up your Direct.me profile
To test the platform for myself, I decided to set up a Direct.me profile to see what it looks like and how easy the process is.
Click here to set up your free direct.me link in bio profile!
Firstly, enter your name, email and choose a password. You enter this directly on the form on their homepage as so: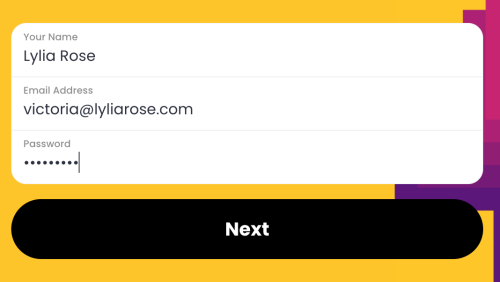 Click next and complete the Captcha… select all the chimneys or whatever to prove you're not a robot!
Then, enter the code that's sent to your email address.
Choose a username. You won't be able to change your username, so think wisely.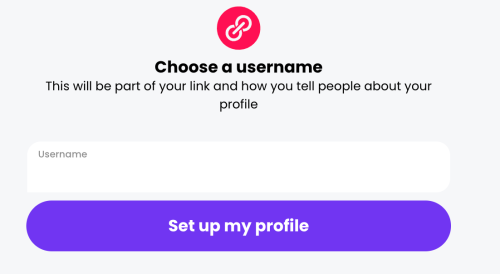 Then add the links you want people to go to from your Direct.me profile.
Click add item to add your first link!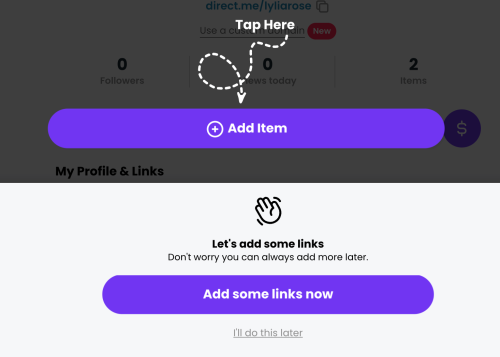 You can add your Twitter, Instagram and TikTok usernames to make things quicker.
Add your profile photo or image.
Pick a theme.
Then add some more links and some money-making opportunities if you like!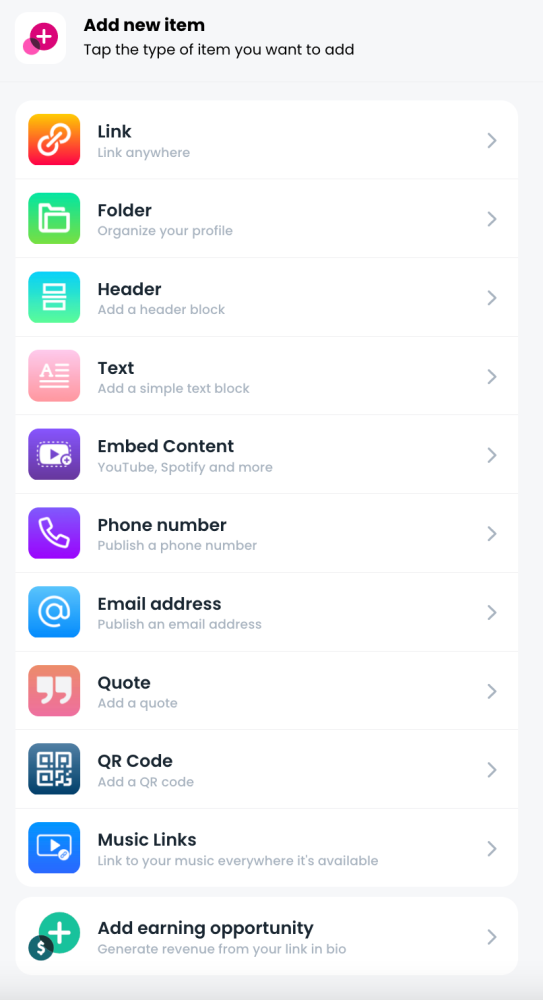 Check out my direct.me profile and buy me a coffee to say thanks!
Once you have set up your profile then you can play around and add more links. If you add a link under 'support me' then this is where you can ask for donations from your fans for things like a cup of coffee to say thanks!
If you add this feature then you will be taken through to Stripe to confirm your bank account details for payments that come through Stripe. I also added my PayPal.me page.
Want to check out the page I just created whilst testing out their service?
Click to view my profile at https://direct.me/lyliarose
If I've helped you make money, save money or win money, then feel free to thank me with a small donation towards a cup of coffee! Much appreciated! No pressure! 😋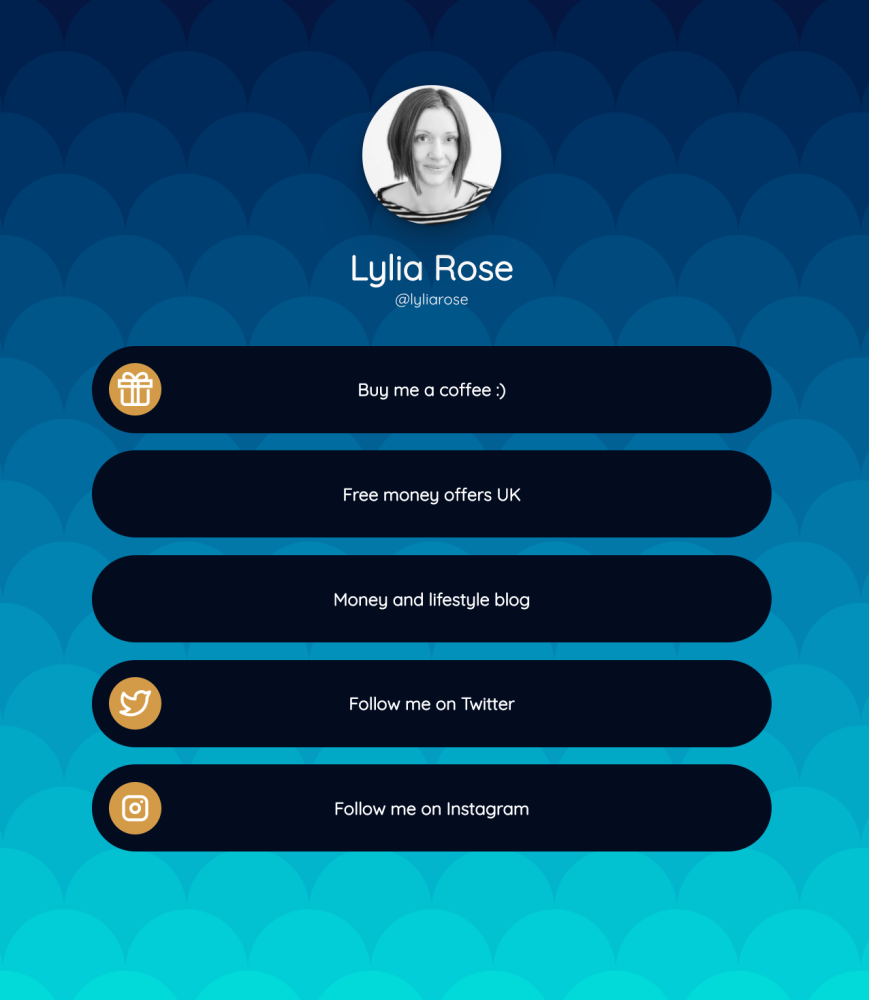 Direct.me review
I found the process of setting up a Direct.me profile really straightforward and easy. I love the fact their platform is completely free for creating a link in bio profile. There are no upgrades or subscription costs with numerous links being allowed and different themes. There's even the option to group your links together into folders by dragging and dropping them! Having the option to monetize directly through the Direct.me profile is also a great functionality. I have added a button so readers of my blog can buy me a coffee if they like to say thanks for any help I may have provided through sourcing free money offers, ways to save money or even helping them win money with thanks to my blog. Of course, you can also add many other services when it comes to monetizing your Direct.me profile with your audience, or simply ask for donations from those who wish to support your cause.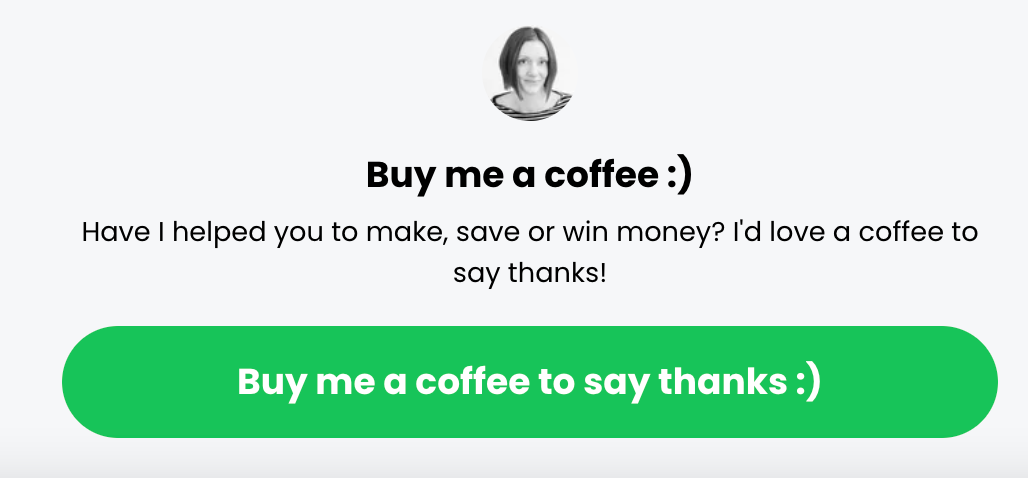 Want to make more money from home, online or need a side hustle?
Find loads of ways to make money at home on my blog, as well as my favourite side hustle in my matched betting blog!
Looking for more ways to save money?
Check out my massive money-saving tips section and find some great deals on my voucher codes and free money pages!
Want to manage your finances better?
Here are loads of family finance tips and helpful debt articles.