Comprehensive guide to financing and investing in vacation rentals
Posted on
Between March 2020 and April 2022, 19 percent of passengers who booked a vacation rental did so for the first time. If you are interested in getting your feet wet in real estate investment, the expanding vacation rental market might be a wonderful place to begin.
We have provided you with a comprehensive guide on investing in holiday rentals, regardless of whether you want to make a listing on Airbnb on your own or seek the assistance of a full-service vacation rental property management platform.
When buying a vacation rental property as an investment, here are the proper steps you need to follow: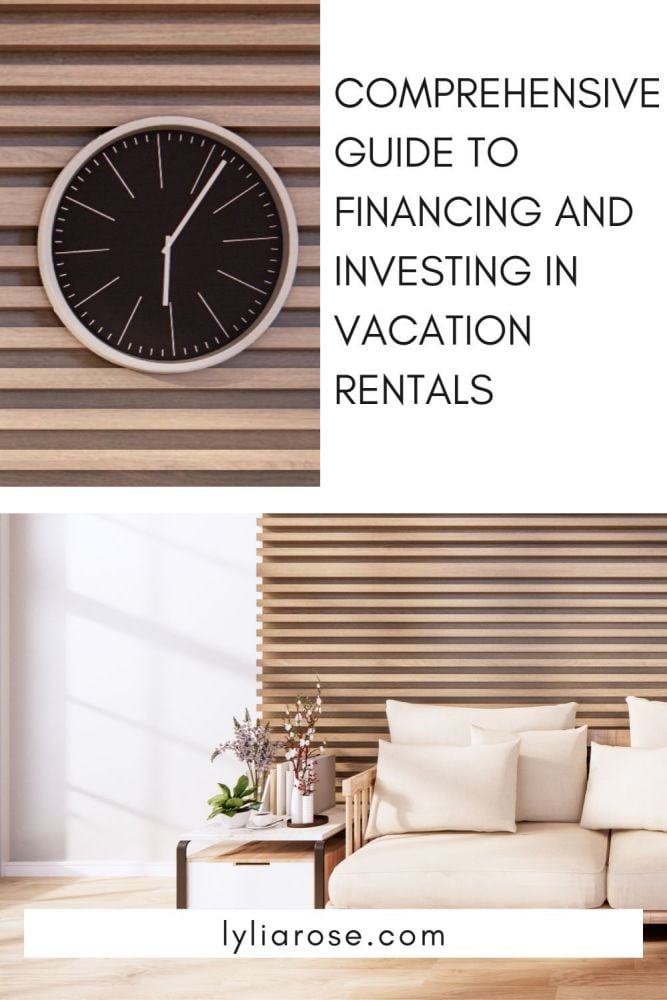 Find your location
The region is the most critical aspect that determines your possibility of making a profit, and every location has its own set of restrictions governing short-term rentals. Therefore, before beginning the process of analysing particular properties, choosing the area that best satisfies your objectives is a good idea.
Start your search in an area that piques your interest, or investigate the best places in the country to invest in holiday rentals. However, remember that your quest's destination could not be where it began.
Do the math to determine the return on investment for your property
Calculating the possible return on investment (ROI) of holiday houses that you find appealing is a brilliant idea when searching for such places.
Keep an eye out for detailed reports that forecast monthly cash flow, operational expenses, and prospective net profits.
Verify the information
You may identify the piece of real estate that will serve as the foundation of your future investment with the assistance of a variety of helpful analytical software tools.
Regarding communities and locations across the nation, programs such as AirDNA, Mashvisor, and AlltheRooms provide helpful information about the possible return on investment (ROI), the average occupancy rate, and a great deal of other data.
Ensure that your investment in a holiday rental has been pre-approved
You should obtain pre-approval from a lender knowledgeable about vacation rental loans. This is critical if you do not intend to pay cash for the investment in a vacation rental property you want to purchase.

When you accurately estimate your financial resources, you can double down on a particular area (or pivot to a higher- or lower-value market).
A pre-approval puts you in a position of power since it allows you to act swiftly on a property, which is especially useful in popular holiday spots. In addition, it demonstrates to the sellers that your offer is reliable and worthy of consideration.
Present your best proposal
Cash is often the most attractive form of payment when making an offer on real estate. Cash buyers will often outbid those who need finance or a mortgage as the cash can assure that the sale will not fail due to financial checks and processes for a loan.
You will likely need cash available to pursue the purchase, so consider making a cash deposit available from your finances once you start looking for a property. Some savings accounts, for instance, require notice before you can withdraw. Some sellers may ask for as much as ten percent of the purchase price as a deposit, even if you are paying cash for their property.
Work with an experienced and reputable property management company
Choose a vacation rental manager that will handle your house with the utmost care after the sale of the property has been finalised, and you are ready to begin renting it out.
If you are thinking about transferring management businesses or employing one for the first time, here are some questions you should think about:
Where exactly will they advertise your property on the internet, and what kind of marketing services do they offer?

Will they price your property in a manner that is comparable to others?

Does the management charge include all the costs associated with renting, such as marketing, booking, customer service, visitor screening, and housekeeping?

To what extent are restrictions placed on your ability to use your home?

Can you terminate your service at any time, or are you bound by a contract that prevents you from doing so?
Engage in sales negotiations
When your offer is in the mix, your agent's knowledge might be a deciding factor in the subsequent talks. You run the risk of giving either too much or not enough without having valuable insights into the competitive environment of the local vacation rental market.
To make a competitive offer, it is essential to have accurate projections on the financial possibilities of the house as a holiday rental.
Make sure you comply with the rules and regulations
Since this will depend heavily on the region, you will want to find out what the rules and regulations are in your area. It would be a pity to buy a property just to find out that you are not allowed to have paying visitors staying there. Most regular mortgages will not allow you to have paying guests, so make sure you choose an appropriate mortgage if this is how you will finance your vacation rental.
In addition, rules might change at any moment, which means that investing in a vacation rental also necessitates staying current on new industry developments and regulations.
Benefits and drawbacks of buying vacation homes as an investment
Advantages
Purchasing a vacation rental comes with its fair share of advantages and challenges, just as any other kind of investment can. Before taking the plunge, it is critical to thoroughly understand the possible downsides and upsides.
When it comes to the benefits, one of the primary advantages of vacation rentals is the possibility of earning a higher income from them than one might from longer-term rentals.
Keep in mind, however, that the amount of money you may make will depend not only on the location of your rental property but also on other aspects, such as the facilities it offers.
Another tremendous advantage of renting a vacation home is the flexibility it affords you to utilise the space for your purposes whenever you choose. Blocking out certain weeks of the year for your own usage gives you a holiday home too for your own use.
Your rental property's worth will increase over time, allowing you to either sell it and use the proceeds to fund your retirement or keep it as an investment and let it rise in value.
Disadvantages
On the other hand, there are a lot of possible drawbacks that may arise when it comes to rentals. These are the following:
Taking care of maintenance and cleaning responsibilities (you can choose to do this yourself which is time consuming, or you will have to pay for a professional company to do this on your behalf and entrust them with the responsibility)

The cost may be more than you anticipate (for maintenance, ground rent, taxes, etc.)

You need to put in consistent effort to advertise your rental property (unless you pay someone to do this for you which will affect your overall profits)

It's possible that your earnings won't be consistent (they will change seasonally)

There are no guarantees the property will rise in value as the housing market is unpredictable
Investing in real estate as a vacation rental: is it the right choice for you?
It's possible to make a lot of money operating vacation rental homes, but it's also possible to lose a lot of money doing it. As with any investment opportunity, your capital is at risk. There's no guarantee the housing market won't dive and you could lose money on your original investment. It's a sensible idea to go into the property and vacation rental business for the long term so you have more chance of making a good return on your investment.
Before diving into anything new, it's a good idea to arm yourself with as much information as possible by researching in advance. If you are prepared to put in some effort, do some research, and have an open mind, you may make a solid return from this new investment scheme.
Want to make more money online, at home or need a side hustle?
Find loads of ways to make extra money at home on my blog, as well as my favourite side hustle in my matched betting blog!
To get started, you can make money online uk with these 60 ways I've tried and tested.
Follow these steps to make £1000 in one month at home.
Or, if you're short on time, try these methods to make money in one hour.
Love sharing great offers with friends? Make extra cash with these refer a friend schemes.