Buying a House in Turkey: Primary vs Secondary Real Estate Investments
Posted on
Discover the key differences between primary and secondary real estate investments in Turkey, and learn how to make informed decisions based on your preferences, budget, and goals. Dive into this comprehensive guide to explore the pros, cons, and unique aspects of each market, to help you find your perfect Turkish property!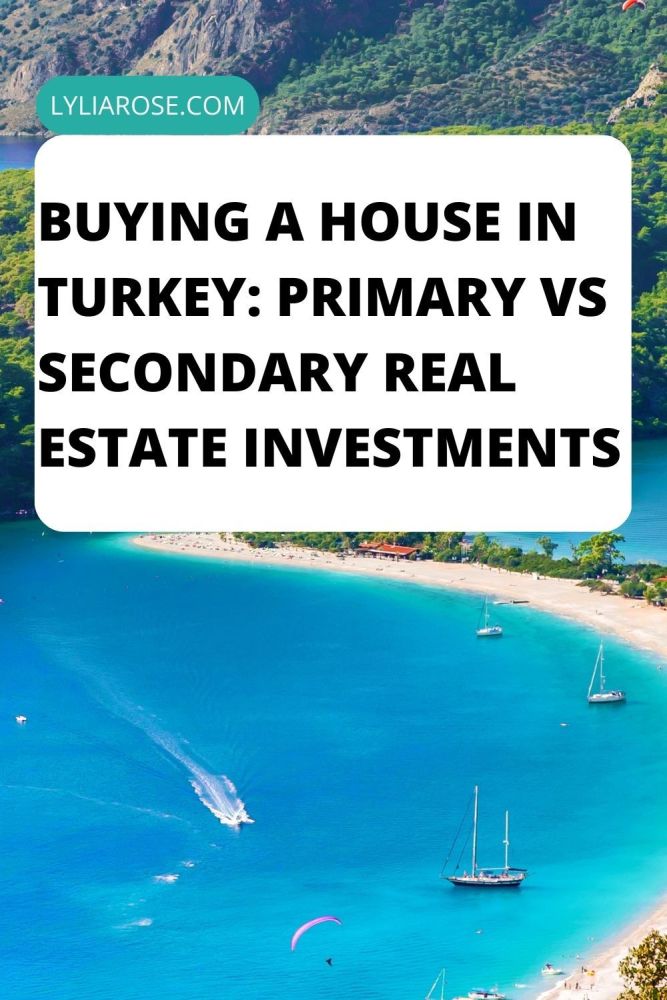 Buying a House in Turkey: Primary vs Secondary Real Estate Investments
An increasing number of foreign investors and expats are drawn to Turkey each year to purchase real estate and immerse themselves in the country's rich culture. The alluring combination of a relaxing resort atmosphere, the soothing sound of the surf, and the warm southern sun are just a few reasons why Turkey has become an attractive destination. Many foreign buyers arrive with a clear goal: to buy flats in Turkey with a pool and other amenities. However, the vast array of options available in the primary and secondary real estate markets can be overwhelming. It's important to understand the distinct characteristics of both markets when making an informed decision.
Investment in Real Estate in Turkey
When investing in Turkish real estate, whether in the primary or secondary market, it's essential to identify your objectives and select an appropriate location. Turkish property prices have historically been, and continue to be, relatively low compared to most European countries. In Turkey, for just $1,000 per square metre, it's possible to find an apartment in a residential complex complete with a gym, swimming pool, children's playground, and breathtaking sea views. The affordability of Turkish real estate makes it an attractive investment for buyers with varying budgets.
The Difference Between Primary and Secondary Real Estate Markets in Turkey
It's important to understand the differences between the primary and secondary real estate markets before diving into the pros of each. The primary market consists of new properties that are sold directly by the developer or builder, while the secondary market comprises previously owned properties being resold by the current owner. Primary properties are typically brand new and may still be under construction, whereas secondary properties have been lived in before and older houses may require renovations or updates. By understanding these distinctions, investors can make informed decisions based on their preferences, budget, and investment goals.
Buying Secondary Real Estate in Turkey
When venturing into the secondary real estate market in Turkey, it's vital to be aware of certain unique aspects. Evaluating the technical condition of the property, getting acquainted with the neighbours, and taking into account the following considerations are crucial steps in the process:
Legal status and documentation

Overall state of the apartment

Redevelopment possibilities

Functional and structural soundness

Material quality and durability

Interior furnishings and decor
Pros of Buying Secondary Real Estate in Turkey
One of the primary reasons foreign buyers opt for secondary real estate is the ability to move in immediately after purchase, without having to wait for delivery or face potential construction delays. Additionally, secondary properties provide a wealth of choice, allowing buyers to select housing units in any area of the country with a range of furnishing and design options, even the most unique ones.
Secondary housing is often located in residential areas with well-developed infrastructure, which can be a deciding factor, especially for families with children. Established neighbourhoods typically have better access to schools, kindergartens, and shopping and entertainment centres compared to newer developments.
Cons of Buying Secondary Real Estate in Turkey
While secondary real estate offers several advantages, there are also some drawbacks to consider:
Potential for renovations: Since secondary properties have been previously lived in, they might require updates or renovations to suit your taste and needs. You'll need to factor in the costs for building work into your overall budget.

Legal issues: There may be a higher risk of encountering legal disputes or title issues when purchasing secondary properties. It's crucial to conduct thorough due diligence and verify all legal documents.

Less energy efficiency: Older properties may not be as energy-efficient as newly built ones, leading to higher utility costs for central heating or cooling costs.
Buying Primary Real Estate in Turkey
When considering purchasing real estate in the primary market, it's crucial to pay attention to the following factors:
Reliability of the developer

Transparency of the transaction

Availability of necessary documents

Delivery terms
When buying directly from a developer, ensure that the property aligns with the specifications outlined in the contract. Conduct a thorough inspection before accepting the property, checking its technical characteristics and layout.
Pros of Buying Primary Real Estate in Turkey
Developers typically offer attractive payment plans with affordable down payments. Furthermore, primary real estate in Turkey holds greater investment potential. Purchasing an apartment in the early stages and selling it at a higher price after completion can result in substantial profits.
The longer lifespan of new buildings is an important consideration whether you plan to occupy the property yourself or lease it out. When investing in primary housing, buyers can be confident in the legality of all documents, avoiding potential issues with heirs or original owners. It's crucial to verify the developer's permitting and constituent documents.
Cons of Buying Primary Real Estate in Turkey
Primary real estate investments also have their share of drawbacks:
Construction delays: When buying a property under construction, you may face delays in completion, which could affect your moving plans or investment returns.

Less established neighbourhoods: New developments may lack well-developed infrastructure, with limited access to schools, shops, and other amenities, which could be inconvenient for families.

Higher initial costs: Newly built properties might have higher upfront costs compared to secondary properties, as they often come with modern facilities and updated building standards.
By considering both the pros and cons of each type of real estate investment in Turkey, you can make an informed decision that best aligns with your preferences, budget, and long-term goals.
Working with a Real Estate Agent or Consultant
Navigating the process of buying property in Turkey can be challenging, especially for first-time buyers or those unfamiliar with the local market. To ensure a smooth and successful transaction, consider working with a reputable real estate agent or consultant who has experience in the Turkish property market. A professional can guide you through the entire process, from selecting the right property and negotiating the best price to managing legal matters and completing the necessary paperwork. By enlisting the help of an expert, you can minimize risks and maximize the potential return on your investment.
Conclusion
For those seeking exclusive frontline real estate in Turkey, Turk.Estate offers exceptional housing units in popular Turkish destinations at affordable prices. The Mediterranean coast of Turkey boasts not only a comfortable climate, vibrant natural scenery, and friendly locals, but also a low crime rate. When taking the significant step of purchasing property, it's advisable to rely on a trusted source for real estate searches.