How to Drop Hints So That He Proposes
Posted on
If you've been in a long-term relationship with your significant other, it's natural to start thinking about taking things to the next level. But what do you do if you're ready for an engagement and your partner hasn't popped the question yet?
While you can't force someone to propose, there are ways to drop hints and nudge them in the right direction. Here are some tips to help you drop hints so that he proposes.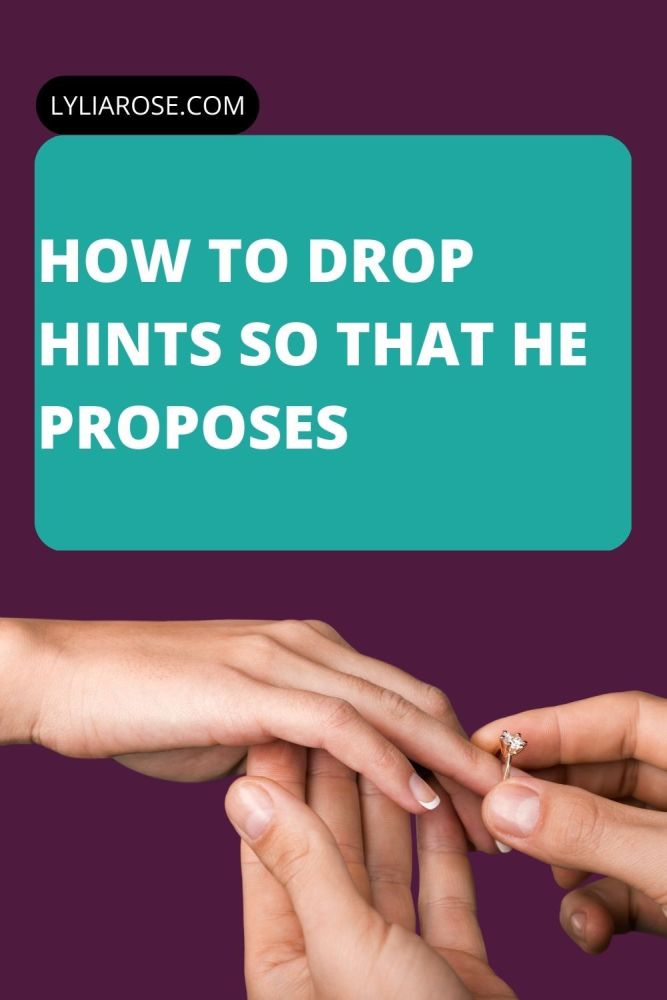 Communicate Your Expectations
One of the most important things you can do when you're ready for an engagement is to communicate your expectations with your partner before you get engaged or married. Make sure they understand that you're looking for a committed, long-term relationship that includes marriage. This will give them a clear understanding of your goals and help them decide if they're ready to take the next step with you.
Talk About the Future
When you're in a committed relationship, it's natural to talk about your future plans. Whether you're discussing career goals, travel plans and bucket lists, or starting a family, make sure you include marriage in those conversations. By talking about your future together, you're showing your partner that you're serious about your relationship and that you see a long-term future with them.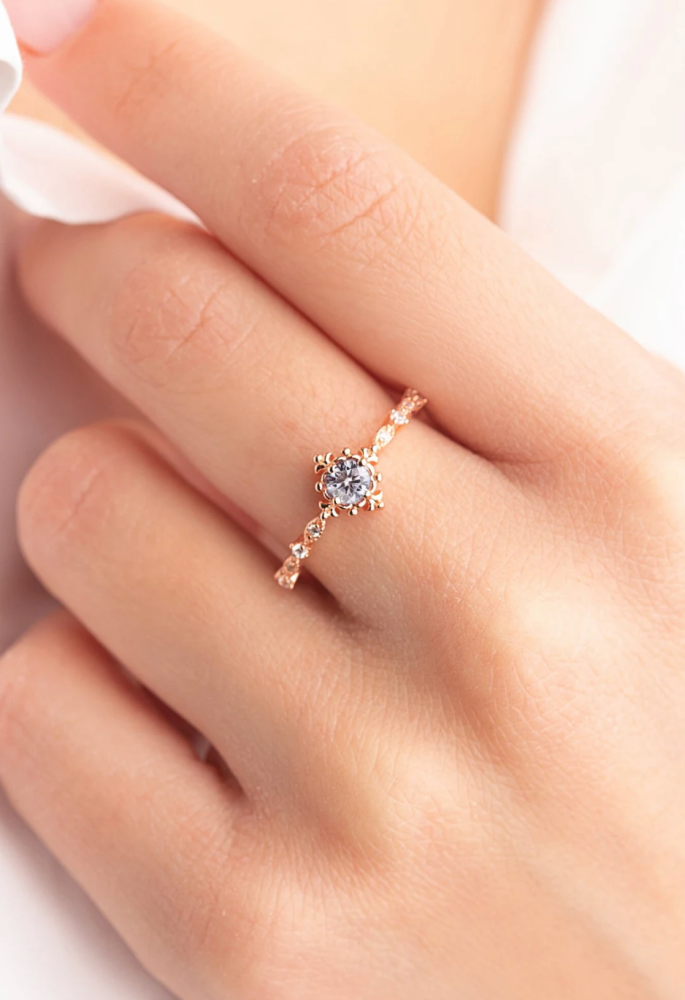 Share Your Dreams
Another way to drop hints is to share your dreams and aspirations with your partner. If you've always dreamed of a romantic proposal on a beach at sunset, or you've been eyeing a particular moissanite or diamond engagement ring, make sure you mention it to your partner. While you don't want to be pushy or demanding, sharing your dreams and desires can give your partner a better idea of what you're looking for in a proposal.
Include Your Partner in Wedding Planning
Even if you're not engaged yet, you can still start planning your dream wedding. Ask your partner for their input on wedding venues, themes, stag and hen dos, and guest lists. This will show them that you're serious about your future together and that you're already thinking about your life as a married couple.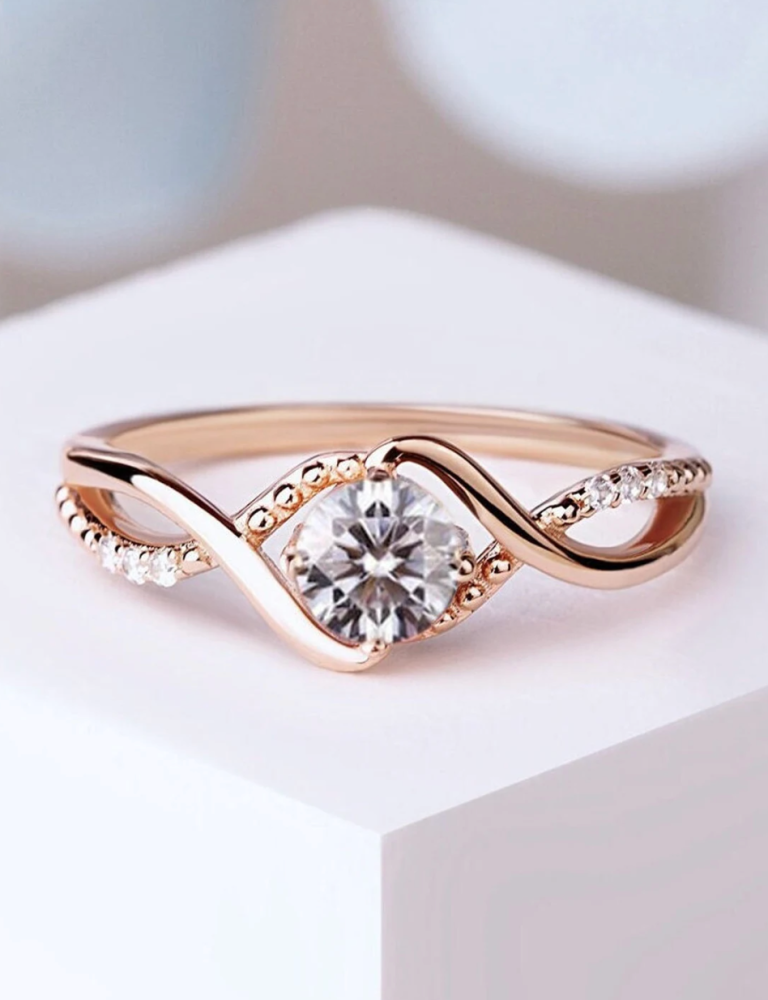 Moissanite engagement ring vintage style - Etsy
Drop Subtle Hints
If you don't want to be too direct with your hints, you can drop subtle clues that will get your partner thinking about proposing. For example, you could leave a bridal magazine open on the coffee table or casually mention a friend's recent engagement. These small hints can plant the seed in your partner's mind and get them thinking about the future.
Be Patient
Remember, you can't force someone to propose. If your partner isn't ready for an engagement yet, it's important to be patient and understanding. Pushing too hard or being too demanding can backfire and push your partner away. Instead, focus on building a strong, healthy relationship and trust that your partner will propose when the time is right.
While dropping hints can be helpful, it's important to remember that everyone's relationship is different. Some couples get engaged after a few months of dating, or soon after moving in together, while others may wait years before making that commitment. There's no right or wrong timeline, and it's important to do what feels right for you and your partner.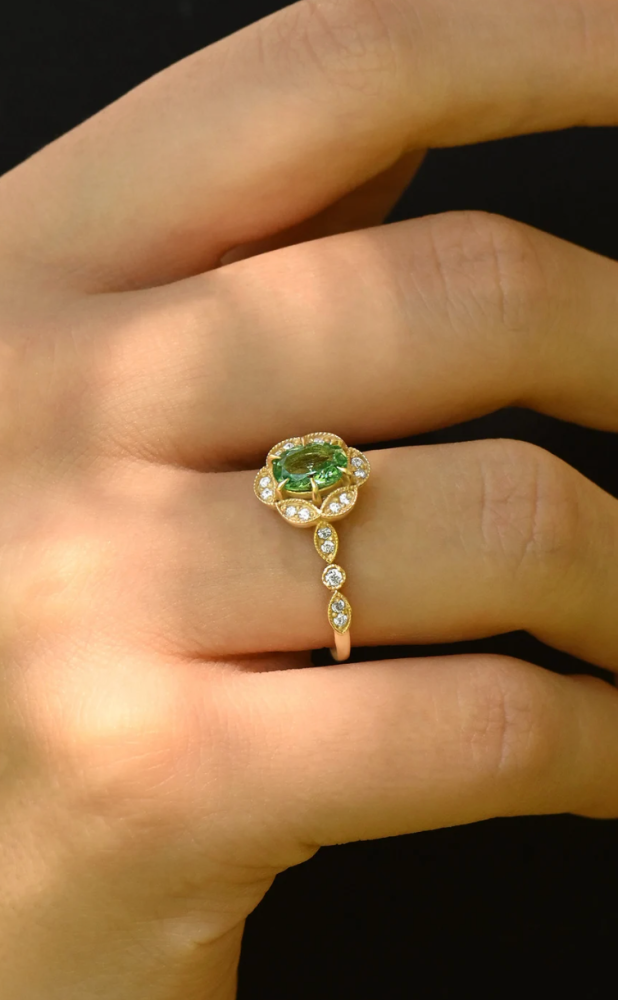 Vintage tourmaline engagement ring
Drop Hints About Your Dream Engagement Ring
If you're dropping hints about engagement rings, it can be helpful to do a little research and share your findings with your partner. You can browse online or visit a local jewelry store to get a better idea of the different styles and options available. When you're browsing, pay attention to the details that catch your eye. Do you prefer a round or square diamond? Are you drawn to a particular setting, like a halo or a three-stone design? By sharing your preferences with your partner, you can help guide them in their search for the perfect ring.
When it comes to engagement rings, there are a lot of options to choose from. Yellow gold engagement rings are a classic choice that never goes out of style. The warm, golden hue of yellow gold is flattering on all skin tones and pairs well with a variety of diamond cuts and settings. Whether you're looking for a simple solitaire or a vintage-inspired design, there's a yellow gold engagement ring that's perfect for you.
It's also important to remember that engagement rings are a significant financial investment. If you're dropping hints about a specific ring or style, make sure you have an honest conversation with your partner about your budget. You don't want to create unrealistic expectations or put unnecessary pressure on your partner to spend more than they can afford. Instead, work together to find a ring that fits your budget and your style.
Final word
In conclusion, dropping hints can be a helpful way to nudge your partner in the direction of an engagement, but it's important to do so in a respectful and considerate way. Communication, patience, and understanding are key to building a strong, healthy relationship, and ultimately, a successful engagement and happy marriage. And if you're drawn to the timeless beauty of engagement rings, there are plenty of options to choose from that will make your heart skip a beat.
What if your partner doesn't want to get engaged?
If your partner doesn't want to get engaged, it's important to have an open and honest conversation about your expectations and goals for the relationship. If marriage is important to you and your partner is not ready or willing to commit to that, you may need to reassess whether this relationship is the right one for you and if a break up is the best solution so you can find someone aligned with your relationship goals. It's important to prioritize your own needs and values, and not compromise on something as important as your long-term relationship goals.