A last minute campervan camping trip to Rhossili Bay, Gower Peninsula, Wales
Posted on
Two weekends ago we went on a spur of the moment camping trip to Rhossili Bay which is part of the Welsh coast on the Gower Peninsula. It was the first time going there and our second trip to the Gower this year. Earlier this year Ben and I took the camper van for its first ever camping trip to Oxwich Bay.
My mum had the kids for the night which had already been planned. She was having them for 24 hours from 3pm Sat to 3pm Sun. We didn't originally plan on going away as it didn't seem long enough to get very far and after writing my winter bucket list blog post I originally wanted to go tubing to tick it off the list! So we'd planned on going tubing which is only £11 each at the local dry ski slope in Gloucester – somewhere I've never been yet. But that week I was feeling really stressed! I was getting serious cabin fever with being at home so much!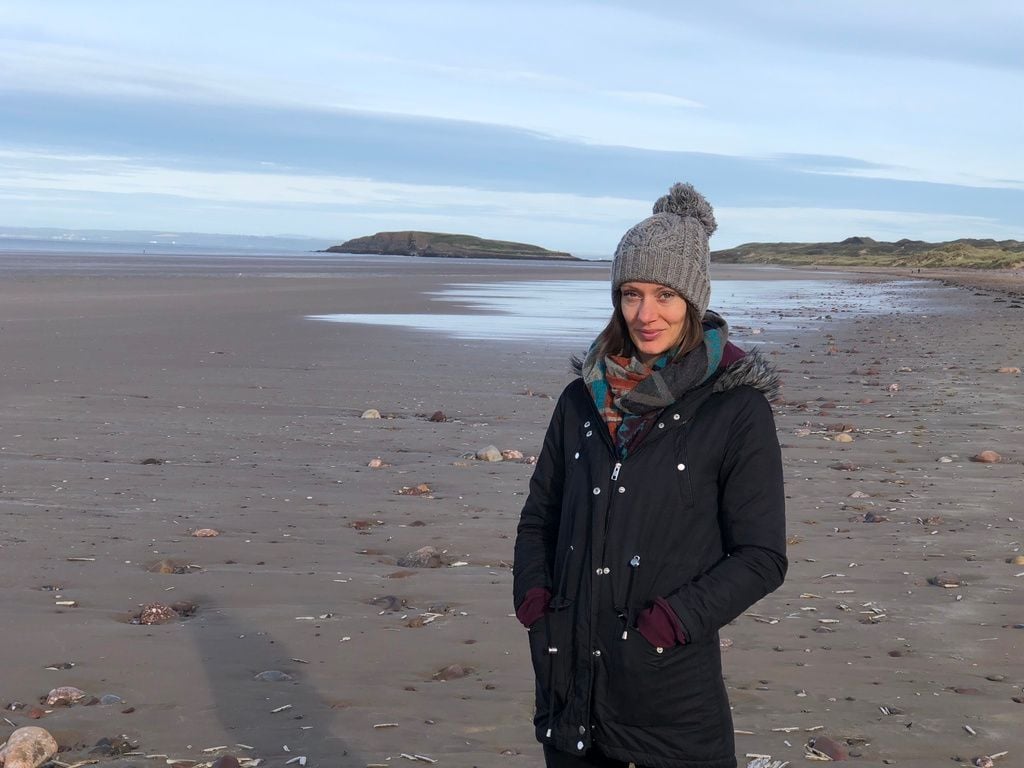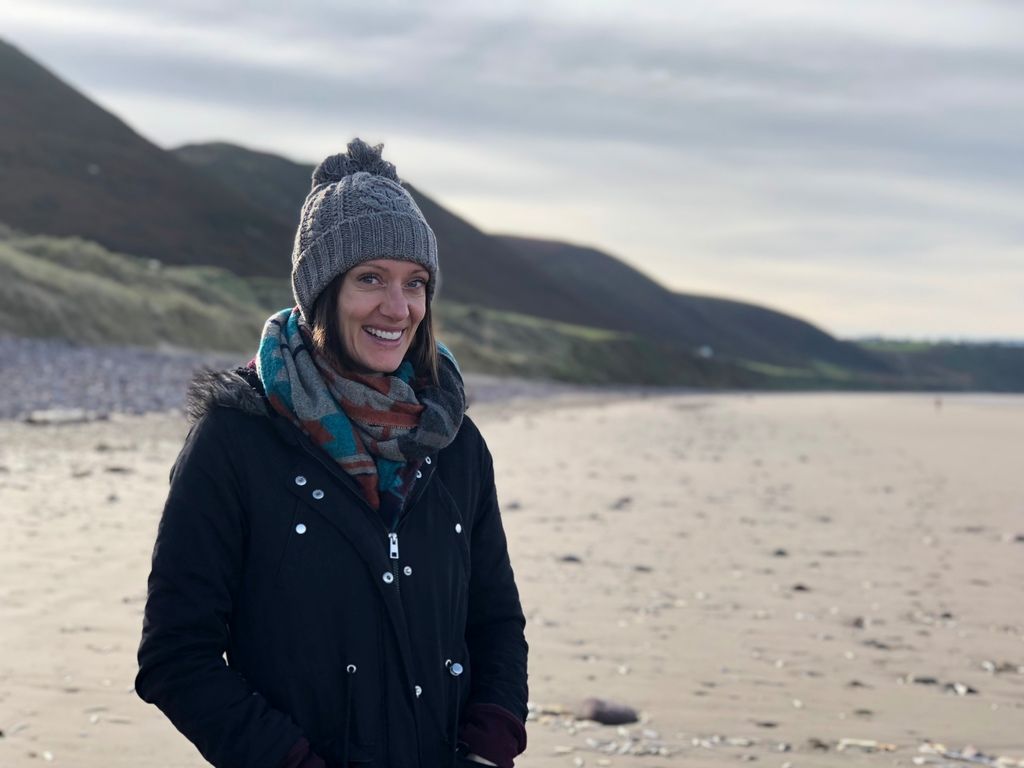 For the first time in almost eight years, Ben managed to take some nice photos of me!
I work at home and I'm at home nearly all the rest of the time as our kids are just 3 and 6, so in bed early and so on. My day is often school runs, work at home, then home all evening. I was starting to feel like I've just been at home for weeks on end and not done anything else, so needed to get out of here. School, home, gym. That's my life and it's all local to me and I just need to get out and do more things!
I said to Ben we should maybe go away for the night instead and expected him to say there wasn't enough time. He usually classes any drive over one hour as a holiday and doesn't usually like driving far at all unless it is for a holiday or specific reason. So I was shocked when he sent me a map image of Rhossili Bay back and said 'let's go'. It was a 2.5 hour drive and we only had 24 hours! I thought he was joking, but luckily he was being serious so we started searching for a campsite.
Hillend Campsite review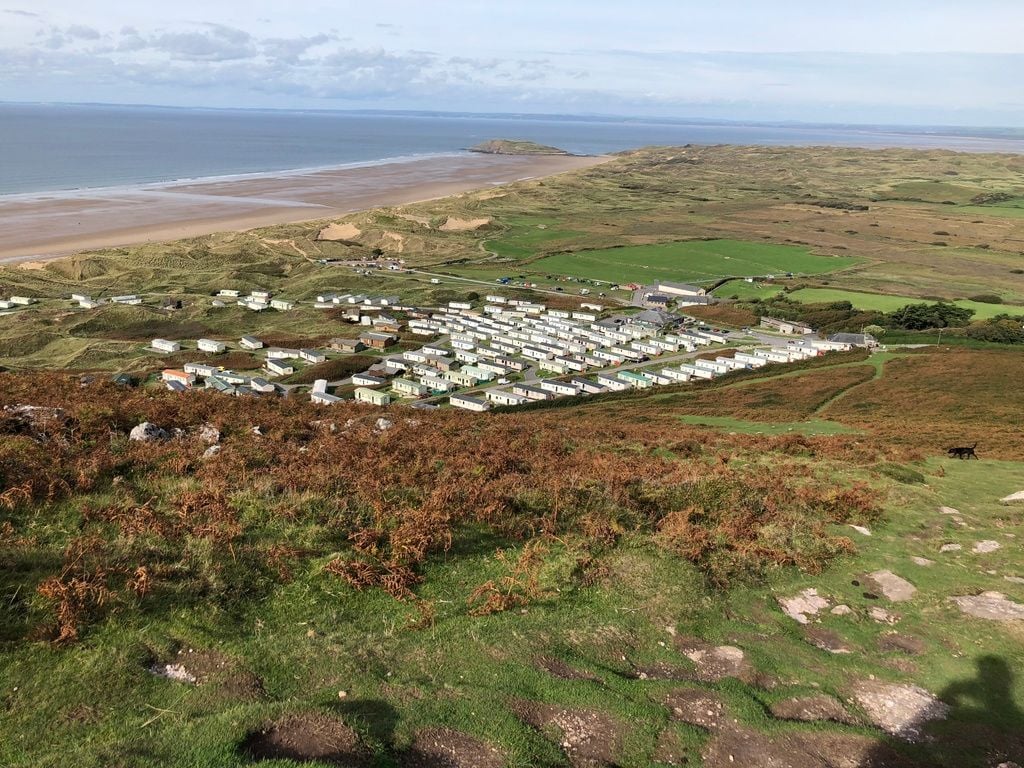 Our van is down there in the field!
We found Hillend Campsite online before we left and it looked perfect. It was right by the beach and only £16 for a night's stay as it was October – the last month they are open for the year. There was also no need to book, just turn up, pitch up and pay when your there. I loved this flexibility so we didn't feel tied to go if it was chucking it down with rain!
Pitching up for us is easy with the van. We have a Mazda Bongo with pop top roof. We literally pull up, find a spot and we're done! Ha!
It's so easy. We don't have a converted van as we decided we wanted a larger sleeping area and would just go out for food, buy picnic type food or use Ben's new camping stove to cook something easy in a pan and we don't need to take up valuable space in the van for this. I'd much rather a bigger bed!
The campsite was ideal. Super cheap, lots of toilets, hot showers and as it was end of season it was really quiet – perfect! It was also only a stone's throw away from the beach.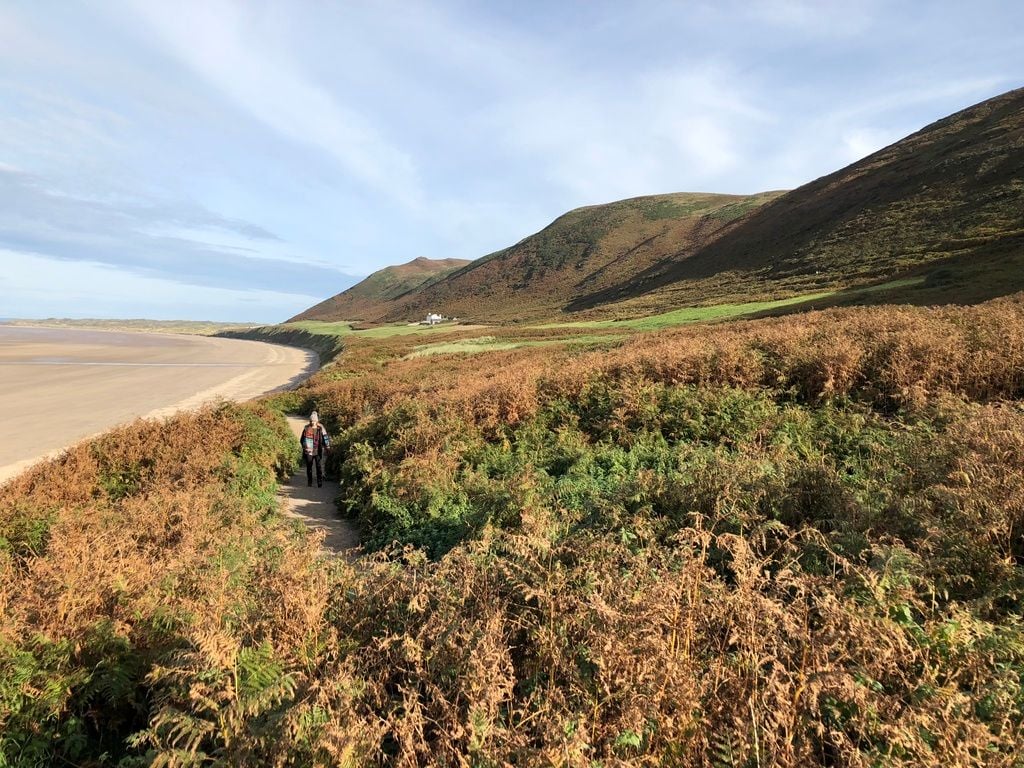 Dinner at Kings Head Inn, Llangennith, Gower
The setting was great. It was one mile from a pub called Kings Head Inn which we walked to as soon as we got there. We arrived at dinner time and are clockwork with our hunger! I can't wait too late for food! They had a delicious vegan chickpea curry so this was perfect.
We sat outside as the view was lovely. It wasn't that warm, but we kept our coats on and the setting was too beautiful not to really. There was a church opposite and the hills dropped down to the sea. It was so nice and we really felt like we had got away for a mini holiday!
The curry was so delicious and huge portions! I ordered chips on the side as I was starving, but the mains were plenty big enough.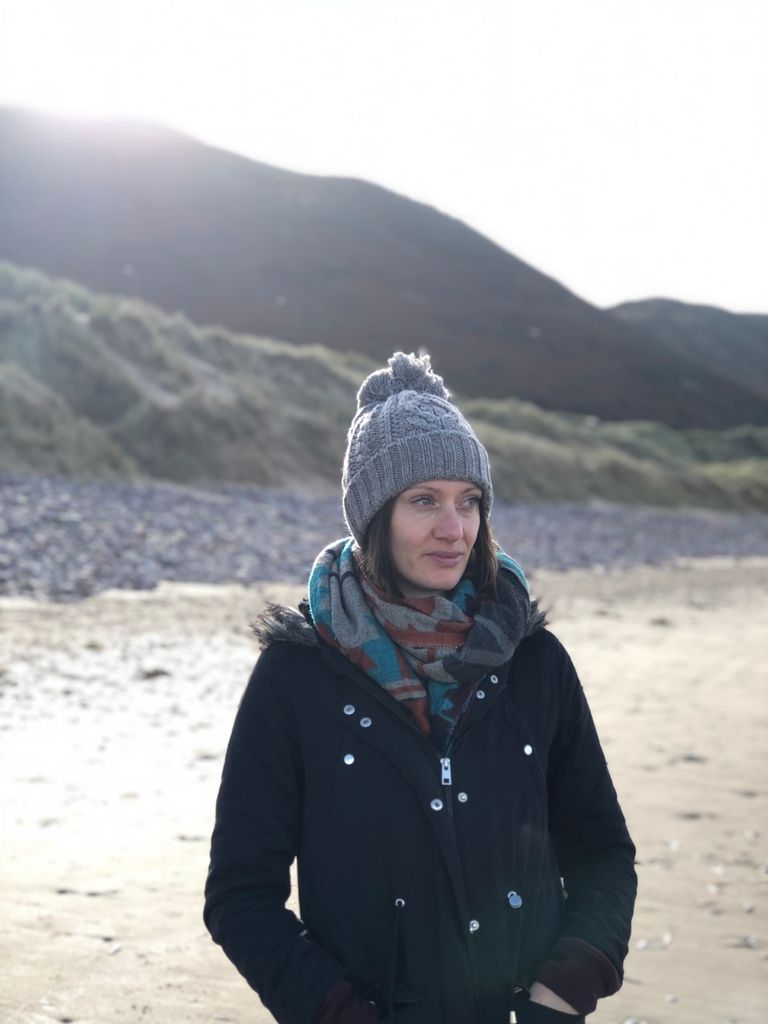 Rhossili Bay review
I absolutely love Rhossili Bay. I felt really emotional when there as it's the most perfect beach in the UK that I've seen so far. I really want to live by a beach one day and hadn't seen anything remotely suitable yet, but now I think Rhossili could be a contender. It is a large sandy beach with pebbles and dunes at the back, as well as gorgeous green hills behind it with plenty of countryside and walks. The back of the beach is hilly and not built up with residence or for tourism at all. It still has all its natural beauty.
At the end of the beach is Worm's Head. It's a tidal island that is accessible at low tide. It has a really cool natural rock bridge called Devil's Bridge. We did walk along the beach for around one hour from the campsite to Worm's Head in the morning, but we needed to get back home for lunch and to pick up the kids, so didn't make it all the way across Worm's Head. I hope to return one day to see cross over at low tide and walk over Devil's Bridge.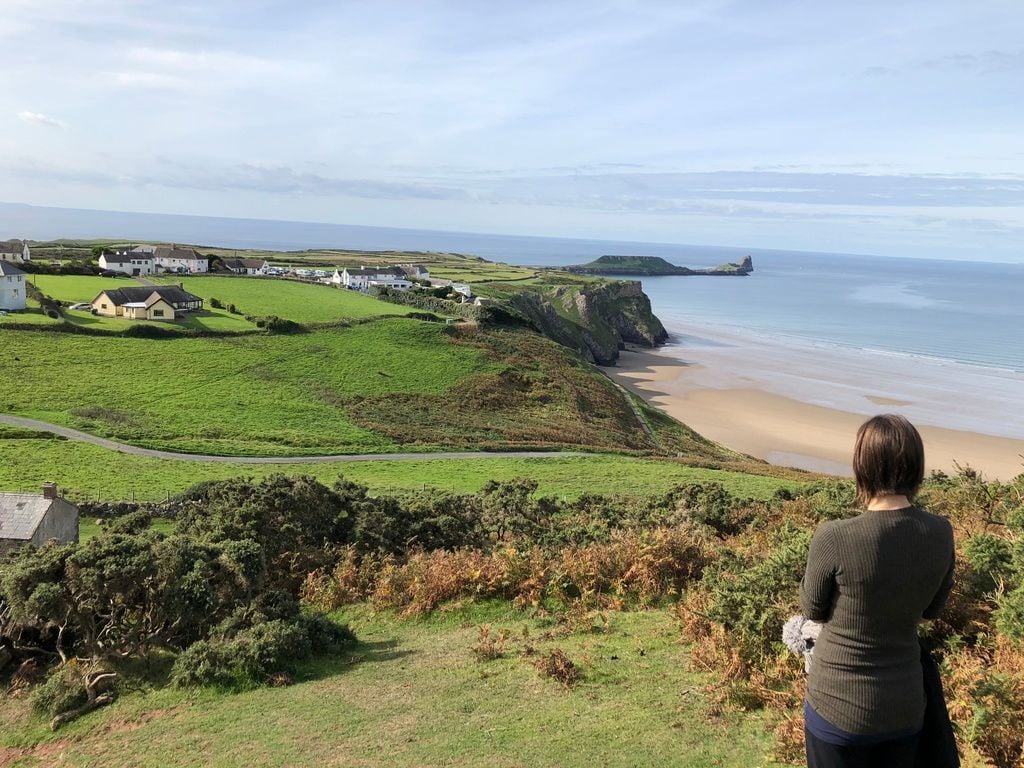 It's a really spectacular place and we sat for a moment at the edge of the low tide crossing part of Worm's Head to look back over the beach and see the sea all around. There are lots of rugged rocky cliffs to admire and I enjoy the fresh sea breeze and sound of the gulls. I could imagine myself living there and walking to that spot with a book on a summer's day to lie in the sun and read. Bliss!
Rather than walk back along the beach, we walked up the hill to the top where there's a view over the whole peninsula. I said to Ben there must be something wrong with this place as it's so ideal – sandy beach ideal for running along in the morning and the kids to play on, plenty of countryside, not built up, campsites, a couple of pubs and lots of walks… what could be wrong? It seemed perfect. On our hour walk back over the hills to the campsite we bumped into some residents and they said it was very calm day. They told us it's normally really windy and we'd be battling against the wind to get up that hill and walk across it. Ah-ha. It does have a downside, not that I was hoping for one, but it all seemed too perfect a place. I think we need to go back and see how windy it is!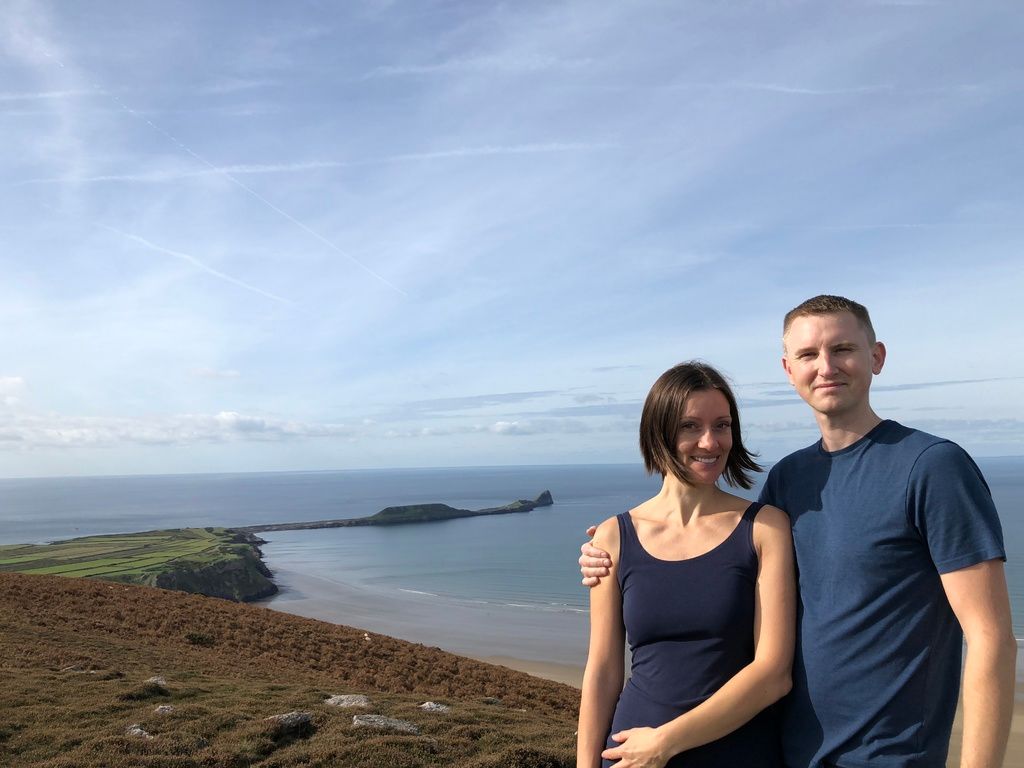 Final thoughts
Even when there Ben questioned why I would not go to the same place twice. I always say this and it's because I feel life is short and if I go back somewhere again then that's a chance of seeing somewhere new that I'll never get back again. I want to see and do as much as possible in my life and so I love to explore new places all the time. That said, I do want to go back to explore the other beaches we didn't see and to go properly onto Worm's Head and see Devil's Bridge. We also picked up a map for the Gower coastal path so this is something we are both keen to do – walk around the whole Gower over 2-3 days and see everywhere!
I really enjoyed Rhossili Bay. It's a stunning beach with a beautiful natural backdrop, perfect for long walks, beautiful scenery and fresh air. A true escape from the monotony I was feeling at home!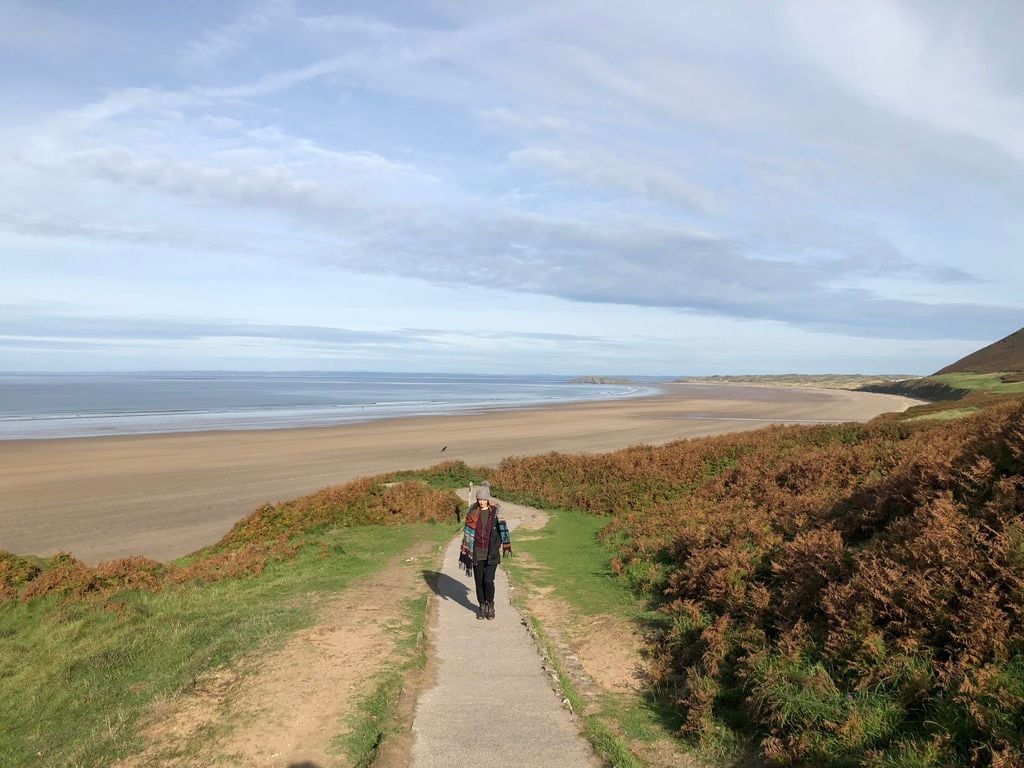 Here's some camping we've done without the kids before:
A Kid Free Camping Trip to the Vale of Glamorgan - A weekend in Wales with camping, beaches and castles
A Kid Free Weekend: Hot tub glamping and zip wire fun at Chepstow Quarry
And with the kids:
Branscombe Airfield and Campsite review and two day Devon travel diary