How to make Christmas dinner on a budget
Posted on
Christmas can be a really expensive time of the year for families with travel costs and Christmas food shopping to take into account. And that's completely leaving out the stress of preparing for presents for the kids and gift exchanges! This can potentially wreak havoc on your wallet if you don't plan accordingly, which is why this article exists – with lots of tips to help you make a delectable Christmas dinner and save money in the process.
The key points involve reducing the cost down enough to make a fulfilling meal for everyone. In this current digital age, you can use the services of a grocery app to find the best values for the myriad of ingredients you might need. Then, gather up a handful of loved ones or friends who will be at the Christmas dinner party, and go value shopping for all the necessary ingredients.
Here are some tips on how to make Christmas dinner on a budget: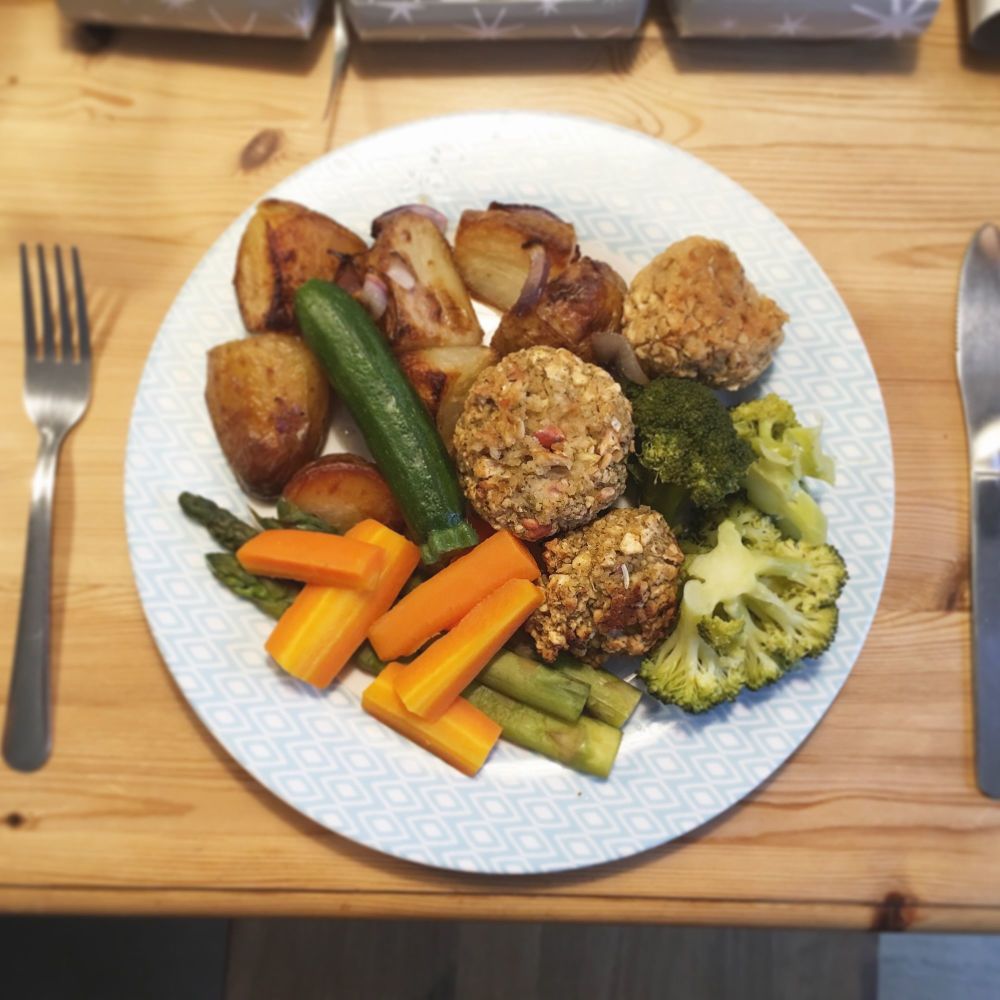 My vegan Christmas roast dinner 2017 - a sprinkle of dried mint and lashings of gravy were added after the photo. Yum!
Decide on a budget
Decide first of all either what your total budget is or how much you want to spend per head. With Christmas Day lunches at pubs costing around £60 per head, your at-home meal should be an awful lot cheaper than this! Once you have worked out your maximum expenditure, and then make sure you stick to it and are careful with your spending. It can be tempting to buy a lot of treats at Christmas, but if you are on a budget and money is stretched, then you'll have to hold back.
Make a shopping list
Instead of aimlessly wandering around the supermarket aisles choosing as you go, have a meal plan and write a shopping list for exactly what you need. This should help stop you overspending as you know exactly what you need to buy and you just need to have the willpower to stick to your list!
Choose organic
Whilst you may think that choosing organic is expensive at first, some of the online veg box deliveries offer really good value and you can be sure you are getting high quality ingredients. Plus they deliver to your door which will save the time and money spent travelling to the supermarket.
Go to a farmer's market
A great way to support local farmers and also to save on produce is to pick up everything you need at a farmer's market. They often have great deals on fresh produce and can be really competitive on price with supermarkets.
Choose value
If the organic boxes and farmer's markets are out of your budget, then go with the value brands. You'll be surprised at how amazingly cheap supermarket own brand vegetables and value ranges are, even at Christmas. Often the supermarkets will have lots of offers on the fruits and veg you need to make Christmas lunch as they want to win your custom for your Christmas food shop.
Get everyone to chip in
Not with money, but with the food. If you're making the main meal, then why not ask some family members to bring desserts, others to bring drinks and another to bring the starters or canapes? Make it a family affair and don't feel pressured to have to provide for everyone if you can't afford to. Your loved ones will understand and be more than happy to chip in and bring a part of the meal each.
Make everything from scratch
While it might be tempting to buy ready-made canapes, desserts and frozen yorkies or potatoes, it's often much better value (and tastier) to make your own homemade versions.
Control the portion sizes
Be sensible with the portion sizes. Ensure that everyone has enough, but don't overfill plates and end up with a lot of food waste which is wasted money also. Cook enough for each person to have a good sized portion and a perhaps a tiny bit extra for those who will want seconds. Leave the extra off the plates and in the kitchen so if it's not needed it can be saved and eaten as leftovers instead of wasted.
Keep it simple
Have the star of the show (usually meat, but in my household a nut roast), potatoes, stuffing, yorkies and three or four veg. Some condiments such as dried mint and cranberry sauce and of course gravy. You can go all out and start creating cauliflower cheese and so on, but you can also keep it much simpler and choose a couple of tasty steamed veg that will do the trick and keep costs down.
Check apps for money off coupons and cashback
Make sure you make the most of every supermarket shopping trip moneywise by following these tips and also remember to check the Shopmium app for coupons and cashback in all the popular supermarkets.
Use what you have
Before writing a shopping list and buying anything, check your cupboards to see what you already have. You might have some jars of condiments in there, packets of stuffing and a tub of gravy granules. Don't go out and buy it all again if you already have it at home.
There we go. Whatever your budget this Christmas for your dinner, make sure you don't break the bank and follow these tips to be a little savvier with your festive food shopping.
Related blog posts
Making Christmas magical for your kids this year and affordable for you
How to Save Money on Shopping All Year (not just in the Boxing Day sales)
How to earn cashback on things you already buy!
5 ways you can reduce your kitchen waste today and save money