Ways to Cut Costs in Your Business
Posted on
As a business owner, you are always looking for ways to improve your bottom line, and reducing expenses is one of the most effective ways to do that. By monitoring your finances closely and avoiding wasteful spending, you can sleep better at night knowing that your business is on solid financial footing. Implementing simple and practical cost-saving ideas can work wonders for your business, and can free up more resources to invest in crucial initiatives. Learning from past mistakes and being willing to make changes now can set your business up for a brighter and more prosperous future. In this article, we will explore some easy and practical ways to save your business money, so you can achieve financial stability and success.
15 Ways to Cut Costs in Your Business: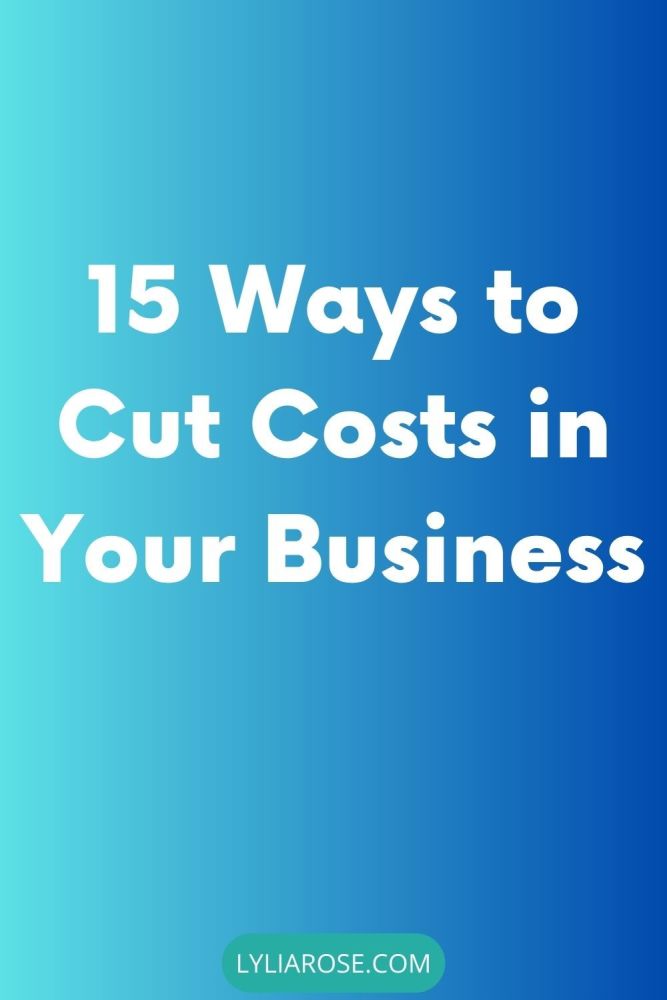 1. Work remotely
You can save your business money by working from home and cutting down on overall office expenses. Therefore, consider having you and your employees working remotely more frequently. Set your business and operations up to be able to function without having to be in a physical office location. Commute times and costs and office expenses will be down, and you may even have a happier workforce for it. If your business usually takes card payments at its normal location, then you can even st up mobile card payment systems so your business payments can be taken anywhere.
2. Shop around
You can also save your business money by shopping around before making purchases. There are plenty of deals and savings that exist, but you have to be patient and take the time to seek them out. You may also want to consider buying used instead of new in some cases. This can work no matter what industry you are in. Whilst you are a small business and especially when you are starting up, it's worth seeing if you can get some great deals on stock and equipment from those who used to be in the same business.
3. Organise your finances
The more organised you are when it comes to your finances, the better off you're going to be in the long run. Therefore, spend some time reviewing your operating expenses and budgets and cutting back wherever possible. Compare vendor prices and get quotes annually so you can ensure you're paying a fair market rate. Set a budget, forecast your sales, and review your finances regularly to avoid any surprises. Make sure your cashflow is a priority and never fall behind on bookkeeping. Utilise the latest cash flow software to help you organise your business finances if it's helpful. It's important to always know where your business is financially so you are wise with your spending.
4. Cut down on meetings
You may be wasting a lot of your time and your employee's time in meetings. Therefore, consider cutting down on how often you're gathering to save your business money. When you review these numbers in detail, you may realise that there's a lot of time that's going toward a meeting that could be for getting work done instead. Think about if you can work through a discussion over the phone, email, or in the cloud, versus having to bring big groups of people together in a physical meeting setting.
5. Outsource or contract some work
Another way to save your business money is to outsource or contract some work. There are plenty of talented people out there that are more than willing to work for you on this type of basis. You may have small tasks that don't warrant a full-time hire, but that will save you time and money by having someone else do them for you. It's an excellent way to delegate out assignments without having to hire someone on as an employee.
6. Go green
Going green is not only good for the environment, but it can also save you a lot of money. You can reduce your energy and utility bills by adopting sustainable practices like turning off lights and unplugging electronics when they're not in use, using energy-efficient equipment, and going paperless. You can also encourage your employees to adopt eco-friendly habits like carpooling, using public transportation, and bringing reusable water bottles and lunch containers to work.
7. Negotiate with vendors
When you work with vendors, you don't have to accept their prices at face value. You can negotiate with them to get better deals and discounts. If you have a good relationship with a vendor, they may be willing to offer you better terms, longer payment periods, or even freebies. You can also shop around and compare prices between vendors to ensure that you're getting the best deal possible.
8. Invest in employee training
Investing in employee training can help you save money in the long run. Well-trained employees are more productive, efficient, and effective at their jobs, which can lead to better outcomes for your business. They're also less likely to make mistakes that can cost your business time and money. By investing in your employees' skills and knowledge, you can reduce turnover and attract top talent to your organisation.
9. Use free or low-cost marketing tactics
Marketing can be expensive, but there are plenty of free or low-cost tactics that you can use to promote your business. You can leverage social media platforms like Facebook, Twitter, and LinkedIn to connect with your audience and share your message. You can also create a blog, produce videos, or launch an email newsletter to engage with your customers and prospects. By using these tactics, you can build brand awareness, drive traffic to your website, and generate leads without breaking the bank.
10. Rent or lease equipment
If you need expensive equipment for your business, consider renting or leasing business equipment it instead of buying it outright. This can help you save money on upfront costs and maintenance expenses. You can also upgrade to newer equipment more frequently without having to worry about selling or disposing of the old equipment. Additionally, renting or leasing equipment can help you avoid the risks and responsibilities of ownership, such as depreciation and repair costs.
11. Use open-source software
Instead of spending money on proprietary software, consider using free and open-source alternatives. There are many open-source software solutions available that can provide the same functionality as paid software. For example, instead of paying for Microsoft Office, you could use LibreOffice, which is free and open-source.
12. Implement a BYOD policy
BYOD (bring your own device) policies allow employees to use their personal devices, such as laptops and smartphones, for work purposes. This can save your business money on hardware costs, as well as software licenses and maintenance expenses. You can also encourage employees to use free or low-cost productivity apps instead of expensive software.
13. Use virtual meetings and webinars
Instead of travelling to meet clients or attend conferences, consider using virtual meeting and webinar platforms. This can save your business money on travel and accommodation expenses, as well as the time and productivity lost due to travel. Virtual meetings and webinars can also be recorded and shared later, allowing more people to access the information.
14. Review your insurance policies
Reviewing your insurance policies can help you identify any areas where you can save money. For example, you may be able to reduce your insurance premiums by increasing your deductibles or changing your coverage limits. You can also shop around and compare quotes from different insurance providers to ensure that you're getting the best deal possible.
15. Use freelancers and contractors
In addition to outsourcing work, you can also use freelancers and contractors for specific projects or tasks. This can save your business money on overhead costs, such as office space and equipment, as well as payroll taxes and benefits. Freelancers and contractors are also flexible and can be hired on an as-needed basis, allowing you to scale your workforce up or down as required. You can also hire on a more permanent basis, such as virtual assistants.
Roundup of ways to save money in your business
Saving money is crucial for any business to achieve financial stability and success. By implementing practical and easy cost-saving ideas, you can improve your bottom line and free up more resources to invest in important initiatives. Here's a quick recap of the 15 ways to cut costs in your business:
Work remotely
Shop around
Organise your finances
Cut down on meetings
Outsource or contract some work
Go green
Negotiate with vendors
Invest in employee training
Use free or low-cost marketing tactics
Rent or lease equipment
Use open-source software
Implement a BYOD policy
Use virtual meetings and webinars
Review your insurance policies
Use freelancers and contractors
Implementing these ideas can help set your business up for a brighter and more prosperous future.