Wild natural deodorant review + £5 off discount code
Posted on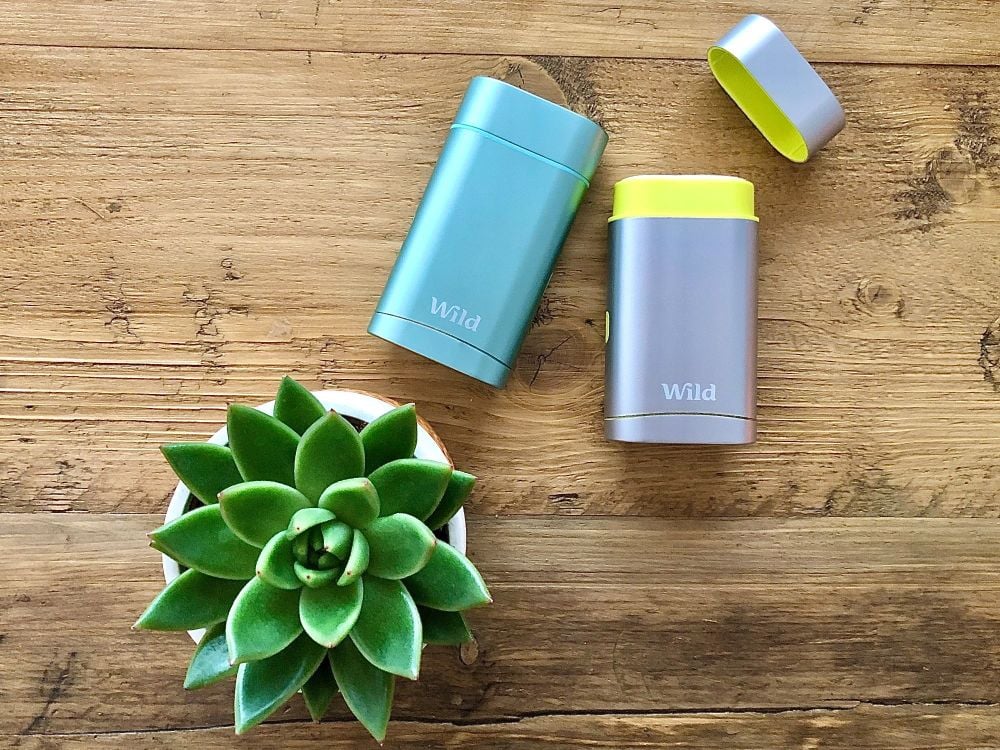 I believe I have finally found the best natural deodorant in the UK which is also zero waste! Woohoo!
Plus, if you want to try it too I have a £5 off voucher for you!
The deodorant I am talking about is from Wild. If you use my referral link then you will get a £5 off voucher for your first Wild natural deodorant order.
Who are Wild?
Wild, who I originally thought were called We Are Wild as that's what their web address is, are a youngish company on a mission to stop the throwaway culture of bathroom products.
Many people, including myself, have transitioned to as many zero waste products as possible in the bathroom, but the one thing I struggled to find was an effective zero waste deodorant.
Until now.
Wild have successfully created a high quality natural deodorant in a zero waste case!
Wild natural deodorant is zero waste
They have managed to create a reusable deodorant case made from aluminium and recycled plastic.
The case does not need to be thrown away after use, but instead you can buy (or subscribe to) natural deodorant refills that are also plastic free.
The refills come in compostable and biodegradable natural bamboo pulp packaging.
Totally zero waste!
It's the world's first zero plastic deodorant refill. A great accomplishment for Wild and one I am very happy to support!
Wild gives back
Not only are you supporting fewer toxins in the environment through choosing a natural beauty product, less waste on the planet by choosing a zero waste product, but you are also supporting good causes when choosing Wild for your deodorant needs.
"Offsetting is our priority. For every deodorant we sell, we will contribute a percentage of sales to our chosen climate charity 'On A Mission', to support their incredible reforestation projects."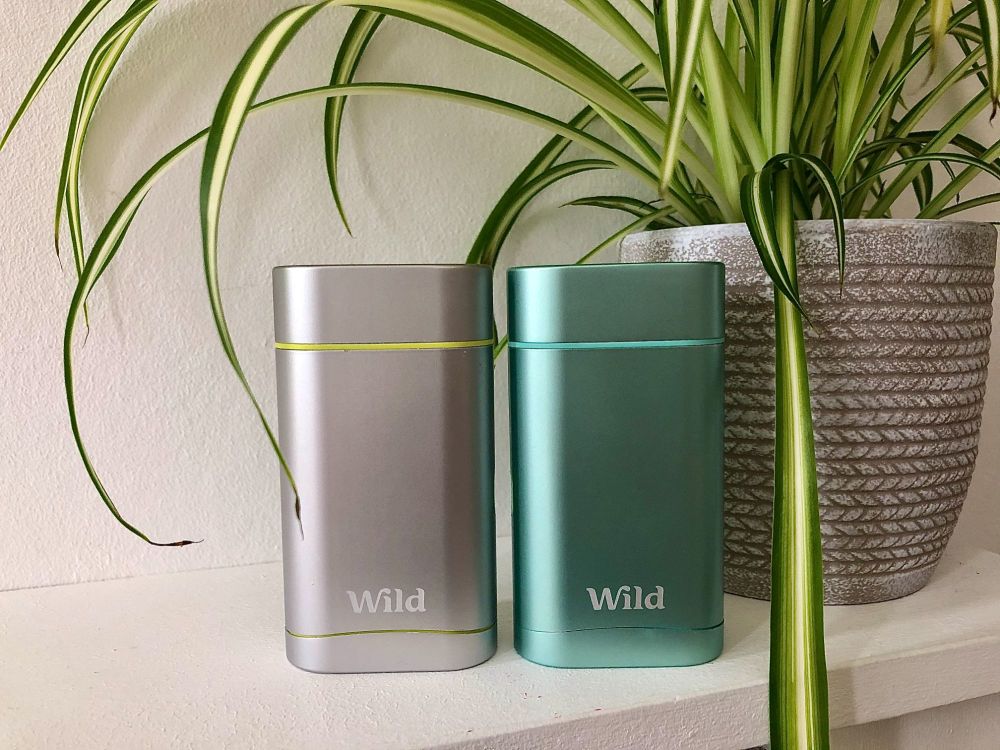 Wild natural deodorant review
I have been a big fan of natural beauty products for many years now. I started my natural beauty journey all the way back in 2012 after being curious to why some baby products were labelled paraben-free after I had my daughter.
It opened up a whole new passion and triggered a change in lifestyle for me once I started researching and realised companies weren't bound by strict safety regulations and ingredients as I had so naively believed.
I quickly changed all my beauty care to natural products only once I started learning of the dangers of many widely used synthetic cosmetic and beauty ingredients.
Over the years I have tried many, many natural deodorants and none have been successful. I even had to revert back to a horrible aluminium containing deodorant as nothing natural I tried met my needs.
But I'm pleased to say I have now been using Wild deodorant for around two weeks and so far I am impressed.
It's a solid stick style of deodorant which I much prefer to wet roll-ons which seem to take ages to dry!
I have the bergamot and my husband has the orange scent (we signed up together and going forward we will share one set of subscription refills!)
Both scents are really good! The orange is probably my favourite of the two and I will try more scents with our next subscription delivery.
The case is really easy to use. It came with full instructions on how to take apart the case and insert the deodorant refill.
I chose an aqua case and my husband the silver. They are nice looking, slick cases. There are a few colour options and I can see on their social media that there'll be more colours to choose from in the future.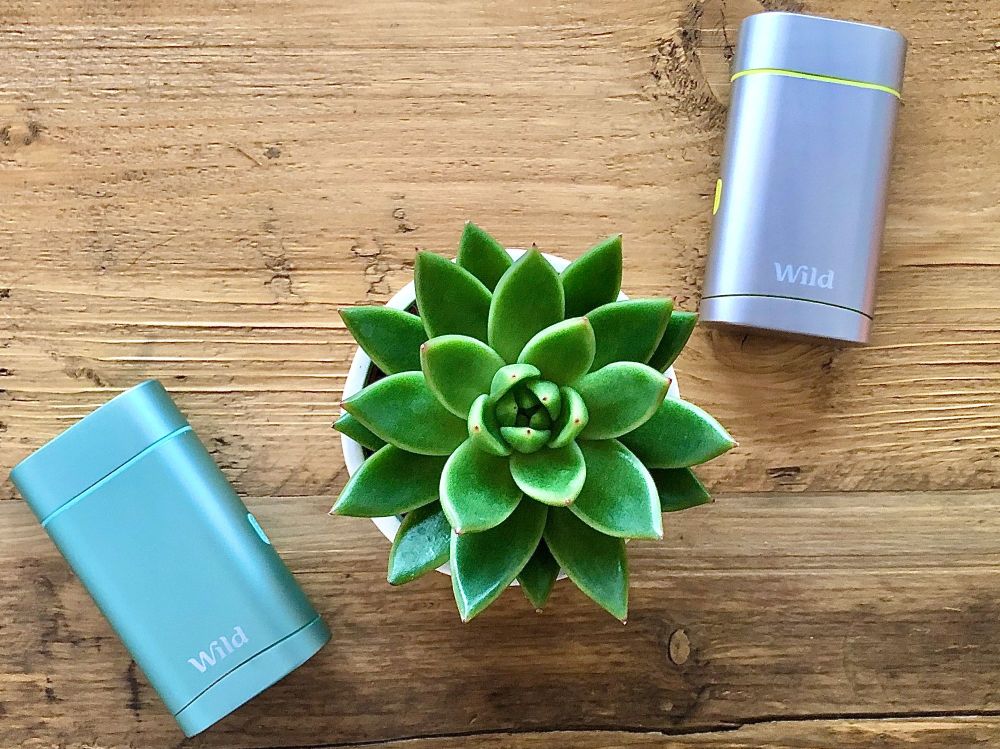 Is Wild natural deodorant good for excessive sweating?
I will admit, I do suffer from hyperhidrosis which is extreme sweating and no deodorant alone will ever stop my sweat. I hope to have a treatment called Miradry in the future which will combat it once and for all!
So no, this deodorant doesn't stop all sweating for those of us who suffer with an excessive sweating condition, but of all the natural deodorants I have tried so far, this is the most effective for me so far.
I look forward to seeing if it improves over time too, with continued use of the Wild deodorant.
Wild use tapioca starch in their natural deodorant formula as an effective natural ingredient to absorb moisture.
If you're a regular sweater then I'm sure it will be totally perfect! And lucky you!
But ultimately, even with my condition I really don't want to use horrible chemicals under my arms and Wild contains harmful natural ingredients I don't have to worry about each day.
"Our skincare products are vegan-friendly, cruelty-free, dermatologically tested and free from artificial fragrance, parabens, aluminium and sulphates."
Discount code: £5 off Wild natural deodorant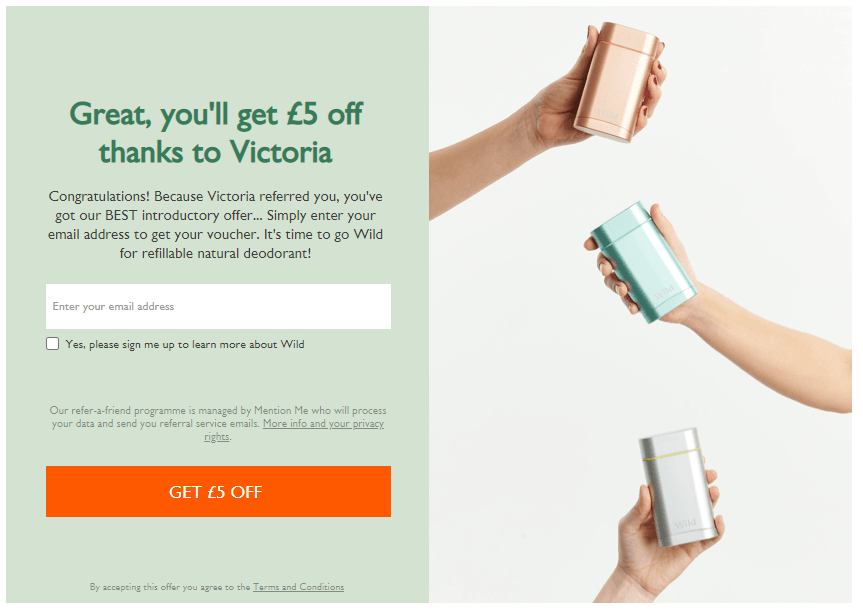 Now the part you have all been waiting for! A whopping £5 off your first Wild order!
Simply click my Wild referral link to get your voucher code for £5 off your first Wild natural deodorant order: https://mention-me.com/m/ode/li5hf-0ca8eb7407
Whilst you can sign up for a subscription, which can be cancelled at any time, you can also choose a one-off starter pack if you prefer.
Please pin me
More beauty blog posts
FFS Friction Free Shaving eco-friendly zero waste razor subscription review
Tips to get beautiful healthy hair naturally at home
How to save money on natural beauty products
Beauty tips: how to save money at a hair salon
How much do adult braces cost? + 4 ways to finance them
Save money on contact lenses with Waldo
Bentley Organic reviews - vegan body wash
Greenfrog Botanic natural body wash review
What's in my natural makeup bag?
Why SLS is bad for you so I'm giving up Soap and Glory
3 eco-friendly subscription boxes I use and love
Natural make up brand review - Benecos
Beauty hacks perfect for busy mums
Boost your confidence with cellulite reduction treatment
How to prepare your skin for spring and summer
The best natural hair and beauty products for the summer
Is it possible to freeze away unwanted fat?
Why shopping sustainably for fashion will save money