How to save money visiting Ireland on a budget
Posted on
When lockdown is over, we are really excited to start travelling and exploring again. We'd barely started our adventures in our Bongo campervan when coronavirus hit and we had grand plans to explore much more of the UK and Ireland in 2020 that we never got to do.
It's looking hopeful that we might be able to start travelling again this spring/summer and two places we'd like to visit, rules and laws pending, are Scotland and Ireland. I haven't been to either and I am really keen to go to Ireland!
Ireland is on my bucket list of destinations I must visit one day, both Northern Ireland and the Republic of Ireland, and in particular I want to see Giant's Causeway, Wicklow Mountains and Connemara Lake. It looks a beautiful country with lots of scenic drives which will be perfect for a family road trip in the campervan.
When we do visit, we will of course looking to get the best value for our money. I have been searching for ideas for how to save money when visiting Ireland on a budget and I'll share what I've discovered with you below.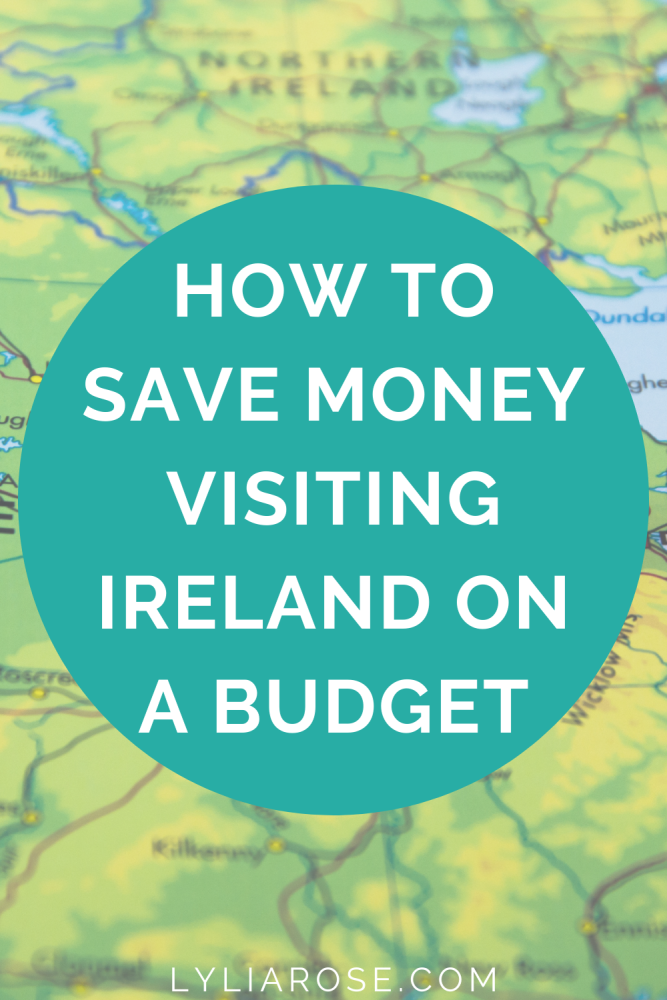 Avoid the expensive city pubs
I remember when Ireland changed to the Euro and many of my family members, who visit regularly as we have family there, were shocked at the price of a pint! It became a common talking point in any conversation about Ireland.
We aren't pub-goers, so this won't really impact us, but I've read that to avoid these high prices, don't go to the most popular pubs in the cities or you will be paying sky-high prices for a pint.
We do like to go to a pub, but for a good pub meal instead. However, we'll usually visit a city for a day or so and spend the rest of our time exploring countryside, so we won't be paying sky-high city prices for an entire trip.
If you do love the pubs then choose one with an Irish band or some entertainment to get the most out of your money!
Sightsee on foot
This is always the best way to travel on a budget and keep costs down, especially if you are a city person. Cities don't have to be expensive and you can even find free walking tours in Dublin and other places if you prefer the knowledge of a guide, but we love to roam free and use maps on our phone and find recommendations on websites for what to visit… or just wander round and see what we find!
The countryside is also free and we love to see natural landscapes by visiting beaches, mountains, lakes and National Parks. Sometimes all this costs is parking for the day and we can take a picnic as food instead of paying to eat at restaurants the whole time. Staying in self-catering accommodation or camping makes this easily possible.
Or by car
Ireland has many beautiful hidden drives so you can see some of the best landscapes by car. Pack a picnic and hot flask of drink, take a road trip for the day to see the sights. No expenses needed aside from fuel.
Finding restaurant deals
Just like at home, there are websites in Ireland that can help you find the perfect restaurant to dine, as well as special offers. Squaremeal is a great example of a website that shares special offers and helps you find a restaurant in your location in Ireland. Click here to try their website when visiting Ireland and filter by price to find a restaurant suitable for your budget.
Don't travel in the high season
June, July and August are the high season in Ireland, so expect to pay a lot more on travel and accommodation if you choose to travel in these months. If you are on a budget then you'll want to travel outside of these months, but also avoid St Patrick's Day and the surrounding weeks when tourism booms and prices increase.
Skip the hotels
You can usually get a much better deal on accommodation if you choose an Airbnb over a hotel, especially if there's a group of you travelling.

By booking an accommodation with a kitchen, you can also save a lot of money on food. If you book a hotel then you're likely to eat meals out at restaurants, pubs and cafes for all your meals, as well as ordering room service!
However, if you choose an accommodation with kitchen facilities then you can cook your own meals, or pack lunch to take out for the day to keep costs down. Just have the odd meal out as a special treat instead.
Get a Heritage Card
If you're visiting Ireland for more than a couple of days and plan to explore many of their heritage sites such as castles, ancient churches and gardens, then you can save lots of money with a Heritage Card.
At the time of writing it's 40 euros per adult and 10 euros per child age 12-18, giving one year's free access to over 80 of Ireland's historic sites. If you're unsure where to explore, then it's a great starting point for recommendations.
Take your own car
Many people assume it's cheaper to fly to Ireland, but factor in the costs of travel to and from the airport and car hire when you arrive and it may just be cheaper to take your own car and catch a ferry.
If you do need to hire a car then check out my tips to save money on car rental so you don't overspend.
Camp!
When I checked the price of camping in Ireland on PitchUp there was a campsite 200 metres from Inch Beach in Kerry with a grass tent pitch for £3.42 per night! This is crazy low and other campsites are around £25 for a night for a motorhome pitch. Camping is definitely the best way to save money when travelling!
As I sit here typing this, filling my husband in on all the amazing campsites just metres from the sea, I'm pretty certain I'll be ticking Ireland off my bucket list in the near future!
Looking for more ways to save money?
Check out my massive money saving tips section and find some great deals on my UK voucher codes and free money pages!