Matched betting blog diary: 3 month profit £1706.81
Posted on
Welcome to my matched betting blog diary sharing my matched betting profits as a beginner. I'm now three months into my matched betting journey and I'm sharing every penny I've made.
Do you want to make some extra income from home in your spare time? Or perhaps, like me, you are a mum to young children and want to earn around mum duties? Matched betting could be for you!
Matched betting is a great way to make some extra cash in your spare time at home. It's really easy too as there are websites that do all the calculations for you, show you your profit and you simply enter the bets in the right places.
It's a mathematical equation that extracts profit from bookies offers, so it's not down to chance. The calculators will show you how much money you will make before you even place the bets.
I've been matched betting since the end of January this year and have made £1706.81 in total, even with a few beginner mistakes along the way.
Read on to see just how much money I made from matched betting in April.
Matched betting blog diary - 3 months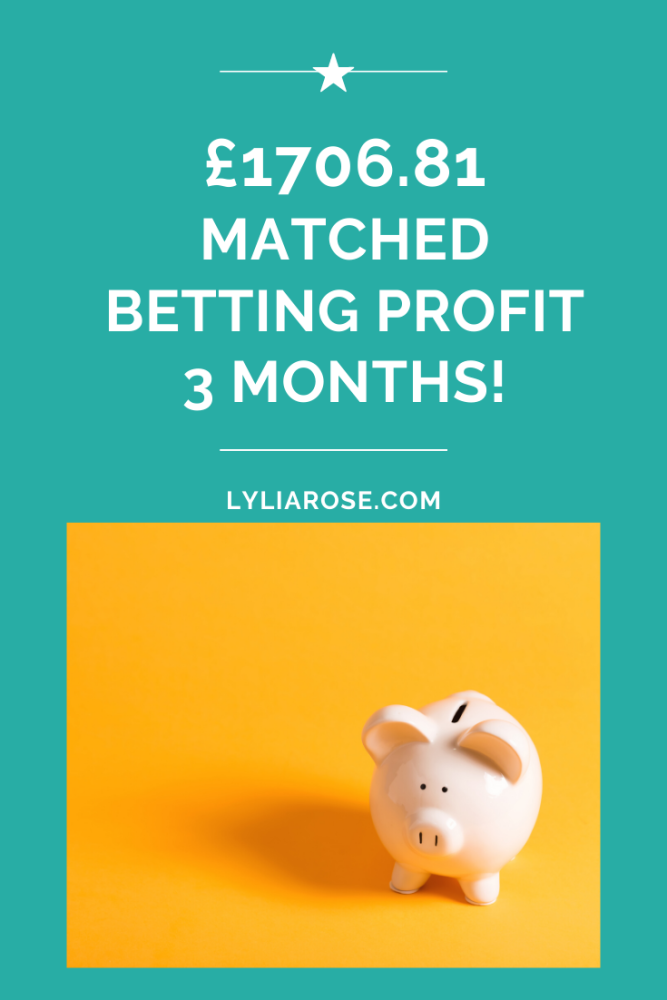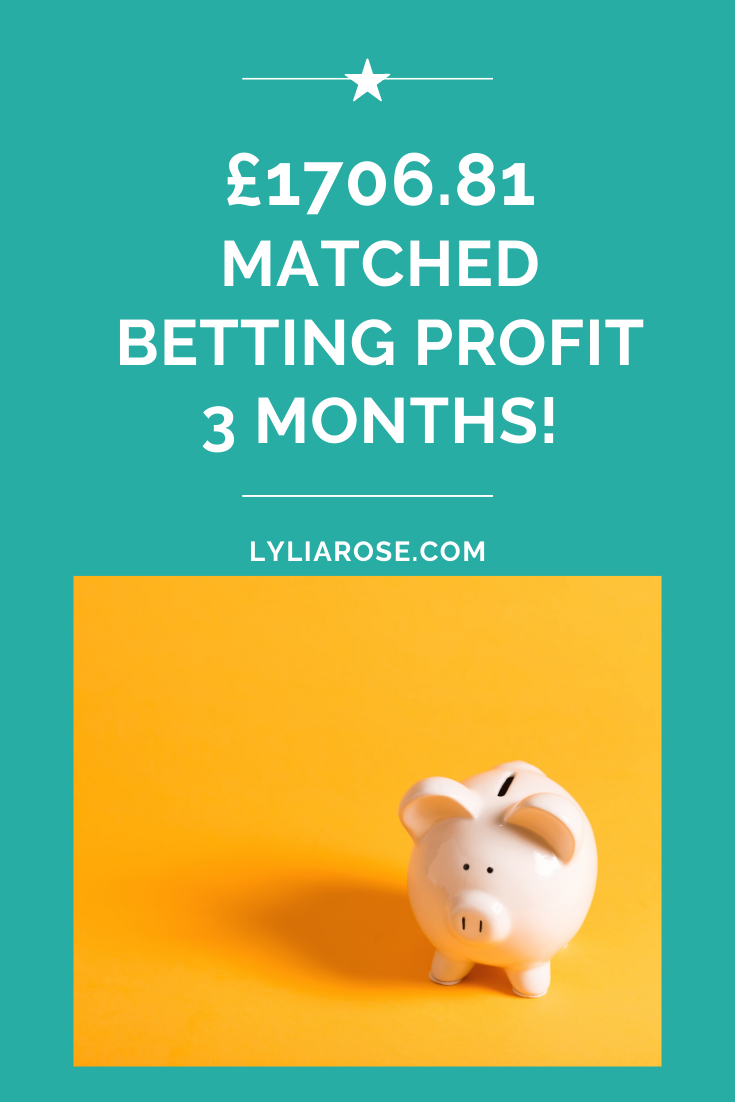 April profit: £365
Total profit: £1706.81
I love a round figure! In April 2017 I made exactly £365 from matched betting.
It would be an extra £17.99 too, but I realised last month I added my £17.99 profit accumulator membership fee to my spreadsheet instead of subtracting it, doh! So I've taken it off this month's instead rather than updating my blog posts and everything else.
I'm very pleased with £365 especially as we had the two week's Easter holidays in April and the children only went to childcare for 1.5 mornings. I wasn't able to get half as much betting done as I'd normally be able to, but I still managed just over £90 per week.
I'm also very pleased with this figure as it is the first month I've purely done reload offers. Before April I was still working my way through the beginner's offers which are the most lucrative and most of them are simple and fast to complete.
I have said before I was curious to whether I could continue to make a profit once the beginner's offers ran out, and now I know it's possible!
I can also see now how I can make even more money, but I'd need to invest more time into matched betting. At the moment I feel I am putting in the maximum time per week around mum duties, work, blogging and everything else! I'd have to sacrifice a day at the weekend to make more money, but for now I'm happy with a few hundred to top up the rest of my earnings.
My new aim is £300 per month from matched betting. I've actually just handed my notice in at my part time job and you can read my recent blog post How I'm going to make £1000 a month as a Mum working from home which shares my new money targets.
Here's how I made my matched betting money this month:
Making money matched betting from accas
I've started trying the accas using the acca catcher at Profit Accumulator. I'm using the refund lock in method to guarantee I make a profit on each one. I've only tried three of these so far and I've made £40. These are definitely profitable if you do them each week, imagine doing several a week! I just have to remember to lay all the bets and set up email reminders for myself. It definitely takes some organising and isn't as simple as laying one bet and forgetting about it. Five bets need to be laid sequentially once each match has taken place. I'm starting with a few and then I'll build these up to make more profit as I get the hang of them and work out a system.
Making money matched betting from bingo and casino offers
I have tried all the risk free slots offers and not surprisingly I made £0 and wasted a lot of time! Though it's not really time wasted if you win! Many members in the forums report £200+ wins so it's all down to luck and if it's risk free then it's worth a shot.
I have also tried some bingo offers which are not risk free. So far I won £40 on the first offer, lost £10 on the second and won just under £2 on the third. So overall I'm up. The guides explain the odds of winning are in your favour the more you complete using the bonuses and the methods they tell you. I'm going to trust them as everything has been true so far and keep having a go at the bingo offers. These are mostly managed by the same company across a variety of websites so they advise only completing one per week to avoid accounts being banned and money withheld. I plan on sticking to the advice and will slowly work my way through one site per week.
Make money matched betting with reload offers
I'm surprised at how many reload offers there have been. There are some of the same ones each week and then a load more at the weekend. The weekends are really very profitable, but they are also the time we have together as a family to enjoy days out. I have to just accept that I can't do all these offers and will have to miss out if we have plans or I'll have no signal! I've been mostly placing all the bets on my laptop as I find it much easier, but I've been attempting some on my phone. Using the mobile sites means I'll be able to place bets from anywhere with signal and won't be restricted to using my laptop only.
Make money easily matched betting with Profit Accumulator
I highly recommend using Profit Accumulator for matched betting as a beginner. They have so many guides and walk you through the whole process in the first few offers. If you are stuck you can ask a question in the forum and someone will get back to you. They also have a 30 day money back guarantee on their memberships, though you can try the first couple of offers without signing up to anything.
Click here to try Profit Accumulator today!
Matched betting explained + made easy
A list of matched betting blog posts
My matched betting journey
I've made £300 tax free cash from home in 2 weeks and you can too!
£753.62 matched betting profit month one (and silly mistakes)
Matched betting profit 2 months: £1341.81
Matched betting profit after 3 months: £1706.81
I've made over £2000 in four months matched betting
I made over £3000 matched betting in 2017
Matched betting milestones: 18 months and £5000
Matched betting blog posts + FAQs
Not sure about matched betting? Make £40ish now to see if it's for you!
Does matched betting affect mortgage application?
Is matched betting a gateway to gambling and is it dirty money?
How I earn up to £50 per hour matched betting from home
Profit Accumulator review: 6 reasons to use PA to make money matched betting
How much money I made matched betting each month for two years
Why isn't everyone doing matched betting? Debunking matched betting myths
5 matched betting beginner tips
Save