Savvy ways to save money Christmas shopping online
Posted on
Christmas is edging ever so close and if like me your life is pretty much nonstop, then it will be here in a blink of an eye!
Have you started your Christmas shopping yet?
This year I completed mine in September, well almost! I have three gifts left to buy which I'll purchase this month. The items I have already bought are wrapped up and in the attic. I haven't gone mad this year though.
The kids are having a minimal Christmas where we have bought them four items each following this rhyme: 'something you want, something you need, something to eat, something to read'.
I came across the rhyme last year and thought it was a great idea. In the rhyme that's online the 'eat' is actually 'wear', but I changed it as they often 'need' clothes so that will be their 'need'.
We are also going away just after Christmas to Bluestone for the first time, so they'll be treated to experiences there instead. If we enjoy it then I think I want to do something like that every Christmas – have a short break and some experiences together as a family, rather than a pile of presents under the tree.
I have still purchased lots of presents for family and close friends – in total around 26 sets of gifts, mostly kids and then often we buy the parents and other couples a joint present. It's a lot and it's grown considerably since getting married and having kids and our friends doing the same! The present list grows each year with new additions! Before this family lifestyle I used to only buy for my mum, sister and boyfriend if I had one!
With so many people to buy for, I love to save money as much as possible.
I personally love online shopping as it's so much easier to find a discount code and cashback for a retailer, meaning I can save more than if I shopped in-store at the same retailer.
Sometimes I can't save anything in-store at all, so Christmas shopping online is a no-brainer.
How to save money Christmas shopping online:
Use discount sites
I've just heard of a new platform called Sello. It will be a place to shop for coupons and discounted products by independent merchants. This is a great way to save money on gifts, but also support independent artists, makers and businesses. They've not launched yet, but their website is there and you can leave your email to be alerted as soon as the platform is ready. They say 'Never pay full-price again. Explore hundreds of online coupons and save on brand-new products from independent retailers. Discover new items, new brands, or score a deal on a product you already love.' Sounds great!
Related How to save money on shopping all year
Install a coupon browser extension
You can sign up for coupon websites or even browse them, but it's pretty time consuming. I always find a load of coupons, but once I try them they are often expired or invalid. It's so frustrating! A better idea nowadays is to Google 'coupon browser extension' and install a clever little tool on your internet browser which will let you know if the webstore you are viewing currently has an active voucher. Genius!
If they don't alert you to a discount code, then go ahead and search Google yourself, but if they do instantly alert you to a discount code then you're going to save a load of time.
Related Save Time and Money with Pouch
Use a price drop notifier
There are also clever browser extensions that allow you to create a wish list of products you like from any store on the web. Then, if any of these products are ever discounted you will receive a notification and an email. You can set up a 'Christmas Presents' list and keep saving ideas and items to it throughout the year. Then, any time it's discounted on that website you will know.
Related Save money with ShopToList
Use cashback sites to do your online shopping
If you're going to be shopping online for Christmas presents then you need to be shopping via cashback sites! If not, you are basically losing out on free money! They cost nothing to use, well some have a yearly £5 or so membership for access to better cashback rates, but there are free memberships too. I have used the premium memberships, but now I just use the free ones.
The only difference is you click through to the retailer from the cashback site in order to get your cashback. Otherwise you shop as normal.
It still amazes me how many people don't do this. There are friends and family I've tried to tell about it and they're just not interested. It's free money, or money off, or however you want to see it. We've made over £800 in two years with Top Cashback on our regular shopping, booking holidays, MOTs and more!
If you are shopping online then you should definitely sign up to a cashback site and check if the retailers you wish to shop with offer cashback. As an example, I regularly shop with Holland and Barrett and at the moment they are offering a whopping 12% cashback. That's a great saving!
Related - 5 ways to get more money out of every in-store shopping trip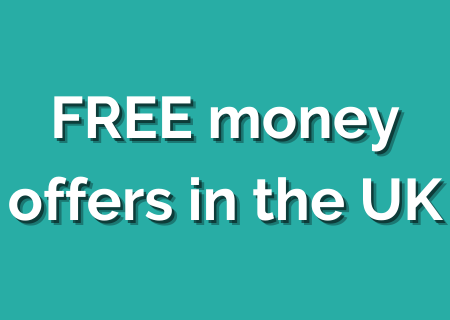 Use a Curve card for £5 free cash with my code and 1% cashback for 3 months
Get free money by using the Curve Mastercard debit card. It links to your existing credit and debit cards and means you only have to carry one card around with you – the Curve card. You can sign up to their free plan and it won't cost you a thing. You use the app to choose which card you want to pay with and it will always take money from that card until you change it. It costs nothing to use in your home country and the money is still taken from your normal cards.
The idea is that it saves you carrying around a bunch of cards. You can just carry one card with you at all times and use the app to manage which of your cards you pay with. It also has a handy feature for you to change which card you pay with up to 14 days after making a transaction. So if you're in a tight spot and need some cash, so need to transfer a purchase to your credit card for now, then you can. You have two weeks to change your mind and choose a different card for something you've already purchased. Clever, huh?
Even if you don't carry on using it, it's worth signing up and making every purchase via the Curve card for the first three months as they'll give you 1% cashback. It can be spent using the Curve card itself. You just select to use the cashback when on the app. Your next purchase will be made with the cashback.
Get £5 free cash if you sign up to Curve with my Curve promo code FL2KH or click https://www.curve.com/join/#FL2KH
It costs nothing to sign up to their free service and you'll get £5 for free for using my code and 1% cash back for three months at no extra cost to you. It's basically free money!
You can then put this towards Christmas present shopping to make a saving or to buy some items for free.
Once you have signed up you can then get your own code and you'll get £5 for every friend that signs up using your link (they'll get £5 too).
Sign up and let your friends know and you can all make a little extra money for your Christmas shopping this year.
Read these next to make and save more money
Make money at home from receipts with Receipt Hog and Shoppix
How to make money from your phone with the Roamler app [and a Roamler invite code for you]
5 tried and tested ways to make money as a UK stay at home mum
Get 100% renewable energy with Bulb and save lots of money (over £250)
Easily make money from home by testing websites
Mustard car insurance comparison promises to beat your cheapest online quote
Win the whole cost of your online shop with cashback site Boom25
Please pin me!
Get £5 free cash if you sign up to Curve with my

Curve promo code

FL2KH or click

https://www.curve.com/join/#FL2KH