How to career change at 35: ideas and tips for a happier working life
Posted on
Whilst many people might associate a mid-life crisis and sudden career change with people in their 40s, it's actually likely to happen from age 35.
35 could be the age you realise you are halfway to retirement, supposing you retire at 70. Unless you plan to retire early and have the finances to do so, what will the next 35 years of your career look like? Are you happy in your current role?
Research in recent years such as the Vodafone UK Working Nation report and It's Time We All Work Happy study by Robert Half, actually discovered that 35 year olds are one of the most unhappy age groups at work.
Many 35 year olds feel unfulfilled in their current roles and if you feel the same then all is not lost. Changing jobs in your 30s is not scary at all. In fact it's an advantageous age to change career as you already have a history of work experience and likely a skillset that might help to catapult you into your new career choice.
You're also likely to be older and wiser, with more determination and motivation to succeed at your new career. You've experienced the world of work, by now you should know your strengths and weaknesses, how you like to work and hopefully you can pinpoint what is making you unhappy in your current role. This will all help you to decide on the best suited career moving forwards.
So how do you go about a career change in your thirties? Here are some tips to help.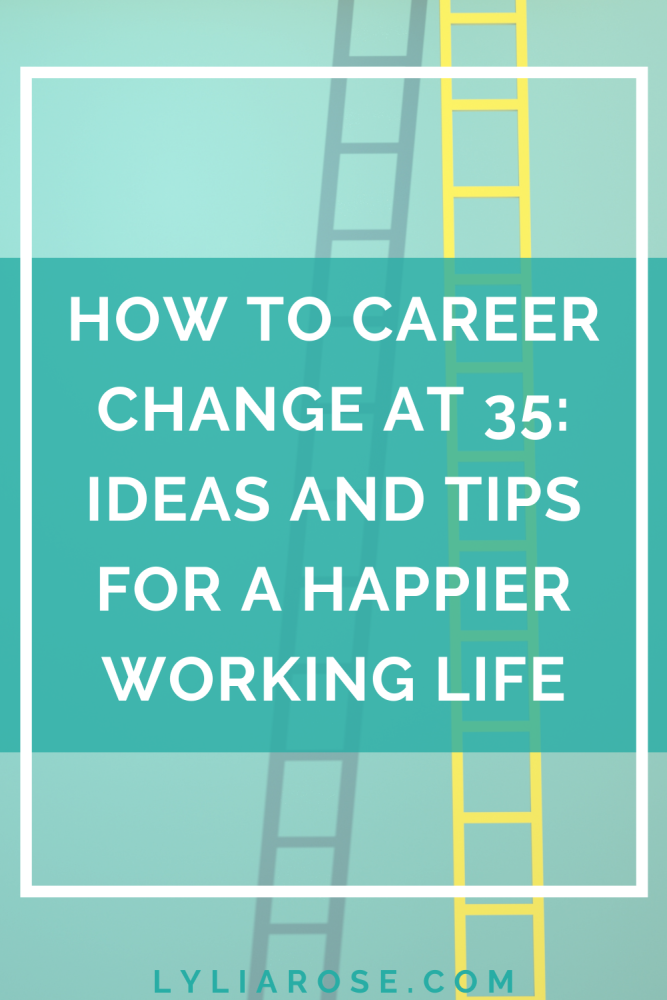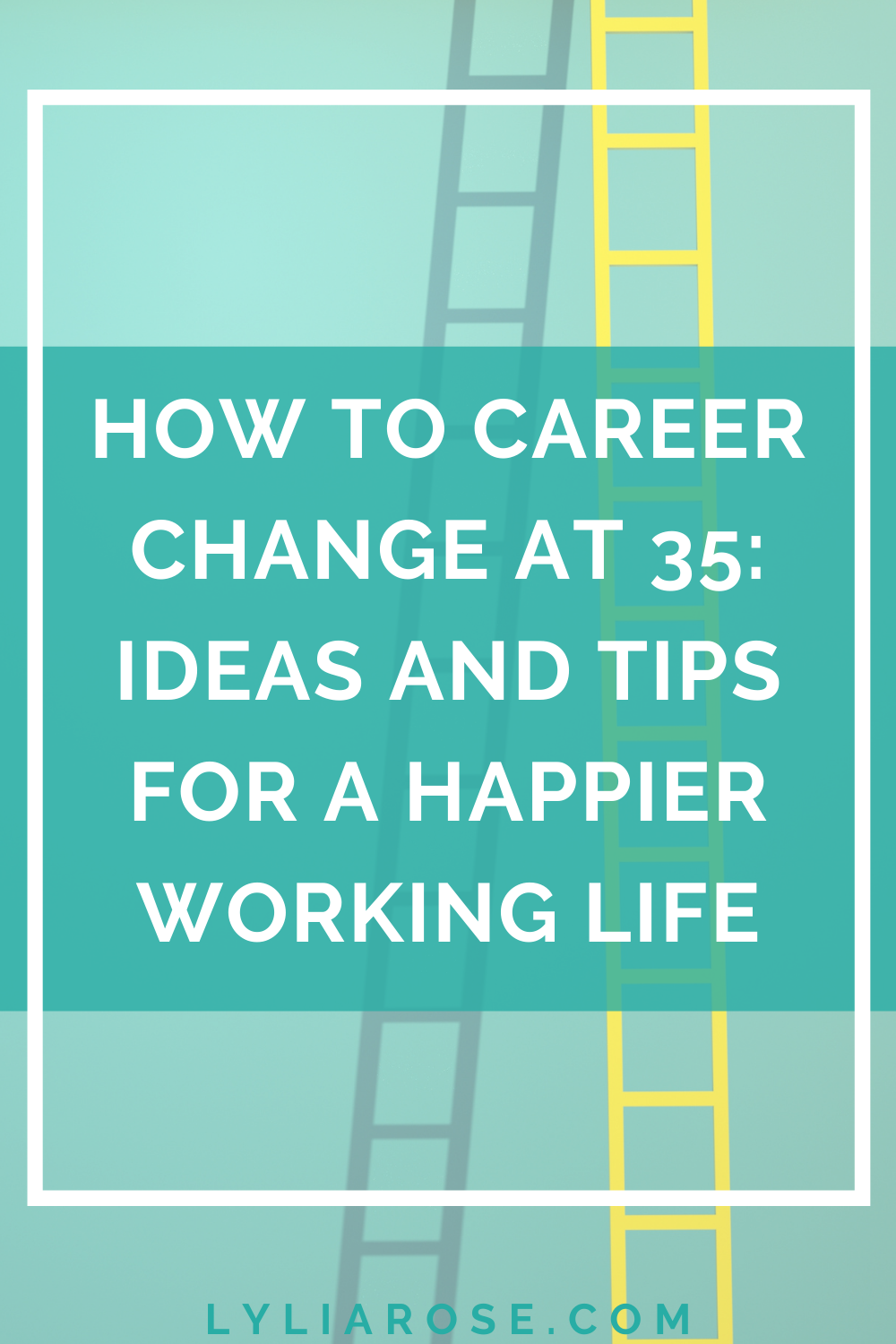 1. Decide on your new career
Firstly, you need to decide on the new career you wish to pursue. Maybe you want to start your own business online, set up a dog walking business because you love animals, or even study for a career in finance. Or you might not always know what you want to do, even in your 30s!
As mentioned above, you should by now understand what it is you like and don't like about your current role or workplace. Understanding this will help you to choose a career or work environment that suits your happiness needs.
There's no point in moving to a new career with a similar working environment if it's actually the workplace that does not suit you. For example, if you work better in solitary then you'll not want a role that requires you to work in a large open plan office with daily team work projects. Nor a job that demands more hours if you're currently struggling with work-life balance.
Working out how you work best and where is the first step to making the right career change choice. Make a list of pros and cons of your current role and work environment to help discover a career that ticks all your pro boxes.
Doing this will also help you realise whether it's actually the career you need to change, or the employer. Maybe you'll realise you actually like what you do, but a new work environment or employer will make all the difference.
If you're unsure then you can always apply for new jobs in your existing role and see if this makes a difference. If not, then you'll know for sure you need a career change if the job itself is no longer satisfying.
2. Get the qualifications you need
If it's definitely a career change you wish to pursue, then you may need some new qualifications. It's easy to learn new skills nowadays with long-distance learning courses for a range of topics readily available online.
If you want to learn bookkeeping or accounting, you'll find an online course for that. Do you have a passion for IT? You'll discover a wide variety of IT courses online including Python, Ruby and more. Interested in digital marketing? You guessed it - there will be online courses and qualifications you can take in your own time without even needing to leave the house!
Interest in a mechanical career? A really good way to find out if this is a suitable choice is to take a bmct practice test. This will help you identify some of your key strengths awhich will be applicable to the mechanical industry. The employer may also request that you take one of these tests to see if you would be a good fit for their organisation so it could be a great practice run. Interested in becoming a lawyer? You'll want to take an LSAT prep course online first both to prepare yourself for the LSAT as well as to determine if this is something you really want to pursue.
Of course, some careers will require qualifications that need attendance at a college or university in-person, particularly more practical roles, and this will be the leap you need to make if you are serious about the career change.
3. Make sure you have income stability
If you do need to attend university or college then you'll need to ensure you can afford the tuition fees and living costs if you can't continue at your current role alongside your studies. For some universities and courses you will be able to seek financial support.
Never just leave your existing role to pursue a new career if you don't have finances in place to support yourself!
Research funding options if you need to take a course in-person and can't study in your spare time alongside your current job. Or can you go part time in your existing role and use the rest of your time to study?
Need to save for a year and then start your career change? Set yourself a savings goal and use the motivation for your new career to succeed.
Some careers, such as project management, open up junior roles suitable for newbies to the field. In a junior position you will be paid less, but it's a great way to get into a new career as they'll train you in the role and possibly support and pay for any qualifications you need. Once qualified and experienced you can then leave the junior role and apply for the full position.
4. Try it out first
If possible, depending on your career wishes, you might be able to volunteer or try out your career before making the leap. If you've always wanted to work with animals, for example, then see if you can volunteer at a local animal shelter or sanctuary. Do you want to be a copywriter? Practice by approaching local magazines and writing articles for them.
If you want to start your own business then can you start it alongside your job to test it out? Perhaps you can launch your own business in your spare time and work on it evenings and weekends to ensure it will be a success before leaving the security of your regular income.
Maybe you have a car restoration hobby you want to turn into a career? Maybe you have a blog? If you have a blog then you might want to monetize it. Start by signing up to blogger networks to find paid blogging opportunities for your blog and make sure it's a viable option before you quit your job.
Some businesses take years to get going and make a steady income, or enough income to live on, so try it out first and build it up.
5. Take action!
Once you've figured out the career change you want to make and the action required to do so, then do it!
Sure, it's scary to change careers, but if you're unhappy in your current role or don't think you are being paid what you are worth then you'll only ever regret not taking action. If your current and future happiness is at stake then there's no better time than the present to get started on your career change plan.
Related blog posts:
My ongoing learning and career plan
Why you should never stop learning
How to develop a magnetic personality
The importance of learning in your life and career
Why digital marketing skills are essential today
The best career pathways for social butterflies
How learning a foreign language can increase your career opportunities
5 ways to make money online if you love to teach others
How can GCSEs help you secure a thriving career?