How I made £35000 from home in 2018
Posted on
I can't believe 2018 is over and it was my full year of working solely by myself. I have been self-employed for over six years now, but I had part time employed jobs until May 2017 when I decided to take the plunge and go full time with my blog. I also have a few side hustles too. So in 2017 I had a part time job to supplement my income for the first five months of the year, but in 2018 I had no employed jobs at all, so it was my first full year of being full-time self-employed.
And what a great year it was! I will share with you how I made just shy of £35000 in 2018 from home and online in this blog post.
In comparison, I made £26000 in 2017 online, blogging and from all my at-home money making ventures, so 2018 was a great improvement by £9000.
You can read my 2017 income report here: How I made £26000 from home in 2017
Read on to discover how I made £35000 from home, blogging and online in 2018. Here is my 2018 home income breakdown.
Blog writing £28,160.89
Blogging is my main focus and I now run four blogs! Lylia Rose has been so successful at making money, but I want to diversify and niche down so I plan on making Lylia Rose more money focused, which you may have already noticed. I also have a healthy living blog which I've had for a year and it's started to make some money. I took over my husband's home and garden blog and monetised it this year too. I started a travel blog only two months ago and I've just received my first paid work for that blog to complete in January. I'm hoping to have four money making blogs that each provide a good income by the end of 2019. I love to write and blog so this is the perfect way for me to make a living from home.
Helpful articles if you want to monetise your blog:
List of websites to find paid blogging opportunities for your blog
Make money from your blog with Awin affiliate marketing and get £30 per person you refer to Awin!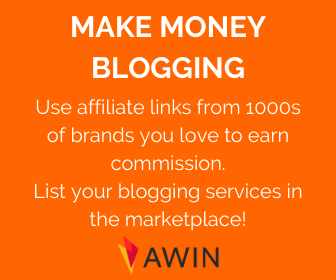 Personal eBay £2,349.75
This is also from Facebook Marketplace where we have often successfully sold larger pieces of furniture or toys, but I mostly sell on eBay. I think 2019 will be a quieter year for my eBay and personal sales as our home is so minimal now. My wardrobe is down to approx. 50 pieces and I plan on a no-spend on clothes year in 2019 for myself. We also cleared out our attic in 2018 and sold LOADS of things, so there's barely anything up there now. I will still root through and see if there is anything we don't need in our home and cupboards, though it's getting hard to cut it down any further now – I'm obsessed with clearing out and only having what we need and use. The children are still growing, so their grown out clothes will be sold if not donated to charity. I don't think I own anything of value to sell now! I got a new phone, we purchased 2xTVs and also sold our dishwasher in 2018 so we had some nice big sales throughout the year which really bumped up our total. Though take off the fees and postage and packaging costs and we probably only made around £1000 in reality!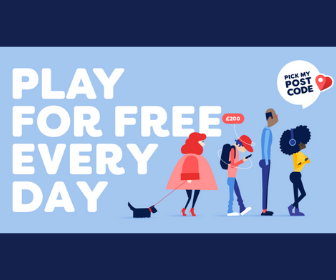 Matched betting £2,307.03
I love matched betting and I've been doing it for two years now. Doing the sign up offers I made over £1700 in the first three months! I started with around £100 or so, I can't remember exactly but it wasn't a lot and I worked my way through the offers building up my 'matched betting pot' as I went along. If you have more money to start then you can make more quicker.
Pacing it out allowed me to learn what I was doing without rushing or making mistakes. It's an amazing way to cover all eventualities on a bet at a bookies to then take advantage of a free bet and walk away with profit. It's been featured in The Guardian and other newspapers and is a great way to make money from home. I only wish I'd started sooner.
Click here to try Profit Accumulator today! They are the company I have always used and they explain everything so well. There's a forum and also their customer support is amazing. I've had lightning fast email conversations with them when I've needed a dummies guide to an offer and they are very good at explaining everything.
Helpful matched betting blog posts:
Is matched betting a gateway to gambling and is it dirty money?
I've made £300 tax free cash from home in 2 weeks and you can too!
£753.62 Matched Betting Profit Month One (and silly mistakes)
Not sure about matched betting? Make £40ish now to see if it's for you!
Matched Betting Profit 2 Months: £1341.81
Matched betting profit after 3 months: £1706.81
One Year Review: How I earn up to £50 per hour matched betting from home
Matched betting milestones 18 months and £5000
Referrals / Affiliate marketing £1,043.94
One thing I still haven't cracked in 2018 is affiliate marketing. It's still a nice extra boost to my income and I would love to increase this in 2019.
Awin is a great platform to use and has so many brands you'll already know and love to promote. Sign up to Awin as a publisher here for access to 6000+ brands affiliate schemes! Plus, once you're signed up you can join their own affiliate programme and make £30 for anyone you successfully refer to them!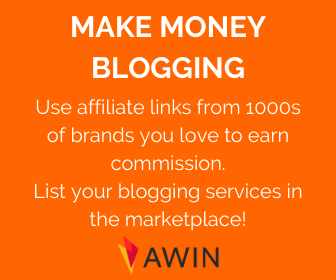 LR shop sales £382.59
These are sales from my online shop which currently sells scarves. I used to stock around 500 items of fashion accessories and jewellery, but now there are under 20 scarves left. I've decided to sell off everything and then I won't continue with this venture anymore. Watch out for a new pop up shop on my website in 2019 that will showcase some amazing handmade new and reclaimed furniture from my husband's woodcraft shop at Wood-Create.
Related: Things I've Learnt from Running My Own Shop Business (the things no one tells you)
Side hustles - website testing, receipts, mystery tasks £349.79
I love side hustles from home! Not only are they a great way to make extra cash, but they can be fun too. I snap photos of my receipts to collect points that can be turned into cash. I also answer surveys and do random mystery tasks in stores. My favourite side hustle is probably website testing that pays £5 for testing out websites and it sometimes only takes 5 minutes.
Find out more here:
Make money at home from receipts with Receipt Hog and Shoppix
Easily make money from home by testing websites
Get paid doing simple tasks from your phone with Streetbees
How to make money from your phone with the Roamler app
Cashback £178.08
I love getting cashback and this amount is actually smaller than I was expecting, but I think we've calmed down somewhat on the huge doing-up-our-house purchases. Although this is only my cashback figure and my husband has cashback accounts too, so as a household we definitely made more over the year. In fact, over two years we made £800 cashback in total on things we were going to buy anyway!
I use cashback sites, apps and also signed up for the Curve card just for the introductory cashback offer. Get £5 free cash if you sign up to Curve with my Curve promo code FL2KH or click https://www.curve.com/join/#FL2KH
Helpful blog posts:
How to save money at the supermarket with Shopmium
We've made £800 cashback in 2 years with Top Cashback
Click here to save on your online purchases
Resell £141.58
I dabbled in reselling at the end of 2017 and decided not to pursue it any further so just sold off what I had left at the start of 2018 for pence. It would need a lot more time and I just can't give it that at the moment with full-time blogging and two young children. I do enjoy selling online, but I would definitely need to devote most of my week if not all to make it a successful business.
Related: 6 of the best places to find items to resell on eBay for a profit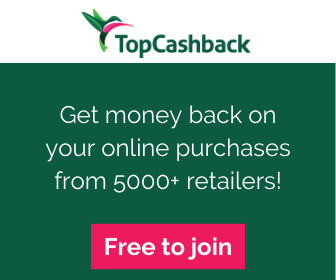 Ads £42.79
I closed my ad accounts in 2018 and cashed out the remaining balances. I never made much from ads as I only had them in my footer. Instead I am now testing out affiliate banners in blog posts.
Outgoings
Of course £35000 is my total turnover, not profit, and I do have outgoings. My total business expenses for the year were just over £3500.
Some of my income is tax free too. Matched betting profit is classed as gambling profits by HMRC and is tax-free, as is cashback which is seen as a discount on a purchase (albeit it delayed) and also personal selling of old/unwanted items not for a profit, so almost £5000 is tax-free. Though again, that's turnover and from the personal selling I would have had eBay fees and postage costs which I don't bother to document, but they'd probably be quite a chunk! My fees for matched betting are £14.99 per month and there are no fees or expenses with my cashback.
This is a great article about what you pay tax on when you make extra money from home: https://moneysavinganswers.com/personal/tax/making-extra-money-paying-tax/
Out of the profit left over, around £26000, I will then have tax, national insurance and student loan repayments to pay. I also put a small amount into savings for my pension. I save £500 per month to cover all this. Obviously this blog post reflects earnings for 2018 and not the actual tax year, so my 2018-2019 tax return will be a different amount as the tax year starts in April. Wouldn't it be great if the tax year was just from January 1st to December 31st?!
My thoughts on my 2018 home income and 2019
I am really pleased with my income from home in 2018 and I really hope it continues. I love working for myself, even though it does present many challenges. I hope to diversify my income in 2019 by increasing my earnings on my other websites and hopefully helping my husband with his new furniture making business. I'd like to increase my affiliate income too.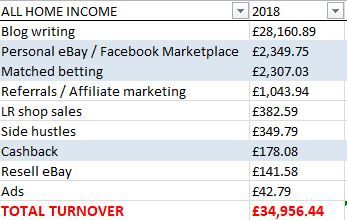 More great work-from-home blog posts:
The 5 ways I made £30000 money from home in 2017/2018
5 tried and tested ways to make money as a UK stay at home mum
How to deal with overwhelm as a work at home parent
How to survive the half term when you work from home
5 tips to stay healthy if you work from home
Online resources to make money at home