Money saving hack to get online cashback in UK stores
Posted on
Today I have a sneaky little money saving hack for you to save money on eating out and shopping both online and in-store!
You may already know that you can save money on thousands of different online retailers and other websites that you book things on or buy services via TopCashback, but there is another way to use this cashback website to save money in-store too.
Save money shopping in-store with TopGiftCards
You can save money in-store by pre-buying yourself gift cards!
Whilst you might usually buy a gift card for a loved one for a birthday or Christmas present, you can actually buy them for yourself to make a saving.
TopGiftCards is a digital gift card shop provided by TopCashback where you can buy gift cards and get up to 10% cashback for each one you buy!
There are all sorts of gift cards from supermarkets to restaurants to High Street retailers!
Not only can you grab some cashback when you need to buy a gift card for a loved one, but you can also make use of the gift cards for yourself to save even more money on your own shopping!
Check out TopGiftCards to see where you can save!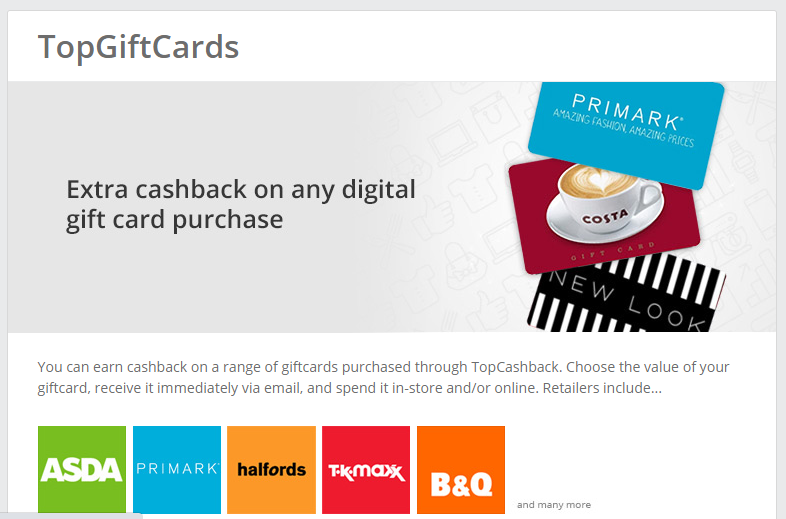 Get cashback in-store with TopCashback
This is a great money saving hack to get cashback when you are shopping in stores.
Usually you can only use Top Cashback when shopping online, but by getting cashback on a gift card you can then shop instore with the gift card!
For example, you can currently get 2% cashback on a Morrisons gift card, so if you do your weekly food shop at Morrisons then prepay a gift card for the amount of your shop and you'll get 2% cashback!
If you regularly buy coffee at Costa then you can currently get 5% cashback on a Costa gift card, so that's a nice 5% off your coffee if you pre-buy yourself a gift card!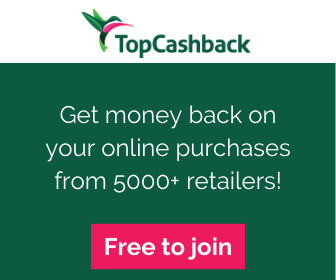 How much money can I save with TopGiftCards?
As I write this you can save anywhere from 2% to 10% on a whole range of shopping from clothes shopping to grocery shopping.
There are also discounts on experiences, gifts and eating out.
Here are the cashback amounts available as I write this:
Asda 2.5%
Virgin Experience Days 10%
Morrisons 2%
Sainsburys 1%
UberEats 2%
JustEat 2.5%
iTunes 2%
Adidas 4%
ASOS 6%
National Book Tokens 5%
B&Q 2%
Uber 2%
H&M 5%
Decathlon 4%
Sports Direct 2.5%
New Look 5%
River Island 4%
Ernest Jones 5%
Haven 3.5%
Foot Locker 7%
Costa 5%
Harvey Nichols 5%
Pizza Express 7%
Great British Pub 4%
Clarks 5%
Ticketmaster 4%
Halfords 5%
Pizza Hut 5%
Prezzo 5%
Butlins 3.5%
Hoseasons 3.5%
Royal Carribean 3.5%
Lavish Spa 5%
H Samuel 5%
Global Hotel Card 4%
The Dining Out Card 5%
The Restaurant Card 5%
ASK Italian 4%
Zizzi 5%
Stonehouse 6%
All Bar One 8%
Browns 5%
Toby Carvery 5%
TK Maxx 4%
O'Neill's 5%
Nicholson's 5%
Sizzling Pubs eGift 5%
Crown Carveries 5%
Ember Inns 5%
Disneyland Paris 3.5%
Harvester 5%
Miller & Carter 5%
Vintage Inns 5%
Innkeeper's Lodge 5%
Buyagift 10%
Better 5%
Primark 3%
Start saving money in-store today
Phew! That's a lot of places from holiday bookings to footwear to carveries to spa days, grocery shopping and more!
I'm sure you must recognise some of these retailers and already shop at them. If you do, then you can start to save money with this great hack.
Use this handy hack to get discount on your own in-store shopping via cashback!
Check out TopGiftCards and start saving money today!
Double cashback hack!
Not only can you save money in-store with TopCashback, but you can get a double whammy of savings if you use a giftcard online via TopCashback!
Here's how it works:
Simply buy a gift card at TopGiftCards to get cashback on buying the giftcard.
Then, if the retailer allows online shopping with their giftcard, simply shop at the retailer via TopCashback to get cashback on your online purchase and use the giftcard to pay!
Double cashback!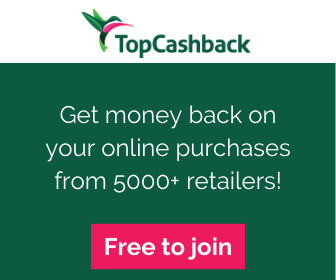 Related articles
Are you new to cashback?
You can literally save hundreds of pounds every year on all your regular shopping, insurances and travel.
Check out these articles for more information and the best cashback apps and websites: