Cheap Places to Visit in UK for Couples
Posted on
The United Kingdom is undoubtedly a fascinating country to explore, with its rich history, vibrant culture, and breathtaking landscapes. However, it's no secret that traveling in the UK can quickly add up in cost, leaving many couples searching for more affordable options.
Fortunately, there are many budget-friendly places to visit in the UK that offer an incredible experience without breaking the bank. By being strategic with your accommodations and activities, you can enjoy a memorable vacation without sacrificing your wallet.
So, if you're looking for inspiration for your next romantic getaway, keep reading for some fantastic ideas on where to go and what to do as a couple on a budget in the UK.
Also, we'll share some tips at the end for how to keep costs down on your adventures, and still have a great time!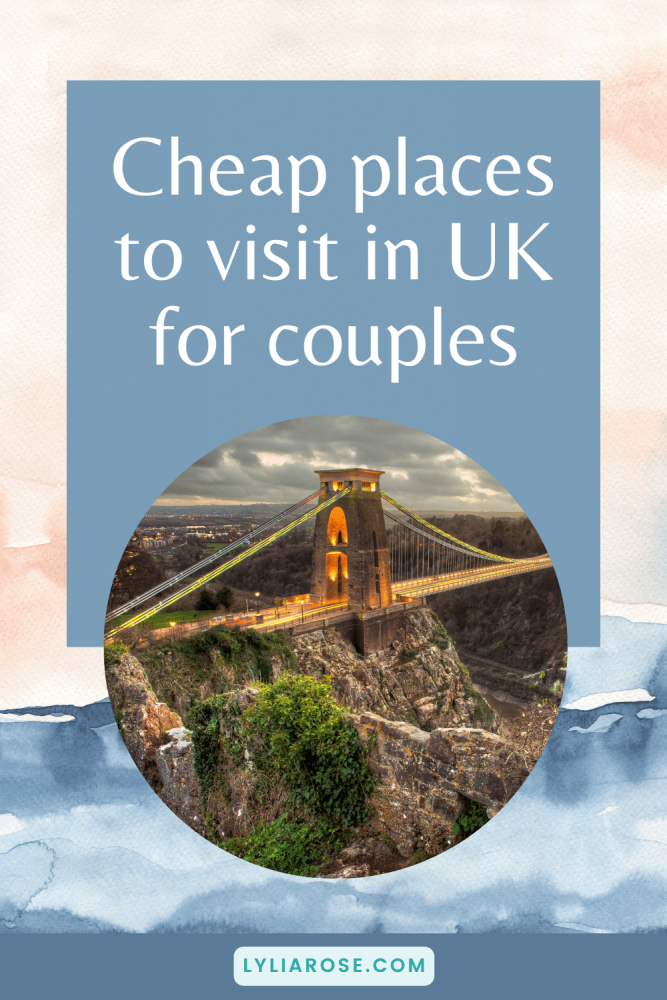 Clifton Suspension Bridge, Bristol
5 best places to visit in the UK for couples on a budget
From the hustle and bustle of cities to more tranquil settings, here are some ideas of the best places to visit on a budget and how you can achieve this for a fun weekend or day together.
Bristol
Bristol is one of the best cities in the UK for young people and couples. Bristol is a beautiful city with an amazing culture and is often voted one of the friendliest places to live in the UK. The city has plenty of free things to do that are perfect for couples, making it the ideal place for a romantic getaway for visitors who want to explore Bristol's culture and enjoy themselves without spending too much money.
The best thing about Bristol is that it's so small and compact - meaning it's easy to walk around and explore all the different areas without spending any money at all!
Here are some of the free things you can enjoy in Bristol:
Walk across Clifton Suspension Bridge and enjoy the views.

Visit the harbourside and walk along the waterfront.

Take a Banksy walking tour to see some original artwork by this world-famous graffiti artist.

Bristol has a lot of free museums that people can visit such as the Bristol Museum and Art Gallery which has free entry.
If you have money to spend then there are many more things to see and do, such as Bristol Science Museum, Bristol Botanical Gardens or Brunel's SS Great Britain.
We love Pepenero for amazing underground vegan pizza!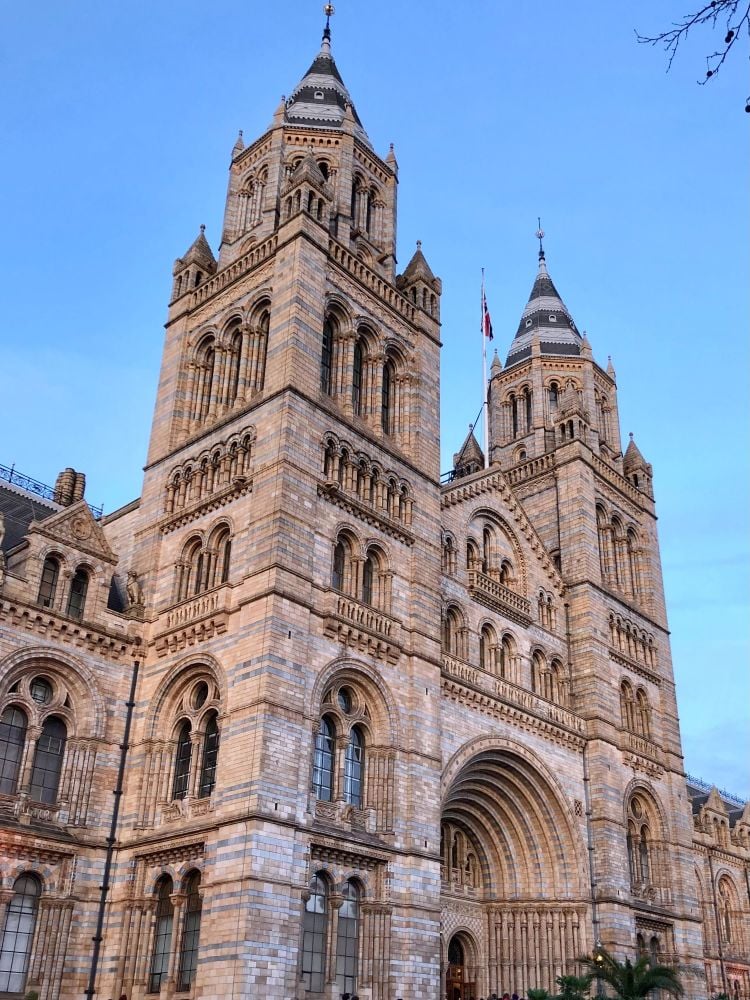 The Natural History Museum, London
London
The thought of visiting London might at first seem expensive, but there are ways to visit London on a budget. We managed to visit as a family of four for just £350 for three days, so it would have been even cheaper as a couple and that included eating out so the cost could be slashed even more by choosing self-catering or to eat meal deals only each day!
Getting a budget hotel within walking distance of many of the free London sights and attractions will save a small fortune on transport costs. London is number one for businesses in the UK for tourists, business and attractions, so there are many places to see that are low-cost or even free.
There are lots of free things to do in London as a couple such as sightseeing for free on foot to see Big Ben, the Houses of Parliament and Buckingham Palace. Most of the museums are free to enter in London, meaning you can have many days out without spending a penny!
My top suggestions for free things to do in London include:
Visit St James' Park to see all the amazing birds including pelicans and parakeets as well as some very people-friendly squirrels.

Go to The Natural History Museum to see some incredible displays in the most amazing architectural building for free.
Brecon Beacons
Brecon Beacons National Park is one of the most popular places to visit in Wales. You can have an amazing time without having to spend loads of money. With an abundance of free activities such as hiking in the hills, couples on a budget can enjoy a memorable time. For those seeking an outdoor adventure, kayaking is an excellent option, and
choosing a 2 person kayak
can enhance the experience even more.
In addition to kayaking, there are many other activities to enjoy as a couple, including cycling or exploring the numerous National Trust properties in the area. Whether you're looking for a romantic stroll through nature or an adrenaline-fueled adventure, the Brecon Beacons National Park has something for everyone.
There is also some great accommodation options in and around Brecon which are perfect for couples on a budget looking for somewhere to stay. We've stayed in a guest house before and also in a yurt!
My top recommendation would be the four waterfalls walk. It's a great hike with beautiful scenery and you can even walk behind one of the waterfalls!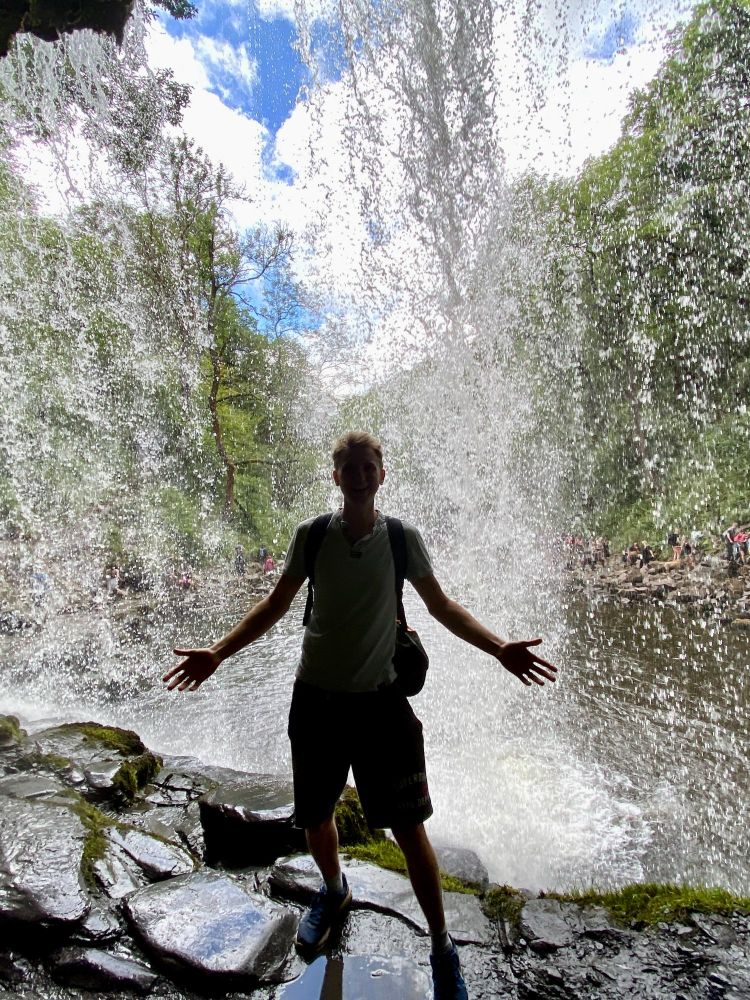 In the waterfall...! Brecon Beacons
The Gower
Another amazing spot in Wales is the Gower peninsula full of stunning beaches, coastal walks and breathtaking scenery. It gets very busy in the summer, but out of season you can book affordable weekends especially if you pick a campsite. Camping is a cheap way to stay in the UK and visit some of the beautiful areas.
There are many things you can do in the Gower for free, from visiting the beaches and enjoying the water, to walking through the country lanes and admiring the views. There are also many castle ruins to see for free.
For cafes visit Mumbles, for a stunning beach give either Oxwich Bay or Rhossilli a try.
For amazing rugged scenery take a walk from Port Eynon towards Overton.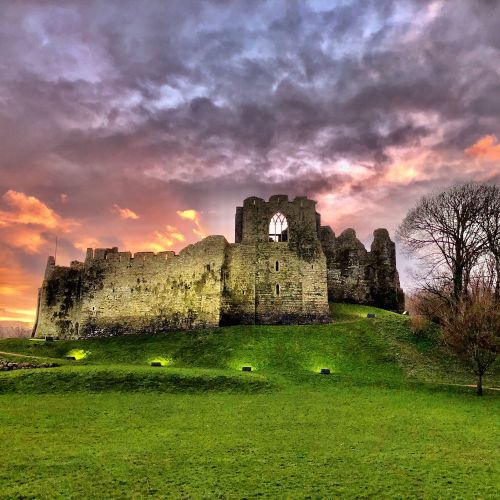 Oystermouth Castle, Mumbles, Gower
Gloucestershire
A county with so much to offer is Gloucestershire. Don't miss the Cotswolds with miles of rolling hills and beautiful Cotswold stone villages to explore, as well as being home to the medieval town of Tewkesbury as well as the vast Forest of Dean. There are plenty of things to do in Gloucestershire that don't cost a penny.
My top recommendations for free things to do in Gloucestershire would be:
A walk up May Hill to see the famous trees on top (see if you can find the odd one out) and panoramic views all around.
Catch the sunset from Devil's Chimney on Leckhampton Hill in Cheltenham.
Don't miss the Jazz Festival which has free entertainment for the whole weekend in Montpellier Gardens in Cheltenham.
Gloucester is the city and you can enjoy a stroll around the historic Gloucester Docks where you can admire the original and refurbished warehouse buildings and perhaps catch a glimpse of a tall ship or two.
Walk along the Cotswold Way and see the Witcombe Roman Villa ruins.
Walk along the river at Symonds Yat in the Forest of Dean.
For food, try the Langton in Cheltenham or a bottomless brunch at All Bar One which you can book through Bookatable to keep eating out costs down.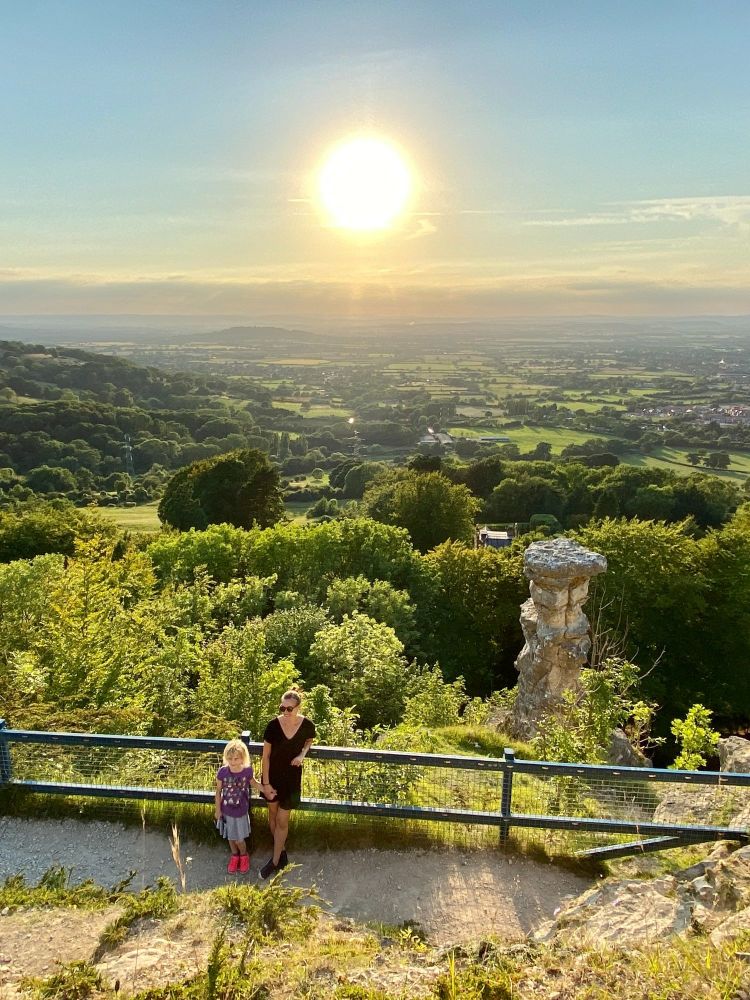 Devil's Chimney, Cheltenham
Top tips for saving money on days out and UK weekend breaks as a couple
All of these places can be visited on a budget if you plan out your stay with some money-saving ideas. Check out the below tips to keep your couples UK break affordable.
Search wisely for accommodation
Accommodation costs can vary wildly in cities, but with a bit of digging, you'll be able to find something within your budget. A quick look on Ebooking for this weekend for two people in Bristol and the prices are at first around £500 for two nights, but filter by price and the cheapest current deal is £110 for two nights which is a bargain!
If you're not too fussy about your accommodation then you can opt for the cheapest hotel or even look into a hostel if you don't mind sharing some facilities such as the bathroom with others. It all depends on just how strict your budget is.
Expect to pay more in hotels that are closest to city centres, but if you don't mind a bit of walking then search on the outskirts of city centres to find a better deal. Alternatively, there are some great bargains to be had in less touristy locations. For example, Newport accommodation is a fair bit cheaper than you will find in Bristol or Cardiff and both cities are just a short train journey away.
It goes without saying that the cheapest price will be to camp! So why not make even more of an adventure out of your weekend together and stay in a tent? This is a great option for a rural stay or you may find that a B&B is more favourable in price than a hotel when you're out in the sticks.
Take your own food
If it's simply a day trip then taking your own packed lunch or picnic will save costs on eating out in fancy restaurants. Even if it's a weekend away, you can still pack food for your first lunch to save costs.
If it's all about the sightseeing for you and not the eating out, then choose accommodation with self-catering facilities and prep your own lunch and evening meal each day. This will slash the cost of staying anywhere as restaurant dining can add up quickly.
Buy a meal deal
One of the cheapest ways to eat on the go if you don't have self-catering facilities is to choose meal deals. These are available in most supermarkets and some well-known convenience stores, costing around £3 for a main, snack and drink. It's a great price and the perfect way to not have to make your own food so you can relax even more and enjoy your day without spending a fortune.
Travel on foot
Travelling by foot when you are at your destination is the cheapest way to enjoy the sights. Taxis, trains and buses will quickly add up, but if you must use public transport then a day rate for local buses will be the best value option.
See the sights
Aside from free museums and art galleries, indoor attractions can be quite costly, so opt for sightseeing outdoors to see the architecture, famous buildings, bridges and so on. Or in the natural environment enjoy the great outdoors and incredible views.
Choose sunny weather
It's much easier to save money if you pick a sunny day or weekend to explore a new place, especially when it comes to cities. In good weather, you can enjoy eating outdoors and exploring on foot. When the weather is bad you'll be more likely to go to indoor places to get out of the rain which will tempt you to spend more money.
Save money with a National Trust membership
If you are interested in a National Trust membership for free parking and free entry at many amazing locations in the UK, then you can save on an annual membership by getting cash back!
Use my link to sign up to TopCashback and see the latest saving at National Trust here: https://www.topcashback.co.uk/ref/victoriasully/national-trust
Love saving money? Here are some more great resources to check out!
Check out my massive money-saving tips section and find some great deals on my voucher codes and free money pages!
Check out my list of UK apps that turn receipts into cash and also this list of UK cashback sites to maximise your free cashback and savings.