£753.62 matched betting profit 40 days + silly mistakes
Posted on
You may have read my first blog post about matched betting titled How I made £300 tax free cash from home in two weeks and you can too! I am sharing my matched betting income report with you in a matched betting blog diary so you can see how much money I am making from this new side hustle of mine.
I'm now 40 days in, but as I started on 20th January I've decided to tag those last days onto February and do a monthly roundup of my total profit. I work everything else out on a month by month basis, so it will be easier to calculate it at the end of each month from now on.
Read on to see how much money I have made in my first month of matched betting.
Make extra money from home easily with matched betting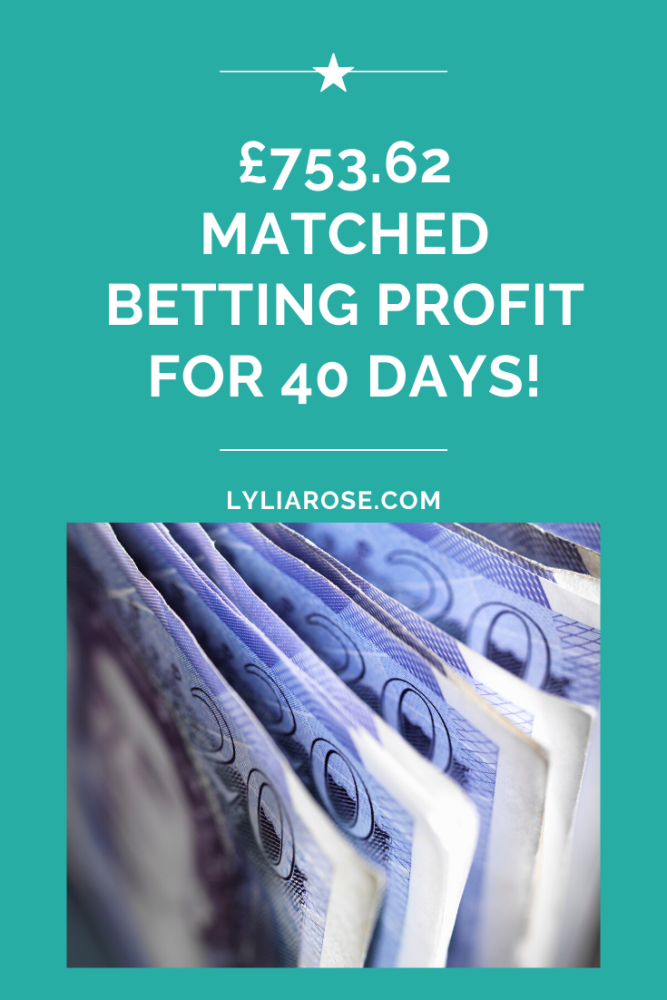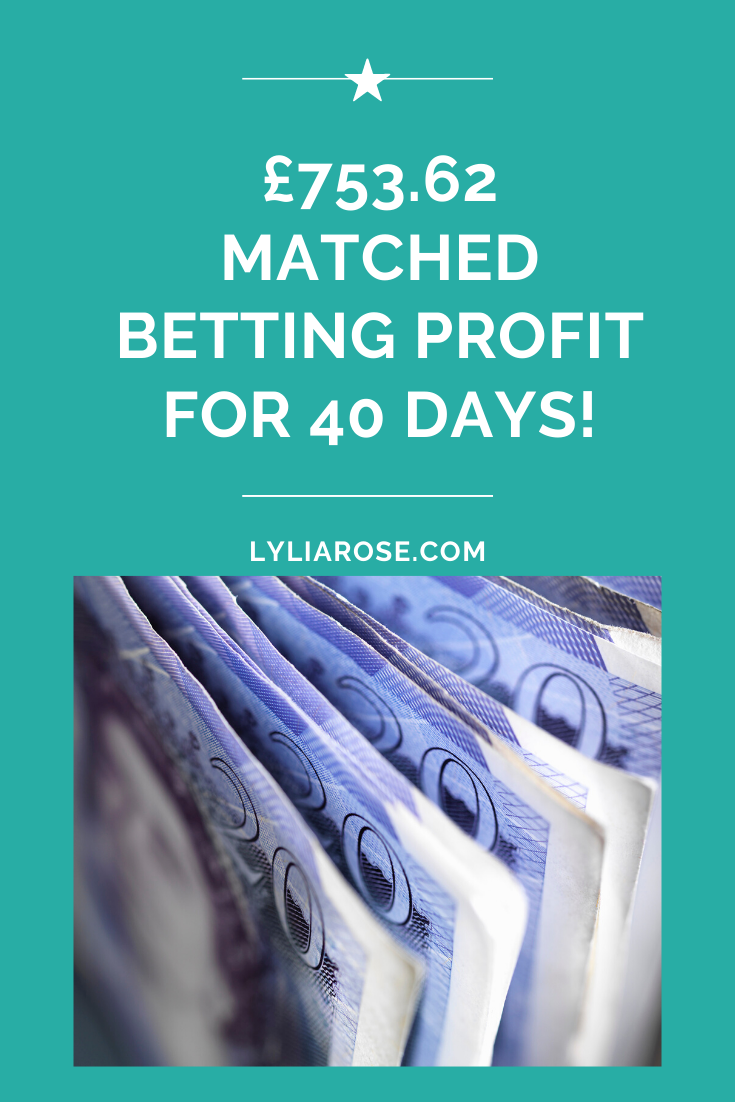 Matched betting income report: £753.62 profit in 40 days
It should actually be around £100 more. But I made a few mistakes.
Doh.
Matched betting will make you money, but you can still make human errors. Here are the mistakes I made so hopefully you won't make the same!
Matched betting mistake 1
I took a big hit on one of the offers where I didn't realised it was a bonus with 30x wagering and not a normal free bet. I didn't have enough bank roll to do this offer, so once all my bankroll ended up in the bookies I had no money left in the exchange to continue the offer. Arg. I had to admit defeat and withdraw my winnings which cancelled a £200 bonus as I hadn't played £100 through 30 times.
Lesson learned. Make sure you have a large enough bank roll if the wagering requirements are large. I lost a lot here.
Matched betting mistake 2
Quite near the beginning I won a bet into a bookies, around £15, went to withdraw but couldn't. Turned out I needed £18 in the account to withdraw. You can't just deposit more in this one and instantly withdraw as you have to wager the deposit first.
I thought I was stuffed so just randomly bet on something and lost the money. I should have also lay my bet and made a tiny loss, but I would have been able to then withdraw once over £18 or the money would win into the exchange. I stupidly didn't work this out and lost the £15.
A very silly mistake to make and the solution was so obvious. There's always a way to withdraw. Lesson learned.
Matched betting mistake 3
I took part in a reload offer, but somehow did it totally wrong and lost £10. Make sure you fully read the instructions and then read them again before doing anything!
Lesson learned.
Matched betting fees
I've also paid £46 in fees for my Profit Accumulator membership which I've deducted off my total profit. Usually this will be only £23, but I started paying on 23rd Jan, so as I'm rolling over the last days of Jan into this roundup I paid my fees twice for these 40 days.
Matched betting total profit first month
Even with my silly mistakes and two lots of fees going out I'm still £753.62 in profit which is a great start. I've also been slowed down by having to wait for my bank to grow big enough to take part in some of the offers which require a larger bank.
I've also been held up by waiting for withdrawals to clear into my bank before I can place new bets.
If you have more money to start with then you won't be as held back. I'm a little scared to put any more of my own money in in case I do mess up. At least if I mess up with the matched betting profit I won't be risking my 'own' money. I read another blogger made £1800 in their first month so making a lot more is doable!
I've spent around 30 mins to 2 hours a day doing the bets, watching the guides and trying to get my head around it all! I've got a lot quicker at placing the bets. It also takes more time when you start as you have to sign up to every bookie. But once signed up, the reloads will be a lot quicker as you just have to log in.
I'm still working through the beginners section. I'll hopefully move onto reloads in month two and it will be interesting to see how much I continue to make.
I'm super chuffed with making over £750 in 40 days though! Around blogging, my part time job and being a mummy this is some great extra income from home.
Make money matched betting with Profit Accumulator
If you want to give it a go I highly recommend Profit Accumulator. They talk you through two offers before you have to join them as a member so you can make around £40 to see how easy it is. They also regularly have offers where you can try it for a month or so for free before committing to the membership free. You just have to give it a go!
Matched betting explained + made easy
My matched betting journey
I've made £300 tax free cash from home in 2 weeks and you can too!
£753.62 matched betting profit month one (and silly mistakes)
Matched betting profit 2 months: £1341.81
Matched betting profit after 3 months: £1706.81
I've made over £2000 in four months matched betting
I made over £3000 matched betting in 2017
Matched betting milestones: 18 months and £5000
Matched betting blog posts + FAQs
Not sure about matched betting? Make £40ish now to see if it's for you!
Does matched betting affect mortgage application?
Is matched betting a gateway to gambling and is it dirty money?
How I earn up to £50 per hour matched betting from home
Profit Accumulator review: 6 reasons to use PA to make money matched betting
How much money I made matched betting each month for two years
Why isn't everyone doing matched betting? Debunking matched betting myths
5 matched betting beginner tips
Save
Save