How to stay warm when camping in a Mazda Bongo in cold weather
Posted on
We recently went camping to Rhossili Bay in our Mazda Bongo Friendee for a spur of the moment one night trip without the kids, and let me tell you, it was freezing! We got a great deal on the campsite as it was the end of the season being October and they don't open past this month. I quite enjoyed it as it meant the campsite was really quiet. I did ask Ben why he thought they shut at the end of October, but before he could answer, I answered my own question as I realised it's probably just too cold.
Even though we went near the beginning of October, it was still freezing! The weather was quite unpredictable. It was 6 degrees when we woke at around 7am to 7.30am in the morning, so who knows how cold it had been overnight. In the day time though, it was really warm by midday in the sun. So warm, in fact, that we had to take all our layers off and we were in t-shirts!
It seems a shame to have the van all through winter and not be able to use it. Even though I detest the cold weather, I do sometimes like wrapping up warm and getting outdoors. I don't want to totally hibernate inside for the entire winter. I love being outdoors in nature and seeing the change in season. I just need to find a way to stay warm!
Here are my suggestions of how to stay warm when camping in a campervan in cold weather.
Tips for staying warm when camping in winter or cold weather
Wrap up warm!
Mini heater
This is such a great idea. We have a plug socket in the van and Ben said perhaps we can get a mini heater inside the van. I have found the perfect solution at Coopers of Stortford who stock a mini heater that they call a 'pint sized' heater. It plugs into a socket and is not much bigger. It can heat for 1-12 hours and even has temperature control. I'm not sure if Ben realised there would be something quite so dinky, but I think it's a perfect solution. We have a leisure battery installed so we can run it off this without draining the main battery. Alternatively, if you don't have a leisure battery fitted under the bonet, you'll need another way of running your devices and heater with a dual-fuel generator for camping or hooking up to an electrical pitch where possible.
Leave the pop-top down
This was my genius solution whilst camping as I was certain lifting the pop-top roof would just create more space that would need heating up. We left it down so we were in a more confined space and I believe this kept us warmer. If you have a poptop then keep it down to stay cosy!
Sleep fully dressed
I didn't dare get changed into my pyjamas and instead slept fully dressed, socks and all. I would highly recommend fluffy socks, cosy jogging bottoms and a fluffy jumper to sleep in! Perhaps even a hat if it's super freezing!
Snuggle up
If there's two or more of you, then snuggle up! Keep each other warm!
Take lots of blankets
Pack some extra blankets. And then pack some more. And then pack some more. I questioned ben on why he was packing sooooo many blankets and thought it was overkill, but when it came to night time I realised it wasn't even enough! We had a couple of cosy blankets under us, our duvet from home and then around three or four throws on top. It was still cold! The extra blankets and throws definitely helped though and we'll be taking every last one we own next time!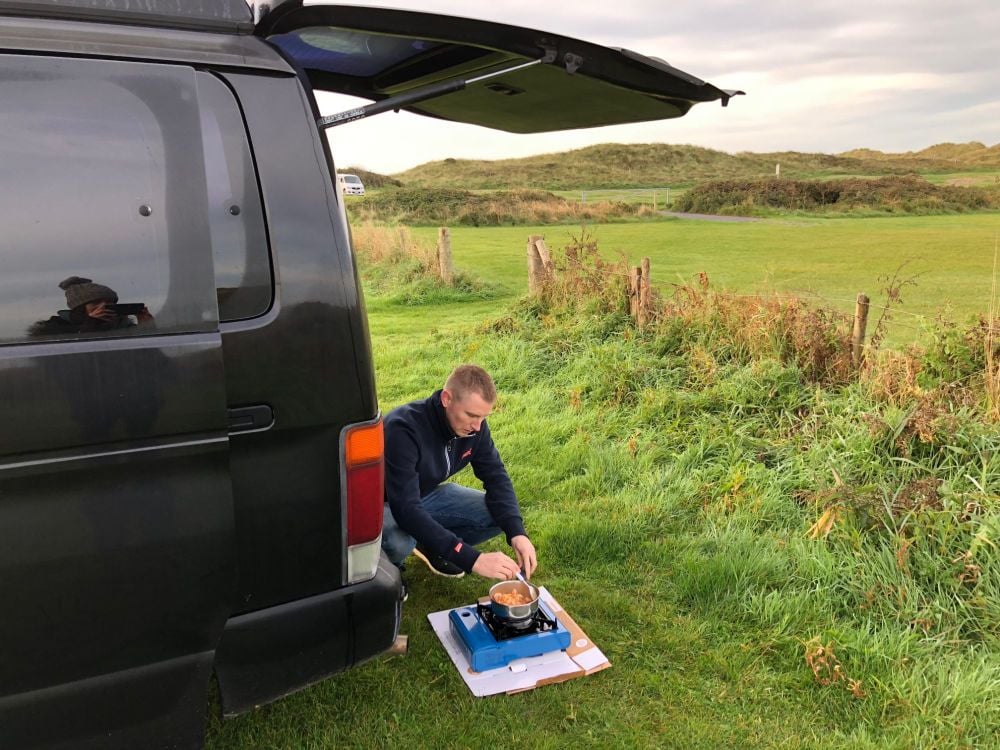 We took a camping stove so we could have warm food first thing!
Or use a thermal sleeping bag
Probably the most obvious solution is to use a thermal sleeping bag. This was Ben's suggestion, but I just hate sleeping in sleeping bags. I feel so trapped. Perhaps I'll change my mind if we go in even colder weather!
Use thermal screens
I've also discovered these thermal interior screens that will not only keep us warm and retain the heat in the van overnight, but they'll give us some extra privacy too. We have built in blinds on all the regular windows, but nothing on the front or back windscreens. It's on our list of things to buy, but we were just thinking of something thin for privacy, instead we can choose thermal screens to keep us warm in the colder months.
Have a warm cuppa
There's nothing more warming than a nice hot cup of tea or cocoa! Invest in some proper thermos flasks to keep hot drinks hot for hours and use them when you need them the most – to warm up at night time or in the morning!
We definitely need to invest in a few more things for the van to keep us warm outside of the summer months. I don't want the cold weather to put us off exploring and we'll be getting a mini heater and thermal screens ASAP!
Here's some more of our kid-free camping adventures:
A Kid Free Camping Trip to the Vale of Glamorgan - A weekend in Wales with camping, beaches and castles
A Kid Free Weekend: Hot tub glamping and zip wire fun at Chepstow Quarry
And with the kids:
Branscombe Airfield and Campsite review and two day Devon travel diary
Find more travel blog posts on my dedicated travel blog:
Tips to save money on travel:
How to save money on family holidays and day trips
A list of 50 free and cheap things to do in the summer holidays with kids
Save money on UK family days out with Kids Pass and sign up for just £1
7 free things to do with kids at Center Parcs Longleat
Ways to save money while on holiday
3 tips to save money for cheap car insurance