How Andrew from Wealthy Nickel makes money blogging
Posted on
Welcome to my Money Making Blogger Interview series where I interview bloggers from around the globe who make money by being a blogger.
Tell us all about you and your blog.
My name is Andrew, and I am a husband and father of 2 young kids. I blog about personal finance and our journey to financial independence through real estate at https://wealthynickel.com.
I started the blog because I wanted to help other people take control of their finances and make more intentional decisions about money. The general advice out there is to save 10% of your income and retire at 65+. Through side hustles and increasing our savings rate, we've been able to cut that time line much shorter, and I wanted to share that with others.
How long have you been blogging and when did you start to make money?
I've been blogging since mid-2018. I began making a little bit of money through affiliates within the first few months, but nothing to write home about.
How much money do you make from blogging?
I am still at the beginning of my blogging journey, so making money isn't the main goal. I want to build up a body of valuable content and traffic then transition to monetizing it after that. That said, I make a little pocket money at the moment while I'm building the blog and learning affiliate marketing strategies.
How do you make money blogging?
Most of my income has come from affiliate marketing so far. It is a natural fit for a personal finance blog as I use a lot of tools and apps that I can recommend to my readers. Affiliate marketing gets a bad name sometimes, but if you do it right, you should be promoting products you truly believe in and can help other people achieve their goals.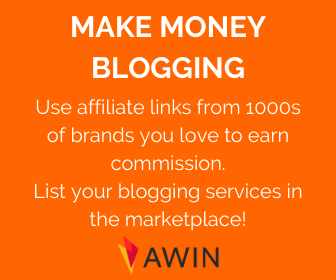 Did you prep your blog to make money?
I have a handful of posts I've written specifically to promote affiliate products that I use and recommend. I make a point to promote these posts through social channels such as Pinterest and Facebook. At some point, I would like to test out running Facebook ads to generate traffic to these "money posts".
I came into blogging knowing it is not as easy as the gurus make it sounds to make money, but I've still been surprised at the amount of work it takes to build traffic, a following, and ultimately make money.
What are your aims for your blog in the future?
Now that my blog is not a brand-new baby, I am trying to focus more on SEO rather than social media for traffic generation. Ultimately, SEO is the "holy grail" of traffic as it is much more passive to generate.
I do want to increase my income in the future, hopefully by continuing to produce good content that generates traffic and naturally link to affiliate products I like.
What should a new blogger focus on to monetize their blog?
The first thing you need to do as a new blogger is write good content, and make it specific for your audience. For example, I write in the personal finance space. There is really nothing new I can write about that hasn't been addressed before, but I can contribute my own unique story and viewpoint.
Once you start to identify your audience and who you resonate with, you can then begin to find affiliates or sponsors that align with your values and have solutions to your audience's problems.
What are 3 pros and 3 cons of blogging as a career?
Pros:
1. It is rewarding to be able to help people, and I've gotten some great comments back about how I've been in some small way responsible for a reader's success.
2. Meeting and networking with other bloggers has been a nice surprise. It is a great community full of people that want to help.
3. Location independence - being able to work from anywhere is the dream!
Cons:
1. For every great conversation you have with a reader you also get some hate mail from the internet trolls out there.
2. Blogging is a lot of work, and you have to be prepared to work for free for a long time before you start generating an income.
3. It can be lonely. I am an introvert by nature, but I still miss the in-person social interaction.
What inspires you to blog?
It's funny, I never liked writing in school, but writing blog-style content that helps other people solve a problem inspires me to keep going. I am looking forward to financial independence when I no longer have a 9-5 job in a few years, and the blog is a great hobby to share my journey as well as make a little money on the side.
Would you still blog even if you couldn't make money doing it?
I think I would, though it may look a little different. People don't realize how time-consuming it is to build a blog into a business. If I couldn't make money doing it, I'd probably scale back and not post as often or promote content as much.
Do you think blogging is here to stay?
Blogging is definitely here to stay, and I think will continue to grow and morph into other media avenues. You see this already with YouTube or Facebook Live. Blogging is a way to connect to others online, and that isn't going away anytime soon.
Thank you so much for taking part in my Money Making Blogger interview series and best of luck with your blog!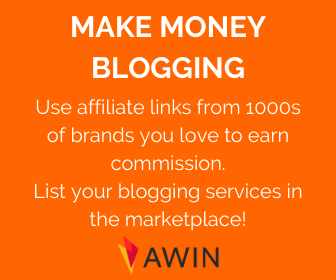 More helpful articles if you want to monetise your blog
Make money from your blog with Awin affiliate marketing
Make money from your blog without Google ads
4 ways to find paid blog opportunities
How to improve your domain authority (DA)
Make money blogging with Get Blogged (even as a new blogger)

Make money blogging with Considerable Influence

Make money blogging with Press Loft

Make money blogging with Bloggers Required
6 secrets to make more money from your blog

Online resources and blog posts to make money blogging

How I drive traffic to my blog
5 reasons to use Awin as a blogger
Introduction to my money making bloggers interview series
If you're wondering is it possible to make money blogging? Then yes, it really is possible to earn a living as a blogger!
It's what me and many others are able to call our full-time income, but many people don't understand how it is possible, so this interview series will show exactly how bloggers are making an online income from a blog.
There are lots of different ways to monetize a blog and they will all be revealed in this series.
I share lots of tips on how I make money blogging in my Make Money Blogging section, but it's also great to learn from other bloggers too. One thing I love about the blogging community is how friendly and open it is. There's room for everyone and we all like to help each other grow and learn from one another.
Learn how bloggers make money
Learn how my interviewees make money from blogging and the steps they took to monetize their blog. I hope you feel inspired and learn something new from this series.
Learn how many hours they spend on their blogs per week, what sort of income this provides and if there are any cons to blogging for an income.
I've been a full-time blogger since January 2017 and I started blogging in April 2013. It still amazes me that I can make money from home as a blogger.
BUT, it's not without a lot of hard work, so don't be fooled into thinking you simply set up a website and voila, income starts rolling in. If only! I've work more hours per week than I did in any full-time employed job - my blog is my life!
I'm hoping it won't always be that way and there are lots of passive ways to make an income from blogging, but you have to set up the foundation first which can take lots of hard work and patience.
In this series I am going to interview other bloggers who also make money from their blogs to hopefully inspire people to start a blog if they wish or to make that leap to monetizing content. I also find it so interesting to learn what other bloggers are up to. Even us full-time bloggers can learn from each other and inspire one another.
Read all the money making blogger interviews here.
Please pin me
Other ways to make money from home
How I made £32000 from home in 2018-19
5 tried and tested ways to make money as a UK stay at home mum
Easily make money from home by testing websites with Whatusersdo
Make money online testing websites and apps with UserTesting
How I earn up to £50 per hour matched betting from home
Get paid doing simple tasks from your phone with Streetbees
Earn cashback on things you already buy
Not sure about Matched Betting? Make £40 now to see if it's for you!
Make money in your free time with RedWigWam (perfect for busy mums)
Make money online with OhMyDosh!
Make money at home from receipts with Receipt Hog and Shoppix
Make extra money online with YouGov
How to make money from your phone with Roamler
20 ways to make and save more money in 2019
Make money at home searching the web
Make money at home with Prolific Academic
Make money online with Crowdville
HuYu– earn gift cards with your supermarket receipts
SnapMyEats–Amazon gift vouchers in exchange for your food receipts