Dining room decor ideas on a budget
Posted on
Our fixer upper house has been a labour of love for six years now. Upon moving in we naively thought we'd be done in a matter of weeks, but had no idea how much things cost and how long it would really take to decorate the house to our taste. Throw in having our second baby after moving in and getting married and things took even longer than we could have ever imagined.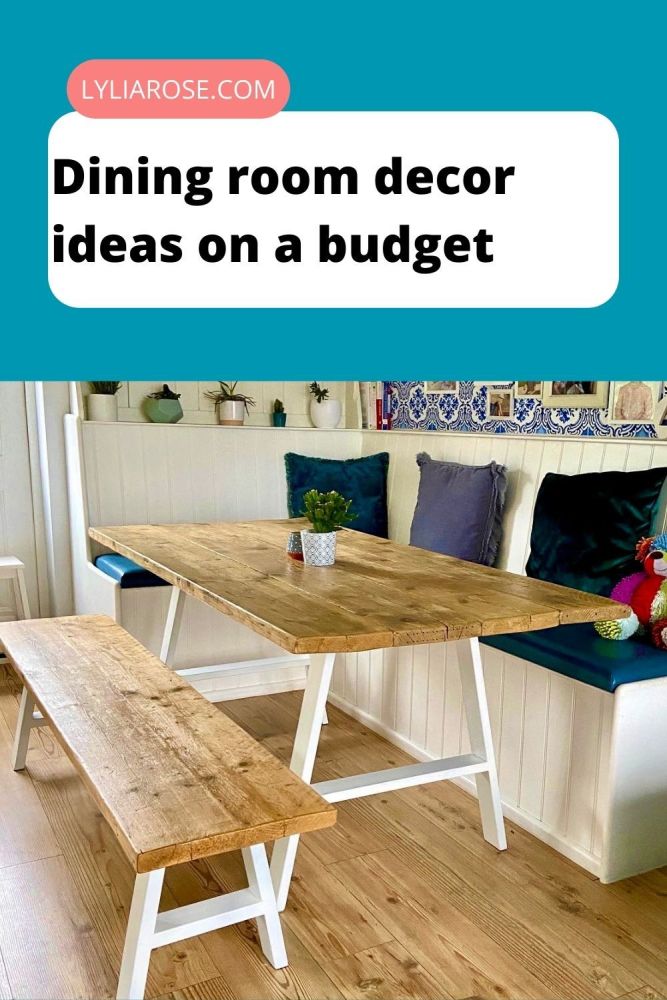 There is finally light at the end of the tunnel as we have massively been able to crack on with our home improvements in the past six months or so. This is partly due to both our children now being school age and us not needing to keep an eye on them all the time. As soon as the both children could entertain themselves more often and not need our constant attention, it freed both Ben and I up to crack on with the home improvements at full speed.
No longer having babies or toddlers has also allowed us to really get our home looking how we like. We can now decorate the entire house to our taste without thinking about childproofing it. This has been exciting as we can buy things we like for their style and not having to think about them being practical for babies and children!
One area of our home that we have updated is our dining room. Read on to see how we managed to decorate our dining room to our minimalistic and white design on a budget.
How we decorated our dining room on a budget
Upcycled pre-loved dining room chairs
We saved £145 on our dining room chairs by not buying the ones I really wanted from new and instead sourcing some preloved chairs in a similar design and upcycling some dining room chairs ourselves! We always try our best to find things preloved once we have an idea in mind of what we want. It's a great way to save money and give something a new lease of life that might otherwise get binned.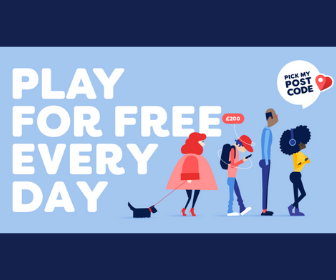 Handmade a dining table from reclaimed wood
We changed our smaller four seater table to a much larger eight seater to give us plenty of room when we have family and friends around. Luckily my husband is a master with wood and loves DIY. Using a reclaimed decking frame that an ex-colleague of his was otherwise binning, he was able to sand back the well-worn and dirty wood to create an amazing rustic dining table top for us. A local metalworker created us some X shaped metal legs for under £100. By using reclaimed wood, the skills of my husband and a local metalworker, we were able to create a handmade unique eight seater dining table for less than £100! A price we could never buy a new table for of this size.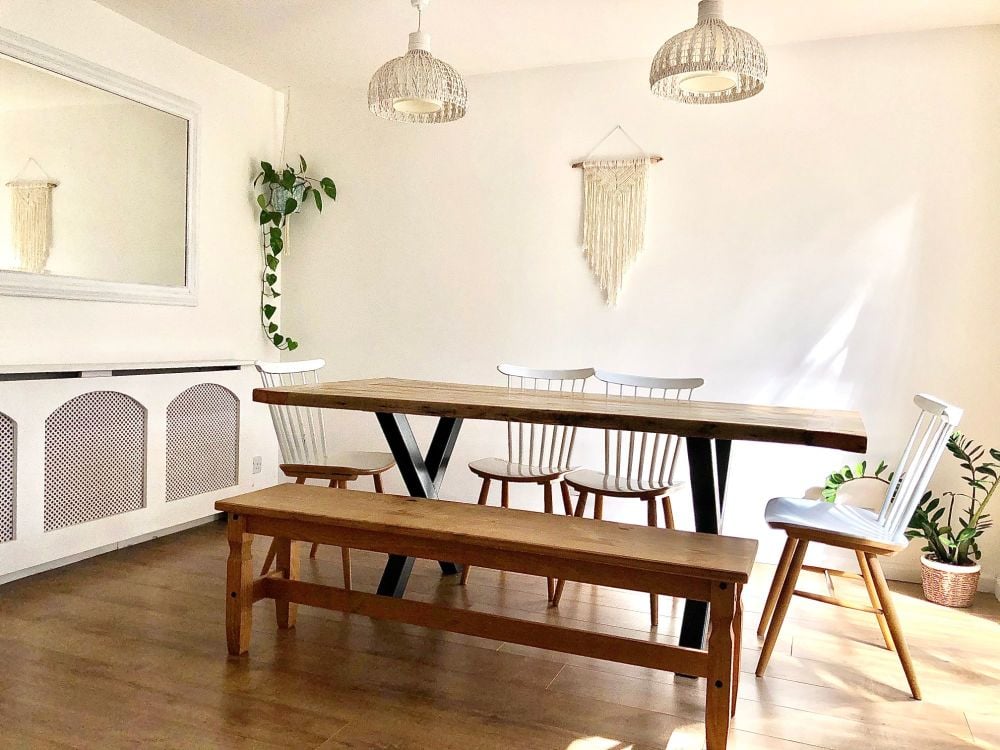 Sourcing pendant lighting at a fraction of the RRP
We couldn't decide for ages the type of lighting we wanted, but were both drawn to bold and low hanging LED pendant lights that were very on trend. After almost choosing industrial copper shades, we luckily saw some white rattan shades in Homesense at a fraction of their original RRP. They were perfect and we both agreed on something for the first time! I'm glad we got these as we eventually decided on a white theme for the dining room so these work perfectly. If I can remember correctly it was around £30 for the pair.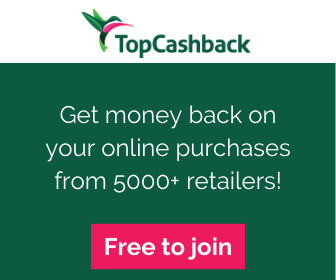 Upcycled a broken mirror
I was originally looking at a new mirror for around £100, but we first checked out a furniture recycling project and managed to pick up three mirrors for our home for £40, including one very large mirror for our dining room. The frame was slightly cracked and silver, which we didn't like, but we spent around £10 on some white spray paint to update the frame colour and we disguised the crack as much as possible.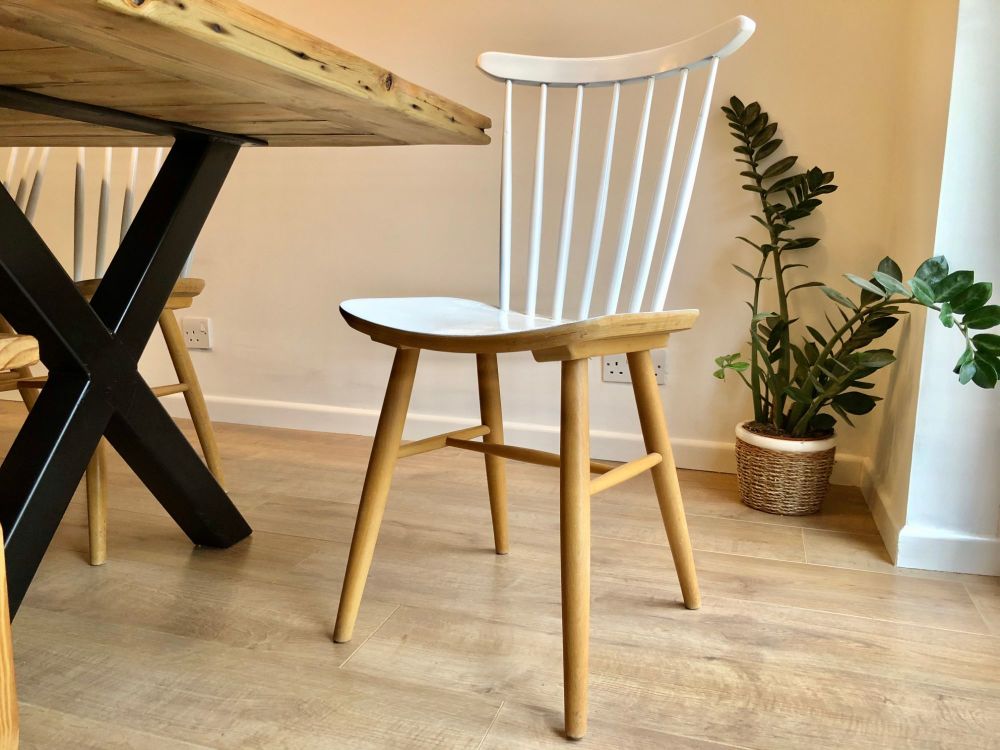 Made a radiator cover from scratch
Making the most of some pieces of MDF and purchasing some radiator cover grills we custom-made a cover for our ugly radiator. It was a bit of an eye saw with years of different coloured paint and some rather outdated valves. It had to be hidden. If you're thinking of doing something similar then you can read my husband's full guide on our other site. How to build a radiator cover. It is not overly complicated and can be achieved with some basic tools. Best of all it will make a huge difference to the space.
Used what we had
We already had a bench so this was perfect luckily for the new table. Perhaps in the future Ben will make a bench that matches the table and we can order some matching X metal legs. I also already had a couple of houseplants that could be moved to the dining room and a macramé wall hanging that was perfect on the wall to suit our white and minimal dining room theme.
Future plans
As mentioned above we might one day create a matching bench which will make the space more fluid. We're also thinking about spraying the X legs white to really make everything match! So long as we can source some free reclaimed wood for the bench then both these improvements will be well under £100 and will complete our dining room.
By creating a scaffold board dining table, shopping in an outlet and upcycling furniture, we managed to cut the cost of furniture and decor for our dining room. We love to improve our home and we also love to save money in the process!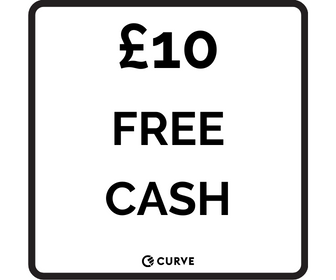 Home décor blog posts
Cheap and cheerful ideas to update your living room on a budget
Kitchen backsplash ideas on a budget
How to save money and upcycle second-hand dining chairs
Quick + easy ways to decorate rooms with simple things + on a budget
How to improve your bathroom on a budget
How to create a warm and welcoming dining room
How to give your home a personal touch
How my bedroom decor describes my personality
6 easy ways to decorate a dining room
The dos and don'ts of dining room decor
How to create a contemporary kitchen design
How to place pendant lighting all around the home
Using a contemporary lamp to create cosiness
Quick summer updates for the home and garden on a budget
7 ways to achieve a modern minimalist look for your living room
Around the world with your home decor
4 traditional trends taking over interiors
Cheap bathroom decorating ideas
Pin for later!