5 quick, easy and deliciously sweet vegan Nairn's Oatcakes toppings
Posted on
Oatcakes are perfect for breakfast or a quick snack. They are gluten-free, vegan, and very low in calories. You can top them with anything you want to make them taste better. If you are looking for some delicious, sweet oatcake toppings, that are healthy too, then read on. I share five easy oatcake toppings that are vegan-friendly and super quick to make. And after these sweet oatcake toppings, I'll share some ideas for savoury oatcake toppings too. Here are some of the best vegan oatcake toppings to try at home, which we have made and taste tested. Read on for some vegan oatcake toppings ideas that you can make with just a few ingredients so you never need ask again, what do you put on the top of oatcakes?
Vegan oatcake topping ideas! Sweet and savoury!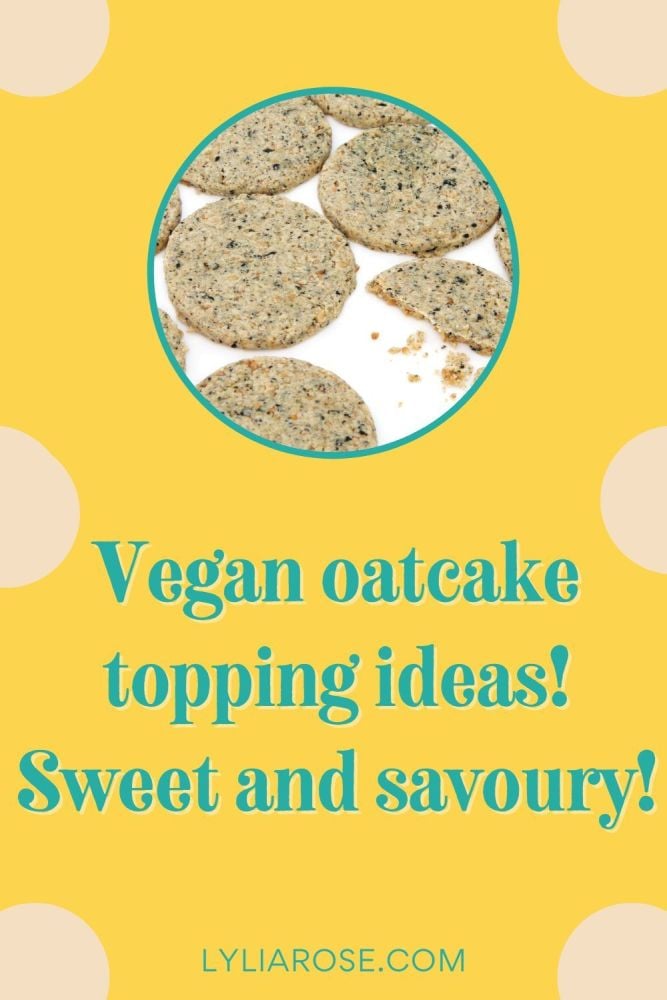 One thing we always have in our kitchen cupboards are wholesome crackers. We love all wholegrain versions and often have rice, hemp, quinoa and rye versions at home, otherwise known as 'cakes' such as rice cakes, but we tend to just call them all crackers! For us, they are a cupboard staple to provide us with a quick, easy and healthy snack for the children. I also use them instead of sandwiches in the children's lunchboxes with various toppings and also plain to dunk into bowls of hearty soup!
We also love oatcakes which seem slightly more biscuit-like with their denser texture. However, eating oatcakes on their own can be a bit boring! Aside from spreading some vegan spread on them, what other ideas for vegan oatcake toppings are there? You're in luck as I will share some delicious oatcake toppings in this article to give you some new ideas and inspiration to make your oatcakes as tasty as possible so they are never boring.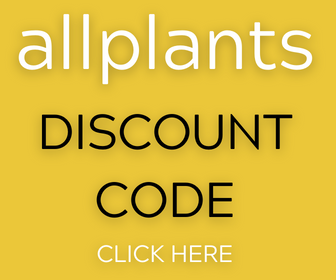 This blog post features PR samples from both Nairn's Oatcakes and Violife Cheese which are two brands we already love and buy regularly!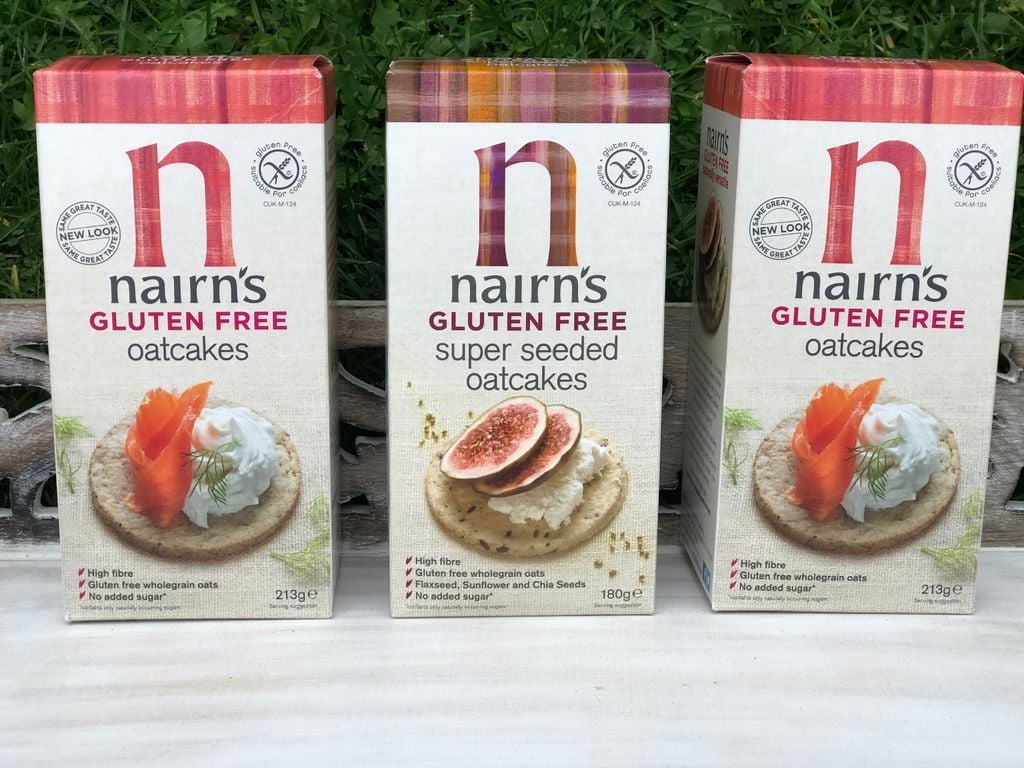 Vegan-friendly oatcakes
As we are vegan and I don't buy anything at home with refined sugar (or many other added sugars) we were sent the Gluten Free Oatcakes and Gluten Free Super Seeded Oatcakes. Both these varieties are:
High fibre
Gluten free
Vegan
Wholegrain
Simple, natural wholesome ingredients
GM free
No artificial colours, flavours or preservatives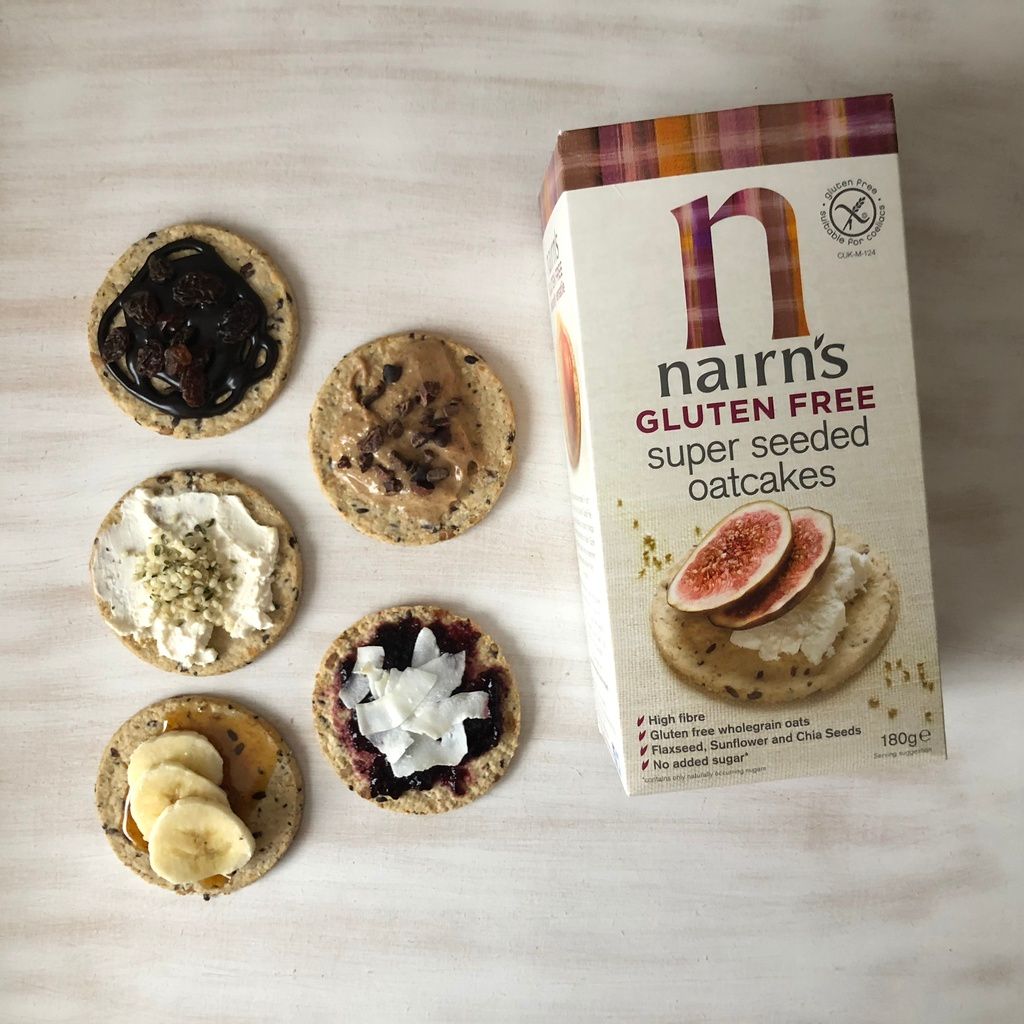 How to use oatcakes
Thanks to Nairn's Oatcakes for sending me some PR samples :)
While I personally think they are yummy on their own, they can be a bit dry, so they are used as a base or accompaniment to other food. Here are just some of the ways you can enjoy eating your oatcakes:
On the go snack, just as they are
Instead of bread with soup
Crushed up as the base of a cheesecake
With savoury toppings as canapes for a party

Brew tea or coffee in a French press and eat the oatcakes with sweet toppings as a dessert or to satisfy a sweet craving.
What do you put on top of oatcakes?
There are probably an infinite number of toppings for Nairn's Oatcakes and this is my favourite way to eat them. I'm not a baker and we don't do big desserts, but often me and the kids do fancy something little and sweet after dinner, so these oatcakes are the perfect solution. Today I'll share with you five easy oatcake topping ideas we recently added to our oatcakes.
The best thing about these toppings are they are totally pick'n'mix. It's a fun idea to pop out a few combinations of ingredients on the kitchen side, such as a variety of spreads and some toppings that can be sprinkled on top of these, and then let the kids create their own topped oatcakes! It's fun and if you select healthy toppings, then it will encourage your kids not only to be creative, but to eat a little healthier at snack time too as they'll want to eat their own food creations!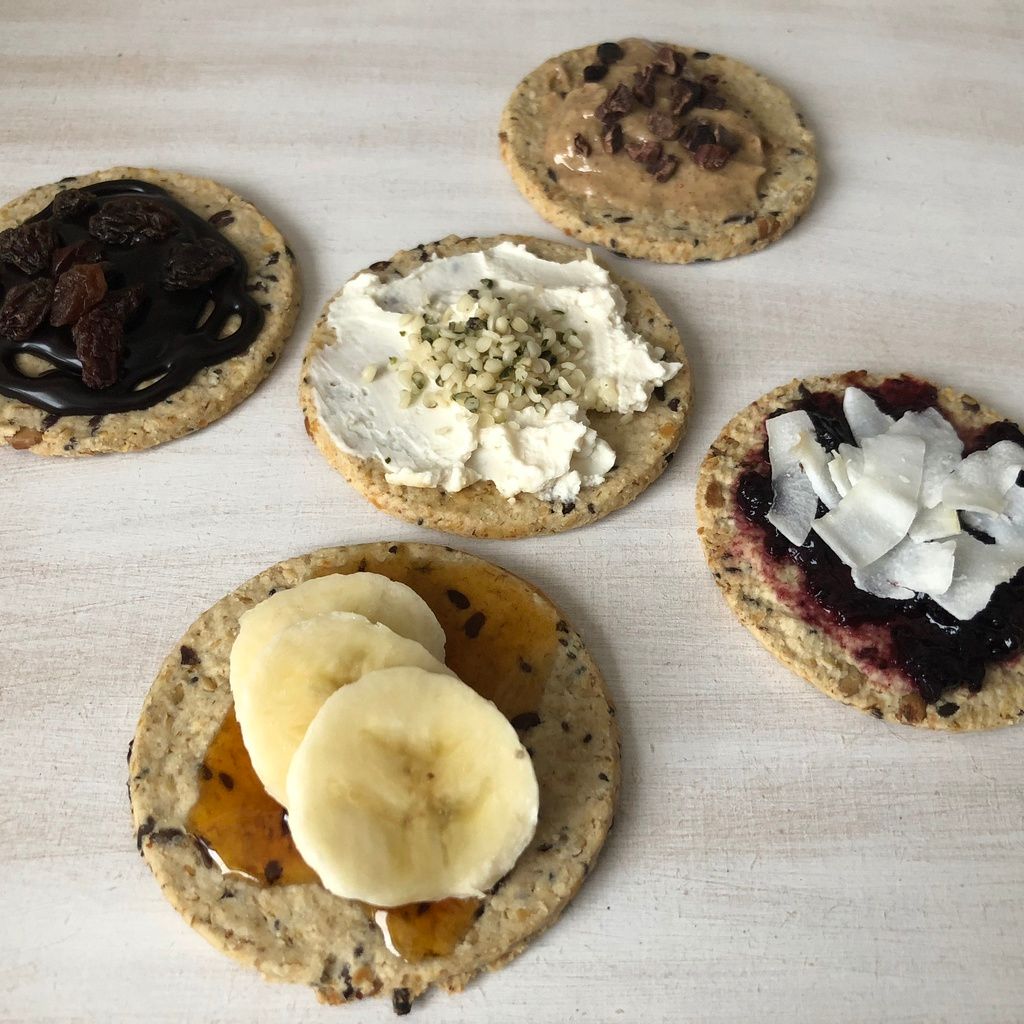 5 deliciously sweet oatcake toppings (vegan-friendly)
Here are the five toppings I created today after lunch. I tried to eat them all slyly, but Reuben caught me and so I shared them with him. He enjoyed every single one, so much so that later today after dinner he asked for them again!
I was able to use all sorts of ingredients that were already in my cupboards. I went with the idea of one spread type topping and one sprinkle type topping, so I chose ten different ingredients that we already had available. The best thing is they are so versatile, you really can use anything you have available at home. There are so many yummy combinations to create!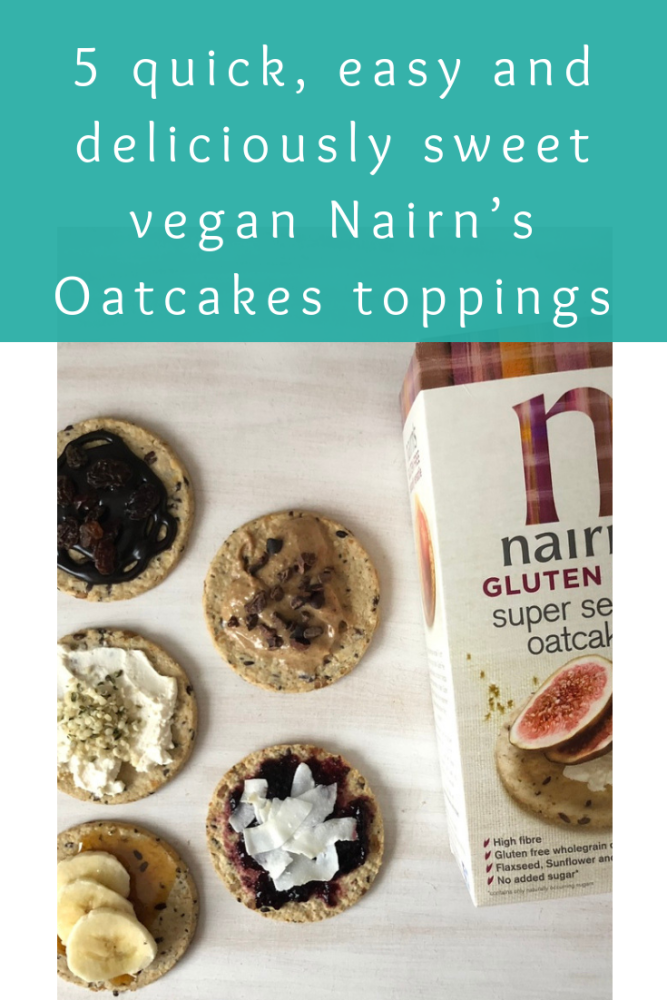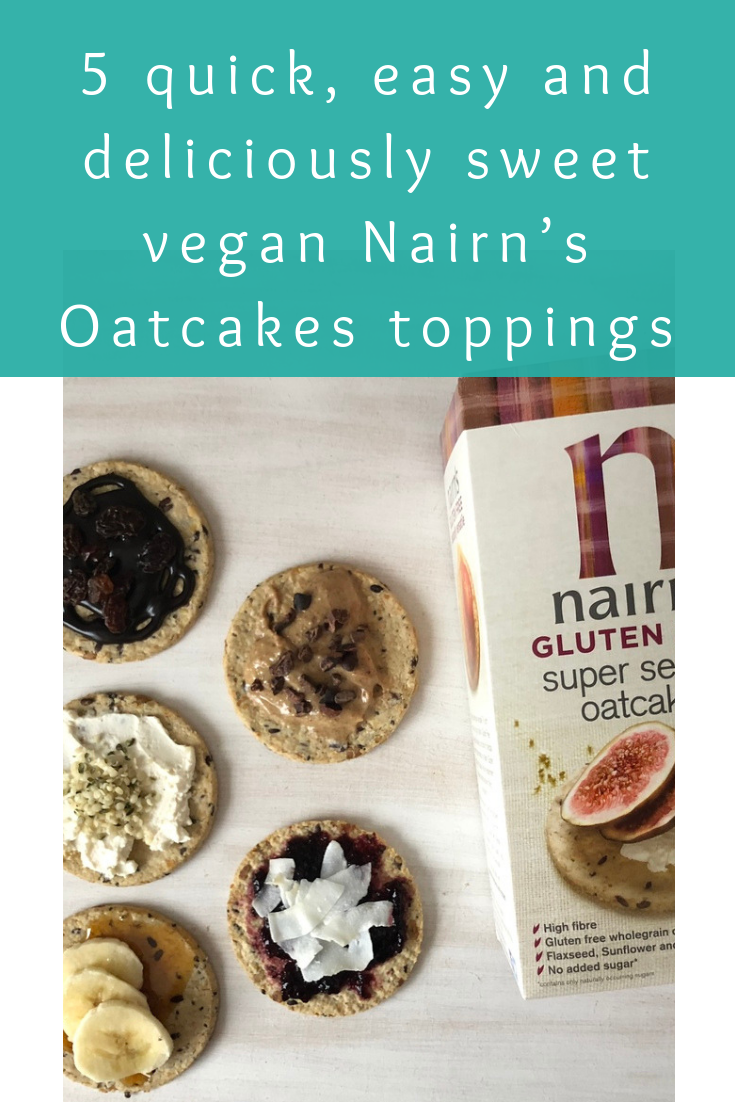 Here are the five oatcake toppings I created today:
1. Coconut honey and banana
Simply squirt a little vegan-friendly 'honey' onto the oatcake and add a few slices of banana for a sweet treat. A perfect sweet snack for kids and adults alike. This is the first time I have tried 'coconut nectar' which is an alternative to honey and it's delicious. Very sweet, but yummy! These would also make great breakfast oatcake topping ideas too!
2. Peanut butter and cacao nibs
Spread a dollop of peanut butter, or your favourite nut butter, onto the oatcake and sprinkle some cacao nibs to add a healthy chocolate kick and crunchy texture. I use 100% nut butter. Be wary of most mainstream supermarket peanut butter with tons of added sugar. Look out for 100% nut alternatives with no other ingredients. Cacao nibs are fantastic! They are just like chocolate chips, but raw, unrefined, rich in flavour and with no added sugar! This is a winner with our kids too! Chocolate without the guilt.
3. Wild blueberry jam and coconut flakes
Spread some of your favourite fruit jam onto the oatcake and sprinkle with coconut flakes or desiccated coconut. There are a couple of brands of jam I love that make jam with 100% fruit only and no added refined sugar. St. Dalfour Wild Blueberry jam is so delicious and super tasty with coconut flakes.
4. Almond cheese spread and hemp seeds
Spread on some of your favourite nut cheese spread or vegan cheese spread and sprinkle with hemp seeds for crunch. Almond cheese spread has a subtle, sweet almondy taste that is perfect for sweet dishes too and not just savoury. It combines perfectly with hemp seeds to add a little texture and enrich the creamy flavour.
5. Chocolate sauce and raisins
Drizzle some sugar-free chocolate sauce and add raisins. Super easy and really tasty! Another great way to let kids have chocolate without the guilt of all the added sugar that rots their teeth! We love to use Sweet Freedom chocolate sauce that's made from carob, fruit and 100% natural ingredients with a low GI and no refined sugar like regular chocolate sauces. I add raisins for a chewy texture. Yum! The only problem with this oatcake topping is stopping at one!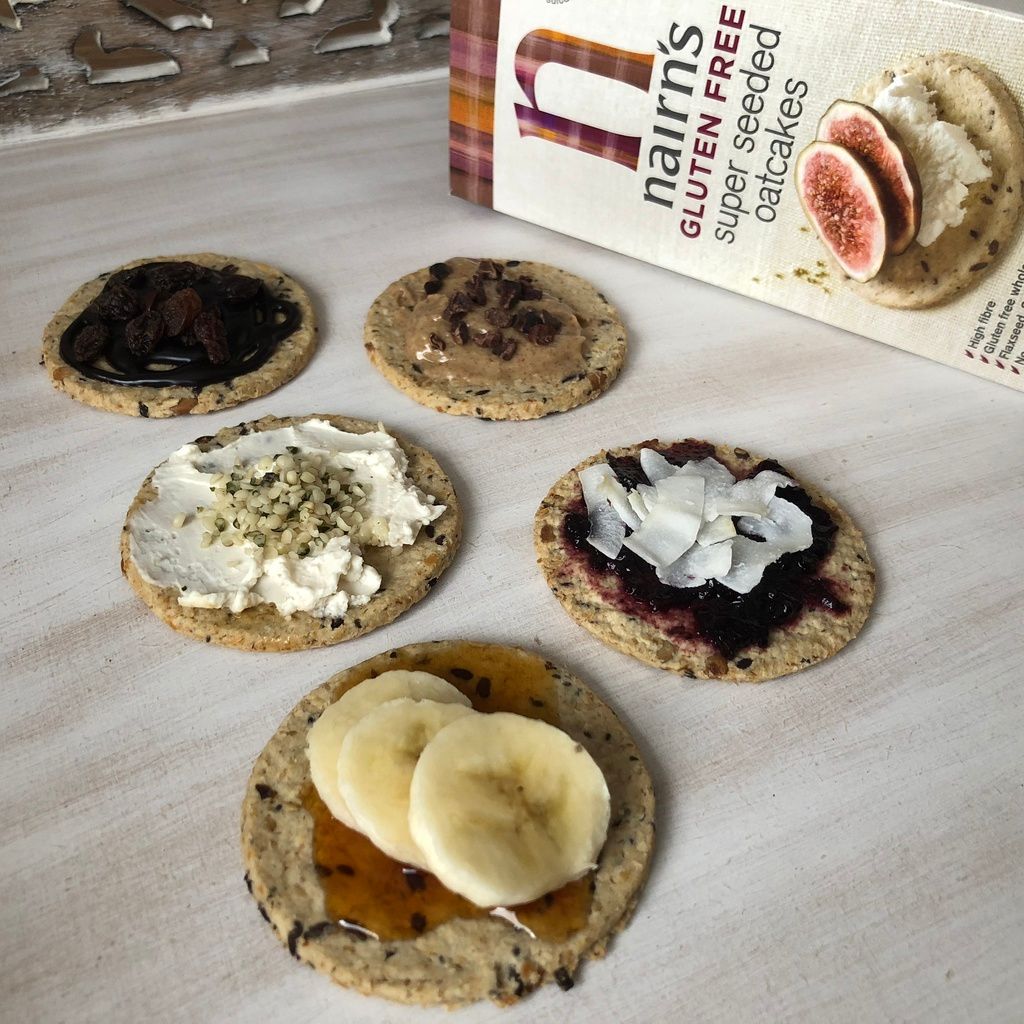 Sugar-free sweet oatcake toppings
All of the toppings were so delicious and my three year old, Reuben, totally agreed. These don't contain any refined sugars with the brands I used and also offer some nutrition as well as being a tasty treat. Cacao nibs and hemp seeds, for example, are superfoods. These are a much healthier alternative to your traditional desserts.
Here are all the toppings I used: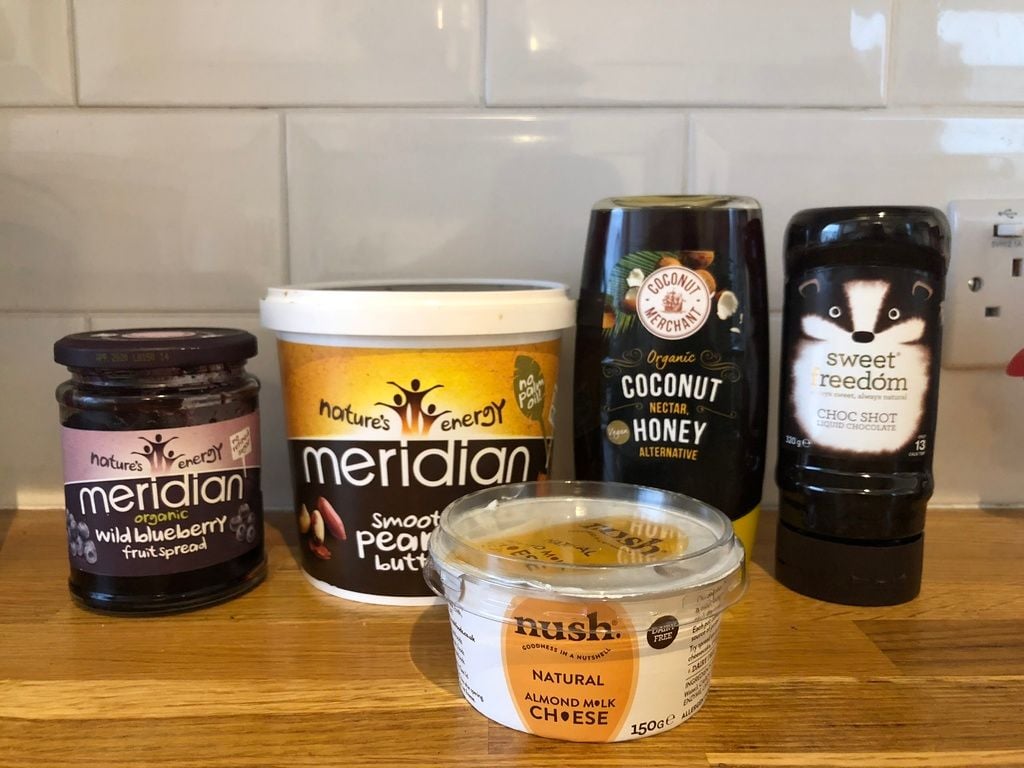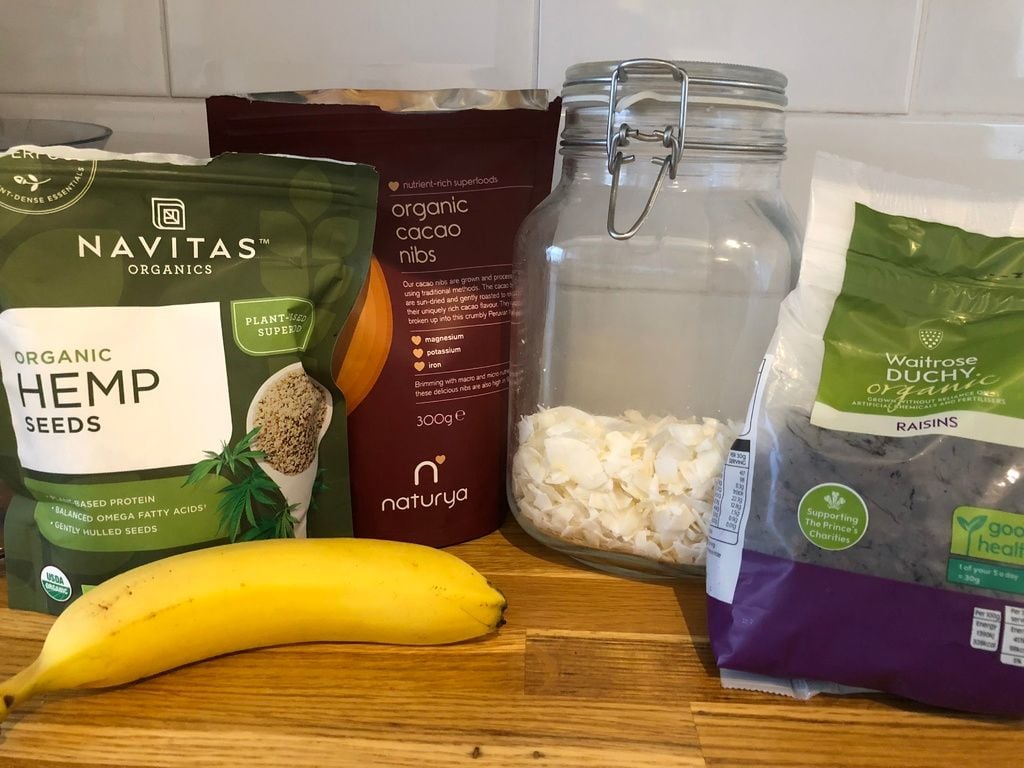 Nairn's Oatcakes Review: Will I buy Nairn's Gluten Free Oatcakes again?
Absolutely! We've had them before, a lot, and thanks to Nairn's for sending me some samples to remind me of how delicious and versatile they are. I'm looking forward to creating some savoury toppings for lunchtimes and also the kids' lunchboxes. They are a natural, wholegrain alternative to many of the sugar filled biscuits and crackers that line the supermarket shelves today. Personally, I will always choose brands like Nairn's that have ranges with no added sugar and natural wholesome ingredients.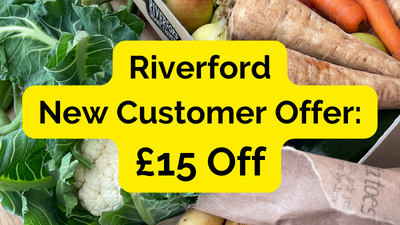 ---
5 savoury vegan oatcake toppings with Violife vegan cheese
Moving on from sweet oatcake toppings, what about savoury vegan-friendly toppings?
Popular brand Violife who makes vegan cheese, which you may have noticed in your supermarket free-from sections, kindly sent me some PR samples which I decided to combine with Nairn's Oatcakes to give you some suggestions for savoury topping ideas too!
We are already big fans of Violife cheese and already use many of their foods on a regular basis. There's always something Violife in our fridge! Usually their mature block, grated and slices which we use in our vegan cooking at home each week for various meals from vegan macaroni cheese to vegan cauliflower cheese, adding a slice of vegan cheese to a burger or sprinkling some grated on our salads.
There are loads of ways to use Violife cheese and you can find lots of vegan recipes on their website for more inspiration. But today I'll show you how to easily use some of their products to create quick and healthy oatcakes for a snack or light meal.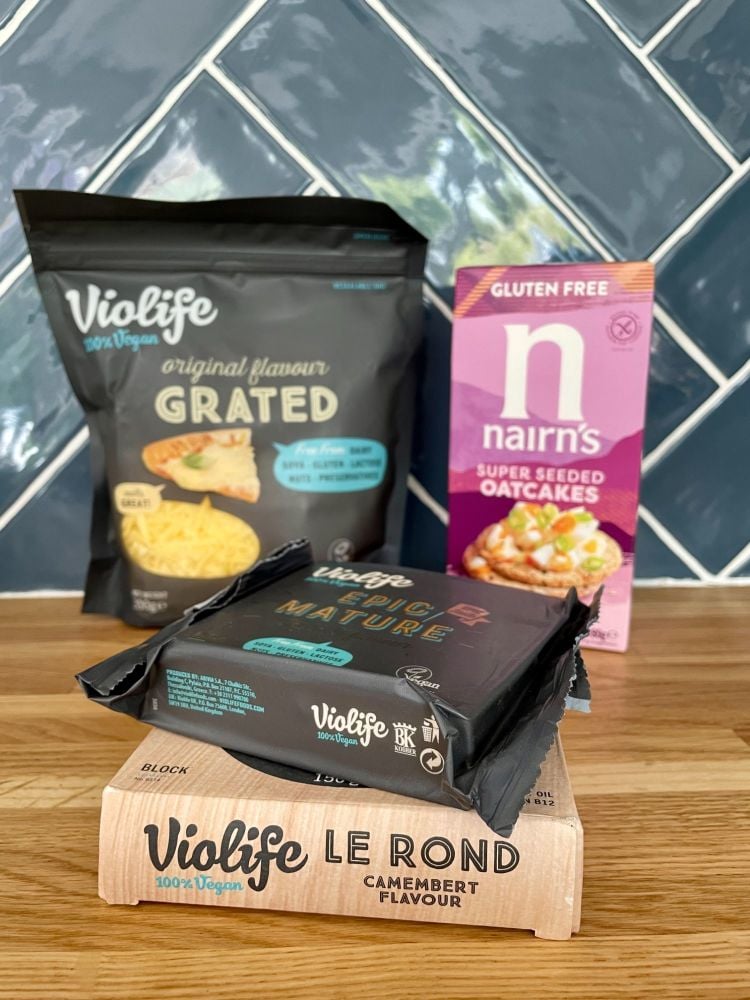 What goes with oatcakes for lunch?
Whilst the sweet recipes above are perfect for a sweet treat or dessert, you may be wondering what goes with oatcakes for lunch or as a savoury snack. There are so many ways you can use oatcakes to make a savoury buffet-style plate for lunch such as oatcakes and hummus with slices of salad and veg which you can dunk in the hummus. Or you can add some toppings onto each oatcake to turn them into little canape-style snacks.
There are lots of vegan-friendly and plant-based ways to do this. Here are some ideas for combining Violife vegan cheese and Nairn's oatcakes to make a delicious savoury light lunch.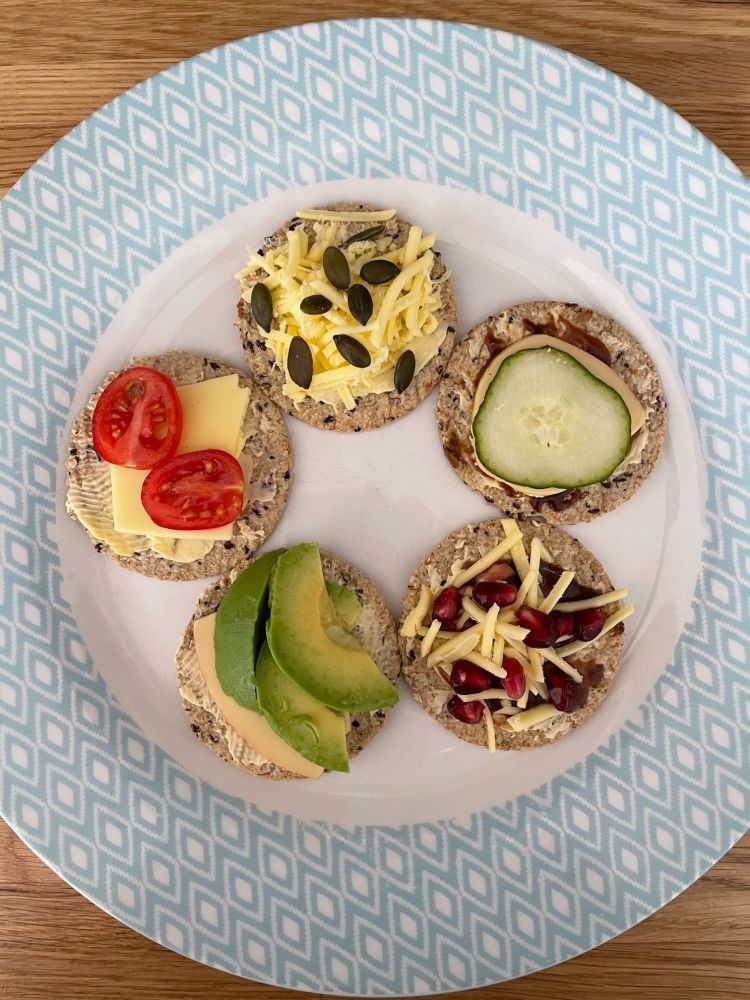 5 savoury, vegan, healthy oatcake toppings
Here are some super quick savoury oatcake topping ideas using Violife vegan cheese that aren't too faffy! I used some vegan spread by Pure on each cracker as the base. Violife actually has a vegan spread available, as well as a vegan soft cheese style spread which could be used instead. I just worked with what I had at the time, but I think these would be even more delicious and creamy with a soft cheese-style spread!
1. Grated vegan cheese and pumpkin seeds
Use vegan spread as the base so the grated vegan cheese has something to stick to. Add a little pile of grated vegan cheese and a few pumpkin seeds which are extra healthy and add some nice texture in contrast to the soft cheese.
2. Yeast extract, smoked vegan cheese and cucumber
Use marmite, or another yeast extract, smoked vegan Violife cheese and add cucumber. This was probably my favourite with all the different flavours working really well together. Probably not a good idea unless you are a lover of Marmite!
3. Yeast extract, grated vegan cheese and pomegranate seeds
Sounds weird, but bear with me. Yeast extract, grated vegan cheese and pomegranate seeds. The pomegranate seeds are sweet, but they really work well with the tangy yeast extract. We all know marmite and cheese work well together! Again, this one is only good for the Marmite lovers out there!
4. Smoked vegan cheese and sliced avocado
Vegan spread, smoked vegan cheese by Violife and some sliced avocado. You could actually skip the vegan spread and spread the avocado instead to stick the vegan cheese to.
5. Vegan spread, sliced vegan cheese and sliced tomato
Cheese and tomato. A classic. Great on oatcakes too, even for vegans! A bit of vegan spread for stickiness, sliced vegan cheese and sliced tomato.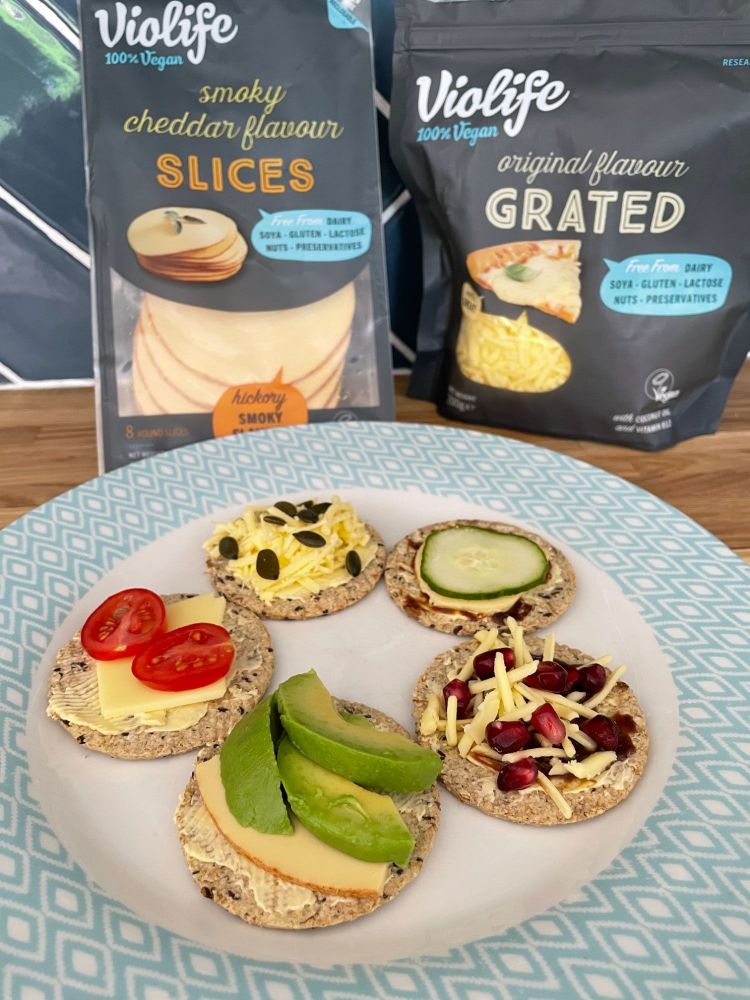 More sweet and savoury healthy oatcake topping ideas!
As you can begin to see, there are so many ways you can create different snacks and meals with something as simple as an oatcake. Getting creative with food in this way can stop mealtimes from becoming so mundane and boring. One little oatcake is so versatile and can be used in a variety of ways to create anything from a healthy dessert to a snack to an actual light meal.
The above are some ways we have recently used our oatcakes, but we use them all the time, along with other 'crackers' like wholegrain rice cakes for healthier snacks. So here is a big list of oatcake topping ideas to keep you going for a while!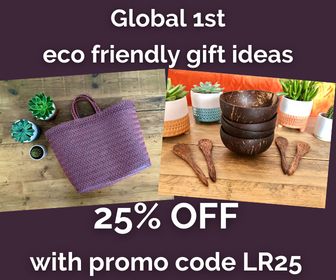 Sweet oatcake toppings (vegan-friendly ideas):
Vegan cream cheese and fresh fruit

Cashew cream

Maple syrup and cinnamon

Vegan cream cheese and dried cranberries

Soft vegan cheese and sliced strawberries

Vegan creme fraiche and sliced grapes

Agave nectar and walnuts

Vegan cream cheese and jam

Nut butter and jam
Savoury oatcake toppings (vegan-friendly ideas):
Vegan pate (vegetable, mushroom, etc.)

Vegan cheese and green pesto

Guacamole

Hummus

Salsa

Sweet potato puree

Smashed avocado with sundried tomatoes and chilli flakes

Wholegrain mustard and sliced pickled cucumber

Vegan camembert
Oatcake toppings: final word
Vegan oatcake toppings are a delightfully delicious way to make your breakfast, brunch, or dessert even more enjoyable. Above are some easy sweet and savoury toppings that you can try out. Why not get creative and invent your own? Simply check your food cupboards and make a delicious oatcake snack today!
More delicious & healthy recipes
5 easy and nutritious vegan breakfasts to get 3 of your 5-a-day
Moringa powder green smoothie recipe
Delicious green kale & moringa powder juice recipe
How to make the best homemade muesli without a recipe
Healthy chocolate milkshake recipe
Easy vegan sweet potato soup recipe
Delicious purple bee pollen smoothie recipe
How to make vegan dark chocolate
No cook vegan chewy raw brownies recipe
Refreshing melon and kale juice recipe
Delicious baobab berry smoothie recipe
Vegan peanut butter balls no bake
3 ingredient simple ice lolly recipe
Vegan no bake cacao nibs energy balls recipe
Quick + easy spicy pumpkin soup recipe - suitable for vegans
This blog post was originally posted in 2018 and updated in 2022.