5 quick, easy and deliciously sweet vegan Nairn's Oatcakes toppings
Posted on
One thing we always have in our kitchen cupboards are wholesome crackers. We love all wholegrain versions and often have rice, hemp, quinoa and rye versions at home, otherwise known as rice cakes. For us they are a cupboard staple to provide us with a quick, easy and healthy snack for the children. I also use them instead of sandwiches in the children's lunchboxes with various toppings and also to dunk into bowls of hearty soup! We do also love oatcakes which we use in the same way, though for some unknown reason I don't seem to buy them as much, but after making these delicious toppings recently, that will change!
If you are looking for some delicious, sweet oatcake toppings, that are healthy too, then read on. I share five easy oatcake toppings that are vegan friendly and super quick to make.
Delicious oatcake topping ideas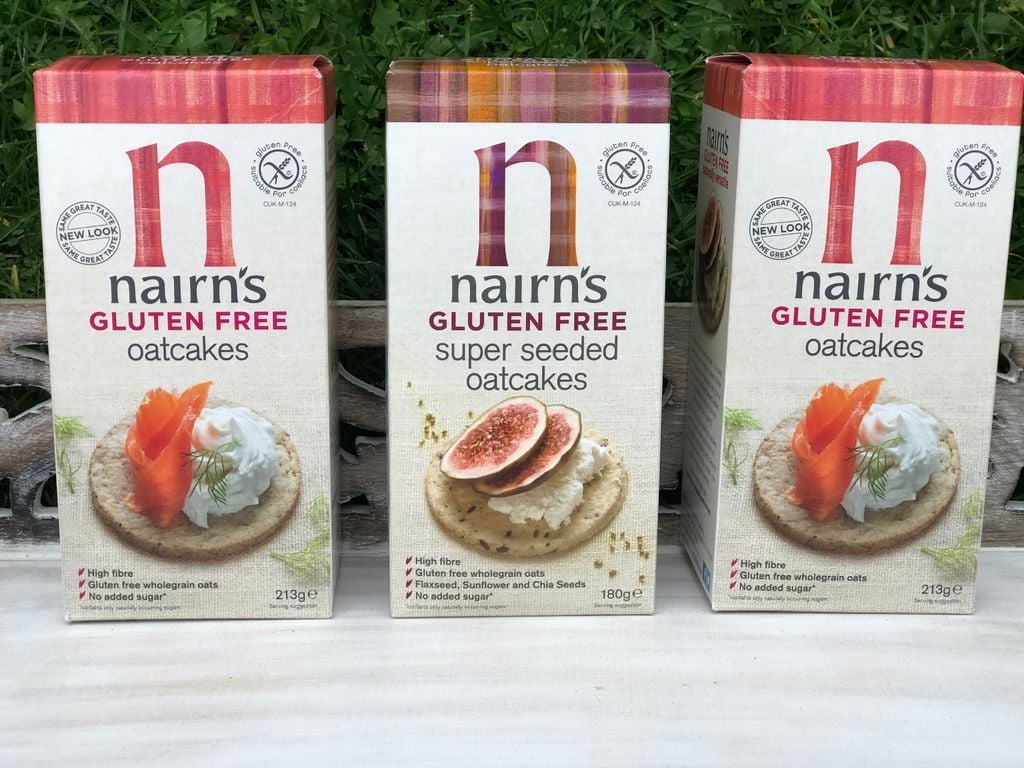 As we are vegan and I don't buy anything at home with refined sugar (or many other added sugars) we were sent the Gluten Free Oatcakes and Gluten Free Super Seeded Oatcakes. Both these varieties are:
High fibre
Gluten free
Vegan
Wholegrain
Simple, natural wholesome ingredients
GM free
No artificial colours, flavours or preservatives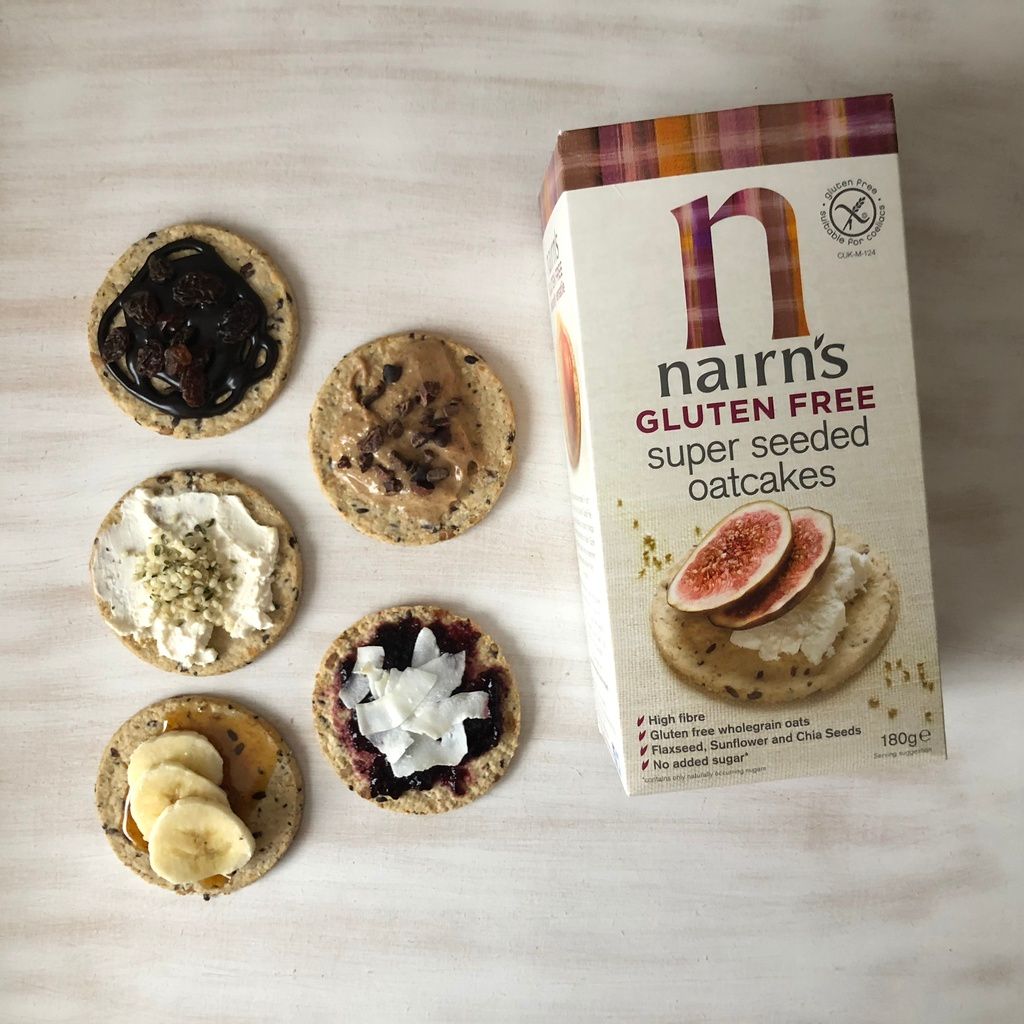 How can I eat Nairn's Oatcakes?
Thanks to Nairn's Oatcakes for sending me some samples :)
While I personally think they are yummy on their own, they can be a bit dry to some so they are used as a base or accompaniment to other food. Here are just some of the ways you can enjoy eating your oatcakes:
On the go snack, just as they are
Instead of bread with soup
Crushed up as the base of a cheesecake
With savoury toppings as canapes for a party
Brew tea or coffee in a French press and eat with sweet toppings as a dessert or to satisfy a sweet craving.
There are probably an infinite number of toppings for Nairn's Oatcakes and this is my favourite way to eat them. I'm not a baker and we don't do big desserts, but often me and the kids do fancy something little and sweet after dinner, so these oatcakes are the perfect solution. Today I'll share with you the five toppings I added to our oatcakes. The best thing about these toppings are they are totally pick'n'mix. It's a fun idea to pop out a few combinations – a spread and then a sprinkle type topping – and then let the kids create their own topped oatcakes!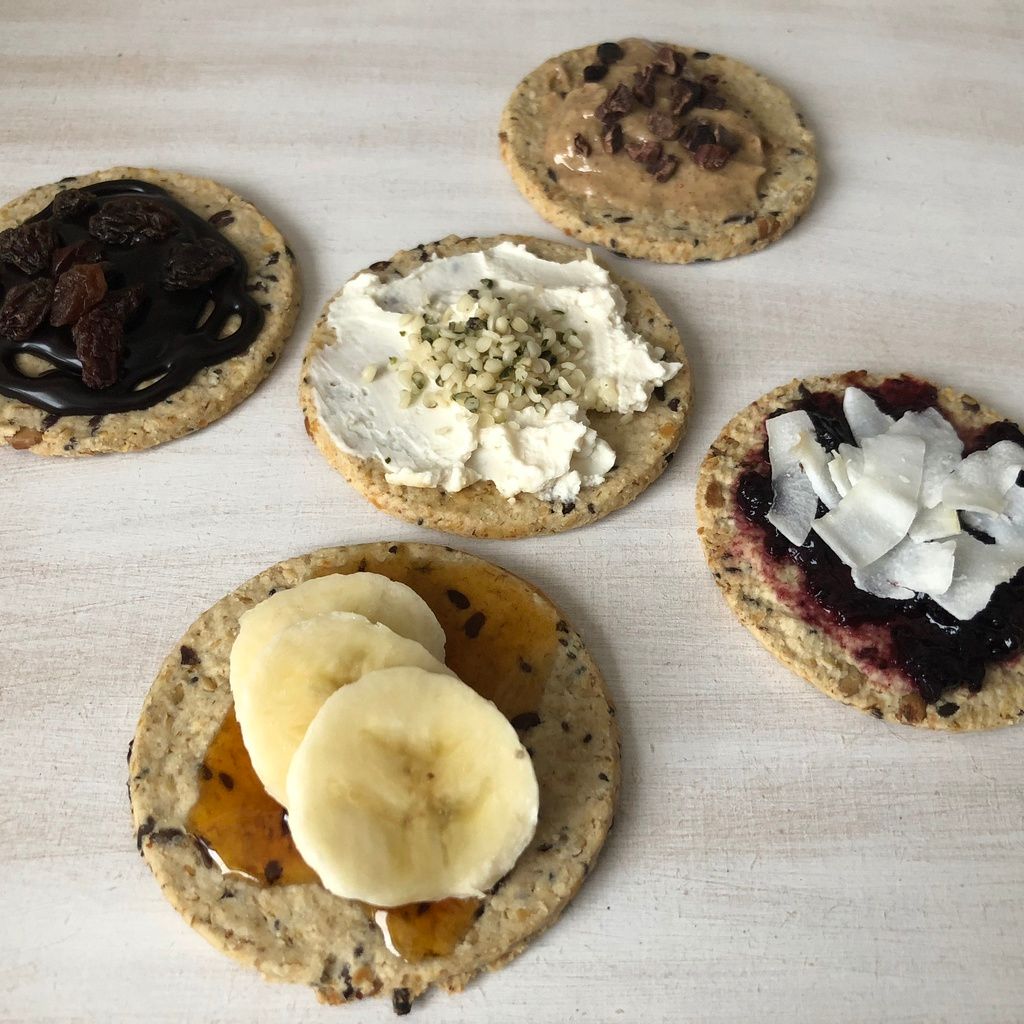 5 deliciously sweet oatcake toppings (vegan-friendly)
Here are the five toppings I created today after lunch. I tried to eat them all slyly, but Reuben caught me and so I shared them with him. He enjoyed every single one, so much so that later today after dinner he asked for them again!
I was able to use all sorts of ingredients that were already in my cupboards. I went with the idea of one spread type topping and one sprinkle type topping, so I chose ten different ingredients that we already had available. The best thing is they are so versatile, you really can use anything you have available at home. There are so many yummy combinations to create!
Here are the five oatcake toppings I created today:
1. Coconut-honey and banana
This is the first time I tried this coconut nectar which is an alternative to honey. It is still a type of added sugar to me, so I really limit my intake of such things, but I got it mainly for Ben, the flapjack maker! It's yummy and Ben will be impressed as he loves making flapjacks and needs a honey replacement. Combined with banana it is simply delicious.
2. Peanut butter and cacao nibs
I use 100% nut butter. Be wary of most mainstream supermarket peanut butters which have tons of added sugar. Look out for 100% nut alternatives with no other ingredients. Cacao nibs are amazing! They are just like chocolate chips, but raw, unrefined, rich in flavour and with no added sugar!
3. Wild blueberry jam and coconut flakes
There are a couple of brands I love that make jam with fruit only and no added refined sugar. Wild blueberry jam is so delicious and super tasty with coconut flakes.
4. Almond cheese spread and hemp seeds
Almond cheese spread has a subtle sweet almondy taste that is perfect for sweet dishes and not just savoury. It combines perfectly with hemp seeds to add a little crunch and enrich the creamy flavour.
5. Chocolate sauce and raisins
I use Sweet Freedom chocolate sauce that's made from carob, fruit and 100% natural ingredients with a low GI and no refined sugar like regular chocolate sauces. I added raisins for a chewy texture. Yum!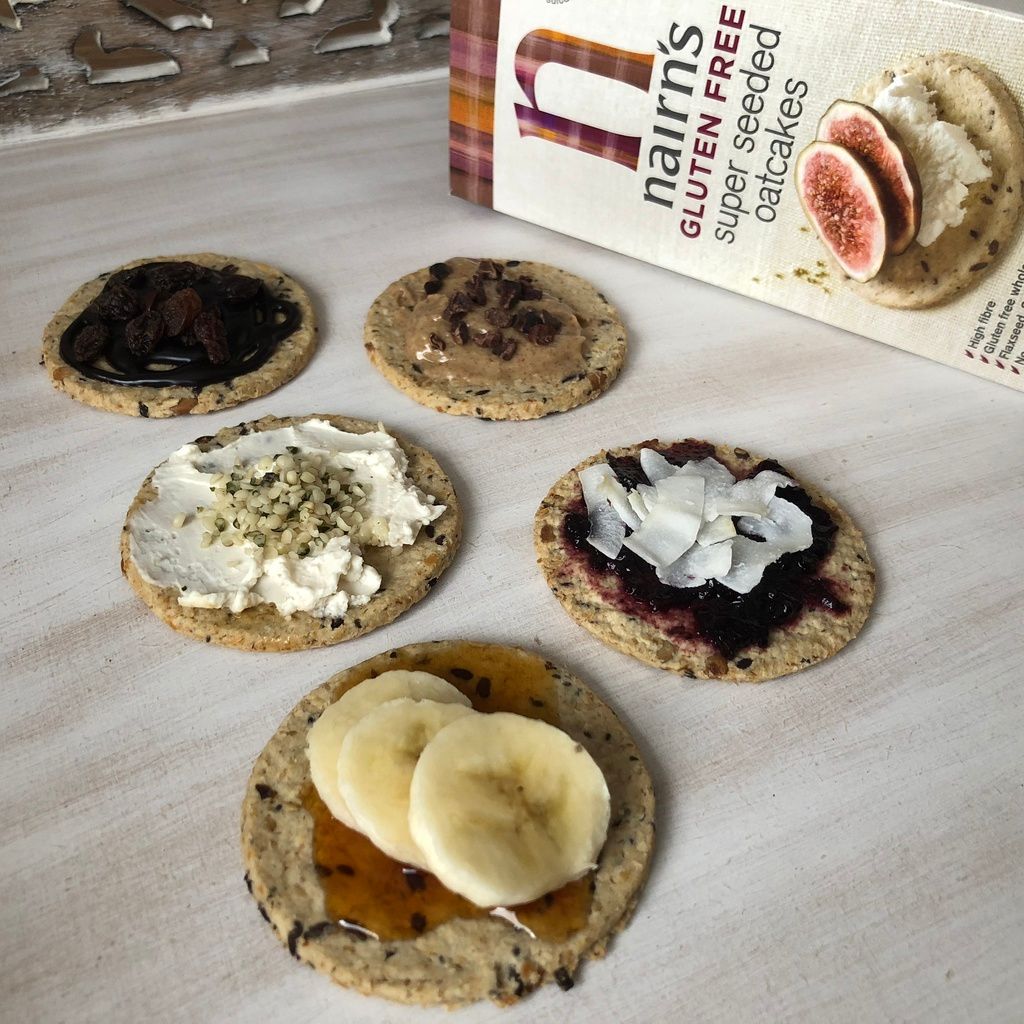 All of the toppings were so delicious and my three year old, Reuben, totally agreed. These don't contain any refined sugars with the brands I used and also offer some nutrition as well as being a tasty treat. Cacao nibs and hemp seeds, for example, are superfoods. These are a much healthier alternative to your traditional desserts.
Here are all the toppings I used: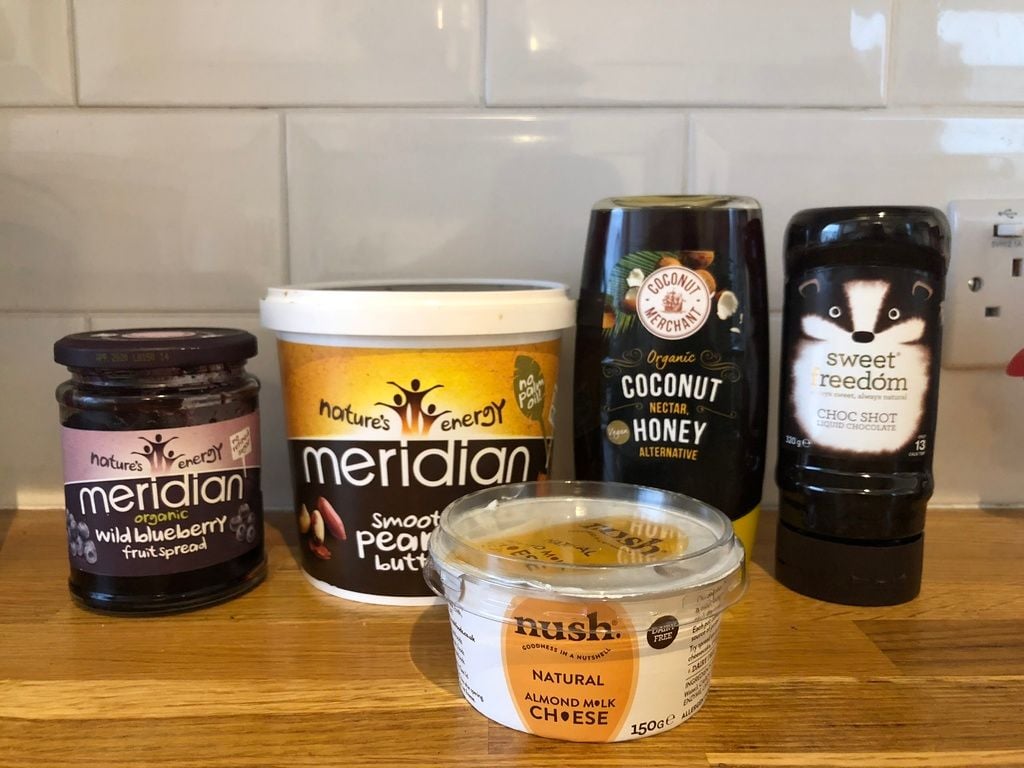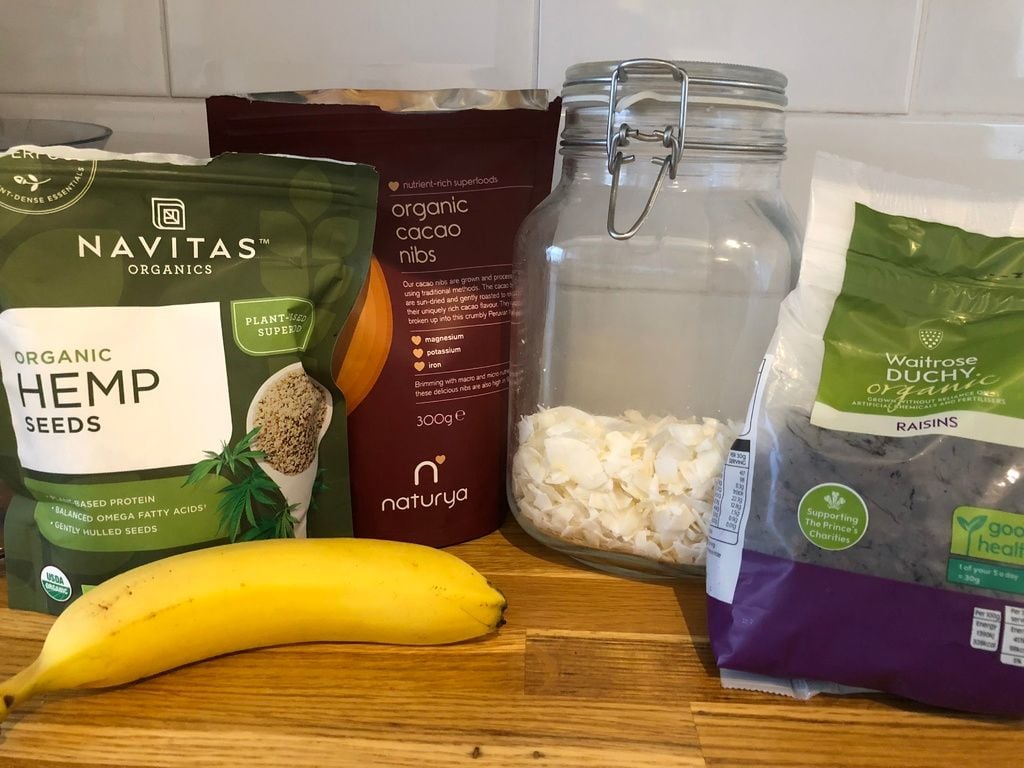 Will I buy Nairn's Gluten Free Oatcakes again?
Absolutely! We've had them before and thanks to Nairn's for sending me some to remind me of how delicious and versatile they are. I'm looking forward to creating some savoury toppings for lunchtimes and also the kids' lunchboxes. They are a natural, wholegrain alternative to many of the sugar filled biscuits and crackers that line the supermarket shelves today. Personally, I will always choose brands like Nairn's that have ranges with no added sugar and natural wholesome ingredients.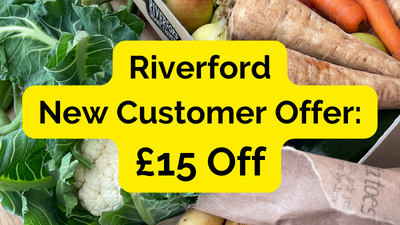 More delicious & healthy recipes
5 easy and nutritious vegan breakfasts to get 3 of your 5-a-day
Moringa powder green smoothie recipe
Delicious green kale & moringa powder juice recipe
How to make the best homemade muesli without a recipe
Healthy chocolate milkshake recipe
Easy vegan sweet potato soup recipe
Delicious purple bee pollen smoothie recipe
How to make vegan dark chocolate
No cook vegan chewy raw brownies recipe
Refreshing melon and kale juice recipe
Delicious baobab berry smoothie recipe
Vegan peanut butter balls no bake
Vegan peanut butter freezer fudge
3 ingredient simple ice lolly recipe
Vegan no bake cacao nibs energy balls recipe
Quick + easy spicy pumpkin soup recipe - suitable for vegans
Vegetarian dinner ideas for Valentines Day