Braces at 30 | 14th Tightening | 22 Months | Before and After Photos
Posted on
My last appointment was at the end of November so as we've had Christmas in-between it seems like a long time ago!
I was starting to feel really negative about the whole brace experience over my last couple of appointments. At first it's all exciting as it's a new experience, albeit a sometimes painful or uncomfortable one. When the brace first goes on the difference is clear to see. But after a few months and especially coming up to two years, the differences between each appointment are so minimal and sometimes it's hard to tell any at all.
That's not because my teeth are perfect yet either. There are plenty of gaps to close still.
But, luckily, this appointment was a lot more positive!
Here's my 22 month top row. See the end of the blog post for a timeline.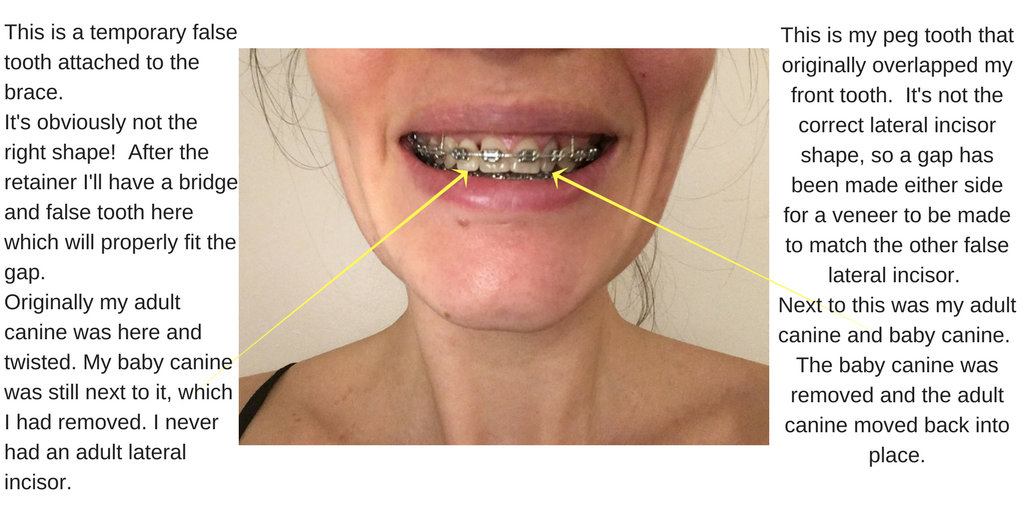 Overbite
I was also worried about my overbite before. I'd been wearing the pain-in-the-bum top to bottom elastics, yet at my last appointment my overbite had increased! It made me feel miserable as my least favourite part of the brace has been these top to bottom elastics and they weren't even working. This time, they have been. My overbite is now at around 4mm from almost 6mm. So I'm thankful they are working as they are so annoying!
Annoyingly though they have possibly moved my teeth too much to the left somehow as my centre line is now quite off centre! So until my next appointment I'm only wearing one top to bottom elastic on the right hand side to try and pull them back over. We solved one problem and created another!
Top teeth are almost ready
Aside from this on the top teeth, they're ready! She can't see any more gaps to close and the space we have left for the false tooth and veneer are the right width now.
Bottom teeth aren't far off either
The bottom teeth are close too. They have a lot more gaps to close, so we're going to have some close together appointments to try and achieve this by March. I'm used to waiting anywhere from 7 to 10 weeks for an appointment, but I now have my next in just four weeks to change the elastics only and another appointment only four weeks after this too! So two appointments before we hit the two year mark.
After this we have booked in an appointment to take a mould for a retainer!!
Then an appointment to remove the brace and put on the retainer!
We might be getting ahead of ourselves, especially with the bottom teeth and numerous gaps there seems to be, but she says it's better to book the appointments now and then change them to tightening's or elastics being changed if we're not ready.
I have a new set of elastics on today and the wires have been tightened, so I hope this and 2 more elastic changing appointments is enough. Then I can have them off!
Not the end of my journey yet…
That's not the most exciting day for me though as I still won't have my lateral incisors. They're the teeth either side of your two front teeth at the top. So quite noticeable! Once I've had the retainer for around 6 months then I can have my false tooth and veneer fitted, then I'll be done.
So fingers crossed I'll be done in around 9 months!
Here's a timeline:
Before and after braces photos so far!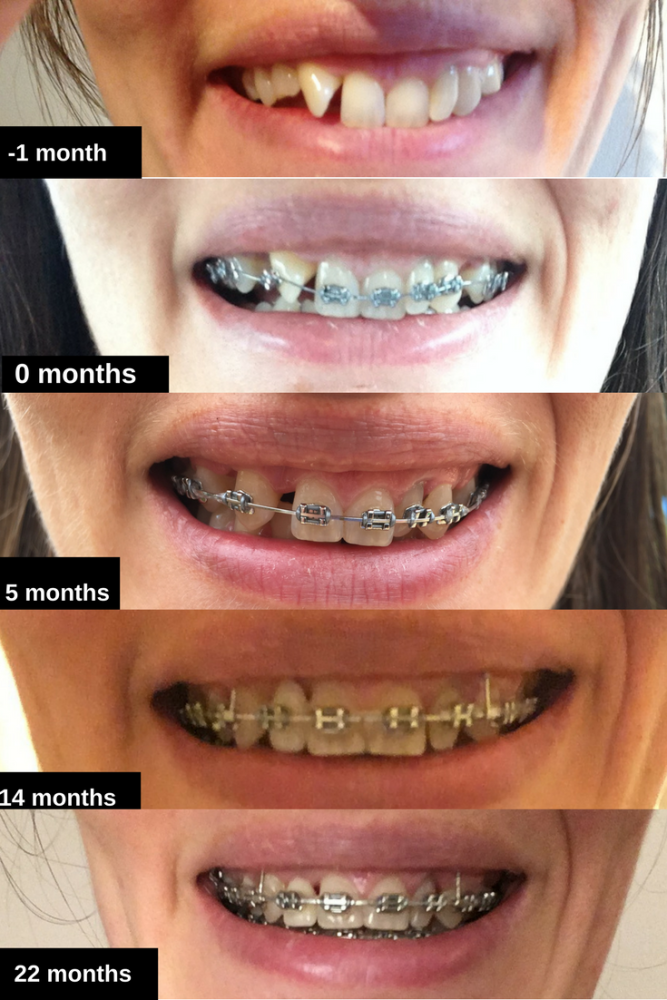 I've been recording my whole experience right from my first consultation!
My entire braces & false teeth journey from start to finish!
First orthodontist consultation
Making the decision to get false teeth and braces at 30
Braces booking appointment and moulds
Dentist appointment to check teeth for removal
Two baby teeth removed ready for adult braces
What happened at my first brace tightening appointment
4 months with adult braces and another tightening appointment
One week after my third braces tightening
Bottom brace fitting and biting blocks
6th brace tightening and update
7th brace tightening and update
Elastics added to my braces from top to bottom
False tooth impression taken for my brace
Temporary false tooth on brace
Braces closing gaps and improving overbite
13th braces tightening appointment
22 months with an adult brace before and after
15th tightening appointment braces photos
2 year update with adult braces
17th brace tightening at 24 months with an adult brace
My last braces tightening appointment?
The embarrassing day I get my top brace removed
Essix retainer with false tooth - fitting and photos
20th braces tightening appointment
28 months - bottom brace removed!
12 reasons I hate the clear Essix retainer
Hawley retainer fitting appointment
The partial denture disappointment
5 weeks until I get my bridges and false teeth!
The final result of my braces at 30 and false teeth
Before and after braces photos
Popular braces blog posts!
12 reasons I hate the clear plastic Essix retainer
Braces at 30 - read my entire adult braces experience here
Disappointment with my NHS denture
The decision to have two bridges with false teeth
Was having braces and false teeth worth it?
How much do adult braces cost? + 4 ways to finance them
Adult braces: what are biting blocks?